Cyclo-cross news & racing roundup, December 3, 2008
Edited by Laura Weislo
Welcome to our regular roundup of what's happening in cyclo-cross. Feel free to send feedback, news and releases to mtb@cyclingnews.com.
Vervecken claims Koksijde record
With reporting from Brecht Decaluwé in Koksijde, Belgium
Former World Champion Erwin Vervecken (Fidea Cycling Team)
Photo ©: Cyclingnews.com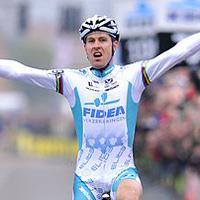 Erwin Vervecken (Fidea Cycling Team) set a new record of five career wins in Koksijde on Saturday while taking his first World Cup victory since December, 2006.
Vervecken overtook Sven Nys and Danny De Bie who each have four wins in the beach front town in West Flanders. The victory was also a pleasant surprise for the three-time World Champion who, before a strong fourth in Gavere was having such a poor season he was at risk of not being selected for the World Cup.
"I didn't think that I could still win a World Cup race," Vervecken admitted. The last won at this level in Hofstade two years ago. As in this previous win, Vervecken was helped by three other Fidea teammates who worked together to bring back Nys: Bart Wellens, Kevin Pauwels and Zdenek Stybar.
"My luck today was that we worked well together in order to bring Sven back. Probably Sven used a lot of his energy then," Vervecken commented. The tall 36-year-old showed that he hasn't lost the ability to dig deep and put out power by catching and then overtaking Nys in the finishing straight.
"It felt like a very long sprint, not only for Sven, and I think I re-launched my sprint three times," Vervecken said. "First I focused on keeping Stybar at a distance, but then I noticed that Sven was still within my reach," Vervecken said.
"This is the race where it all started for me with my victory in 1993, and later my first podium finish in the World Championships. Now I'm winning this race for the fifth time, a record, but since Sven Nys is four years younger than me, I bet I'm not going to keep the record forever," Vervecken said.
See also the full coverage from Koksijde.
Compton back on track in Koksijde
With reporting from Brecht Decaluwé and Bjorn Haake in Koksijde, Belgium
Katie Compton (Spike) wins
Photo ©: Cyclingnews.com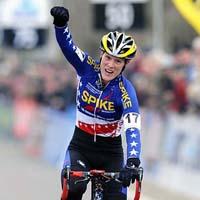 America's Katie Compton (Spike) confirmed her return to form with a thrilling come-from-behind victory in the Koksijde World Cup on Saturday. Compton out-sprinted World Champion Hanka Kupfernagel and last year's winner, Daphny van den Brand.
"This was a very hard course and it was such a long sprint, but I'm so happy I got this win," Compton said. "Maybe I wasn't the strongest today, but I definitely was the smartest."
Compton struggled earlier in the season with a muscular issue which forced her to drop out of the first World Cup in Kalmthout. She rebounded in time for the Pijnacker round, where she took second, but her low standings in the series only earned a second row starting position. A slow start did not help, and Compton had to chase for two laps before joining the leaders.
"I had a terrible start," Compton explained. "Once I got there [to the front], I took a breather and decided not to attack Van den Brand and Kupfernagel because I was convinced that I wouldn't have been able to drop them."
On the final lap, Van den Brand lost contact on one of the sand dunes, leaving Compton to battle Kupfernagel in the sprint. She was able to position herself behind the German coming into the final bend, giving herself a tactical advantage. "I didn't want to wait too long and focused on creating that first gap in the sprint."
With the win, Compton moved up into seventh in the World Cup, giving her a coveted front row start at the next round in Nommay, France on December 21.
See also the full coverage from Koksijde.
Breakthrough for Vantornout
By Brecht Decaluwé
Klaas Vantornout (Sunweb) in action
Photo ©: Cyclingnews

Klaas Vantornout (Sunweb-Projob) pulled off his best performance ever by claiming victory in the fifth Superprestige race of the season. The Belgian endured rain and snow through the soaked meadow in Gieten, The Netherlands to win by a small margin over Bart Wellens (Fidea).
Belgian champion and leader in the Superprestige series Sven Nys (Landbouwkrediet-Tönnisteiner) finished third and retained his lead in the series, but Vantornout now trails by just three points.
"This is why I'm racing. It's extremely hard to win a big race these days as the level is high. My goal this season was to be on the podium as much as possible, and I've already succeeded four times out of only five Superprestige races," Vantornout said. "This course fit me perfectly with its slightly uphill sections with deep mud."
Runner-up Wellens was disappointed after losing the sprint against Vantornout. "More was possible for me. Most of the time, I beat Klaas in the sprints, but I think I was in too big of a gear," said Wellens. "Possibly I lacked the necessary energy in the sprint after closing the gap on him."
See the full report, results and photos from Gieten.
Nys tops UCI ranking
Belgian champion Sven Nys resumed his normal spot at the top of the UCI rankings since the previous leader, Niels Albert, has been out with a ruptured spleen. Nys assumed the lead after his win in Hamme Zogge, and then padded his lead over Albert with his second place in the World Cup at Koksijde and third in the Superprestige race in Gieten.
Albert, who just resumed light training after spending several days in a hospital intensive care unit following his crash in Gavere, now trails Nys by 220 points. Bart Wellens is in third followed by his two Fidea teammates, Kevin Pauwels and Zdenek Stybar.
Erwin Vervecken shot up to ninth in the rankings after his sprint victory in the weekend's World Cup earned him 300 points.
US champion Tim Johnson took over from his Cannondale-Cyclocrossworld teammate Jeremy Powers as top American in 17th. Powers fell to 18th, one notch better than Ryan Trebon (Kona). Todd Wells (GT) and Jamey Driscoll both outpaced Jonathan Page (Planet Bike), who fell to 28th.
On the women's side, world champion Hanka Kupfernagel extended her lead over Daphny Van den Brand with a second place in Koksijde, while that race's winner Katie Compton shot up to fifth in the rankings thanks to the 300 points. Czech Pavla Havlikova sits in third with former world champ Maryline Salvetat in fourth. Canadian Wendy Simms slipped from fourth down to tenth by sitting out the World Cups.
Men

1 Sven Nys (Bel) Landbouwkrediet-Tönissteiner                      1385 pts
2 Niels Albert (Bel) Palmans - Cras                                1065
3 Bart Wellens (Bel) Fidea Cycling Team                             932
4 Kevin Pauwels (Bel) Fidea Cycling Team                            845
5 Zdenek Stybar (Cze) Fidea Cycling Team                            813
6 Klaas Vantornout (Bel) Sunweb Projob Cycling Team                 779
7 Lars Boom (Ned) Rabobank                                          684
8 Bart Aernouts (Bel) Rabobank                                      584
9 Erwin Vervecken (Bel) Fidea Cycling Team                          556
10 Radomír Šimunek (Cze) Palmans - Cras                             532

Women

1 Hanka Kupfernagel (Ger) Itera-Stevens                            1270 pts
2 Daphny Van Den Brand (Ned) ZZPR.nl                                905
3 Pavla Havlikova (Cze)                                             757
4 Maryline Salvetat (Fra)                                           685
5 Katherine Compton (USA) Spike Shooter                             660
6 Christel Ferrier-Bruneau (Fra)                                    655
7 Helen Wyman (GBr) Swift Racing                                    593
8 Saskia Elemans (Ned)                                              580
9 Sanne Van Paassen (Ned)                                           558
10 Wendy Simms (Can) Kona                                           542

Albert resumes training
Just over two weeks after rupturing his spleen, Belgian Niels Albert is back on the bike. Doctors gave permission for him to start light training on rollers. The 24-year-old crashed while warming up for the Superprestige cyclo-cross race in Gavere in November. He remained in intensive care for several days.
Albert started aqua-jogging over the weekend as his first activity and, after a medical check-up Monday, doctors said he could increase his movement.
"Everything is proceeding normally," said his manager Christoph Roothooft to sportwereld.be. "He can now move some, and therefore he can ride his bike on the rollers." Roothooft noted, too, that the doctors impressed on Albert that he was not to force things or become overtired. "So this will drag on for weeks, under observation." (SW)
Sunweb-Projob roster changes
The Sunweb-Projob cyclo-cross team could see a few changes at the start of the new year, the team announced Tuesday. Elite riders Jan Verstraeten and Wesley Van der Linden have not had their contracts renewed, but the team extended offers to two young riders, Sven Beelen and Kenneth Van Compernolle.
Team manager Jurgen Mettepenningen gave Verstraeten and Van der Linden until the end of November to prove themselves, but the pair were not able to meet expectations. "Jan Verstraeten may continue as an elite without contract, but wants to search elsewhere for a new professional contract. We wish both riders continued success in the rest of their career."
Beelen is in his first year in the under-23 ranks, and directeur sportif Mario De Clercq described him as one of the better Belgian espoirs. His contract runs through the end of 2010. Jehudi Schoonacker, winner of two races this season, will remain through the end of 2009 as an elite without contract.
Kenneth Van Compernolle, winner of the West Flanders championship in Koksijde this weekend, has had a highly successful season with the team, including three wins and eleven podium finishes. He will continue for another season in the under-23 ranks, and then will most likely turn professional at the end of the 2010 season.
Hong Kong race canceled, US World Cup in doubt
The UCI cyclo-cross season will end one week sooner than expected, sport.be reported Tuesday, as the Hong Kong C2 race has been canceled. UCI coordinator Peter Van den Abeele said that the organiser had not provided the bank guarantee for riders' the start fees.
The fate of a US start to the World Cup next season is also in doubt, the web site reported. There has been momentum behind the Las Vegas 'CrossVegas' event being added to the series, but Van den Abeele said that money is still an issue. The UCI has been saving a place for the addition of an American round in September.
"The demand is there," said Van den Abeele, but added that the financial requirements have not been met. "I have shown flexibility. I will keep the request under consideration until mid-December. This is the final deadline. One thing is certain: The will in America is there. Getting around the financial obstacles is another matter."
Page goes Blue
Astute fans in Koksijde might have noticed that American Jonathan Page was sporting a new brand of bike. Previously equipped by Belgian bike maker Ridley, Page was seen riding on a bike by American builder, Blue. Page explained the switch on his web site, thejonathanpage.com.
"As of this weekend, I am no longer with Ridley bikes. I am instead, happy to announce that I will be riding Blue bikes for at least the remainder of the season and probably beyond," Page wrote. After haggling with Ridley over his contract, Page was able to secure Blue as a new equipment sponsor.
"I made a phone call to Blue, 1 of the 4 major bicycle companies that had asked me to ride for them this season. Within 30 minutes, I had a more than acceptable offer and a tracking number for the bikes that were already in route. I received them without hassle on Friday and worked until late to build them up for their debut at the World Cup."
Trebon, Gould lead US rankings
With five races left in the USA Cycling National Cyclo-cross Calendar, Kona's Ryan Trebon maintains a 13 point lead over Jeremy Powers (Cannondale-Cyclocrossworld.com). Todd Wells (GT) moved up into third thanks to his first and second places in Iowa this past weekend. US champ Tim Johnson fell to fourth after missing two weekends of racing due to an injured knee, while his teammate Jamey Driscoll held onto fifth.
Georgia Gould (Luna) maintained her lead in the series despite taking a break from competition. Laura Van Gilder dropped to third after heading overseas to tackle her first World Cup. Mo Bruno-Roy took over the second spot, while Natasha Elliott dropped to fourth. Diedre Winfield remained in fifth place after joining Van Gilder in Belgium.
Current USA Cycling NRC rankings.
Men's Standings 
1 Ryan Trebon (Kona)                              440 
2 Jeremy Powers (Cannondale-Cyclocrossworld.com)  427 
3 Todd Wells (GT)                                 372 
4 Tim Johnson (Cannondale-Cyclocrossworld.com)    356 
5 Jamey Driscoll (Cannondale-Cyclocrossworld.com) 340 	
Women's Standings 
1 Georgia Gould (Luna)                            199 
2 Maureen Bruno-Roy (MM Racing-Seven Cycles)      161 
3 Laura Van Gilder (C3-Sollay)                    154 
4 Natasha Elliott (EMD Serono-Stevens)            145 
5 Diedre Winfield (Velo Bella)                    135 
MAC's last dance in Reston
The final round of the MAC Powered by SRAM series will take place in the Washington, DC suburb of Reston, Virginia this weekend. The UCI C2 Capital Cross Classic will provide east coasters a chance to tune up their form before the US National Championships next week.
This year, nationwide outdoors retailer REI has once again sponsored the Women's Elite race, while SRAM has taken on the title role of the Elite Men's race. To assist riders that want to get one last hard effort into their legs prior to the National Championships, organizers of the Capital Cross Classic are once again offering a free shuttle to the track from nearby Dulles Airport.
While the Capital Cross Classic may be excellent preparation for the National Championships, most competitors look toward the event as the final and deciding round of the popular MAC Powered by SRAM Cyclo-cross Series. Tight races abound in the championship chases in many of the Amateur and Elite divisions; chief among them are the Elite Men.
Wes Schempf, series champion in 2006 and 2007, is currently atop the leader board and aiming for a three-peat. But close behind Schempf is the rider who beat him at last weekend's Pennsylvania State Championships, his C3-Sollay.com teammate Andy Wulfkuhl.
The top spots for the Elite Women's and Masters Titles are already decided. Laura Van Gilder (C3-Sollay) clinched her first cyclo-cross championship ahead of Diedre Winfield (Velo Bella).
On the Masters side, Roger Aspholm has secured the overall victory, but second place is up for grabs with no fewer than eight riders in mathematical contention for the runner-up spot, including Mark Kutney, who has wrapped up the 45+ crown.
Current point tallies for all classes are available on the MAC Powered by SRAM web site, www.midatlanticcross.com. More information on, and pre-registration for, the Capital Cross Classic may be found at BikeReg.com.
Recent Cyclo-cross results
Upcoming UCI races
December 6: USGP of Cyclocross #5 - Portland Cup, Portland, OR (USA) C1 ME/WE
December 7: Grand Prix Julien Cajot, Leudelange (Lux) C2 ME/MJ
December 7: Capital Cross Classic, Reston, Virginia (USA) C2 ME/WE
December 7: GP International Cyclocross Sion-Valais, Sion (Swi) C2 ME
December 7: USGP of Cyclocross #6 - Portland Cup, Portland, OR (USA) C2 ME/WE
December 7: Frankfurter Rad-Cross, Frankfurt a/Main (Ger) C2 ME/MU/MJ/WE
December 7: Coupe du Monde UCI / UCI World Cup, Igorre (Spa) CDM ME
December 8: Premio Asteasu de Ciclo-cross, Asteasu-Guipúzcoa (Spa) C2 ME
December 8: Ciclocross Del Ponte, Fae di Oderzo (Ita) C2 ME/MU/MJ/WE
(All rights reserved/Copyright Future Publishing (Overseas) Limited 2008)