33e Internationale Nissan Super Prestige Cyclo-cross Gieten - C1
Gieten, The Netherlands, November 30, 2008
2007 results Stage List Preview Start List Past winners
The Races
Riders ready for another cold dose of 'cross
By Greg Johnson
Sven Nys (Landbouwkrediet - Tönissteiner)
Photo ©: Photopress.be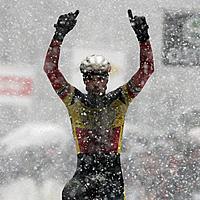 After a snowy affair in Hamme-Zogge last weekend the Nissan Superprestige Topsport Vlaanderen Trofee heads over the boarder to the Netherlands, where round five will be held in the Drenthe town of Gieten. This weekend's round is the second- and final round of the series to be held in Holland.
Belgium's Sven Nys (Landbouwkrediet-Tönissteiner) continues to lead the series heading into this weekend's race. A victory in Hamme-Zogge has seen Nys' series lead over Klaas Vantornout (Sunweb Projob Cycling Team) expand by one point to five, with Nys now on 58 points to his compatriot's 53.
The Belgian is favoured to win again this weekend, having finished second at last year's race on this course. Playing into Nys' hands is the fact the two riders who accompanied him on last year's podium will forfeit this weekend's race.
As with the previous round both Lars Boom and Niels Albert will be absent from this weekend's race. Albert is still recovering from rupturing his spleen while warming up in Gavere and Boom is still sidelined after suffering from a unrinary tract infection earlier this month.
The pairs absence leaves Vanornout and Bart Wellens (Fidea Cycling Team) as Nys' biggest rivals, both for the race and the title. Just 10 points separate the trio in the series' overall standings, but with small point margins available between places and just three rounds remaining, it will be difficult for either Vanornout or Wellens to overcome their countryman to win the series.
While the snowy conditions from Hamme-Zogge might not be replicated this weekend, conditions won't be much more enjoyable for riders. Wet conditions are expected, with 2.8 mm of rain anticipated during the race, while the day will get off to a cold start with temperatures expected to each a maximum of three degrees having started from minus one.
Start list
Elite men
 
2 Sven Nys (Bel) Landbouwkrediet-Tönissteiner                           
3 Bart Wellens (Bel) Fidea Cycling Team                                 
4 Zdenek Stybar (Cze) Fidea Cycling Team                                
5 Klaas Vantornout (Bel) Sunweb Projob Cycling Team                     
6 Gerben de Kengt (Ned)                                                 
7 Richard Groenendaal (Ned) AA Drink - Be One                           
8 Sven Vanthourenhout (Bel) Sunweb Projob Cycling Team                  
9 Kevin Pauwels (Bel) Fidea Cycling Team                                
10 Radomír Šimunek (Cze) Palmans - Cras                                 
11 Petr Dlask (Cze) Fidea Cycling Team                                  
12 Thijs Al (Ned) AA Drink - BeOne                                      
13 Jonathan Page (USA) Planet Bike                                      
14 Wilant van Gils (Ned) Pro Cycling Team ZZPR.nl-Destil-Merida         
15 Bart Aernouts (Bel) Rabobank                                         
16 Dieter Vanthourenhout (Bel) Palmans - Cras                           
17 Martin Zlámalík (Cze) Prodoli Racing Team                            
18 Thijs Van Amerongen (Ned) Van Vliet EBH Elshof                       
19 Davy Commeyne (Bel) Revor Cycling Team                               
20 Jempy Drucker (Lux) Fidea Cycling Team                               
21 Paul Voss                                                            
22 Jan Van Dael (Bel) Sunweb Projob Cycling Team                        
23 Rob Peeters (Bel) Landbouwkrediet - Tönissteiner                     
24 Marco Bianco (Ita) L´Arcobaleno Carraro Team                         
25 Ben Berden (Bel) Revor Cycling Team                                  
26 Geert Wellens (Bel) AVB Cycling Team                                 
27 Christian Heule (Swi) Rendementhypo Cycling Team                     
28 Camiel Van Den Bergh (Ned) Rendementhypo Cycling Team                
29 Aalzen Alma (Ned) WV WoonExpo Kapenga                                
30 Harm Bronkhorst (Ned)                                                
31 Daan De Jonge (Ned) Josan-Mercedes Team                              
32 Kendric Van Grembergen                                               
33 Tim Heemskerk (Ned)                                                  
34 Roy Van Heeswijk (Ned)                                               
35 Peter van den Heuvel (Ned)                                           
36 Wim Jacobs (Bel) Granville-Morgan Blue Cycling Team                  
37 Jerry Kallenfels (Ned) Easypay Cyclocross Team                       
38 Tom De Kort (Bel) AVB Cycling Team                                   
39 Patrick Van Leeuwen (Ned) Het Snelle Wiel                            
40 Mathijs Wagenaar (Ned) Team Asito                                    
41 Eddy van IJzendoorn (Ned) AA Drink - BeOne                           
 
Under 23
 
1 Arnaud Jouffroy (Fra) Vendée U Pays de la Loire                       
2 Tom Meeusen (Bel) Fidea Cycling Team                                  
3 Philipp Walsleben (Ger) Palmans - Cras                                
4 LukᚠKloucek (Cze) Sunweb Projob Cycling Team                        
5 Robert Gavenda (Svk) Fidea Cycling Team                               
6 Joeri Adams (Bel) Rabobank                                            
7 Stef Boden (Bel) AA Drink - BeOne                                     
8 Marcel Meisen (Ger) Focus Cross Team                                  
9 Ramon Sinkeldam (Ned) Rabobank                                        
10 Vincent Baestaens (Bel) Fidea Cycling Team                           
11 Quentin Bertholet (Bel) Fidea Cycling Team                           
12 Jim Aernouts (Bel) Palmans - Cras                                    
13 Geert van der Horst (Ned)                                            
14 Lubomír Petruš (Cze) Empella Czech Team                              
15 Kenneth Van Compernolle (Bel) Sunweb Projob Cycling Team             
16 Michael Winterberg (Swi)                                             
17 Nico Brüngger (Swi) VC Mendrisio                                     
18 Matthias Flückiger (Swi) Athleticum MTB Team                         
19 Ivar Hartogs (Ned) Revor Cycling Team                                
20 Mitchell Huenders (Ned) AA Drink - BeOne                             
21 Sascha Weber (Ger) RSC St. Wendel - OCCP                             
22 Wim Leemans (Bel) AVB Cycling Team                                   
23 Mark Thwaites (GBr)                                                  
24 Marek Konwa (Pol) LKS TRASA Zielona Góra                             
25 Kamil Gradek (Pol)                                                   
26 Tomasz Repinski (Pol)                                                
27 Amadeusz Rodzinski (Pol)                                             
28 Gianni Denolf (Bel) Palmans - Cras                                   
29 Dave De Cleyn (Bel) Scott USA Cycling Team                           
30 Johim Ariesen (Ned)                                                  
31 Edwin Arts (Ned)                                                     
32 Bart Barkhuis (Ned)                                                  
33 Jan Büchmann (Ger) Kieler RV                                         
34 Julian van Dijk (Ned)                                                
35 Micki van Empel (Ned) Pro Cycling Team ZZPR.nl-Destil-Merida         
36 Jordy van Erp (Ned) Pro Cycling Team ZZPR.nl-Destil-Merida           
37 Barry Hayes (Ger)                                                    
38 Kobus Herijgers (Ned)                                                
39 Rik van IJzendoorn (Ned)                                             
40 Frank Jonkman (Ned)                                                  
41 Jelmer Jubbega (Ned)                                                 
42 Nils van Kooy (Ned)                                                  
43 Maurits Lammertink (Ned)                                             
44 Steven van Leijen (Ned)                                              
45 Irjan Luttenberg (Ned)                                               
46 Marco Minnaard (Ned)                                                 
47 Henk Jaap Moorlag (Ned)                                              
48 Patrick van Nunen (Ned)                                              
49 Jasper Ockeloen (Ned)                                                
50 Cees de Ridder (Ned)                                                 
51 Ricardo Robben (Ned)                                                 
52 Harm van der Sanden (Ned) Pro Cycling Team ZZPR.nl-Destil-Merida     
53 Roman Sedlmair (Ger) Team Focus Cross Team                           
54 Kaj Slenter (Ned)                                                    
55 Kevin Smit (Ned) JVR Batauwers                                       
56 Mark Smit (Ned)                                                      
57 Gijs Strating (Ned)                                                  
58 Jorn van Veen (Ned)                                                  
 
Juniors
 
1 Tijmen Eising (Ned)                                                   
2 Wietse Bosmans                                                        
3 Jan Nesvadba (Cze)                                                    
4 Lukas Müller                                                          
5 Joel Peter (Cze)                                                      
6 Niels Koyen                                                           
7 Lars van der Haar (Ned)                                               
8 David van der Poel (Ned)                                              
9 Joeri Adams (Bel) Rabobank                                            
10 Michiel van der Heijden (Ned)                                        
11 Ritchie Denolf                                                       
12 Pilis Bartosz (Pol)                                                  
13 Nowaski Ukasz (Pol)                                                  
14 Dylan van Baarle (Ned)                                               
15 Wilco van Beusekom (Ned)                                             
16 Niek Boom (Ned)                                                      
17 Henk Bos (Ned)                                                       
18 Gert-Jan Bosman (Ned)                                                
19 Delon Braamhaar (Ned)                                                
20 Axel Dekker (Ned)                                                    
21 Niels Dekker (Ned)                                                   
22 Bernie Dolfsma (Ned)                                                 
23 Bart van Dongen (Ned)                                                
24 Adrik Elzing (Ned)                                                   
25 Milan van den Ende (Ned)                                             
26 Anne Fokkema (Ned)                                                   
27 Jochem Hoekstra (Ned)                                                
28 Robert de Jong (Ned)                                                 
29 Corné van Kessel (Ned)                                               
30 Martijn Kip (Ned)                                                    
31 Willem Klein Tijssink (Ned)                                          
32 Davey Kleinjan (Ned)                                                 
33 Bas Krauwel (Ned)                                                    
34 Geert Kuit (Ned)                                                     
35 Jelle Lugten (Ned)                                                   
36 Daan Meijers (Ned)                                                   
37 Michel Noteboom (Ned)                                                
38 Olaf Oussoren (Ned)                                                  
39 Martijn Pastoors (Ned)                                               
40 Jasper Plenter (Ned)                                                 
41 Stephan Poutsma (Ned)                                                
42 Elmar Reinders (Ned)                                                 
43 Joey van Rhee (Ned)                                                  
44 Jasper Schipper (Ned)                                                
45 Arlan Smit (Ned)                                                     
46 Dennis Stultiens (Ned)                                               
47 Daan Taselaar (Ned)                                                  
48 Mike Teunissen (Ned)                                                 
49 Manuel Timmermans (Ned)                                              
50 Valentijn van de Velde (Ned)                                         
51 Dion Verhommerig (Ned)                                               
52 Jeffrey Vink (Ned)                                                   
53 Jorian Wals (Ned)                                                    
54 Kay Welten (Ned)                                                     
55 Robin Wennekes (Ned)                                                 
56 Joakim Zuidema (Ned)                                                 
57 Kevin Klement (Ned)                                                  
58 Hendrik Sweeck                                                       
Past winners
2007 Niels Albert (Bel) Palmans-Cras
2006 Sven Nys (Bel) Rabobank
2005 Sven Nys (Bel) Rabobank
2004 Sven Nys (Bel) Rabobank
2003 Bart Wellens (Bel) Spaar Select
2002 Bart Wellens (Bel) Spaar Select
2001 Sven Nijs (Bel) Rabobank
2000 Peter Van Santvliet (Bel) Spaar Select
1999 Richard Groenendaal (Ned) Rabobank