Cyclo-cross World Cup #9 - CDM
Hofstade, Belgium, December 26, 2006
Tactical Vervecken plows to world cup victory
UCI-leader Sven Nys overpowered by team Fidea
By Brecht Decaluwé
Vervacken wins over Dlask and Wellens
Photo ©: Frank Bodenmuller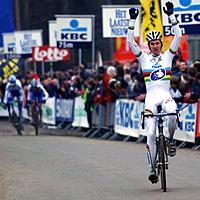 Around 14 000 spectators around the lake in Hofstade enjoyed a spectacular and tactical race. They saw that nine riders battled for victory, and they will have noticed that UCI-leader Sven Nys (Rabobank) wasn't as strong as usual. When the race gets tactical, Nys gets less comfortable and one rider steps forward: world champion Erwin Vervecken (Fidea).
"In a direct duel with Nys I will often lose, but in a tactical race I've got my chances," Vervecken said. The world champion attacked with one lap to go when Nys was at the back of the group. He claimed his first big win of the season, a victory Vervecken sorely needed. "Until now my season was terrible, especially the last month. I had some podium finishes, but in the end people look at your victories… which I didn't have," Vervecken said.
A surprising face was spotted at second place, Petr Dlask (Fidea). The Czech giant found a course that suited him perfectly, with various running sections through the sand. "My running in the sand was super; I like this course as last year I performed good as well over here. Now I hope my form will get even better as the world championship is still five weeks from here. Meanwhile I'll try to improve my UCI-ranking back to a decent position, top five should be possible. But another goal is to stay healthy for more than five weeks," Dlask laughed.
The man at third place was even happier with his performance, Thijs Al (B&E) grabbed his best result ever in a UCI-race. Two days ago he took a second place in Eerde-Veghel. "That second place opened my eyes, as all big guns were there except for Sven Nys," Al explained. "A second place was possible but I'm more than happy with this result," Al explained. The Dutchman combined cyclo-cross with mountain bike racing in the past, but decided to put all his money on cyclo-cross this season. A return to mountain biking doesn't seem likely for Al. "Have you seen how many people support us over here? You don't see that at the mountain bike courses," Al explained.
There were plenty of fans
Photo ©: Frank Bodenmuller

World and Olympic mountain bike champion Julien Absolon also showed up in Hofstade. The French rider had a bad starting position but managed to move up to around twentieth position after two laps. The race today was seventy minutes long and although Absolon should be used to long races, his lights went out and he eventually finished 32nd. "Cyclo-cross is such a speciality that you cannot prepare yourself with five small races, like I did," Absolon explained.
The best American results came from Jonathan Page (Blue Morgan) and Ryan Trebon (Kona). Trebon had the best start and rode around in tenth position during the first few laps. "I was riding comfortably with the front group but after three laps my legs decided it was enough," a rather unhappy Trebon explained, he eventually finished 25th.
Due to a crash early on in the season Jonathan Page (Blue Morgan) didn't have the UCI-points that are needed for a good starting position. Despite this Page managed a respectable 18th place. "I hammered to the front right from the start, in the end I lost some positions due to those efforts during the first half of the race," Page said.
How it unfolded
Vervecken finishes in front.
Photo ©: Frank Bodenmuller

The Swiss rider Simon Zahner (Bürgis) managed the hole shot, but soon after that Nys launched a furious attack; although he didn't get away from the main bunch his efforts resulted in a fast lap time at the start of the long race which was eleven laps. While Nys recovered from his hot lap, nobody in the bunch took initiative; nobody but Bart Wellens that is. The Belgian managed to create a gap of ten seconds on nine pursuers, with Ryan Trebon placed nicely at the back of the group.
Wellens waited for the others but once the group got back he immediately launched another attack; Nys followed swiftly. While Trebon was blown away in front, Vervecken and Dlask showed that they are the fastest runners in the race. There were no major surprises in front, with five Rabobank riders: Nys, De Knegt, Aernouts, Groenendaal and Vanthourenhout; and four Fidea riders: Wellens, Vervecken, Vantornout and Dlask. Riding in tenth place was Thijs Al who managed to bridge the gap to the front.
During the fourth lap Dlask attacked while running through the sand; Nys reacted calmly with only Wellens and Vervecken following. With the situation now being a less strong Nys against three Fidea riders, it proved to be a tactical race. Every now and then the speed dropped in front, lettting Al and Aernouts return as well.
In the penultimate lap Nys launched another attack and it proved to be his last shot for glory. Wellens could respond to the attack of the UCI-leader, and Vervecken wasn't set too far back. Just before the leaders crossed the finish line a last time, Vervecken attacked. The world champion got a gap of twenty metres and nobody reacted immediately. Nys and Wellens dropped back in the group while Thijs Al took the initiative.
The Dutchman plowed his way through the sand but made a small mistake which caused in a certain victory for Vervecken. Czech champion Dlask was the only one who got back to Al and the 30 year-old Czech won the sprint for second place. Bart Aernouts finished just ahead of Nys, Vantornout and Wellens. The Rabobank trio De Knegt, Groenendaal and Vanthourenhout completed the top ten.
Photography
For a thumbnail gallery of these images, click here
Images by Frank Bodenmuller / PhotoSport International
Results
1 Erwin Vervecken (Bel) Fidea Cycling Team                    1.05.42
2 Petr Dlask (Cze) Fidea Cycling Team                            0.03
3 Thijs Al (Ned) B&E Cycling Team                                    
4 Bart Aernouts (Bel) Rabobank                                   0.08
5 Sven Nijs (Bel) Rabobank                                       0.10
6 Klaas Vantornout (Bel) Fidea Cycling Team                      0.13
7 Bart Wellens (Bel) Fidea Cycling Team                          0.16
8 Gerben De Knegt (Ned) Rabobank                                 0.20
9 Richard Groenendaal (Ned) Rabobank                             0.30
10 Sven Vanthourenhout (Bel) Rabobank                            1.32
11 John Gadret (Fra) AG2R Prévoyance                             1.43
12 Steve Chainel (Fra) CC Etupes le Doubs Pays de Montbéliard    1.44
13 Wilant Van Gils (Ned) ZZPR.nl                                     
14 Tim Van Nuffel (Bel) Stevens Racing Team                      2.01
15 Radomir Simunek (Cze) Palmans Collstrop                       2.04
16 Simon Zahner (Swi)                                                
17 Camiel Van Den Bergh (Ned)                                    2.12
18 Jonathan Page (Usa)                                           2.17
19 Davy Commeyne (Bel) Palmans Collstrop                         2.23
20 David Derepas (Fra) Jartazi 7 Mobile                          2.26
21 Marco Aurelio Fontana (Ita) G.S. Selle Italia Guerciotti      2.32
22 Kevin Pauwels (Bel) Fidea Cycling Team                        2.37
23 Christian Heule (Swi)                                         2.43
24 David Willemsens (Bel) Vos Sportief                           2.49
25 Ryan Trebon (Usa)                                             2.54
26 Kamil Ausbuher (Cze) Cykloklub Podborany                      3.16
27 Maarten Nijland (Ned) Procomm-Van Hemert                      3.23
28 Marco Bianco (Ita) l'Arcobaleno Carraro Team                      
29 Maros Kovác (Svk) Dukla Trencín                               4.08
30 Milan Barenyi (Svk) CK ZP Sport A.S.                              
31 René Birkenfeld (Ger) Stevens Racing Team                     4.09
32 Julien Absalon (Fra)                                              
33 Joachim Parbo (Den) Cycling Aarhus                                
34 Marek Cichosz (Pol) Entente Cycliste Raismes                      
35 Malte Urban (Ger) Heinz Von Heiden Team Hannover              4.33
36 Thorsten Struch (Ger)                                         4.35
37 Václav Metlicka (Svk) Team Kral R.C. 'Pfeil' Hof E.V          4.45
38 Arnaud Labbe (Fra) Bouygues Télécom                           4.51
39 Isaac Suarez Fernandez (Spa) Russafa P.C.                     5.07
40 Jan Chrobák (Cze) Johnson Controls AS MB                      5.50
41 Robert Glajza (Svk) CK ZP Sport A.S.                          6.18
One lap down
42 Mariusz Gil (Pol) LKS Pom Strzelce                                
Two laps down
43 Troy Wells (Usa)                                                  
44 Erik Tonkin (Usa)                                                 
45 Greg Reain (Can)                                                  
46 Keiiti Tsujiura Japan                                             
47 Unai Yus (Spa)                                                    
Four laps down
48 Stuart Bowers (GBr)                                               
49 Lukasz Mudyn (Pol) Bazta Bytow                                    
DNF Zdenek Mlynar (Tsj)                                              
DNF Ronald Mutsaars (Ned)                                            
DNF Michael Müller (Zwi)                                             
DNF Barry Wicks (USA)                                                
DNF Jeremy Powers (USA), Fafian Brezinski (Dui)                      
DNF Dariusz Gil (Pol)                                                
DNF David Collins (GBr)                                              
DNF Antonio Suarez (Spa)                                             
DNF Johannes Sickmüller (Dui)                                        
DNF Daniel Hufnagel (Oos)                                            
 
U23 men

1 Niels Albert (Bel) Palmans Collstrop                          48.06
2 Zdenek Stybar (Cze) Fidea Cycling Team                         1.33
3 Rob Peeters (Bel) Balen BC                                         
4 Lukás Kloucek (Cze) Cyklo Team Budvar Tábor                    1.57
5 Dieter Vanthourenhout (Bel) Wielergroep Beveren                2.10
6 Thijs Van Amerongen (Ned)                                      2.25
7 Ondrej Bambula (Cze) Cyklo Team Budvar Tábor                   2.32
8 Yves Corminboeuf (Swi)                                             
9 Julien Taramarcaz (Swi)                                            
10 Aurelien Duval (Fra)                                              
11 Tom Van Den Bosch (Bel) Palmans Collstrop                         
12 Frantisek Kloucek (Cze) Author Praha                              
13 Rafael Visinelli (Ita) CCV Ciaponi                            2.48
14 Romain Villa (Fra) CR Champagne Ardenne                       2.52
15 Maxim Debusschere (Bel) Beveren                                   
16 Ricardo Van Der Velde (Ned)                                       
17 Bart Verschueren (Bel) Stoepersclub Leuven                    3.00
18 Paul Vos (Ger)                                                3.08
19 Jempy Drucker (Lux) Fidea Cycling Team                        3.12
20 Christian Cominelli (Ita)                                     3.26
21 Robert Gavenda (Svk) CK ZP Sport A.S.                         3.28
22 Lars Boom (Ned)                                               3.36
23 Boy Van Poppel (Ned)                                              
24 Stijn Huys (Bel) Palmans Collstrop                                
25 Marcel Wildhaber (Swi)                                        3.55
26 Renč Lang (Swi)                                                   
27 Finn Heitemann (Ger)                                              
28 Anthony Colas (Fra)                                           4.05
29 Clément L'hotellerie (Fra)                                    4.10
30 Jan Van Dael (Bel)                                            4.20
31 Dennis Vanendert (Bel)                                        4.25
32 Davide Malcarne (Ita)                                         4.55
33 Jo Pirotte (Bel)                                              5.10
34 Karl Schoknecht (Ger)                                             
35 Matthias Fluckiger (Swi)                                      5.20
36 Kevin Cant (Bel)                                              5.38
37 Davy De Scheemaeker (Bel)                                     6.05
38 Philipp Walsleben (Ger)                                       6.10
39 David Menger (Cze) Cyklo Team Budvar Tábor                        
40 Ian Bibby (GBr)                                               6.12
41 Marcin Sobiepanek (Pol)                                           
42 Chance Noble (USA)                                            6.30
43 Sascha Weber (Ger)                                            6.40
44 Morgan Schmitt (USA)                                              
45 David Claerebout (Lux)                                        6.45
46 Dries Goovaerts (Bel)                                         7.10
One lap down
47 Remco Broers (Ned)                                                
48 James Driscoll (USA)                                              
49 Bjorn Selander (USA)                                              
50 Dennis Verhoeven (Bel) AWS Cycling Team Kasterlee                 
51 Jan Van Zeebroeck (Bel)                                           
52 Kim Michely (Lux)                                                 
53 Daniel Neyens (USA)                                               
54 Adam Bycka (Pol)                                                  
55 Thomas Boeckx (Bel)                                               
56 Gabriele Giuntoli (Ita) Finauto Neri Quick Step                   
57 Nicholas Weighall (USA)                                           
58 Matthias Onghena (Bel)                                            
59 Sylwester Janiszewski (Pol) Luks Bizon                            
60 Kristof Zegers (Bel) Jonge Renners Booischot                      
 
Juniors
 
1 Joeri Adams (Bel)                                             39.40
2 Ole Quast (Ger)                                                0.05
3 Jiri Polnicky (Cze)                                            0.07
4 Ramon Sinkeldam (Ned)                                          0.09
5 Vincent Baestaens (Bel)                                            
6 Lubomir Petrus (Cze)                                           0.15
7 Thomas Girard (Fra)                                                
8 Stef Boden (Bel)                                               0.16
9 Marck Benda (Cze)                                              0.43
10 Sven Verboven (Bel)                                           0.48
11 Filip Adel (Cze)                                              1.00
12 Jonathan Mc Evoy (GBr)                                        1.12
13 Rob Van Der Velde (Ned)                                           
14 Scott Thwaites (GBr)                                          1.16
15 Allessandro Calderon (Ita)                                    1.20
16 Marian Simora (Slo)                                               
17 Gregor Lendenmann (Swi)                                           
18 Arnaud Grand (Swi)                                            1.30
19 Kristof Cop (Bel)                                             1.35
20 Jim Aernouts (Bel)                                            1.47
21 Kevin Eeckhout (Bel)                                          1.55
22 Peter Sagan (Slo)                                             2.11
23 Jordy Beuker (Ned)                                            2.16
24 Matthias Rupp (Swi)                                           2.19
25 Nick De Proost (Bel)                                          2.29
26 Elia Silvestri (Ita)                                          2.33
27 Matteo Trentin (Ita)                                              
28 Marcel Meisen (Ger)                                               
29 Kevin Smit (Ned)                                                  
30 Joseph Rauber (Ger)                                           2.40
31 Sven Beelen (Bel)                                             2.48
32 Daniél Summerhill (USA)                                       2.54
33 Bart Hermans (Bel)                                                
34 Tim Debusschere (Bel)                                             
35 Jochen Torfs (Bel)                                                
36 Hans Antonissen (Bel)                                         2.59
37 Vincent Dias Dos Santos (Lux)                                 3.04
38 Jerome Townsend (USA)                                         3.09
39 Sean Worsech (USA)                                                
40 Pierre Kaeslin (Swi)                                          3.13
41 Max Walsleben (Ger)                                           3.28
42 Geert Van Der Horst (Ned)                                         
43 Thibault Taboury (Fra)                                        3.47
44 Stijn Mortelmans (Bel)                                        3.57
45 Pit Schlechter (Lux)                                          4.05
46 Sam Webster (GBr)                                             4.19
47 Peter Frei (Swi)                                              4.35
48 Kenneth De Kerf (Bel)                                         4.43
49 Philppe Hutmacher (Lux)                                       4.48
50 Jim Lennon (USA)                                              4.51
51 Steve Fisher (USA)                                            5.07
52 Yannick Pauwels (Bel)                                         6.13
53 Luc Hammer (Lux)                                                  
54 Alain Page (Swi)                                              7.03
55 Fabian Danner (Ger)                                               
One lap down
56 Nick Vermunicht (Bel)                                             
57 Joachim Janssens (Bel)                                            
 
Women
 
1 Hanka Kupfernagel (Ger)                                       42.38
2 Birgit Hollmann (Ger)                                          0.40
3 Daphny Van Den Brand (Ned)                                     0.42
4 Helen Wyman (GBr)                                              0.45
5 Marianne Vos (Ned)                                             1.07
6 Maryline Salvetat (Fra)                                        1.11
7 Reza Ravenstein (Ned)                                          1.33
8 Nadia Triquet (Fra)                                            2.14
9 Linda Van Rijen (Ned)                                          2.42
10 Laurence Leboucher (Fra)                                      2.55
11 Vania Rossi (Ita)                                             3.08
12 Christel Ferrier-Bruneau (Fra)                                    
13 Veerle Ingels (Bel)                                           3.38
14 Arenda Grimberg (Ned)                                         4.01
15 Susanne Juranek (Ger)                                         4.03
16 Nicol Kampeter (Ger)                                          4.06
17 Rosa Maria Bravo Soba (Spa)                                   4.33
18 Hilde Quintens (Bel)                                          4.36
19 Loes Gunnewijk (Ned)                                          4.39
20 Sanne Cant (Bel)                                                  
21 Ivonne Kraft (Ger)                                            4.55
22 Sanne Van Paasen (Ned)                                        5.02
23 Claudia Seidel (Ger)                                          5.35
24 Katrien Pauwels (Bel)                                             
25 Christine Vardaros (USA)                                          
26 Caroline Mani (Fra)                                           5.46
27 Joyce Vanderbeken (Bel)                                       6.05
28 Anja Nobus (Bel)                                              6.14
29 Gabriella Day (GBr)                                           6.27
30 Fransesca Cucciniello (Ita)                                   6.49
31 Daniela Bresciani (Ita)                                       6.51
32 Nancy Bollansee (Bel)                                         7.03
33 Tara Ross (Can)                                               7.11
34 Alessandra Fatato (Ita)                                       7.28
35 Britt Jochems (Ned)                                           7.31
36 Kelly Jones (Can)                                                 
One lap down
37 Susy Godart (Lux)                                                 
38 Kathy Ingels (Bel)                                                
39 Elke Riedl (Aus)                                                  
40 Aline Parsy (Fra)                                                 
41 Elisabetta Borgia (Ita)                                           
42 Mika Ogishima (Jap)