USGP Portland Cup - C1/C2
Portland, Oregon, December 1-2, 2007
Main Page Results Overall standings Previous Race Next Race
Race 7 - December 2: Elite Men, 60 minutes
Trebon takes race and USGP title
Ryan Trebon (Kona-YourKey.com)
Photo ©: Mitch Clinton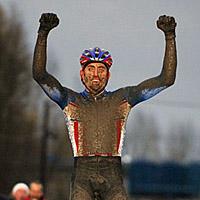 Ryan Trebon (Kona YourKey.com) won the final USGP Series race in Portland, Oregon, in dominating style and captured the USGP Championship in the process. Yesterday's winner and series leader going into the day, Tim Johnson (Cannondale/Leer/Cyclocrossworld.com), finished second at 1'10", while Todd Wells (GT) finished in third.
Following yesterday's victory, Johnson held a slim four point lead over Trebon in the overall standings. After five contests it was virtually a winner take all scenario on the series' final day. All hype and speculation ended after the gun as Trebon took the hole shot and never looked back. The rider, who at one point held a lead of over a minute, completely dominated the field.
Johnson was very strong but was unable to close on Trebon after his explosive start. The Cannondale rider, who battled Barry Wicks (Kona YourKey.com) and Wells for second place for a good part of the race, was able to slowly pull away to finish second.
For Trebon, the title is his second consecutive USGP Championship and third of his career (2004, 2006 and 2007). The SRAM Most Aggressive Rider in the Men's field was Andy Jacques Maynes (Giant Berry Farms). Maynes, just few months removed from a horrific crash that made his return to competitive cycling questionable, began the race in the fourth row and finished in 10th place.
Photography
For a thumbnail gallery of these images, click here
Images by Mitch Clinton/www.clintonphoto.com
Images by Dave McElwaine/www.trailwatch.net
Images by Kurt Jambretz /www.actionimages.cc
Results
1 Ryan Trebon (Kona-YourKey.com)                                  1.04.59
2 Tim Johnson (C'dale/Leer/cyclocrossworld)                          1.10
3 Todd Wells (GT)                                                    1.38
4 Geoff Kabush (Maxxis/Litespeed)                                    1.53
5 Barry Wicks (Kona-YourKey.com)                                     2.14
6 Jamey Driscoll (FiordiFrutta Elite Cycling Team)                   2.26
7 Troy Wells (Team Clif Bar Cyclocross)                              3.18
8 Matthieu Toulouse (Maxxis/Litespeed)                               3.26
9 Chris Sheppard (Santa Cruz Bicycles)                               3.47
10 Andy Jacques-Maynes (California Giant Berry Farms/Specialized)    4.03
11 Mark Mccormack (Clif Bar)                                         4.42
12 Bjorn Selander (Ridley Factory Team)                              4.47
13 Danny Summerhill (Clif Bar Development Cyclo-Cross Team)          5.03
14 Adam Craig (Giant)                                                5.06
15 Tristan Schouten (Planet Bike)                                    6.00
16 Russell Stevenson (Benaroya Research Institute Cycling Team)      6.13
17 Erik Tonkin (Kona)                                                6.40
18 Christopher Jones (Nerac Pro Cycling)                                 
19 Carl Decker (Giant)                                               6.42
20 Shannon Skerritt (VANILLA BICYCLES)                               6.49
21 Chance Noble (California Giant Berry Farms/Specialized)           6.56
22 Kevin Bradford-Parish (REDLINE)                                   7.06
23 Justin Robinson (California Giant Berry Farms/Specialized)        7.19
24 Nicholas Weighall (Rad Racing NW)                                 7.32
25 Carson Miller (Fred Meyer/Northwest Adventure)                    7.39
26 Mitchell Peterson (Mona Vie)                                      7.42
27 Sean Worsech (Rad Racing)                                         7.46
28 Sean Babcock (Team S&M)                                           7.51
29 Adam Mcgrath (Maxxis/Litespeed)                                   8.25
30 Solomon Woras (Vanilla)                                          10.36
 
One lap down
 
31 Toby Swanson (Benaroya Reasearch Institute Cycling Team)              
32 Matt Kraus (RGM WATCHES - RICHARD SACHS)                              
33 Ryan Iddings (Lapierre USA)                                           
34 David Hackworthy (Ridley)                                             
35 Jerome Townsend (Ridley Factory Team)                                 
36 Chris Parrish (Hagens Berman LLP)                                     
37 Bryan Fawley (Bicycle Sport Shop)                                     
38 Mark Blackwelder (Gentle Lovers)                                      
39 Evan Plews (Capitol Subaru Cycling/ScottUSA)                          
40 Adam Myerson (Nerac Pro Cycling)                                      
41 Ben Thompson (Sunnyside Sports / Bend Elite)                          
42 Donald Reeb (CMG Racing/ Giant)                                       
43 Aaron Schooler (E.R.T.C. - Redbike)                                   
44 Chris Brandt (Collins/Specialized)                                    
45 Ian Brown (River City/TonicFab.com)                                   
46 Damian Schmitt (Sunnyside Sports)                                     
47 John Behrens (Bailey/Black Mountain Bicycles)                         
48 John-Christian Flack (The Valley Athletic Club)                       
49 Ryan Weaver (River City Bicycles)                                     
50 James Williams (Sunnyside Sports)                                     
51 Taylor Lane (Clif Bar Development Cyclo-Cross Team)                   
52 Daniel Neyens (Hagens-Berman Cycling Team)                            
53 Alex Howes (Clif Bar Development Cyclo-Cross Team)                    
54 Brady Kappius (Clif Bar Development Cyclo-Cross Team)                 
55 Patrick Wilder (CyclePath)                                            
56 Luke Brechwald (Rad Racing NW)                                        
57 Pascal Wehr (Sugoi)                                                   
58 Shawn Harshman (Harshman Wealth / Primus Mootry)                      
59 Justin Torrellas (Organic Athlete p/b VegNews)                        
60 Steven Hunter (Veloshop)                                              
61 Chad Berg (Redline Bicycles)                                          
62 Jesse Giordano (Nob Hill Velo) 

Under 23 (ridden as part of elite men)
 
1 Jamey Driscoll (FiordiFrutta Elite Cycling Team)                1.07.25
2 Bjorn Selander (Ridley Factory Team)                               2.21
3 Danny Summerhill (Clif Bar Development Cyclo-Cross Team)           2.37
4 Chance Noble (California Giant Berry Farms/Specialized)            4.30
5 Nicholas Weighall (Rad Racing NW)                                  5.06
6 Carson Miller (Fred Meyer/Northwest Adventure)                     5.13
7 Mitchell Peterson (Mona Vie)                                       5.16
8 Sean Worsech (Rad Racing)                                          5.20
9 Adam Mcgrath (Maxxis/Litespeed)                                    5.59
 
One lap down
 
10 David Hackworthy (Ridley)                                             
11 Jerome Townsend (Ridley Factory Team)                                 
12 Chris Parrish (Hagens Berman LLP)                                     
13 Taylor Lane (Clif Bar Development Cyclo-Cross Team)                   
14 Alex Howes (Clif Bar Development Cyclo-Cross Team)                    
15 Brady Kappius (Clif Bar Development Cyclo-Cross Team)                 
16 Luke Brechwald (Rad Racing NW)