Recently on Cyclingnews.com
Results &amp reports from the USA
Promoters wishing to submit results should send them to Cyclingnews
WCA Cyclocross #4
Washington Park, Milwaukee, October 31, 2004
When the freaks come out for a race it must be CROSS
Franco Panveno scaring us all with his S&M costume
Photo ©: David Bell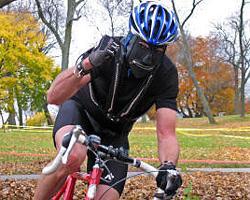 The 2004 WCA Cyclocross stop # 4 was held early Sunday at Washington Park in downtown Milwaukee. There were thousands of local WI fans watching (the Packers beat the Redskins) and also a few who decided to just stop by Washington Park to watch a little local cyclocross action! You thought they were crazy in New England or in Portland...? Well, then I know you haven't been to Milwaukee on Halloween, just after the Packers win, to see a man dressed as Frank N Furter win the Elite Mens Race.
It was a close victory but Dr. Frank said he couldn't have done it without the fans. He won a two up sprint against Under 23 phenomenon Tristan Schouten of Sheboygan, WI. Who was this Sweet Transvestite from Transexual Transylvania you may ask?
Brian Matter, also of Sheboygan, WI, and racing for PCW, not only won the race but also won the costume contest. Other top contenders were a cow (only in WI), an S&M guy, Brett Favre, and a cyclocross clown. Due to the fact that Matter raced in fishnets and vest on a 40°F overcast day, he was awarded victory in the costume contest. Matter has been on a roll this year, winning the WORS (largest state MTB series), the Ore To Shore, and the Chequamegon Fat Tire Festival. This weekend Matter and Schouten will travel to Traverse City, MI, to try and win the Triple Crown. The last leg of the Triple Crown is the infamous Iceman Cometh Challenge. A grueling 30 mile point to point held in all weather conditions, including snow! Last year Schouten won, beating tough international competition including Ryder Hesjdal. Matter now moves into 2nd in the WCA Cross point series behind Andy Hagarten of Milwaukee. The next WCA race will be on the other side of Milwaukee at Estabrook Park - see www.wicycling.org for more details.
Photography
Images by David Bell/www.madcross.org
Local results 2004