Track World Cup 07-08 Round 1 - CDM
Sydney, Australia, November 30-December 2, 2007
Record numbers descend on Sydney for World Cup round one
By Laura Weislo
The Dunc Gray velodrome
Photo ©: John Veage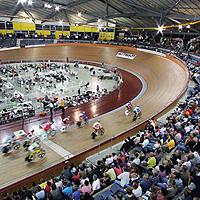 The 2007-2008 UCI Track Cycling World Cup gets underway on November 30 at Sydney's Dunc Gray velodrome, where a record number of entrants will pursue all important points toward Olympic qualification. Of the 395 riders entered in the event, there are 15 reigning World Champions - all of last year's winner except for two from the British team pursuit squad: Geraint Thomas and Paul Manning, the Madison champions Bruno Risi and Franco Marvulli, who are in the midst of the lucrative Six Day season in Europe, and British women's team sprint champion Shanaze Reade.
With a new qualification system for the 2008 Olympics which gives automatic selection to individual World Cup winners as well as World Champions, each World Cup has become an individual battle to make the Games in Beijing. Whereas in previous years each National Olympic Committee would select athletes to fill up its spots, the new rules will see 21 riders gain automatic qualification through the UCI events, with the remaining 144 places distributed to the national committees according to the individual track rankings after the UCI World Championships in March.
The Australian team will be under a bit of pressure to perform in front of its home crowd. Coach Martin Barras told the Daily Telegraph, "It's the opening World Cup of the year and I have the worse knot in my stomach already because we have been preparing away from the rest of the world for six months," he admitted. "It's like uncharted territory for us. But I would have to admit I would be disappointed if we didn't win or get a medal there. Our riders are particularly proud of racing in front of their home crowd."
The Australians will line up a huge team which includes two World Champions: Anna Meares, who holds the world record in the 500m time trial, and Katherine Bates, the points race champion. The home team will also consist of several Olympic champions who are preparing to defend in Beijing: Ryan Bayley, the men's sprint and keirin gold medalist, and three-fourths of the world record setting pursuit team: Graeme Brown, Brett Lancaster and Luke Roberts (Bradley McGee will not attend).
Australian Katie Mactier
Photo ©: John Veage

The team will also include new, young talent in Leigh Howard, who just returned from two U25 Six Day victories with partner Miles Oldman, as well as returning champion Graeme Brown and his Rabobank team-mate Mathew Hayman. Hayman will revisit track racing after an 11 year hiatus. "He [Brown] kind of popped the thought into my head... (saying), 'I reckon you should come along and have a go'," Hayman told Fox sports.
The New Zealand team will have its best shot at gold from in the men's and women's endurance events. Former scratch race world champion Greg Henderson will give the team firepower, along with Hayden Roulston, Joanne Kiesanowski and Catherine Cheatley.
Mikhail Ignatiev
Photo ©: AFP

The men's endurance events should be lit up by the Russian bloc of Mikhail Ignatiev, Nikolay Trusov and Alexander Serov, all of whom are members of the Tinkoff Credit Systems road team, and are all capable of gallant breakaways.
Making a comeback from a nagging back injury that kept her from defending her US pursuit title is American Sarah Hammer (Ouch Pro Cycling), the World Champion in the individual pursuit. Other Americans to attend include the US men's pursuit champion and young talent Taylor Phinney (Slipstream), who will measure up against the world's elite for his first time, and former Olympian Colby Pearce (Cody Racing) among others.
The men's individual pursuit will test defending champion Bradley Wiggins' recovery from a long, tough road season, but after warming up his track legs at the Gent Six Day, Wiggins should be the hands-down favourite. His main competition will be Russian Alexander Serov and Spaniard Sergi Escobar.
The women's sprint and keirin have been the domain of Britain's Victoria Pendleton, who wears the rainbow bands in both events. Pendleton has been in Perth since mid-October training. "Things have been going really well," she told The Guardian, "My times are good, my power is up, and I'd say I'm going better than expected for this time of year."
"Apart from giving me a chance to race at the highest level, the races this season are going to give me a chance of gaining knowledge about the other riders, and how they race. Fingers crossed, but I want to be dominant this year so that I go to Beijing with a psychological advantage."
Theo Bos (Netherlands)
Photo ©: AFP

The men's sprint and keirin will see a clash of the titans worthy of the Olympic Games. World sprint champion Theo Bos will go head to head with Australians Ryan Bayley and Ben Kersten as well as Britain's Ross Edgar. The French riders Arnaud Tournant, Mickaël Bourgain and Gregory Bauge can not be discounted, nor should Italian Robert Chiappa.
The Sydney World Cup will see the introduction of a new event, the women's team pursuit. While not an Olympic event, the race will be one of pride for which the big teams from Australia and Great Britain will fight hard.
This round of the World Cup will be one of two prime opportunities for the Asian nations to hone their skills ahead of the Beijing Olympics without flying halfway around the world. The Sydney round will see a record attendance by Asian nations, with large teams hailing from Malaysia, China, Korea and Japan. There will also be a large contingent from Russia, Belorussia and Ukraine.