2007 UCI Track Cycling World Championships - CM
Spain, March 29-April 1, 2007
Main Page Results Overall standings Previous Day Next Day
Day 3 - March 31: Men's sprint 200m qualifying, 1/16 finals, 1/8 finals, repechages, 1/4 finals & 5th-8th; Women's sprint 1/2 finals & final; Women's 5km scratch race qualifying & 10km final; Men's points race 15km qualifying & 40km final;, Women's 500m TT
Men's sprint
Favorites advance to 1/4 finals
By Shane Stokes in Palma
Theo Bos
Photo ©: Mitch Friedman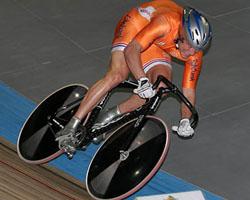 Defending champion Theo Bos (Netherlands), last year's silver and bronze medallists Craig Maclean (Great Britain) and Stefan Nimke (Germany) plus the 2005 runner up Mickaël Bourgain (France) are among the eight riders who progressed through to this evening's quarterfinals of the men's sprint. Also in the running for a medal at this point are Gregory Bauge (France), Maximilian Levy (Germany), Ross Edgar (Great Britain), and Italy's Roberto Chiappa, with he and Nimke moving forward thanks to the repechages.
Bourgain was up against Mark French in the first heat and recorded the second fastest time of 10.484 seconds en route to beating the Australian. He was the fastest in the morning qualifiers, doing a 9.968 seconds, and used the same speed to win, looking in impressive form.
Last year's winner went even quicker when disposing of Ryan Bayley in heat two. The Australian led out, and Bos looked like he was going to dive below him, but he switched up and went around on the outside, then turned on the afterburners to post a time of 10.432 seconds.
Also looking sharp for this evening's showdown is Craig Maclean. The Briton easily came around Arnaud Tournant (France) with about 100 metres to go. Tournant's compatriot Gregory Bauge was best in heat four attacked at the beginning of the second lap and used his speed to hold off Roberto Chiappa (Italy).
Two Germans went head to head in the next heat. Maximilian Levy took on Nimke. The former took it easily, with Nimke sitting up and staking his hopes on the repechage.
Race five got things going for the home crowd but even with the Spaniards willing him on, José Antonio Escuredo Raimondez was no match for Ross Edgar (Great Britain).
He had a second chance in the repecharge but Chiappa was taking no prisoners, jumping from third place to first at the bell. Mark French came from the back of the trio to try to get by but didn't have the power to do so, and Chiappa also had the measure of Escuredo Raimondez's finishing straight surge.
Prior to the three-way fight, there was a moment of light relief when Frenchs' skinsuit popped open on the line. He was doing deep breathing immediately before the start and the zipper failed, making for an Incredible Hulk-type moment and some laughs in the velodrome.
Nimke, Tournant and Bayley had their second chance in the other repechage and here the Frenchman wound it up from the front. Nimke was lying second and had the horsepower to charge by, while Bayley was left stuck in third.
In the earlier 1/16 finals, Italian veteran Chiappa had an easy ride-off against Tim Veldt. The Dutchman strained a muscle in the qualifiers and opted not to sprint, rolling around the track and saving himself for the kilo tomorrow.
Women's sprint
Guo best in sprint qualifier
Having taken the bronze medal last year, Shuang Guo (People's Republic of China) posted the fastest qualifying time for the women's sprint.
She covered the 200 metre distance in 11.149 seconds, just under 0.05 seconds quicker than Simona Kreupeckaite. The Lituanian finished 0.003 seconds ahead of Great Britain's Victoria Pendleton, who won the sprint title in 2005 and took team sprint gold last night, with Clara Sanchez (France) in fourth.
Anna Meares (Australia) and defending champion Natallia Tsylinskaya (Belarus) were fifth and sixth.
24 of the 25 entered riders progressed to the next round, with Guo sprinting off against the slowest from the 200m TT, and so forth. The 1/16 and 1/8 finals plus the 1/8 final repecharge took place the afternoon following the qualifiers, with the quarterfinals following in the evening. The medals will be decided on the second day.
1/16 final
The medallists from last year progressed through the 1/16 finals without any serious problems, Natallia Tsylinskaya (Belarus), Victoria Pendleton (Great Britain) and Shuang Guo (China) all winning their heats.
Pendleton had a scare, however, when her opponent Kristine Bayley swung up the track on the final lap bumped her hard. She was still able to win the heat, and the Australian received a warning for her move.
Others going through to the 1/8 finals were Simona Krupeckaite (Lithuania), Clara Sanchez (France), Anna Meares (Australia), Lisandra Guerra Rodriguez (Cuba), Dana Glöss (Germany), Swetlana Grankowskaja (Russia), Anna Blyth (Great Britain) and Daniela Grelui Larreal (Venezuela).
Christin Muche (Germany) also went forward after her opponent Yvonne Hijgenaar (Netherlands) was relegated. The Dutchwoman was on her outside on the final lap and came down to clash shoulders several times, crossing the line first but being booted for her manoeuvre.
1/8 final
2006 champion Natallia Tsylinskaya (Belarus) plus podium finishers Victoria Pendleton (Great Britain) and Shuang Guo (China) continued their progress when they won their heats in the 1/8 final this afternoon. In her race, Pendleton was up against countrywoman Anna Blyth, and came back from behind to win. 2004 silver medallist Anna Meares (Australia) beat Dana Glöss (Germany), while Simona Krupeckaite (Lithuania) and Clara Sanchez (France) also came out on top.
In the repechages, Muche and Lisandra Guerra Rodriguez grasped their second chance and went through.
1/4 final: Defending champ out of women's sprint
Victoria Pendleton may have lost out to Belarusian Natallia Tsylinskaya in last year's world championships but the Briton had the measure of her opponent, beating her in two rounds of their quarterfinal heat.
She will meet Lisandra Guerra Rodriguez in the semifinals tomorrow morning after the Cuban edged out Simona Krupeckaite (Lithuania) in their clash.
Meanwhile 2006 bronze medallist Shuang Guo (China) also kept her hopes of a rainbow jersey alive, progressing after she got the better of Christin Muche (Germany). The match between Anna Meares (Australia) and Clara Sanchez was the only one to go to a decider, but the Frenchwoman put herself out of the race when she crashed hard while forcing the 2004 silver medallist to ride on the blue band. She received a warning as a result, but missing out on the semifinal will hurt as much as the injuries she sustained while riding outside the rules.
Guo and Meares will therefore slug it out in the other semifinal. Former winner Pendleton will start tomorrow as the favourite, due to her pedigree at this level and also the fact that her second race against Tsylinskaya was the fastest of the evening, the women's team sprint gold medallist clocking 11.678. Next quickest was Guerra Rodriguez' first run of 11.707 seconds.
Semi-final: Pendleton and Guo advance to final
Great Britain rider Victoria Pendleton moved a step closer to reclaiming her 2005 sprint crown when she beat Cuban Guerra Rodriguez 2-0 in the semi finals.
The British rider raced to a comfortable win in both heats, while her rival for the final, Shuang Guo (China) had it a little more difficult, losing the first race to Anna Meares.
In the second match, the Australian led from the front and wound it up after the bell, but Guo passed her relatively easily. In the decider, Meares changed tactics and left the Chinese rider on front, with Guo holding a two length lead heading into the last lap. However it was the same result, the 2006 bronze medallist having too much power for her rival and holding off the challenge on the finishing straight.
Pendleton sounded determined afterwards. She finished second in 2006 and wants her crown back. "My legs feel good and I just really want to do it here," she said after her warm-down. "Last year I was disappointed with second, I won the Commonwealth title but I was quite disappointed that I couldn't follow through at the worlds. You could see it on my face on the podium, it was a case of forced smiles!"
Going through in two races is clearly a plus. "If you win the first you have the mental advantage. To get it over in two is much easier for me. Coming back after a mistake, you haven't got any chance other than to make amends.
"Some riders respond better to that situation than others. In the past, I always try to get everything out on the third ride but some riders lose their confidence a bit after two races [when it goes to a decider]."
At the time of talking, Guo and Meares still had to have their third race. Pendleton thought that the Australian was capable of coming back and winning, but this later proved not to be the case. She said that she had no preference as regards who she would meet in the final.
"I don't mind who I am up against, for me it is an equal situation. They are both good riders, I have seen them perform this year at a very high level, taking medals at World Cup standard. I think it is pretty even, but I hope it goes well for me against whoever goes through."
Finals; Victoria victorious again
Two years after she first won the world title in Los Angeles and one year after she had to settle for silver in Bordeaux, Victoria Pendleton is back in the rainbow jersey of world sprint champion, netting her second gold here in Palma.
Pendleton was up against Shuang Guo in the final and handled things confidently. In the first heat the Chinese rider jumped going onto the final lap but Pendleton passed her easily on the back straight, racing home well clear. She was more audacious in the second round, going from a lap and a half out and again putting a gap between herself and the 2006 bronze medallist.
"I am really pleased about being back in the rainbow jersey again," she said after the podium presentation. "I think losing last year and finishing in second place was quite tough. I didn't really go into the world championships feeling my strongest, so I am really glad with this. I wanted it back badly so I was determined to get it this time.
"It is a different feeling [to 2005]. Once you have done it once, you know it is possible again. When you lose it you think 'I made a mistake there.' It is nice to have it back."
In truth, Pendleton appeared well in control in the final. When asked if she found one of the earlier opponents especially difficult, she said that squaring up against three time sprint victor Natallia Tsylinskaya in the quarterfinal was a challenge. "I think riding against Tsylinskaya was tough. Although I knew that from looking at her 200 metre time, she wasn't going as fast as usual, she is by far one of the strongest sprinters around for many years. A multiple world champion [eight across the disciplines – ed.].
"For me to come up against her in early rounds was quite tough, as it was a ride I imagined doing in a final, not in an early stage. So it was quite hard to do that."
She was diplomatic when asked if her final was straightforward. "I guess so…. You have demons with certain riders, I guess, certain people who have beaten you in the past, while there are others you have more confidence in beating. In Manchester I beat Shuang, so I went in to the race quite confident."
In the race for bronze, Anna Meares came out best against Lisandra Guerra Rodriguez (Cuba). She went from a long way out in the first heat and held off her Cuban rival, despite the fact that the ride came less than half an hour after the broke the world record in the 500 m TT.
She repeated the same tactic in the second heat, jumping before the bell and hitting the line well clear.
Men's points race
Llaneras back on top, takes fourth world points race title
When his long time Madison partner Isaac Galvez tragically died during the Gent six day last November 26, Joan Llaneras considered giving up the sport. The two were reigning world champions, having won the madison together in 1999 and 2006, and had been racing as a pair for seven years.
However, with the 2007 championships taking place on home soil, the 37 year-old Majorcan finally opted to carry on, deciding to ride the points race and then the madison with Carlos Torrent. He was absolutely inspired in the first of those, and he dominated the competition and drove the many local supporters into a near frenzy.
Llaneras won sprint number five and then placed third, second, first, and fourth in others. But it was in gaining laps that he won the contest. He took a total of three on the main bunch - including one solo - and finished with a total of 76 points.
Iljo Keisse (Belgium) was 21 points down in second, taking just one lap on the bunch but sprinting well throughout. Olympic champion Mikhail Ignatiev netted bronze with a total of two laps and 52 points, only three points off silver.
Llaneras was extremely attentive throughout, showing his huge experience in policing the bunch and all attempts by his main competitors to get clear. But his form was also beyond question, riding at a level above the others to take that solo lap, and also leading the strung-out bunch for the entirety of the sixth, fifth and fourth laps before easing back, dropping off the back of the group near the finish and soaking up the applause, the emotions and the memories as he crossed the line.
Getting to the final: Tamouridis and Kadlec win heats
Earlier in the day, 2005 silver medallist Ioannis Tamouridis showed his form and hunger when he was the only rider to take two laps on the field during the heats of the points races. Going in heat two, he took off after the first sprint with Carlos Alzate Escobar (Colombia) and Hayden Roulston (New Zealand) for company and finished second to the Colombian in the sprint. The trio lapped the field with 37 laps to go, while the lone chaser, Ireland's David O'Loughin, did so one lap later. 2002 winner Chris Newton had tried to get across to O'Loughlin shortly after the Irishman set off in pursuit of the leading three but was brought back.
Tamouridis went again after the fourth sprint, taking another lap, while Oleksandr Polivoda (Ukraine) also clocked up 20 points around that point. Daniel Oss (Italy), Andreas Graf (Austria) and Olympic champion Mikhail Ignatiev (Russia) were the only others to succeed in gaining a lap while - surprisingly - Newton finished with just four points and failed to qualify.
The Briton had talked about his determination to chase a second points title, having finished just outside the medals in fourth in 2003, 2005, and 2006. However he seemed under power in the heat and took an early exit from the competition.
In the other heat, Milan Kadlec (Czech Republic) topped the standings with 21 points. He was fourth in the first sprint, won by Iljo Keisse (Belgium), and then after Juan Esteban Curuchet (Argentina) beat Majorcan hero Joan Llaneras (Spain) in the next, Kadlec took off with Vladimir Tuychiev (Uzbekistan), Vasil Kiryienka (Belarus), and scratch race winner Kam Po Wong (Hong Kong).
The four quickly gained a lap and were able to relax somewhat, secure in the knowledge that as long as many others didn't gain a lap, their large point buffer meant they wouldn't have to sprint. In the end, they were the only ones to gain those 20 points, with Curuchet taking another sprint to finish fifth. Alexander Aeschbach (Switzerland) also ended with ten, while Olympic silver medallist Llaneras was ninth. The first 11 went through to the finals, with Ignatas Konovalovas (Lituania), Robert Bengsch (Germany) and Mike Creed (USA) joining Newton and Zachary Bell (Canada) as the riders not to qualify.
Women's scratch race; Gold for Cuba
Unleashing a lethal burst of speed with just over one lap to go, world cup winner Yumari Gonzalez Valdivieso (Cuba) ripped clear of the main field in the women's scratch final on Saturday evening, hitting the line well clear of the rest of the field.
The audacious move came at the end of what was a fast, aggressive race, although the final laps were more passive as the riders prepared for what they believed would be a mass gallop for bronze. That slight easing in intensity gave the strong Gonzalez the opportunity she needed for a bold move, netting her the rainbow jersey to go along with that of world cup champion.
Second place went to Maria Luisa Calle Williams (Colombia), who showed great determination to win the gallop for silver after having led the bunch for over a lap inside the final kilometre, just before Gonzalez clipped away.
Rebecca Quinn (United States Of America) was third over the line but any expectations of bronze were dashed when the judges ruled that she had performed an irregular move in the final gallop, entering the sprinter's lane when another rider was there. Dutch rider Adrie Visser consequently claimed the podium place in question.
The 40 lap race got off to a lively start with many riders trying to get away. Amongst those involved in the early action were Catherine Cheatley (New Zealand), Pascale Schnider (Switzerland) and Iona Wynter (Jamaica), with the latter trying again with a long break after this first move was unsuccessful.
Cheatley had another go after Wynter was brought back. She was clear with 14 laps remaining but was caught and passed by Visser and Schider. The bunch was hot in pursuit, though, bringing everything back together with 11 laps to go.
Very soon afterwards, Calle Williams and Leire Olaberria Dorronsoro (Spain) surged clear, the latter's foray drawing huge cheers from the home crowd. Olga Slyusareva (Russia) set off in pursuit but they were all reeled in. Frenchwoman Cathy Moncassin Prime then played her hand with six to go but she too was overhauled. It looked likely at that stage that a bunch sprint would decide the gold, but Gonzalez Valdivieso thought otherwise and had the courage, strength and timing to pull it off.
Meares beats world record
By Shane Stokes in Palma
Olympic and 2004 world champion Anna Meares christened the Palma Arena track this evening, setting the first new world record in the velodrome en route to victory in the women's 500m time trial. She tore around the two laps in a time of 33.588", smashing the world record of 33.944" she set during the Sydney World Cup on November 18th 2006.
"I am so happy," she said. "I got to the event and I was hurting little bit after two days of hard racing in the team sprint and the sprint. The fatigue was setting in, I was getting tired. My coach just sat me down and said, 'look, you have had two hard days of racing and all I want from you tonight is just one effort. It doesn't matter what else comes from tonight.' That was just the thought process for me, I was just going to go out and do one effort as hard as I can. And lo and behold, I came up with bronze in the sprint as well."
New British phenom Shanaze Reade was second to start and led almost to the end of the competition. The 18 year old BMX specialist was riding her first 500 m TT ever – including in training – standing in for Victoria Pendleton, who was up in the women's sprint shortly after. Given her status as a raw novice, Reade reconfirmed the huge ability she had shown earlier at these worlds when winning team sprint gold, by posting a time of 34.633".
This time stood as riders came and went, finally being topped when Cuban rider Lisandra Guerra Rodriguez went .618" quicker. She remained in pole position right up until the end when Meares blitzed around, smashing her own record and giving Australia its first gold of these championships.
The Cuban took second and Natallia Tsylinskaya (Belarus) netted bronze with 34.430". As for Reade, she finished just behind Simona Krupeckaite (Luthuania) in fifth, but was able to see a bright side.
"I must have been training for the lap [she rode the opening lap with Pendleton in the team sprint – ed.] for two months and then to get a 34 in this - I am really happy with it, there is no disappointment there at all. Ok, it was hard to see people go faster [after leading for so long], but to get top five against Olympic champions and world champions is just unreal, really.
"It motivates me to get a bit fitter, really, and see how much further I can go, just do a few more. I really don't know what the future holds for me right now. I am just going to try my best, keep going back and then see."
Photography
For a thumbnail gallery of these images, click here
Images by Mitch Friedman/www.mitchophoto.com
Images by CJ Farquharson/WomensCycling.net
Results
Men's Sprint


Qualifying
 
1 Mickaël Bourgain (France)                   9.968 (72.231 km/h)
2 Theo Bos (Netherlands)                     10.045
3 Craig Maclean (Great Britain)              10.110
4 Gregory Bauge (France)                     10.134
5 Maximilian Levy (Germany)                  10.163
6 Ross Edgar (Great Britain)                 10.191
7 José Antonio Escuredo Raimondez (Spain)    10.254
8 Stefan Nimke (Germany)                     10.264
9 Tim Veldt (Netherlands)                    10.271
10 Lukasz Kwiatkowski (Poland)               10.286
11 Teun Mulder (Netherlands)                 10.303
12 Mark French (Australia)                   10.324
13 Damian Zielinski (Poland)                 10.344
14 Ryan Bayley (Australia)                   10.352
15 Arnaud Tournant (France)                  10.353
16 Roberto Chiappa (Italy)                   10.383
17 Shane Perkins (Australia)                 10.414
17 Andriy Vynokurov (Ukraine)                10.414
19 Matthew Crampton (Great Britain)          10.431
20 Scott Sunderland (Australia)              10.433
21 Matthias John (Germany)                   10.474
22 Michael Seidenbecher (Germany)            10.480
23 Tsubasa Kitatsuru (Japan)                 10.482
24 Ricardo Lynch (Jamaica)                   10.492
25 Denis Dmitriev (Russian Federation)       10.506
26 Lei Zhang (People's Republic of China)    10.507
27 Adam Ptacnik (Czech Republic)             10.535
28 Kazunari Watanabe (Japan)                 10.541
29 Sergey Borisov (Russian Federation)       10.573
30 Kiyofumi Nagai (Japan)                    10.634
31 Qi Tang (People's Republic of China)      10.684
32 Azizulhasni Awang (Malaysia)              10.732
33 Mohd Rizal Tisin (Malaysia)               10.751
34 Maciej Bielecki (Poland)                  10.788
35 Denis Spicka (Czech Republic)             10.794
36 Mikhail Shikhalev (Russian Federation)    10.841
37 Ivan Vrba (Czech Republic)                10.869
38 Itmar Esteban Herraiz (Spain)             10.878
DNS Travis Can Smith                            

1/16 Finals
 
Heat 1
 
1 Mickaël Bourgain (France)                  11.255
2 Ricardo Lynch (Jamaica)                          
 
Heat 2
 
1 Theo Bos (Netherlands)                     10.814
2 Tsubasa Kitatsuru (Japan)                        
 
Heat 3
 
1 Craig Maclean (Great Britain)              10.860
2 Michael Seidenbecher (Germany)                   
 
Heat 4
 
1 Gregory Bauge (France)                     10.851
2 Matthias John (Germany)                          
 
Heat 5
 
1 Maximilian Levy (Germany)                  10.627
2 Scott Sunderland (Australia)                     
 
Heat 6
 
1 Ross Edgar (Great Britain)                 10.846
2 Matthew Crampton (Great Britain)                 
 
Heat 7
 
1 José Antonio Escuredo Raimondez (Spain)    10.942
2 Andriy Vynokurov (Ukraine)                       
 
Heat 8
 
1 Stefan Nimke (Germany)                     10.747
2 Shane Perkins (Australia)                        
 
Heat 9
 
1 Roberto Chiappa (Italy)                    18.444
2 Tim Veldt (Netherlands)                          
 
Heat 10
 
1 Arnaud Tournant (France)                   10.956
2 Lukasz Kwiatkowski (Poland)                      
 
Heat 11
 
1 Ryan Bayley (Australia)                    10.739
2 Teun Mulder (Netherlands)                        
 
Heat 12
 
1 Mark French (Australia)                    11.039
2 Damian Zielinski (Poland)                        

1/8 Finals
 
Heat 1
 
1 Mickaël Bourgain (France)        10.484
2 Mark French (Australia)                
 
Heat 2
 
1 Theo Bos (Netherlands)           10.432
2 Ryan Bayley (Australia)                
 
Heat 3
 
1 Craig Maclean (Great Britain)    10.726
2 Arnaud Tournant (France)               
 
Heat 4
 
1 Gregory Bauge (France)           10.988
2 Roberto Chiappa (Italy)                
 
Heat 5
 
1 Maximilian Levy (Germany)        10.724
2 Stefan Nimke (Germany)                 
 
Heat 6   
 
1 Ross Edgar (Great Britain)       10.871
2 José Antonio Escuredo Raimondez (Spain)

Repecharge

Heat 1

1 Roberto Chiappa (Italy)            10.885 (66.146 km/h)
2 José Antonio Escuredo Raimondez (Spain)    
3 Mark French (Australia)                    
 
Heat 2

1 Stefan Nimke (Germany)             10.783 (66.771 km/h)
2 Arnaud Tournant (France)                   
3 Ryan Bayley (Australia)    

Quarter finals 
 
Heat 1
 
1 Mickaël Bourgain (France)        10.644     10.892
2 Stefan Nimke (Germany)                   
 
Heat 2
 
1 Theo Bos (Netherlands)           10.706     10.633
2 Roberto Chiappa (Italy)                  
 
Heat 3
 
1 Craig Maclean (Great Britain)    10.678     10.874     
2 Ross Edgar (Great Britain)       
 
Heat 4
 
1 Gregory Bauge (France)           10.553     10.922
2 Maximilian Levy (Germany)                
 
Race for fifth to eight
 
5 Maximilian Levy (Germany)        11.474 (62.750 km/h)
6 Stefan Nimke (Germany)                   
7 Roberto Chiappa (Italy)                  
8 Ross Edgar (Great Britain) 

Women's sprint
Qualifying
 
1 Shuang Guo (People's Republic of China)       11.149 (64.579 km/h)
2 Simona Krupeckaite (Lithuania)                11.191
3 Victoria Pendleton (Great Britain)            11.194
4 Clara Sanchez (France)                        11.270
5 Anna Meares (Australia)                       11.278
6 Natallia Tsylinskaya (Belarus)                11.346
7 Lisandra Guerra Rodriguez (Cuba)              11.365
8 Willy Kanis (Netherlands)                     11.408
9 Swetlana Grankowskaja (Russian Federation)    11.444
10 Anna Blyth (Great Britain)                   11.497
11 Yvonne Hijgenaar (Netherlands)               11.503
12 Daniela Grelui Larreal (Venezuela)           11.541
13 Jinjie Gong (People's Republic of China)     11.563
14 Christin Muche (Germany)                     11.610
15 Jennie Reed (United States Of America)       11.617
16 Lulu Zheng (People's Republic of China)      11.656
17 Dana Glöss (Germany)                         11.667
18 Jane Gerisch (Germany)                       11.679
19 Diana Maria Garcia Orrego (Colombia)         11.682
20 Miriam Welte (Germany)                       11.743
21 Oksana Grishina (Russian Federation)         11.809
22 Kristine Bayley (Australia)                  11.957
23 Renata Dabrowska (Poland)                    11.972
24 Helena Casas Roige (Spain)                   12.596
25 Tamilla Abassova (Russian Federation)        14.561
                        
1/16 final

Heat 1 

1 Shuang Guo (China)                    12.36
2 Helena Casas Roige (Spain)                   

Heat 2 

1 Simona Krupeckaite (Lithuania)        12.22
2 Renata Dabrowska (Poland)                    

Heat 3 

1 Victoria Pendleton (Great Britain)    12.55
2 Kristine Bayley (Australia)                  

Heat 4 

1 Clara Sanchez (France)                12.13
2 Oksana Grishina (Russia)                     

Heat 5 

1 Anna Meares (Australia)               12.02
2 Miriam Welte (Germany)                       

Heat 6 

1 Natallia Tsylinskaya (Belarus)        11.90
2 Diana Maria Garcia Orrego (Colombia)         

Heat 7 

1 Lisandra Guerra Rodriguez (Cuba)      11.81
2 Jane Gerisch (Germany)                       

Heat 8 

1 Dana Glöss (Germany)                  11.89
2 Willy Kanis (Netherlands)                    

Heat 9 

1 Swetlana Grankowskaja (Russia)        12.27
2 Lulu Zheng (China)                           

Heat 10 

1 Anna Blyth (Great Britain)            12.22
2 Jennie Reed (USA)                            

Heat 11 

1 Christin Muche (Germany)              11.98
REL Yvonne Hijgenaar (Netherlands)             

Heat 12 

1 Daniela Grelui Larreal VEN            12.26
2 Jinjie Gong (China)                          
 
1/8 final

Heat 1 

1 Shuang Guo (China)                    11.76
2 Daniela Grelui Larreal VEN                   

Heat 2 

1 Simona Krupeckaite (Lithuania)        11.77
2 Christin Muche (Germany)                     

Heat 3 

1 Victoria Pendleton (Great Britain)    11.77
2 Anna Blyth (Great Britain)                   

Heat 4 

1 Clara Sanchez (France)                12.00
2 Swetlana Grankowskaja (Russia)               

Heat 5 
1 Anna Meares (Australia)               11.91
2 Dana Glöss (Germany)                         

Heat 6 

1 Natallia Tsylinskaya (Belarus)        12.00
2 Lisandra Guerra Rodriguez (Cuba)             
 
1/8 final repechage

Heat 1 

1 Lisandra Guerra Rodriguez (Cuba)      12.18
2 Swetlana Grankowskaja (Russia)               
3 Daniela Grelui Larreal VEN                   

Heat 2 

1 Christin Muche (Germany)              12.03
2 Anna Blyth (Great Britain)                   
3 Dana Glöss (Germany)                         

Quarter Finals

Heat 1
 
1 Shuang Guo (People's Republic of China)    12.136     12.162
2 Christin Muche (Germany)                           
 
Heat 2
 
1 Lisandra Guerra-Rodriguez (Cuba)           11.707     11.822
2 Simona Krupeckaite (Lithuania)                     
 
Heat 3
 
1 Victoria Pendleton (Great Britain)         11.974     11.678
2 Natallia Tsylinskaya (Belarus)                     
 
Heat 4
 
1 Anna Meares (Australia)                    11.857     11.857     14.008
DNF Clara Sanchez (France)                           
 
Race for 5th to 8th
 
5 Simona Krupeckaite (Lithuania)             11.787 (61.064 km/h)
6 Christin Muche (Germany)                           
7 Natallia Tsylinskaya (Belarus)                     
DNS Clara Sanchez (France)                           


Semi-Finals
 
Heat 1

1 Shuang Guo (People's Republic of China)     11.981            11.855
2 Anna Meares (Australia)                              12.142
 
Heat 2

1 Victoria Pendleton (Great Britain)          11.989   11.876
2 Lisandra Guerra Rodriguez (Cuba)                        

Finals

For gold and silver
 
1 Victoria Pendleton (Great Britain)    0.11.879
2 Shuang Guo (People's Republic of China)       
 
For bronze
 
3 Anna Meares (Australia)               0.12.000
4 Lisandra Guerra-Rodriguez (Cuba) 
Women's scratch race
Finals

1 Yumari Gonzalez Valdivieso (Cuba)              
2 Maria Luisa Calle Williams (Colombia)          
3 Adrie Visser (Netherlands)                     
4 Lada Kozlikova (Czech Republic)                
5 Leire Olaberria Dorronsoro (Spain)             
6 Annalisa Cucinotta (Italy)                     
7 Olga Slyusareva (Russian Federation)           
8 Katie Curtis (Great Britain)                   
9 Lesya Kalitovska (Ukraine)                     
10 Pascale Schnider (Switzerland)                
11 Iona Wynter (Jamaica)                         
12 Belinda Goss (Australia)                      
13 Jianling Wang (People's Republic of China)    
14 Eleftheria Maria Ellinikaki (Greece)          
15 Catherine Cheatley (New Zealand)              
16 Madeleine Sandig (Germany)                    
17 Belem Guerrero Mendez (Mexico)                
18 Cathy Moncassin Prime (France)                
19 Magdalena Sara (Poland)                       
REL Rebecca Quinn (United States Of America)  

Men's points race
Heat 1

1 Milan Kadlec (Czech Republic)               21 pts (50.013km/h)
2 Vladimir Tuychiev (Uzbekistan)              20
3 Vasil Kiryienka (Belarus)                   20
4 Kampo Wong (Hong Kong, China)               20
5 Juan Esteban Curuchet (Argentina)           10
6 Alexander Aeschbach (Switzerland)           10
7 Cameron Meyer (Australia)                    9
8 Peter Schep (Netherlands)                    9
9 Joan Llaneras Rosello (Spain)                8
10 Iljo Keisse (Belgium)                       8
11 Makoto Iijima (Japan)                       5
12 Ignatas Konovalovas (Lithuania)             3
13 Robert Bengsch (Germany)                    2
14 Michael Creed (United States Of America)    1
 
Heat 2

1 Ioannis Tamouridis (Greece)                 43 pts (48.711km/h)
2 Carlos Alzate Escobar (Colombia)            27
3 Oleksandr Polivoda (Ukraine)                25
4 Hayden Roulston (New Zealand)               22
5 Daniel Oss (Italy)                          21
6 David O'loughlin (Ireland)                  21
7 Andreas Graf (Austria)                      20
8 Mikhail Ignatiev (Russian Federation)       20
9 Matthieu Ladagnous (France)                 14
10 Jenserik Madsen (Denmark)                  13
11 Rafal Ratajczyk (Poland)                    9
12 Zachary Bell (Canada)                       7
13 Chris Newton (Great Britain)                4
DNS Andris José Hernandez (Venezuela)           

Final 

1 Joan Llaneras Rosello (Spain)            76 pts
2 Iljo Keisse (Belgium)                    55
3 Mikhail Ignatiev (Russian Federation)    52
4 Cameron Meyer (Australia)                46
5 Milan Kadlec (Czech Republic)            43
6 Matthieu Ladagnous (France)              39
7 Vasil Kiryienka (Belarus)                39
8 Peter Schep (Netherlands)                32
9 Juan Esteban Curuchet (Argentina)        28
10 Oleksandr Polivoda (Ukraine)             5
11 Kampo Wong (Hong Kong, China)            5
12 Alexander Aeschbach (Switzerland)        4
13 Jenserik Madsen (Denmark)                2
14 Makoto Iijima (Japan)                    8
15 Andreas Graf (Austria)                  19
16 Vladimir Tuychiev (Uzbekistan)          20
17 Ioannis Tamouridis (Greece)             20
DNF Carlos Alzate Escobar (Colombia)         
DNF David O'Loughlin (Ireland)               
DNF Daniel Oss (Italy)                       
DNF Hayden Roulston (New Zealand)            
DNF Rafal Ratajczyk (Poland)                 

Women's 500m Time Trial
1 Anna Meares (Australia)                      33.588 (53.590 km/h)
2 Lisandra Guerra Rodriguez (Cuba)             34.015
3 Natallia Tsylinskaya (Belarus)               34.430
4 Simona Krupeckaite (Lithuania)               34.487
5 Shanaze Reade (Great Britain)                34.633
6 Willy Kanis (Netherlands)                    34.700
7 Yvonne Hijgenaar (Netherlands)               34.776
8 Anna Blyth (Great Britain)                   34.870
9 Sandie Clair (France)                        34.892
10 Virginie Cueff (France)                     35.159
11 Kristine Bayley (Australia)                 35.264
12 Jane Gerisch (Germany)                      35.402
13 Fang Tian (People's Republic of China)      35.471
14 Jinjie Gong (People's Republic of China)    35.473
15 Miriam Welte (Germany)                      35.619
16 Tamilla Abassova (Russian Federation)       35.625
17 Nancy Contreras Reyes (Mexico)              35.754
18 Diana Maria Garcia Orrego (Colombia)        36.063
19 Lyubov Shulika (Ukraine)                    36.272
20 Magdalena Sara (Poland)                     36.919
21 Helena Casas Roige (Spain)                  37.010