2005 US National Track Championships - CN
Los Angeles, California, August 10-13, 2005
Main Page Results Overall standings Previous Day
Day 4 - August 13: Women: Keirin, Men: Madison; Team Sprint
Drama to the end
By Eddie Monnier in Los Angeles
A very happy Chad Hartley of TIAA-CREF
Photo ©: Mitch Friedman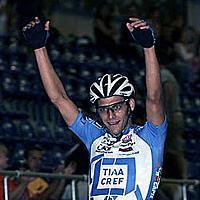 After three long days of hard racing, coaching, spectating, volunteering and officiating, there were some very tired souls on hand. While the indoor wood track is truly a blessing, the concrete infield is murder on the legs. And if that wasn't enough, there would be more protest drama, this time in the madison.
Team Sprints
A surprise to many, Jelly Belly/Big City bettered the time of First Rate Mortgage to win the women's team sprints (500 metre), with a time of 37.629.
CKR Racing (Belz, Stahl, Nelman) topped Veloworx Racing (Massie, Blatchford, Kacala) for the gold in the men's team sprints (750-meter), while age, experience and speed prevailed over youth when Wyndham-Hard Time (Alfred - 37, Quist - 37, Whaley - 45) beat Cody Racing (Tracy - 20, Beardsley - 22, Boucher - 19) for the bronze.
While most readers would expect a team of sprinters with ages of 37, 37 and 45 to be thrilled with the bronze medal at an Elite National Championship, the Wyndham-Hard Time team isn't comprised of ordinary Masters riders. Quist and Alfred both rode the Moscow World Cup round last year. Plus, Alfred had already scored two national titles this week (keirin and sprint) and represented the US at the Pan Am Games where he medaled in the team sprint. Quist is a masters world record holder in the kilo and still among the best kilo riders the US has. The team was a bit disappointed with third place but acknowledged that they rode a bit slower than expected and that the winning time of CKR was faster than what they thought it would take to win. So, while not thrilled to take the bronze, they were "pleased with it."
Women's Keirin
Kim Kemp
Photo ©: Mitch Friedman

In what may be the first instance of a woman pacer in a national championship keirin, local racer Kimberly Kemp paced the women's keirins. She trained under the tutelage of Johnny Walsh, who normally handles the job (when he's not landing on the podium himself in the points and Madison races). Jennie Reed continued her domination of anything sprint-related for women when she took the Keirin, her third title of the event. Speedster Becky Quinn, Anna Webb, Annette Hanson and Anna Lang completed the podium.
Madison
Because of the strong particpation levels, there were two 80-lap qualifying heats for the Madison, from which the top six of nine teams would advance to the final. Unlike the scratch and points race qualifiers, there really weren't any major names that didn't qualify. That's not to suggest it was easy, as there certainly were strong riders not making the cut. The team of Mike Friedman and Bobby Lea (Northwest Mortgage #2) won its heat (48.318 km/h), while Rahsaan Bahati and Erik Saunders (McGuire Langdale) won the second heat (49.063 km/h).
Jelly Belly had David McCook and Giovanni Ray
Photo ©: Mitch Friedman

The 160-lap final looked to be a battle royale. Northwestern Mortgage fielded four teams. TIAA-CREF fielded the duo of Colby Pearce and Chad Hartley, but effectively had a second team in Mercy Cycling (Huff and Yezefski), since Yezefski rides for TIAA-CREF. Single teams McGuire/Langdale, Jelly Belly (McCook and Rey) and Southbay (Walsh and Vogt) could not be easily dismissed.
TIAA-CREF got off to a great start by winning the first two sprints, followed in each case by Southbay Wheelmen. Northwestern Mortgage #2 went on a rampage to finish second on the third sprint and then three consecutive firsts on the following sprints and take the lead. TIAA-CREF finished second in the last two of these sprints, putting it just two points behind Northwestern Mortgage #2. Three teams were close in the battle for third: Northwestern Mortgage #1 (Carney and Nelessen) with 10 points, and Eastside Wheelmen (Luttrell and Suhr) and Southbay Wheelmen both at 7 points.
At 33 laps remaining, TIAA-CREF put in a hard, sustained attack. The team quickly established a half lap lead and the resulting chase absolutely shattered the pack. Eventually, Mercy Cycling, which was already down two laps and about to go down another, mixed in with TIAA-CREF, which was still working toward taking a lap on the main field. The riders were told not to assist TIAA-CREF and soon told to withdraw because they were three laps down and clearly out of contention. TIAA-CREF finally took its lap at eight laps to go. In the Madison, laps take precedence over points, so with all other teams down at least one lap, TIAA-CREF needed only to finish to put an end to its somewhat frustrating week by scoring a national title. Northwestern Mortgage #2 won the final sprint to end with 25 points on the board. McGuire Langdale scored in all but one of the eight sprints to finish solidly in third. Eastside Wheelmen and Southbay completed the podium.
Northwest Mortgage
Photo ©: Mitch Friedman
Following the race, the Northwestern Mortgage team filed a protest alleging that TIAA-CREF benefitted from work performed by Mercy Cycling when it dropped off the bunch. UCI Rule 3.2.166 states that "A rider who drops behind the bunch shall not assist chasing rider(s) to gain a lap on the pain of disqualification of his team." Team representative Jame Carney said, "Colby and Chad were strong, but we'll never know if they would have won without Mercy's help. I could have sent my guys on the attack and then dropped off the back to help them take a lap, but we won't do that." Ultimately, the race jury denied the protest and let the results stand. To reiterate its position, Northwestern Mortgage skipped the award ceremony.
When interviewed about the situation, Pearce explained, "We got mixed in with Mercy a couple of times, but their contribution to our taking a lap, which probably took almost 30 laps, was very minimal. Three or four straights at most. I even went over Brad and told him, 'We [TIAA-CREF] have to pull.' It's just unfortunate that we cannot have a national track championship in the US without drama. Northwestern Mortgage was the best [endurance] team this week. They won the most events, but it makes them look like sore losers. We attended the medal ceremonies when they won, it was disrespectful for them not to do the same."
Bronze medalist Erik Saunders felt he and teammate Rahsaan Bahati were strong but needed "two more McGuire /Langdale teams" to even the playing field. "USA Cycling says it wants the best riders from the road to ride the track, but if you come to the national championship and you can count on everyone to race their bike, and there's so much collusion, then the good riders won't come. People don't come now, because they know there are guys giving away national championships. If they're serious about getting good [road] riders on the track, they've got to fix the collusion problem."
Photography
For a thumbnail gallery of these images, click here
Images by Mitch Friedman/www.mitchophoto.com
Results
Women's Keirin
 
Qualifying
 
Heat 1
 
1 Jennie Reed (Gregg's Trek/Volkswa)        13.219 (54.467 km/h)
2 Heather Vanvalkenburg (Sorella Forte)
3 Miranda Duff (Rubicon)
4 Julia Kastner (Southern Elite)
DNS Cathy Keeley (Amgen Cycling Club)
 
Heat 2
 
1 Becky Quinn (Southbay Wheelmen)           12.929 (55.689 km/h)
2 Cassandra Holman (Home Depot Center)
3 Martha Dunne (Jelly Belly)
4 Amara Boursaw (Greggs/Trek)
5 Brooke Wilson (Somerset Wheelmen)
 
Heat 3
 
1 Anna Lang (Big City Velo)                 13.380 (53.812 km/h)
2 Jen Featheringill (Bike Central)
3 Jamie Pettinato (Radical Media)
4 Anna Webb (Karl Strauss/SDBC)
5 Theresa Cliff-Ryan (Wolverine Sports Clu)
 
Heat 4
 
1 Annette Hanson (First Rate Mortgage)      13.790 (52.212 km/h)
2 Katrina Vogel (Byrne Speciality Gas)
3 Shelby Allen (Home Depot Center)
4 Nancy Lux (BMW/Bianchi)
DNS Norrene Godfrey (Rubicon)
 
Round 2
 
Heat 1
 
1 Jennie Reed (Gregg's Trek/Volkswa)        12.448 (57.841 km/h)
2 Anna Webb (Karl Strauss/SDBC)
3 Annette Hanson (First Rate Mortgage)
4 Theresa Cliff-Ryan (Wolverine Sports Clu)
5 Cassandra Holman (Home Depot Center)
6 Jen Featheringill (Bike Central)
 
Heat 2
 
1 Anna Lang (Big City Velo)                 12.918 (55.736 km/h)
2 Becky Quinn (Southbay Wheelmen)
3 Heather Vanvalkenburg (Sorella Forte)
4 Shelby Allen (Home Depot Center)
DNF Katrina Vogel (Byrne Speciality Gas)
DNF Jamie Pettinato (Radical Media)
 
Repechage
 
Heat 1
 
1 Theresa Cliff-Ryan (Wolverine Sports Clu) 13.980 (51.502 km/h)
2 Jamie Pettinato (Radical Media)
3 Nancy Lux (BMW/Bianchi)
4 Miranda Duff (Rubicon)
5 Amara Boursaw (Greggs/Trek)
 
Heat 2
 
1 Shelby Allen (Home Depot Center)          13.559 (53.101 km/h)
2 Anna Webb (Karl Strauss/SDBC)
3 Julia Kastner (Southern Elite)
4 Brooke Wilson (Somerset Wheelmen)
DNS Martha Dunne (Jelly Belly)
 
Final
 
Ride for 7th-12th
 
7 Shelby Allen (Home Depot Center)          13.403 (53.719 km/h)
8 Theresa Cliff-Ryan (Wolverine Sports Clu)
9 Cassandra Holman (Home Depot Center)
10 Jamie Pettinato (Radical Media)
11 Jen Featheringill (Bike Central)
12 Katrina Vogel (Byrne Speciality Gas)
 
Ride for 1st-6th
 
1 Jennie Reed (Gregg's Trek/Volkswa)        12.518 (57.517 km/h)
2 Becky Quinn (Southbay Wheelmen)
3 Anna Webb (Karl Strauss/SDBC)
4 Annette Hanson (First Rate Mortgage)
5 Anna Lang (Big City Velo)
6 Heather Vanvalkenburg (Sorella Forte)
 
Final Classification
 
1 Jennie Reed (Gregg's Trek/Volkswa)
2 Becky Quinn (Southbay Wheelmen)
3 Anna Webb (Karl Strauss/SDBC)
4 Annette Hanson (First Rate Mortgage)
5 Anna Lang (Big City Velo)
6 Heather Vanvalkenburg (Sorella Forte)
7 Shelby Allen (Home Depot Center)
8 Theresa Cliff-Ryan (Wolverine Sports Clu)
9 Cassandra Holman (Home Depot Center)
10 Jamie Pettinato (Radical Media)
 
Women's Team Sprint
 
Final
 
1 Jelly Belly/Big City                      37.629 (47.835 km/h)
Martha Dunne
Anna Lang
2 First Rate Mortgage                       37.878 (47.521 km/h)
Jennie Reed
Annette Hanson
3 Bikecentral/Southbay                      39.067 (46.075 km/h)
Jen Featheringill
Kara Vidaca
4 Gregg's Trek                              39.068 (46.074 km/h)
Amara Boursaw
Jennifer Triplett
5 Rubicon/Sorella                           39.215 (45.901 km/h)
Heather Vanvalkenburg
Miranda Duff
6 Wyndham-Hard Time                         41.156 (43.736 km/h)
Nicole Raspa
Christi Chenowth
 
Men's Team Sprint
 
Qualifiying
 
1 Ckr Racing                                47.351 (57.021 km/h)
Kevin Belz
Christian Stahl
Ryan Nelman
2 Veloworx                                  48.231 (55.981 km/h)
Michael Blatchford
Giddeon Massie
Aaron Kacala
3 Wyndham-Hard Time #1                      48.242 (55.968 km/h)
Stephen Alfred
Anton Quist
Alphonso Whaley
4 Cody Racing                               49.846 (54.167 km/h)
Dean Tracy
Steven Beardsley
Carl Boucher
5 Anthony's/Veloworx                        50.027 (53.971 km/h)
Antony Galvan
Timo Budarz
Ryan Mertens
6 Minnesota Mojo                            50.993 (52.948 km/h)
Chris Ferris
Benjamin Richter
Brian Crosby
7 Rubicon                                   52.111 (51.812 km/h)
Stephen Mclaughry
Eugene Chacherine
Brian Abers
8 Big City Velo                             52.527 (51.402 km/h)
Tonatiuh Rodriguez-Nikl
TC Valentine
Kevin Schiller
9 Wyndham-Hard Time #2                      53.409 (50.553 km/h)
Matt Diefenbach
James Tainter
Nick Chenowith
10 Amd Master
Glen Hinshaw
Vince Gee
Vic Copeland
 
Final
 
For 1st and 2nd
 
1 Wyndham-Hard Time #1                      48.470 (55.705 km/h)
Stephen Alfred
Anton Quist
Alphonso Whaley
2 Cody Racing                               50.619 (53.340 km/h)
Dean Tracy
Steven Beardsley
Carl Boucher
 
For 3rd and 4th
 
3 Ckr Racing                                47.058 (57.376 km/h)
Kevin Belz
Christian Stahl
Ryan Nelman
4 Veloworx                                  47.872 (56.400 km/h)
Michael Blatchford
Giddeon Massie
Aaron Kacala
 
Final Classification
 
1 Ckr Racing
Kevin Belz
Christian Stahl
Ryan Nelman
2 Veloworx
Michael Blatchford
Giddeon Massie
Aaron Kacala
3 Wyndham-Hard Time #1
Stephen Alfred
Anton Quist
Alphonso Whaley
4 Cody Racing
Dean Tracy
Steven Beardsley
Carl Boucher
5 Anthony's/Veloworx
Antony Galvan
Timo Budarz
Ryan Mertens
6 Minnesota Mojo
Chris Ferris
Benjamin Richter
Brian Crosby
7 Rubicon
Stephen Mclaughry
Eugene Chacherine
Brian Abers
8 Big City Velo
Tonatiuh Rodriguez-Nikl
TC Valentine
Kevin Schiller
9 Wyndham-Hard Time #2
Matt Diefenbach
James Tainter
Nick Chenowith
 
Madison
 
Heat 1
 
1 Northwest Mortgage 2                          10 pts
Mike Friedman
Bobby Lea
2 Northwest #4                                   6
Elliot Gaunt
Walker Starr
3 Southbay Wheelmen                              6
John Walsh
Dan Vogt
4 TIAA-CREF                                      6
Colby Pearce
Chad Hartley
5 Texas Roadhouse                                6
Curtis Tolson
Kenny Williams
6 Eastside Wheelmen                              5
Ryan Luttrell
Kevin Suhr
7 Recycled Cycles                                5
Leif Clarke
Adrian Hegyvary
8 Met-Rx/Big Ring                                0
Javier Castaneda
Kirk Cross
DNS Team Snow Valley                             0
Mike Beers
Kevin Attkisson
 
Heat 2
 
1 Mcguire/Langdale                              16 pts
Rahsaan Bahati
Erik Saunders
2 Mercy Cycling                                  8
Brad Huff C.
Todd Yezefski
3 Northwest/Gregg's                              8
Josh Kerkhof
Ryan Miller
4 Northwest Mort #1                              7
Guillaume Nelessen
James Carney
5 Jelly Belly                                    3
David Mccook
Giovanni Rey
6 Cycle Science                                  2
Daniel Larson
Jason Snow
7 Univ Of Minnesota                              0
Benjamin Richter
Brian Crosby
8 Team Velocity                                  0
John Allen
Mike Mcmahon
9 Veloworx Racing                                0
Matthew Chambers
Eric Hollenbeck
 
Final
 
1 TIAA-CREF                                     24 pts
Colby Pearce
Chad Hartley
2 Northwest Mortgage 2                          25
Mike Friedman
Bobby Lea
3 Mcguire/Langdale                              16
Rahsaan Bahati
Erik Saunders
4 Eastside Wheelmen                             10
Ryan Luttrell
Kevin Suhr
5 Southbay Wheelmen                              7
John Walsh
Dan Vogt
6 Northwest/Gregg's                              1
Josh Kerkhof
Ryan Miller
7 Texas Roadhouse                                1
Curtis Tolson
Kenny Williams
8 Cycle Science                                  0
Daniel Larson
Jason Snow
DNF Northwest #4                                 0
Elliot Gaunt
Walker Starr
DNF Mercy Cycling                                3
Brad Huff C.
Todd Yezefski
DNF Northwest Mort #1                            1
Guillaume Nelessen
James Carney
DNF Jelly Belly                                  0
David Mccook
Giovanni Rey