2005 US National Track Championships - CN
Los Angeles, California, August 10-13, 2005
Main Page Results Overall standings Next Day
Day 1 - August 10: Women: Individual pursuit, Men: Scratch; Individual pursuit; Keirin
Hammer returns to take IP win
Hammering to the win
Photo ©: Mitch Friedman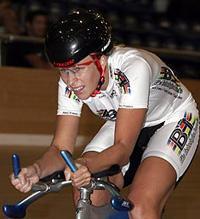 After taking a year off from competitive cycling, Sarah Hammer (Temecula, Calif.) made a triumphant return to the sport with an impressive victory in the women's 3km individual pursuit as the USA Cycling Elite National Track Championships got underway in suburban Los Angeles. Hammer clocked the second-fastest time ever recorded at the ADT Event Center velodrome, a remarkable feat considering the venue was the site of both the elite world championships and a world cup event since opening its doors a year ago.
The 21-year-old Hammer clocked a time of 3 minutes, 41.177 seconds to sweep both the elite and U23 national titles with a convincing head-to-head victory over 2004 Olympic points race bronze medalist Erin Mirabella (La Habra, Calif.).
Hammer was the top seed after posting an even faster time - a 3:41.084 - in the qualifying round while Mirabella earned the right to challenge Hammer in the gold medal round with a solid 3:44.150 of her own.
For comparison, Hammer's time would have placed her second at the elite world championships held at the ADT Event Center last March. It also would have won her three of the four events on the UCI World Cup circuit last year.
A 12-time U.S. junior national champion, Hammer was third in the pursuit at the elite nationals in 2003 before dropping out of the sport the following year. Her passion for cycling returned, and after a year away she was motivated to not just come back, but to return as the legitimate force she was on the path to become. "I've been doing this since I was nine-years-old and I deserved a good break," remembers Hammer of her decision to quit cycling. "I lost my motivation, I didn't know why I was doing it anymore and I didn't have that fire."
A happy Josh Kerkhof
Photo ©: Mitch Friedman

In 2005, Hammer came back onto the radar screen with some strong performances and quietly became one of the pre-race favorites. "I had a crummy job and realized that if I could do this for a living, then why not," recalled Hammer of her decision to venture back. "I've dedicated 100% of my life to this. I'm doing everything right now, my diet, my sleep, my rest. I didn't pay attention to those when I was a junior and I'm focusing everything I have now towards 2008."
The times put up by both Hammer and Mirabella were fast enough for entry into USA Cycling's 2005-06 Talent Pool, a collection of riders that are eligible to represent the United States at major international competitions such as world cups and world championships. In fact, four women endurance riders surpassed the talent pool time standard of 3:49.120 as Kristin Armstrong (Boise, Idaho) and Christine Thorburn (Menlo Park, Calif.) also eclipsed the benchmark.
Armstrong and Thorburn, currently two of the most dominant riders on the domestic road circuit, squared off in the consolation round for the bronze medal after qualifying third and fourth respectively. In the qualifier, Armstrong's 3:48.256 put her in the talent pool, but Thorburn's initial 3:49.817 fell just short.
"My main goal right now is the time trial at worlds and I knew that if I came here and beat the time standard for the talent pool, then everything above and beyond was a bonus," said Armstrong.
In the evening medal round, Armstrong shaved nearly three seconds off her qualifying time, posting a personal best of 3:45.828 for third place, while Thorburn shed more than a second to record a 3:48.267 to slip into the talent pool.
"I like to think I can go faster, but making the talent pool was my goal for the week," said Thorburn.
Stephen Alfred (Wyndham Hard Time)
Photo ©: Mitch Friedman

In the men's 4km individual pursuit, Charles Huff (Springfield, Mo.) clocked the fastest time in the qualifying round ahead of Bobby Lea (Mertztown, Pa.), and then beat the defending champion in the gold medal final. Huff's 4:37.679 earned him the elite national title, and although Lea's 4:39.547 wasn't fast enough to repeat as the elite national champ, the 21-year-old snagged the U23 title.
In the consolation round, Curtis Gunn (Tucson, Ariz.) put down a 4:43.958 to earn the bronze medal ahead of Kenny Williams who clocked a 4:44.479.
Sprinters also took center stage on opening night as 37-year-old Stephen Alfred (Capitola, Calif.) didn't let a group of riders nearly half his age spoil his bid for a national title. In addition to Alfred, the final six was comprised of the next generation of great American sprinters, 19-year-olds Ryan Nelman (Houston, Texas), Aaron Kacala (Racine, Wis.), and Michael Blatchford (Cypress, Calif.) and twenty-something Athens Olympic team members Giddeon Massie (Colorado Springs, Colo.) and Christian Stahl (Bethany, Conn.). After working their way through the qualifying heats and repechage rounds, the final six squared off for a final mad dash that went convincingly to Alfred.
Kevin Belz (Irving, Texas), another rider expected to be in contention, handily won the 7-12 final to put six riders under the age of 23 in the top-eight at the end of the day.
In the final medal event of the evening, Josh Kerkhof (Hurst, Texas) easily outsprinted Dave McCook (Mountain View, Calif.) to win the men's 15km scratch race.
The victories by Huff, Alfred and Kerkhof put them in the talent pool.
In a non-national championship event, Blatchford blitzed a 20-rider field to win a 250-meter time trial which was contested for talent pool entry purposes. Blatchford's time of 18.432 seconds beat Nelman's 18.739 as the top six riders were all 22-years-old or younger.
Photography
For a thumbnail gallery of these images, click here
Images by Mitch Friedman/www.mitchophoto.com
Images by Mike Gladu/www.velodrome.com
Results

Standing 250m time trial

1 Michael Blatchford (Team Veloworx Racing)      18.432
2 Ryan Nelman (CKR Racing)                       18.739
3 Christian Stahl (CKR Racing)                   18.761
  
Men's Individual Pursuit Qualifying           
  
1 Brad C. Huff (Mercy Cycling Team)              4.37.679 (51.858km/h)
2 Bobby Lea (Northwestern Mortgage)              4.39.547 (51.512km/h)
3 Kenny Williams (First Rate Mortgage)           4.41.167 (51.215km/h)
4 Curtis Gunn (Team Seasilver)                   4.42.533 (50.967km/h)
5 Todd Yezefski (TIAA-CREF)                      4.46.020 (50.346km/h)
6 Bernard Van Ulden (Webcor Builders Cycl)       4.46.362 (50.286km/h)
7 Colby Pearce (TIAA-CREF)                       4.47.672 (50.057km/h)
8 Mike Beers (Snow Valley Seal-On)               4.47.840 (50.028km/h)
9 David Wenger (Compliance Depot/Hot)            4.48.731 (49.873km/h)
10 Will Frischkorn (TIAA-CREF)                   4.49.815 (49.687km/h)
11 Walker Starr (Rubicon)                        4.52.002 (49.315km/h)
12 Mike Garrett (Kahala-LaGrange)                4.52.931 (49.158km/h)
13 Roger Rilling (Team Stoller)                  4.53.909 (48.995km/h)
14 Robert Black (Coastal Carolina Vel)           4.54.213 (48.944km/h)
15 Daniel Larson (Cycle Science)                 4.54.540 (48.890km/h)
16 Benjamin Richter (University of Minnes)       4.55.499 (48.731km/h)
17 Leif Clarke (BRI)                             4.56.060 (48.639km/h)
18 Kevin Nicol (Tokyo Joes Cycling)              4.56.838 (48.511km/h)
19 John Allen (Team Velocity)                    4.57.511 (48.402km/h)
20 Chad Hartley (TIAA-CREF)                      4.57.874 (48.343km/h)
21 Jared Downing (Major Motion)                  5.00.198 (47.968km/h)
22 Adrian Hegyvary (Recycled Cycles Raci)        5.00.435 (47.931km/h)
23 Tom Hanley (Bikesource)                       5.05.542 (47.129km/h)
24 Blake Caldwell (TIAA-CREF)                    5.07.468 (46.834km/h)
25 Curtis Tolson (Texas Roadhouse)               5.07.908 (46.767km/h)
26 Kevin Attkisson (Texas Roadhouse)             5.09.480 (46.530km/h)
27 Cody O'reilly (Echelon Santa Barbar)          5.11.715 (46.196km/h)
28 Nathan Spear (Rubicon)                        5.13.216 (45.975km/h)
29 Paul Sollenberger (FCC Cycling Club)          5.13.356 (45.954km/h)
30 Nicholas Holbus (Beans & Barley Cycli)        5.16.270 (45.531km/h)
31 Jason Romain (Indiana Flyers/Sound)           5.16.401 (45.512km/h)
32 Jimmy Lingwood (Recycled Cycles Raci)         5.17.987 (45.285km/h)
33 John Matthews (Unattached)                    5.18.978 (45.144km/h)
34 John Pryles (Cycleworks)                      5.19.494 (45.071km/h)
35 Kirk Cross (Met-Rx)                           5.24.837 (44.330km/h)
36 Carl Hoefer (Rubicon)                         5.29.390 (43.717km/h)
37 Spencer Eason (Unattached)                    5.47.219 (41.472km/h)
                                              
Men Individual Pursuit Final                   
                                              
1 Brad C. Huff (Mercy Cycling Team)              4.39.688 (51.486km/h)
2 Bobby Lea (Northwestern Mortgag)               4.43.414 (50.809km/h)
3 Curtis Gunn (Team Seasilver)                   4.43.958 (50.712km/h)
4 Kenny Williams (First Rate Mortgage)           4.44.479 (50.619km/h)

   
Women's Individual Pursuit Qualifying        
  
1 Sarah Hammer (BT Bicycles)                     3.41.084 (48.850km/h)
2 Erin Mirabella (Bicycle Johns Seroio)          3.44.150 (48.182km/h)
3 Kristin Armstrong (T-Mobile)                   3.48.256 (47.315km/h)
4 Christine Thorburn (Webcor Builders Cycl)      3.49.817 (46.994km/h)
5 Amber Neben (Buitenpoort-Flexpoin)             3.52.783 (46.395km/h)
6 Lauren Franges (Victory Brewing)               3.53.504 (46.252km/h)
7 Annette Hanson (First Rate Mortgage)           3.54.646 (46.027km/h)
8 Christen King (Young's Training Gro)           3.54.942 (45.969km/h)
9 Melissa Sanborn (Subway)                       3.57.065 (45.557km/h)
10 Nancy Lux (BMW/Bianchi)                       3.57.534 (45.467km/h)
11 Nicole Raspa (Hub Racing)                     4.07.663 (43.608km/h)
12 Katharine Lundby (Paramount Racing)           4.09.503 (43.286km/h)
13 Cindy Mcfarland (Desert Foxes Womens)         4.16.805 (42.055km/h)
14 Julia Kastner (Southern Elite)                4.25.876 (40.620km/h)
15 Cheryl Lacotta (Desert Foxes Womens)          4.33.555 (39.480km/h)
                                          
Women Individual Pursuit Final  
 
1 Kristin Armstrong (T-Mobile)                   3.45.828 (47.824km/h)
2 Christine Thorburn (Webcor Builders Cycl)      3.48.267 (47.313km/h)
3 Sarah Hammer (BT Bicycles)                     3.41.177 (48.830km/h)
4 Erin Mirabella (Bicycle Johns Seroio)          3.46.119 (47.762km/h)
  
Men's Scratch Race Heats                    
  
1 Colby Pearce (TIAA-CREF)                       9.38.011 (46.712km/h)
2 Ryan Luttrell (Eastside Wheelmen)              
3 Ryan Miller (Greggs/Trek)                      
4 Josh Kerkhof (Northwestern Morgage)            
5 Mike Friedman (Northwestern Morgage)           
6 Giovanni Rey (VeloEurope/CYFAC)                
7 Curtis Gunn (Team Seasilver)                   
8 Chad Hartley (TIAA-CREF)                       
9 Dan Vogt (Sonance Specialized)                 
10 Erik Saunders (McGuire/Langdale Pro)          
11 David Wenger (Compliance Depot/Hot)           
12 Steen Rose (Matrix Cycle Club)                
13 Adrian Hegyvary (Recycled Cycles Raci)        
14 Todd Eaton (Team Velocity)                    
15 Chris Mosk (2cc)                              
16 Javier Castaneda (Big Ring Racing)            
17 Cody O'reilly (Echelon Santa Barbar)          
18 Dean Tracy (Rubicon)                          
19 David Wells (Velocity Inc)                    
                                               
Heat 2                                         
                                               
1 David Mccook (Jelly Belly)                     10.02.957 (44.779km/h)
2 Huff C. Brad (Mercy Cycling Team)              
3 Jason Snow (Cycle Science)                     
4 Kenny Williams (First Rate Mortgage)           
5 Walker Starr (Rubicon)                         
6 Kevin Attkisson (Texas Roadhouse)              
7 Daniel Lionberg (Beans & Barley Cycli)         
8 Kevin Schiller (Anthony Cyclery)               
9 Ken Hanson (Team Tailwinds)                    
10 Leif Clarke (BRI)                             
11 Jeremy Mucha (Karl Strauss/SDBC)              
12 Elliot Gaunt (Northwestern Morgage)           
13 Mike Garrett (Kahala-LaGrange)                
14 Allen Richburg (Taylor Made 24Hour F)         
15 Daniel Reback (Team Velocity)                 
16 Kevin Suhr (CU Cycling)                       
17 Blake Caldwell (TIAA-CREF)                    
18 Bobby Lea (Northwestern Morgage)              
19 Dane Jankowiak (USA National Team)            
                                               
Heat 3                                         
                                               
1 Rahsaan Bahati (McGuire/Langdale Pro)          9.35.357 (46.927km/h)
2 Chad Millikan (Taylor Made 24Hour F)           
3 Nate Mitchell (TIAA-CREF)                      
4 John Walsh (Southbay Wheelmen)                 
5 Mike Mcmahon (Team Velocity)                   
6 James Carney (Northwestern Morgage)            
7 Guillaume Nelessen (Northwestern Morgage)      
8 Curtis Tolson (Texas Roadhouse)                
9 Jimmy Lingwood (Recycled Cycles Raci)          
10 Nate Loyal (Sotheby's)                        
11 Daniel Larson (Cycle Science)                 
12 Tom Hanley (Bikesource)                       
13 Mikkel Bossen (Team Oregon)                   
14 Nathan Spear (Rubicon)                        
15 Edward Monnier (Veloworx Racing)              
16 Carl Hoefer (Rubicon)                         
17 Todd Yezefski (TIAA-CREF)                     
18 Tyler Ofstad (Kahala-LaGrange)                
19 Eric Hollenbeck (Unattached)                  
                                               
Men's 15km Scratch Race Final                      
                                               
1 Josh Kerkhof (Northwestern Mortgag)            18.49.000 (47.830km/h)
2 David Mccook (Jelly Belly)                     
3 Ryan Miller (Greggs/Trek)                      
4 Mike Friedman (Northwestern Mortgag)           
5 Walker Starr (Rubicon)                         
6 Kenny Williams (First Rate Mortgage)           
7 Nate Mitchell (TIAA-CREF)                      
8 Giovanni Rey (VeloEurope/CYFAC)                
9 Chad Hartley (TIAA-CREF)                       
10 Jason Snow (Cycle Science)                    
11 Curtis Tolson (Texas Roadhouse)               
12 Ryan Luttrell (Eastside Wheelmen)             
13 Kevin Schiller (Anthony Cyclery)              
14 Kevin Attkisson (Texas Roadhouse)             
15 James Carney (Northwestern Mortgag)           
16 Guillaume Nelessen (Northwestern Mortgag)     
17 Rahsaan Bahati (McGuire/Langdale Pro)         
18 Daniel Lionberg (Beans & Barley Cycli)        
19 Colby Pearce (TIAA-CREF)                      
20 John Walsh (Southbay Wheelmen)                
21 Curtis Gunn (Team Seasilver)                  
22 Chad Millikan (Taylor Made 24Hour F)          
23 Huff C. Brad (Mercy Cycling Team)             
24 Mike Mcmahon (Team Velocity)         

Men's Keirin
 
Round 1

Heat 1

1 Stephen Alfred (Wyndham Hard Time)            11.697 (61.554km/h)
2 Kevin Belz (CKR Racing)                        
3 Ryan Watson (Team Watson)                      
4 Maxwell Larson (Silver Cycling)                
5 Stephen Mclaughry (Bike Central)               
6 Joshua Ryan (Veloworx)                         
                                               
Heat 2                                         
                                               
1 Christian Stahl (CKR Racing)                   11.372 (63.313km/h)
2 Carl Boucher (Cody Racing)                     
3 Angelo Martorell (Southbay Wheelmen)           
4 Chris Endres (Grand Performance /)             
5 Chris Ferris (sub11)                           
6 Paul Swift (Byrne Speciality Gas)              
                                               
Heat 3                                         
                                               
1 Giovanni Rey (VeloEurope/CYFAC)                12.118 (59.416km/h)
2 Matthew Ewing (Barcardi/NUVO)                  
3 Ryan Nelman (CKR Racing)                       
4 Michael Blatchford (Veloworx)                  
5 Valentine Tc (Met-Rx)                          
6 Sergei Cemenenkoff (Southbay Wheelmen)         
7 Chad Millikan (Taylor Made 24Hour F)           
                                               
Heat 4                                         
                                               
1 Giddeon Massie (Cody Racing)                   10.845 (66.390km/h)
2 Aaron Kacala (Veloworx Racing)                 
3 Daniel Lionberg (Beans & Barley Cycli)         
4 Dean Tracy (Rubicon)                           
5 Eric Manuel (GS Tenzing)                       
6 Robert Pelegrin (Veloworx Racing)              
7 Greg Howe (BT Bicycles)                        
                                               
Round 2                                        
                                               
Heat 1                                         
                                               
1 Stephen Alfred (Wyndham Hard Time)             11.617 (61.978km/h)
2 Giddeon Massie (Cody Racing)                   
3 Michael Blatchford (Veloworx)                  
4 Ryan Watson (Team Watson)                      
5 Carl Boucher (Cody Racing)                     
                                               
Heat 2                                         
                                               
1 Christian Stahl (CKR Racing)                   11.327 (63.565km/h)
2 Aaron Kacala (Veloworx Racing)                 
3 Ryan Nelman (CKR Racing)                       
4 Kevin Belz (CKR Racing)                        
5 Giovanni Rey (VeloEurope/CYFAC)                
6 Matthew Ewing (Barcardi/NUVO)                  
                                               
Final for 7th - 12th                           
                                               
1 Kevin Belz (CKR Racing)                        11.311 (63.655km/h)
2 Carl Boucher (Cody Racing)                     
3 Ryan Watson (Team Watson)                      
4 Giovanni Rey (VeloEurope/CYFAC)                
5 Matthew Ewing (Barcardi/NUVO)                  
                                               
Final for 1st - 6th                                
                                               
1 Stephen Alfred (Wyndham Hard Time)             11.336 (63.514km/h)
2 Ryan Nelman (CKR Racing)                       
3 Aaron Kacala (Veloworx Racing)                 
4 Michael Blatchford (Veloworx)                  
5 Giddeon Massie (Cody Racing)                   
6 Christian Stahl (CKR Racing)