Introduction to Track Racing - What's a Wheelrace? - Introduction to Six Day racing
Tasmanian Christmas Carnivals
Tasmania, December 26, 2004 - January 1, 2005
Main Page Wheelrace Results Complete event results
Launceston Carnival - December 28
Carney rewrites the script
American veteran snatches Launceston Wheelrace
By John Stevenson and Gerard Knapp in Launceston
Yeah! - Jame Carney celebrates
Photo ©: Shane Goss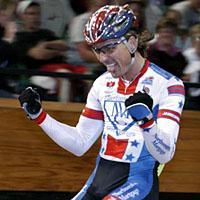 American Jame Carney, riding in what he says will be his last Tasmanian carnivals, took out the Launceston Wheelrace this evening in race that unusually went the scratchmen's way - but that otherwise didn't quite go to plan.
After heats that saw plenty of scratchmen get through, a seven-man band assembled on the back mark and just as in Latrobe two days before it was obvious that the scratchmen were not going to be denied. The scratchmen caught, swallowed and spat out Bobby Lea, then shelled a used-up Todd Wilksch as they made their inexorable progress to the combined midfield and frontmarkers. Ben Kersten was the next to fall off the pace, and with one and a half laps to go the scratchmen were pounding through the field, led by Ashley Hutchinson.
The plan was clearly for Hutchinson to drag his pursuit team-mate Graeme Brown to the front where Brown would unleash the sprint that has brought him so many wins at these carnivals.
However, someone forgot to have Jame Carney read the script, and as Brown found himself boxed in among the remaining middlemarkers, the American swung up the banking to pass Hutchinson and Lademann and drove for the line, to take his first major wheel race in several years in fine style.
"This is great, awesome," said Carney who joked that he's now "29 for my sixth year` in a row" and "the oldest guy out there - I'm the only guy over 30 from about 130 metres!" His win was "unexpected. I really want to win Burnie and this doesn't change a thing - I still want to win Burnie."
Reflecting on his many years coming to Launceston, Carney said, "I won a minor handicap, the minor 2000m three years ago, but we've never caught them from scratch [in the Launceston wheel] since I have been coming here, so this is good. But man! Those guys took off from the line and the whole time I was thinking 'If you get dropped off the wheel they're gonna be really pissed!'
"I always ride into the race; I always feel worse from lap one up to about 700 metres to go, and all of a sudden something happens and I come around and I can sprint," said Carney
Comparing this year's carnivals to previous year's, Carney said that the handicapping was a factor "sorta, but I don't think there's been as much bickering at the back. I've never been the guy that wants to push seniority on anyone, but no-one's really arguing. Everyone is just saying 'Okay, you and you and you on the back, you guys are on the front.' I think the last couple of years there's been too much fighting about who's gonna be on the back."
Matt Goss (L) and Darren Young
Photo ©: Shane Goss

Carney also observed that his size was an advantage given the big riders who have turned up in Tasmania this year. "I'm the smallest scratchman by far so I get a really good draft. That's what happened in the scratch race at Latrobe. In the beginning [Christian Lademann] was kicking my ass, but then he had to draft me for half the race, then he starts falling apart!"
For second-placed Graeme Brown, this had been a race he really wanted to win. "It went pretty close to plan, but not quite. All the scratchmarkers got up so you can't complain about that. I was hoping to win but we had a few problems in the finish bend."
Brown was clearly boxed in as the line loomed. "There are a few young kids here going for gaps that aren't quite there, and there's been a few crashes tonight, unfortunately."
In the heats of the Wheelrace, however, commisaires had a little word with Brown himself and Ashley Hutchinson after the final heat. A four-man train of backmarkers pounded up to and through the field. With a lap to go, as Hutchinson and Brown took the front, local rider Ben Price attempted to go with them and as he rose from the saddle to challenge, Price wobbled into the non-existent gap left by the scratchmen. Bouncing off Hutchinson, Price fell hard, taking Michael Maine and Matthew Atkins with him. Officials took no action against Hutchinson and Brown, but did ask that scratchmen passing front markers at warp 12 should please leave enough room that a minor wobble didn't turn into a diaster.
Other racing
Worried onlookers
Photo ©: Shane Goss

The afternoon session was marred by a nasty crash in the women's points race with Louise Yaxley, Grace Sulzberger and Tarrisha Jones falling just after the first sprint. Yaxley and Sulzberger picked themselves up with no more damage that grazes and torn skinsuits, but Tarrisha Jones stayed down. Commissaires wisely stopped the race and called for an ambulance. Conscious but in considerable pain, Jones was driven out of the Silverdome to hospital.
In less unpleasant highlights of the afternoon's racing, Daniel "Jamo's brother" Jamieson won the junior elimination by the straightforward but rarely-seen tactic of attacking the whole field with half the race still to go and staying away till the end - you can't be eliminated if you always cross the line first!
In the 1000m Junior 3 handicap, crowd favourite John Stride, just ten years old, held off the backmarkers till just past the one lap to go mark, with the crowd in the finish straight encouraging him every lap as he strove to stay ahead of the much older and quicker riders. But it was not to be, and Jake Laskey took the win ahead of Jake Fielding.
Jame Carney isn't known as either a sprinter or a keirin rider, but he won his heat of the invitation keirin qualifying races by catching everyone napping and getting an unbridgeable gap in the first lap. Caught on the backfoot, his opponents could only shrug their shoulders as they crossed the line almost a lap behind. Graeme Brown and Nathan Clarke had entertained the crowd in their heat with a high-speed shoulder-barging contest for the wheel of the keirin moto. Brown won the pushfest, but Todd Wilksch was first across the line - and therefore sole qualifier.
Tommy Nankervis (R)
Photo ©: Shane Goss

Brown won the A Grade elimination with a dramatically-timed last dash for the line, belting round Christian Lademann for a narrow and entertaining victory.
Belinda Goss spent the afternoon demonstrating that she is the top candidate for Queen of the carnivals. Riding in the yellow jersey of leader in the Malaysia Airlines International rider of the series contest, Goss won the women's A grade elimination by refusing to allow Rochelle Gilmore to pass in the finale - and a clearly beaten Gilmore sat up and let Goss and Yaxley contest the for the line.
Later in the afternoon, Goss went on to win the women's points race when it started again after Tarrisha Jones' crash.
2000m handicap
In the build-up to the feature men's race of the afternoon, the Phil Hughes 2000m handicap, scratchmen struggled in some heats and dominated in others. In the first heat Brown and Clarke tore after the frontmen but were never able to completely close the gap as a strong band of middlemarkers worked together to hold hem off, with Cameron Wise benefitting most from the effort and crossing the line first.
In heat two, Mark Jamieson reeled in the frontmarkers displaying the same power he'd used to team-mate Matt Goss' advantage the previous night, dragging Stephen Rossendell with him and powering past the frontmarkers. As Jamo and Rossendell got clear an overly-bunched field squeezed too close together and four riders - Alex Lyons, John Rayner, Jarrod Harmon and Ben Price - went down in a messy tangle of bikes and bodies that fortunately saw nobody seriously hurt.
The scratchmen struggled again in heat three, with none of the backmarkers making the cut, while in the fourth heat Ashley Hutchinson was the only scratchman to getup in a heat where the middlemarkers, led by a hard-charging Will Robinson, once again took charge.
In the final Mark Jamieson was again the engine bringing fellow scratchmen Ashley Hutchinson and Stephen Rossendell up to the main field with two laps to go. As Hutchinson and Rossendell took a brief moment to recover, middlemarker Aaron Salisbury (100) moved to the front. Hutchinson tried to get over him but the gap just would not close and Salisbury took a perfectly-timed victory.
Chop chop!
That's not an axe !
Photo ©: Shane Goss

A traditional part of the Launceston carnival is a showdown between an axeman and the event's top sprinter. Tasmania's carnivals also include running and woodchopping events, and while there's nowhere to run inside the Launceston Silverdome, organisers still bring in the big guys with the big axes to show off the traditional skills of Tasmania's forestry industry. In a demonstration match event, Ben Kersten took on Steve Foster in their specialty events. Kersten would ride a flying lap of the velodrome while Foster dispatched a 30cm log. Who would be fastest? With the crowd roaring him on, it was Kersten by a whisker as the log succumbed to Foster's attack just after Kersten crossed the line in a 15.59 second lap.
Lightning final
Ben Kersten (centre)
Photo ©: Shane Goss

The Lightning Handicap lived up to its name as the scratchmen belted round the track in the Launceston Silverdome to get in contact with the field after just over a lap. Jame Carney led the scratchmen over the top of the middlemarkers and a little argybargy ensued between Graeme Brown and Ben Kersten, but Kersten was unintimidated by Brown's roughhouse tactics and powered home for the win. Commissaires warned Brown that he could perhaps be a little less enthusiastic about putting on a show.
Kersten did just enough to win by half a bike length, conscious of the need to save his strength for later events.
Pedalling a larger gear than the rest of the field, Kersten appeared to be doing it much easier than his competition. "I'm trying to take easy on myself, mainly because I've got about a minute and a half between events," he said. However, he said he's not training to spin a smaller gear like the endurance track riders, such as Brown, Carney and Darren Young.
"It's just so short," he said of the 1000 metre handicap event. "The riders formed trains very quickly and then it was like one train against another, and Jame Carney did a good job of getting us around the field," he said.
They had so much time that Kersten and Brown 'entertained' the crowd, with Brown pushing the overtaking Kersten up the track on two occasions.
"Believe it or not, we're trying to work together," he said of his sparring with 'Brownie' on the final lap. "It creates a bit of a distraction."
Women's wheel final
Louise Yaxley (TIS/Cyclingnews)
Photo ©: Shane Goss

Louise Yaxley clinched the 2000m women's wheelrace with a textbook move from two laps to go. As the scratchwomen struggled to close a long gap, Yaxley led the middlemarkers to the front and then kicked hard. Her immediate rivals had no answer and the women who would have been a true threat, the scratch group of Liz Williams, Rochelle Gilmore, Belinda Goss and Laura McCaughy were still almost half a lap adrift. Nevertheless, Yaxley didn't let up until the line was past, crossing 100m ahead of second-placed Jess McLean.
"To me, this is the wheelrace to win of all the carnivals," said Yaxley after her victory. "The last two laps were pretty hard," she said of her solo effort off the front that held the 'scratchies' group at bay.
Yaxley started off 20 metres in a group that included fellow Tasmanians Natasha Mapley and Grace Sulzberger. However, there was no real set plan to give the senior TIS rider the win. "No, not at all," she said if there was a plan from the outset. "I train quite a bit with the other two riders and I said 'let's just put in some hard turns and see what happens'," Yaxley said.
The podium of the women's wheelrace
Photo: © Gerard Knapp

Both Yaxley and Sulzberger were involved in the fall in the points race, yet they had recovered sufficiently to leave the scratch group behind.
Keirin final
Once again, NSW rider Ben Kersten showed his pure speed by clearing out from the field in the final of the men's keirin.
Kersten joked that his plan for the race was simply "to stay out of trouble. I tried to come around to the front once, but got hit and went out the back and then luckily I had the legs to get on Darren Young (TIS-Cyclingnews) when he came through," he said.
Once Kersten had a clear track, he hit the after-burner and once again, cleared away from the field with pure speed, easing up slightly once he had half a bike-length on the field with enough time to calmly salute the crowd as he crossed the line.
Women's A grade scratch
Rochelle Gilmore (R)
Photo ©: Shane Goss

The final women's race of the day saw a thrilling battle between Liz Williams and Rochelle Gilmore that went right down to the line and needed a photo to separate the two.
Louise Yaxley made the early action, spending five laps out on her own before Belinda Goss, Gilmore, and Williams gave chase and ended her solo escape. With a lap to go, Goss took the front but was unable to stay there as first Gilmore then Williams attacked. The two sprinters were shoulder to shoulder on the line as they threw their bikes forward. Gilmore got the win by just half a tyre, with Williams timing her move just a tad too late, as she was clearly overtaking Gilmore as they crossed the line.
Gilmore was delighted to finally land a win after a day of feeling very ordinary. "It's great for the state of mind," she said. "I've had a terrible day, woke up with a sore throat and had to get through a gruelling strength session this morning. I went back to bed and thought 'no way I can race tonight'. But it was fantastic... and to beat Liz when I know she's in tremendous form and she's been training in Melbourne with John Beazley."
That strength session was part of the programme set out by Gilmore's coach Gary Sutton. Seems a bit harsh to have to combine training with racing the carnivals. "It is harsh," agreed Gilmore, "but looking long-term, something I have always lacked is that base work because I always want to freshen up for racing. It's time to knuckle down and instead of winning all the small races, I'm going to train through them, do my hard training block and try and freshen up and peak for the big ones."
Liz Williams was typically bubbly even in defeat. "I thought 'at least I've got the right wheel!'" she said of following Gilmore into the final bend on the bell lap. The Kiwi sprinter put in a huge effort and came alongside Gilmore, each rider throwing their bikes at the line.
Subsequently, each thought the other had won. "I asked her who she thought won. She said 'you did' and I said 'I think you did', so we were just riding around and waiting for the decision," said Williams. "Well, I can't be disappointed; Rochelle's about the second -best scratch race rider in the world," said the Kiwi sprinter.
A grade scratch
Graeme Brown
Photo ©: Shane Goss

Graeme Brown grabbed a welcome consolation prize, and put himself into the Malaysia Airlines International rider of the series jersey, when he won the night's final event, the 15,000m A grade scratch.
Mark Jamieson entertained the crowd by repeatedly attacking right through the race, and a race of attrition developed as one after another top riders dropped out. With two laps to go the remaining dozen or so riders, including Koji Youshii, Nathan Clarke, Darren Young, Ashley Hutchinson, Graeme Brown, Michael Ford and Christian Lademann, kicked it up a notch. As the bell rang for the final lap, Young went to the front and looked round to see Brown, Youshii and Clarke all bearing down on him.
Brown moved up and smartly around Ford, clearing all obstacles between him and the line and delivered his trademark surge to take the win, even giving himself time to salute the crowd as he crossed ahead of Young, Ford, Youshii and Clarke.
"I was happy with that win," said Brown, who had bodged together shoes and pedals after an earlier mechanical. "My feet were numb. I had to go back to my old shoes and pedals after breaking a cleat." Brown had been using the new Look Keo pedals, but as yet Keo cleats aren't something you find in every bike shop.
Photography
For a thumbnail gallery of these images, click here
Images by Shane Goss/www.licoricegallery.com
Images by Gerard Knapp/Cyclingnews.com
Results
Launceston Wheelrace field
 
 Graeme Brown (scr)                      
 Ben Kersten (scr)                       
 Jame Carney (scr)                       
 Christian Lademann (scr)                
 Nathan Clarke (scr)                     
 Todd Wilksch (scr)                      
 Ashley Hutchinson (scr)                 
 Matthew Goss (20)                       
 Bobby Lea (20)                          
 Aaron Salisbury (100)                   
 Daniel Vogels (110)                     
 Andrew Loft (120)                       
 Cameron Wise (130)                      
 Kaiden Homan (140)                      
 Grant Fraser (140)                      
 Will Robinson (160)                     
 Jamie Perry (160)                       
 Carl Holleman (190)                     
 
Launceston Wheelrace final
 
1 Jame Carney (scr)                      
2 Graeme Brown (scr)                     
3 Matthew Goss (20)    

Complete event results