Introduction to Track Racing - What's a Wheelrace? - Introduction to Six Day racing
Tasmanian Christmas Carnivals
Tasmania, December 26, 2004 - January 1, 2005
Main Page Handicaps Results Complete results
Latrobe Carnival - December 26
Clarke wins Latrobe - at last
By John Stevenson with additional reporting by Rod Morris
Local boy Nathan Clarke (Derrico Cycles)
Photo ©: Shane Goss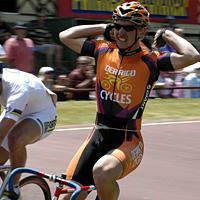 Nathan Clarke has won the $12,500 Patrick Latrobe wheelrace in a pundit-defying final that included eight scratchmen. Clarke's victory was particularly sweet as he has three times finished on the Latrobe podium without making the top step. Clarke has always been a tireless player in the unofficial team that forms among the top riders at the Tasmanian carnivals as they work to overcome the wheelrace system's attempt to give everyone an equal chance.
"I don't care if I don't ever win another race," Clarke beamed after his win. "This win has been a long time coming and I'm just so happy for everyone involved with my family." Clarke's father, Dennis won the Latrobe Wheel back in 1967 and is the current president of the Latrobe Bicycle Race Club.
Graeme Brown won the first heat of the Patrick Latrobe Wheelrace after he and three other scratchmen - Jame Carney, Christian Lademann and Nathan Clarke - had crossed a 105 gap to the middle markers, a gap Brown had previously said would be hard to close. But Clarke and Carney took the front and towed their colleagues to the field, ensuring that all four scratchmen qualified.
Things went lee the scratchies' way in the second heat, with the backmarkers getting on terms very late with a midfield led by Kharne Hammersley, the tall Tasmanian MTB specialist who has increasing crossed to skinny tyres this year. Only Mark Jamieson of he scratchmen scraped in, in fifth place behind winner Cameron Wise.
Heat three was once again a scratchfest, with all three backmarkers qualifying, after catching the main field with two laps to go, and the scene set for a scorching final with no fewer than eight scratchmen lining up at the rear of the field.
Last year's Latrobe Wheel winner Bradley Payne returned for the fourth heat and finished second behind Karl Menzies.
What a line-up of scratchmen
Photo ©: Shane Goss

With eight scratchmen in the final it was an absolute inevitability that they would dominate, and a near-certainty that one of them would be the winner. The eight worked together perfectly, closing the gap to the main field with three laps to go, despite the efforts of Karl Menzies who led the field as it attempted to hold off the pursuit.
From the moment the scratchmen made contact the race was a war of attrition for the front markers as one by one they dropped out. A strong northerly wind took its toll on many riders and only seven actually managed to finish.
Heading into the home straight for the final time, Clarke maintained a slender lead with the expectation that Brown and company would run over the top of him.
Clarke however managed to hold on, but many of the loyal Latrobe Carnival fans were convinced that Brown eased off to allow the local man his crack at fame. That may be a bit harsh on Clarke's fine race, but the crowd let Brown know on his warm-down lap.
"I was out in front and was just riding as hard as I possibly could, I wasn't sure what was happening back behind me," Clarke said.
Third home in the sprint was dual Under 19 world track champion, Matt Goss, with Gareth Atkins, scratchman Jame Carney and last year's winner Bradley Payne filling the remaining prizemoney positions.
AJ Clarke Wheelrace
TIS/Cyclingnews.com riders
Photo ©: Shane Goss

In other racing today, the heats of the AJ Clarke saw a mix bag of qualifiers. In the first heat Graeme Brown and Ash Hutchinson powered the fastest back-marker chase of the heats to catch the main field with two to go. A clearly ion-form Brown took the win comfortably. In other heats most of the scratchmen failed to qualify. Christian Lademann and Bobby Lea battled to make contact in the second heat, and succeeded too late, latching on with half a lap to go and no time to get through the field as middle marker Kaidan Homan took the win.
Jame Carney powered the chase in heat three, eventually running out of juice with a lap to go, with local hero Karl Menzies taking the win, and Steve Rossendell the only scratchman to survive, qualifying in fifth place. Ben Kersten was a late replacement for Shane Kelly in the fourth heat, and animated the race, dragging Nathan Clarke along with him as he powered after the main field. Tim Walker took the win, but Kersten's efforts were rewarded with a fifth place and qualifying for the final.
In the final of the AJC, the high-quality band of back-markers band had no trouble catching the main field, with Ashley Hutchinson and Graeme Brown two of the main powerhouses in a sensational chase that caught the front markers with two laps to go. With a lap to go Graeme brown took the front, passing Ben Kersten. Brown was challenged by Ben Price and Darren Young, with Young briefly seeming to get the upper hand but unable to counter a final surge by Brown.
"It's not easy," said Brown to Cyclingnews' accusation that he had made the win look easy. "The scratchies worked [together] awesomely. When you've got a line up of riders in front of you like Ash Hutchinson, Ben Kersten, Darren Young, how do you lose, really? Everyone works well together. We made it look easy but it wasn't easy, we just had good riders around us."
Brown said he had felt good "from the first pedal stroke. I knew we were in for a chance. I thought for a while there that the scratchies were going to run first five, but it all disintegrated at the end."
Women's 1000m wheelrace
The pushers get the girls
Photo ©: Shane Goss
The 2004 Tasmanian carnivals are hosting specific women's races for the first time. A strong field of female racers including Rochelle Gilmore, Belinda Goss and New Zealander Liz Williams (standing in for Alexis Rhodes who is heading for the world cup in Manchester) turned out for the first, the 1000m Mackay's Royal Hotel Handicap.
Williams and Gilmore, riding from scratch, quickly joined forces with Goss and turned on a high-speed pursuit of the field. Catching on with a lap to go, the trio moved quickly to the front where Goss took the lead, with Williams on her wheel and Gilmore seemingly biding her time mid-pack. As Williams made her move round Goss, Gilmore - who later said she was tired after catching a 6am flight from Sydney to be here - was unable to respond, giving a tidy victory to Williams.
Women's 2000m wheelrace
Belinda Goss (R) holds out Rochelle Gilmore (L)
Photo ©: Shane Goss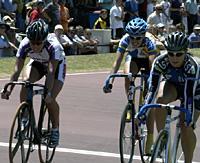 Natasha Mapley won the first heat of the women's big wheelrace after being swept up by backmarkers Rochelle Gilmore (scratch) and Belinda Goss (10m). Grace Sulzberger was first qualifier in a second heat that saw backmarkers Liz Williams and Jess McLean get up more comfortably than their fifth and sixth placings might imply - once they were in position, they cruised across the line.
The final saw scratchwomen Williams and Gilmore and 10m marker Belinda Goss immediately team up to successfully chase down the midfield. Goss led from almost a lap out and Gilmore was unable to find the speed to get round her.
"It's great to be winning races again. I've had a break over the winter, but I've put some hard kays in and it's paying off."
Goss is certainly looking fitter and riding faster than at last year's carnivals, an improvement she puts down to taking a break from riding and then building up a big base over the winter. Most importantly, she's having fun. "I'm still finding out where my form is," she said, "… and I'm starting to enjoy myself again. You can't do it unless you're enjoying it."
Scratch races
Whoosh! speedster Graeme Brown
Photo ©: Shane Goss

The Sid Patterson Invitational scratch saw a valiant but doomed attack by kame Carney who seemed more interested in putting a show for the crowds that have made him so welcome in his many years of coming to Tasmania for the carnivals than in having a serious tilt at the win.
Carney was caught after 8 laps out on his own and with two to go it was all on. Ash Hutchinson buried himself to lead Graeme brown and it looked sewn up as Brownie surged in the final lap. But brown had reckoned without local hero Darren Young who hammered over the top of Brown and brought Todd Wilksch with him. Young found a final burst to hold off both Brown's retaliation and Wilksch's challenge, to cross the line jus a wheel in front.
Rochelle Gilmore got a win at last in the women's A grade scratch, waiting until the last moment to burst through and just take the win ahead of Belinda Goss. Gilmore cagily sat mid-pack for most of the race as Natasha Mapley and Grace Sulzberger made most of the going.
The final race of the day was the 16,000m A grade scratch. Long scratch races at the end of a hard day's racing can be a bit of a snorer as riders parade round for half the distance before kicking it up for the second half. Not this time. With just four laps elapsed Jame Carney led a three-man escape with Christian Lademann and Gareth Atkins that looked like a suicide break, but turned out to be decisive.
The trio never managed to gain more than half a lap on the field, but that was all it took. With a third of the race remaining, first Mark Jamieson then Matthew Goss bridged across to the break. With fresh blood to power the escape, Gareth Atkins faded back to the field and the four redoubled their efforts. With no organised chase behind them it was obvious by two laps to go that the winner was going to come from these four.
The Wheelrace podium
Photo ©: Shane Goss

In the finale, Carney powered away with a half lap to go, but Goss countered and the two crossed the line shoulder to shoulder. The judges couldn't separate them and called for a photo which showed Goss the winner by half a wheel.
Photography
For a thumbnail gallery of these images, click here
Images by Shane Goss/www.licoricegallery.com
Results
Patrick Latrobe Wheelrace Final
 
1 Nathan Clarke (Aus)                    3.19.53
2 Graeme Brown (Aus)
3 Matthew Goss (Aus)
4 Gareth Atkins (Aus)
5 Jame Carney (USA)
6 Bradley Payne (Aus)
 
A. J. Clarke & Sons 2000 m Handicap Final
 
1 Graeme Brown (Aus)                     2.12.23
2 Mike Friedman (USA)
3 Darren Young (Aus)
4 Carlo Barandello (Aus)
5 Ben Kersten (Aus)
 
Patrick Women's Wheelrace Final
 
1 Belinda Goss                           2.37.73
2 Rochelle Gilmore
3 Laura McCaughey
4 Jess McLean
 
Women's 1000m Handicap Final
 
1 Liz Williams (scr)                     1.16.33
2 Belinda Goss (10)
3 Laura McCaughey (15)
4 Rochelle Gilmore (scr)
 
Women's A Grade Scratch Race
 
1 Rochelle Gilmore                       4.22.28
2 Belinda Goss
3 Jessie McLean
4 Laura McCaughey
 
16000 Metres A Grade Scratch Race
 
1 Matthew Goss (Aus)                     20.14.43
2 Jame Carney (USA)
3 Christian Lademann (Ger)
4 Mark Jamieson (Aus)
5 Graeme Brown (Aus)