Introduction to Track Racing - What's a Wheelrace? - Introduction to Six Day racing
Tasmanian Christmas Carnivals
Tasmania, December 26, 2004 - January 1, 2005
Devonport Carnival December 29-30 - Day 1
The Price is right
Midfield power delivers young talent to wheelrace win
By John Stevenson and Gerard Knapp in Devonport
Ben Price from up the road in Ulverstone
Photo ©: Shane Goss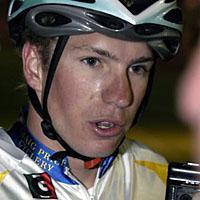 Eighteen-year-old Ben Price from Ulverstone is the latest up-and-coming young rider to land a wheelrace victory and a sizable slab of cash at the Tasmanian carnivals. Price, who has been threatening to make a mark for the last few days, won the $3,000 Kym Smoker Memorial Mersey from the 100m mark by combining with a strong group of his fellow middlemarkers to hold off the few top riders that had managed to get through the heats.
The scratchmen were only represented by Graeme Brown and Stephen Rossendell, and even with the help of Matt Goss (10m) and Bobby Lea (20) they couldn't get up to a midfield that included Ben Price (100), Matthew Atkins (100), Gui Nelesson (100), Karl Menzies (100), Daniel Vogels (110), Aaron Rusden (120), Cameron Wise (130), Kaiden Homan (140), and Adam Hartley (150). Menzies, Atkins and Nelesson drove the train and as the line loomed the battle was on between Homan, Nelleson and Hartley, with Price challenging hard from behind. Price was too quick and steamed across the line for "definitely" the biggest win of his cycling career.
"I'm really happy with the way that went," panted Price as the media surrounded him straight after the race. "I've felt good off that mark for a while now and really needed to get a break I was pumped [to think] 'this is it'!"
"The guys that I was working with did great turns… my speed's been pretty good lately. I had two crashes in the velodrome last night I was very disappointed about that, so to get a win tonight - I'm stoked. It's done a lot for my confidence. I want to get back there now, on a further mark."
"Well boys, it's time to party!"
Photo ©: Shane Goss

Conditions had finally settled down for the wheelrace, which helped. "It was a bit windy earlier on but I thought the wind would drop and it did. Great night for a wheelrace," said Price
The icing on the cake for Price was setting a new race record, of 2.08.01, eight-hundredths of a second faster than Brett Aitken's previous mark. "That's terrific," said Price.
The wind had made life difficult for the sprinters on the first day of competition at the Devonport Carnival.
The outdoor track at Devonport is exposed to the elements and today a stiff westerly wind was blowing across the ground. While it served as tailwind at the start, as the slightly banked 500 metre outdoor track swings around it pointed directly into the wind from the back straight almost all the way to the finish line. While the short finishing straight is protected by the grandstands, Ben Kersten for one did not think it was long enough to make a difference.
"It's still in your face when you come around to head onto the finish, so you've got to make it a block headwind sprint to get around the field; there's not enough track to make up the ground before the line," said Ben.
The heats of the Mersey wheelrace had been a disaster for all but a handful of scratchmen in conditions that seemed to require a large group to make any significant headway against the conditions and the middlemarkers.
The podium (L-R)
Photo ©: Shane Goss

In heat one Kaidan Homan and Dwayne Smith were among a group of battling front markers who worked well together to prevent backmarkers Ben Kersten, Jame Carney and Darren Young from getting up. The second heat was the only successful one for the scratchmen as Brown and Rossendell swept up first Matt Goss and then Grant Irwin and Mike Friedman to form a strong five-man pursuit team that wasted no time getting after the front markers. The five appeared to put in a huge surge with a lap and a half to go, though the frontmarkers hitting the wind in the final bend was also a factor. The finale was a frantic ten-man dash for the line as the backmarkers and middlemen all battled to qualify, but the moment belonged to the .
The third and fourth heats followed the pattern of the first, as under-powered scratch groups were unable to cross the gaping chasms to the middlemen and the middlemen, particularly in heat three, worked efficiently to repel the backmarker attack.
Kersten quick as lightning
Ben Kersten winds it up
Photo ©: Gerard Knapp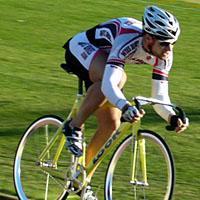 Early in the evening's program, Ben Kersten won a lightning handicap that was almost free of scratchmen as most of the top riders failed to qualify and the only other backmarker, Stephen Rossendell, fell as the gun went off ending his race and any hope of the two working together. Undaunted, Kersten, who is turning out to the be the revelation of these carnivals whenever a sprint showdown develops, hammered after the field and came past second-placed Takashi Kawamura with 50m to go. Ben Price in third had obviously recovered from the previous day's crash in the wheelrace heats and fourth-placed Bradley Payne demonstrated once again that his win in last year's Latrobe wheelrace was no fluke.
"When I saw him (Rossendell) crash, I tried to catch them as soon as I could before the headwind," Kersten said. "I made up the 80 metres (handicap) as quickly as I could and got on to the group of five and they worked well to bring in the front-markers," he said. Then with half a lap to go, Kersten put in one of his seemingly effortless sprints to mow down the field and take another win in Tasmania.
Scratch riders Jame Carney, Darren Young and Ben Kersten
Photo ©: Gerard Knapp

Kersten is conscious of pacing himself to save his legs for the long list of events he has to race, "but it's just that fighting spirit that makes you want to win when you can", he said.
Eaves thunders to finish
Sarah Eaves beats Carrie Price
Photo ©: Shane Goss

The top women failed to get in contact in the women's Lightning handicap. The wind in the final bend is making life especially hard for the female riders who lack the mass and power to punch through the wind and while it theoretically affects everyone equally, it's easier if you are sheltering in a large band of frontmarkers than stuggling to get up with a small group of scratchwomen.
As the women came into the final lap it was clear that the gap between front and back was too great and Carrie Price got out of the saddle to attack hard, taking Sarah Eaves with her. As the two duelled toward the line eaves gave one final surge and managed to just pip Price in a so-close finish.
Kersten again in the sprint derby
Less than an hour after winning the Lightning Handicap, Ben "saving myself" Kersten won the 2000m invitational sprint derby. Kersten bided his time while Bobby Lea went off the front with two laps to go, and let Graeme Brown, Grant Irwin and Todd Wilksch do the work to reel Lea back in. Irwin led the chasers into the final lap, with Wilksch on his wheel, Kersten following and Japanese rider Takashi Kawamura. Kawamura made his move, powering round Wilksch and Irwin, but he'd reckoned without Kersten who came off his wheel with 100m to go and had enough time to punch the air in celebration as he finished.
Flyin' Ryan's record safe
Graeme Brown hitches a ride
Photo ©: Gerard Knapp

The record for a flying lap of the 500m track at Devonport is 26.65 seconds, set in 2001 by Ryan Bayley. Bayley's record was never in danger tonight as the six riders invited to take a crack at it looked like they were hitting a wall when they came round to face the wind in the back straight.
Paralympian Jiri Jezek from the Czech Republic was first off, turning in a very respectable time of 33.81 considering he literally has half a leg disadvantage over the fully-able riders. Matt Goss got a huge reception from the Tasmanian crowd after his Latrobe scratch and Launceston criterium victories, but wasn't able to crack the 30-second mark, turning in 30.50, and Christian Lademann similarly struggled to turn in 32.01.
Ashley Hutchinson was next, looking smooth and quick as befits a rider who specialises in the team and individual pursuit. Hutchinson's 29.35 showed that sustained power and smoothness was the way to set a good time tonight. Ben Kersten was clearly a little tired from the exertions of the evening, fading toward the end, but nevertheless dipping under 30 seconds to clock 29.62. Graeme Brown, last rider away, also battled the conditions and could only manage 31.33.
Williams takes hard-fought scratch
Australia's women track cyclists have clearly learned something from their road counterparts as the A grade scratch race included the most aggressive, attacking racing of the day, making for a real highpoint with a tight four-rider finish.
Louise Yaxley started the action with an attack at four laps to go, staying away for two laps until a chase led by Belinda Goss and Jess McLean reeled her in. The spirited Yaxley continued to lead the field, with McLean and Goss right behind her and Rochelle Gilmore and Laura McCaughy lurking in wait.
As they crossed the line for the bell lap Yaxley led Goss through with Gilmore on her wheel, and a four-way battle soon developed between Goss, Gilmore, Williams and McCaughy. Goss stepped out as Gilmore challenged, forcing the Wollongong rider high, but as the two tussled they failed to notice Liz Williams Laura McCaughy both challenging. All four fanned out across the track in a desperate dash for the line and officials needed a photo to separate them. Liz Williams got the win but centimetres separated the four.
"That was quick!" is how Liz Williams summarised the bunch sprint for the line after judges ruled in favour of the New Zealander, who is coming into excellent form at the Carnivals.
"As we came into the final bend I was fourth wheel behind Rochelle and I thought 'I'd better get my A into G' and make my move before we hit the final straight.
"But Laura McCaughey came flying around and she is going to be a legend! She is so fast and she's only been racing for a year," Williams said of the young rider from Launceston, Tasmania, who was spotted through the TIS talent search program.
"All four of us came at the line hard and I thought I may have got it, but everyone else seemed to think it was Belinda (Goss)," she said. "I guess I'm starting to find some form," said the bubbly Kiwi sprinter, whose specialty events are the 500 metre time trial and match sprints on the track. "I'm serious about changing to scratch races, but John Beasley (her coach) will probably kill me!" Williams joked.
Another Ben Kersten victory
Photo ©: Shane Goss
Kersten gets a hat-trick
After a day where he seemed to win every chance that came, Ben Kersten completed a hat-trick of victories in the evening's A grade scratch finale. Kersten is clearly in love with racing and winning - "There's nothing better than racing," he grinned when Cyclingnews asked him about the packed program he's been racing lately. But Graeme Brown also had an objective in this race: to finish first or second and so keep the Malaysia Airlines rider of the series jersey. In the end, both got their wish, though Kersten was happier about it that Brown.
"It was really quick and flowing, which was the only reason I stayed in. All the other handicaps have been really on and off. I went half-way last night; I got to the end in the lightning handicap in the wind and it was the hardest thing I've ever done."
It looked like the only way Kersten could lose the scratch race was for an attack to stick, and none did. "I didn't think anyone could get awaysing because it was that quick, said Kersten. "When the bunch is cruising at 50km/h, it's hard. You can go maybe 52km/h, but there's only so fast you can go and for so long."
Despite hanging on to the jersey, Brown would have liked a win. "I didn't win a race tonight though," he said. "I think they've got to stop contracting sprinters or kilo riders. Nah, full credit to Ben, he hung in well and was just too strong at the finish. He had a perfect position and did everything right. He rode awesome."
Photography
For a thumbnail gallery of these images, click here
Images by Shane Goss/www.licoricegallery.com
Images by Gerard Knapp/Cyclingnews.com
Results
Kym Smoker Memorial Mersey Wheelrace field
 
Graeme Brown (scr)                            
Stephen Rossendell (scr)                      
Matthew Goss (10)                             
Bobby Lea (20)                                
Bradley Payne (50)                            
Gareth Atkins (60)                            
Joshua Kerkhof (80)                           
Ben Price (100)                               
Matthew Atkins (100)                          
Gui Nelesson (100)                            
Karl Menzies (100)                            
Daniel Vogels (110)                           
Aaron Rusden (120)                            
Cameron Wise (130)                            
Kaiden Homan (140)                            
Adam Hartley (150)                            
Dwayne Smith (160)                            
Daniel Furmston (180)                         
Colin Barnes (160)                            
Ben Laskey (200)                              
 
Kym Smoker Memorial Mersey Wheelrace final
 
1 Ben Price (100)                       2.08.01
2 Adam Hartley (150)                           
3 Kaiden Homan (140)                           
4 Gui Nelesson (100)                           
 
Complete results