Introduction to Track Racing - What's a Wheelrace? - Introduction to Six Day racing
Tasmanian Christmas Carnivals
Tasmania, December 26, 2004 - January 1, 2005
Burnie Carnival - January 1, 2005
Main Results Men's wheelrace Other men's races Complete results
Women's races
Young talent time in women's wheel
McCaughey emerges "on merit"
By John Stevenson in Burnie
Laura McCaughey wins
Photo ©: Shane Goss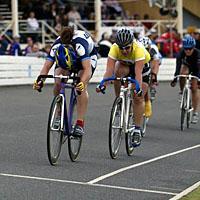 Over the last few days at the Tasmanian carnivals we've seen the promise of a new talent begin to show in Laura McCaughey. That talent came to fruition at the Burnie wheel as the 23-year-old from Launceston executed a perfect victory.
Riding from scratch with Liz Williams, Beckie Conzelman, and Belinda Goss, McCaughey did exactly what she needed to to make sure the scratchwomen got up to the front - and then it was every woman for herself.
American Beckie Conzelman, who making her first appearance of the carnival season at Burnie, led the scratchies through the midfield with two laps to go and they quickly mopped up the few remaining front riders.
Liz Williams came round to the front as the last lap bell sounded, and Belinda Goss moved to take on Williams. McCaughey followed Goss, stepping out and round in the last 150m to take the win and announce the arrival of a solid new taent in Australian women's cycling.
"Absolutely awesome," is how McCaughey described her win when asked the inevitable Dumb Journo Question: 'how do you feel?' "I'm absolutely rapt," she added. "I'm just glad to have learnt so much so quickly."
Explaining her race tactics, McCaughey said, "I didn't want to do too much work but I wanted to do enough work and make sure I did equal turns. I just followed Belinda's wheel because I know she's really fast. I thought she might try and flick me but it didn't happen and I just came round her."
Next for McCaughey is her first national championships. Did she expect to be racing at the nationals n her first year of cycling? "Never. It's pretty scary. I've learnt so much [in my first year]." McCaughey didn't expect to win a major wheelrace in her first year either, especially "not one like this with these girls here, no, never. I wanted to and I think you just have to believe in yourself."
Once the race was underway, McCaughey said she didn't notice the rapidly deteriorating evening conditions. "It's pretty windy and pretty cold," she said. "It's almost winter. But that all goes when you're out there racing."
McCaughey only started racing bikes in April, after joining the TIS' talent search program. "I used to run," she said, "and I hurt my back so I couldn't run any more and started riding. I saw [the talent search] advertised at the gym where I used to work and thought I'd give it a crack, so I trained up for it and got in."
McCaughey has mostly been racing on the road until recently when TIS coach Kevin Tabotta, "took [road riding] out of the program to train for this. I love the road, but this is just like a road race but with heaps more tactics. I love it because it's a brain sport. It's as much brain as it is fitness."
And McCaughey wanted to make a point about the women's racing at these carnivals, which certainly seems to have lacked the sometimes-too-obvious arrangements of the men's racing. "That race was on merit," she said. "Not anything else!"
McCaughey is currently studying psychology, but realises she will soon have to make the decision between cycling and career. "I'd like to go for cycling for a few years," she said. "One day make it to the world's and the Olympics."
Women's wheel heats
With eight riders qualifying from each of two heats and Rochelle Gilmore electing not to continue after droppingout of the earlier points race (see below), there was very little danger of any significant riders not making it through to the final.
Grace Sulzberger led the backmarker chase in the first heat, handing over to Natasha Mapley in the final lap, but a concerted effort by the lead trio of Laurelea Sharman, Deb Reynolds and Emma Heynes kept the backmarkers at bay.
In heat two a five-rider group easily got up, with Belinda Goss doing some long turns on the front. Jess McLean, Liz Williams and Becky Conzeleman led at the bell, with McLean first across the line.
McLean wakes them up in scratch
Canberra rider Jessie McLean took out the women's A grade scratch race with a canny move in the second-last lap, taking advantage of the cat-and-mouse games and team tactics going on among the TIS riders to catch the field napping and escape to victory by a big margin.
Rosemary Barnes attacked with 6 and a half laps to go, taking Natasha Mapley with her, and the two gained 50m on the field before Grace Sulzberger bridged to join Mapley and Barnes faded back to the field.
Mclean waited till she had a following wind in the back straight with a lap and a half to go before making her move. "They were playing a bit of cat and mouse, with two people out the front," said McLean, "so I thought I'd try and take [the field] by surprise because they'd be worrying about trying to catch the people up in front.
The success of the move surprised even McLean, who gapped the field and easily passed Mapley and Sulzberger. "I didn't think it was going to work out that well, I thought they were going to swamp me at the line. I had no idea they weren't paying that much attention. I guess it was a good idea to sit on the back for a bit."
McLean thought that perhaps her rivals hadn't realised she was feeling strong, "especially after New Year's last night." She hadn't stayed out "too late" though, and the early night paid off.
Goss points the way
Belinda Goss added to her score in the Malaysia Airlines Rider of the series competition when she won the A grade women's points race by taking out two of the five sprints and riding consistently in the others to take second place each time.
Liz Williams went at 250m in the first sprint, with Rochelle Gilmore on her wheel. Goss countered and easily came round Williams to take the first five points of the race, with Gilmore in second and Becky Conzelman third.
Jess "catch them napping" McLean did it again in the next sprint, building a 150 metres gap straight after the whistle and staying away to take the points. But Goss was too quick for Gilmore and grabbed a useful second place. Goss now had eight points, Gilmore and McLean five each as the pace eased off and The pace eases off then they cruised round waiting for the next sprint.
Laura McGaghy had a dig at the next whistle but sat up after a couple of hundred metres and was swamped by the field. Goss charged to the front to take the sprint, with McLean just behind and Grace Sulzberger following. Trailing in fifth, Rochelle Gilmore was clearly feeling very ordinary after the previous day's criterium (on a day where she was supposed to be resting after a week of very hard road training) and pulled out shortly after.
McLean, Goss and Sulzberger broke away in the final laps and Natasha Mapley out in a spritied effort to bridge up to them. With 13 points in the bag over McLean's eight, Goss just needed to finish ahead of McLean to be certain of victory. On the line Sulzberger took the final sprint, with Goss second and McLean third.
Photography
For a thumbnail gallery of these images, click here
Images by Shane Goss/www.licoricegallery.com
Results
Women's wheelrace heat 1
 
1 Laurelea Sharman (200)
2 Deb Reynolds (200)
3 Emma Heynes (260)
4 Grace Sulzberger (50)
5 Rosie McCall (70)
6 Natasha Mapley (70)
7 Sarah Eaves (140)
8 Rosemary Barnes (70)
 
Women's wheelrace heat 2
 
1 Jess McLean (50)
2 Liz Williams (scr)
3 Laura McCaughey (scr)
4 Beckie Conzelman (scr)
5 Belinda Goss (scr)
6 Carrie Price (170)
7 Kailee Goodwin (140)
8 Kathlee Field (180)
 
Women's wheelrace field
 
Liz Williams (scr)
Beckie Conzelman (scr)
Belinda Goss (scr)
Laura McCaughey (scr)
Jess McLean (50)
Grace Sulzberger (50)
Natasha Mapley (70)
Rosemary Barnes (70)
Rosie McCall (70)
Sarah Eaves (140)
Kailee Goodwin (140)
Carrie Price (170)
Kathlee Field (180)
Deb Reynolds (200)
Laurelea Sharman (200)
Emma Heynes (260)
 
Women's wheelrace final
 
1 Laura McCaughey
2 Belinda Goss
 
Women's A Grade scratch race
 
1 Jess McLean
2 Grace Sulzberger
3 Belinda Goss
 
Women's A Grade points
 
1 Belinda Goss
2 Jess McLean
3 Grace Sulzberger
 
Complete results