Introduction to Track Racing - What's a Wheelrace? - Introduction to Six Day racing
Tasmanian Christmas Carnivals
Tasmania, December 26, 2003 - January 4, 2004
Devonport Carnival December 29-30
Rossendell joins Tasmanian elite with opening day victory
Brown disqualified after scratch race finale argy-bargy
By John Stevenson in Devonport
Wheelrace action
Photo ©: Shane Goss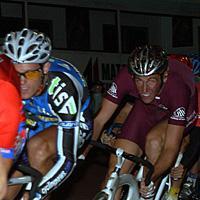 Promising young Hobart rider Stephen Rossendell (21) won the evening's feature event, the $3000 Kym Smoker memorial Wheelrace in the first of two days of racing at the Devonport carnival today.
Most of the scratchmen finally got the race they wanted at Devonport, as a four-man scratch group of Jame Carney, Nathan Clarke, Peter Dawson, and Wouter Van Mechlen pounded off the back mark in search of the front group and wheelrace glory. Only the powerful pairing of Graeme Brown and Brett Lancaster was missing as the national team duo had not qualified from their respective heats.
Rossendell, had made his way to the final by winning his heat, and riding from the 30m mark, he demonstrated the same power in the final that had carried him there. The scratchmen made contact with the main group - propelled by local powerplants Gareth Atkins, Mark Jamieson and Rossendell, British team rider Russell Downing and Queenslanders Grant Irwin and Miles Olman - but then hesitated, as Jame Carney later admitted, allowing Mark Jamieson to move to the front and turn on the gas. But to Jamieson's surprise Rossendell had more gas and pounded over the top of the TIS rider to take the win.
His win in Sunday's Cripps Nubake Handicap at Launceston had been a preview of the Kym Smoker Wheelrace, and tonight Rossendell said what came right was "the right group of people around me. Everyone was putting in, going hard, really racing for the win. It just kinda worked out I guess."
Stephen Rossendell
Photo ©: Shane Goss

Rossendell hadn't been aware of the scratch group making contact as the last-lap bell rang, "but then I saw Nathan Clarke trying to come round me so I just stepped out into him a bit and kicked it again and that was it."
Rossendell's medium-term goal is to break into the Australian track team, but first he'd like to land one or two more Tasmanian races and said the wheelrace win tonight had been "a big confidence boost".
Runner-up Mark Jamieson was impressed with the way Rossendell's final surge bumped him down a podium step. "I didn't expect Stephen to be coming with such a rush. I thought 'I've got this one' and I was going and all of a sudden, in the final bend, Steve came round me. All credit to him, he was the strongest man there tonight. I couldn't believe the speed he came round with. I stepped out thinking I was going the best I had all week and he [came round me easily]."
Brown in trouble as Carney takes A Grade scratch
Jamie Carney & Graeme Brown
Photo ©: Shane Goss

The day's major supporting event, the A Grade scratch race, ended in controversy as Graeme Brown was disqualified by the commissaires for erratic riding in the final metres of the race. Brown was duking it out for line honours with American Jame Carney and as the two approached the line, Brown moved up into Carney, bumping his handlebars and knocking him off line.
The race had already seen one incident. Riders in the carnivals wear cloth numbers tied round their bodies and Russell Downing's came loose and got tangled up in Todd Wilksch's front wheel, taking a very unamused Wilksch out of the race.
Japanese rider Kouji Yoshi was always active in this race, taking frequent turns on the front and as the riders came through the finish with a lap to go, Yoshi led them through, followed by the Brown/Lancaster express. Jame Carney came past Yoshi and Brown challenged, pushing Carney up the track, but Carney prevailed, crossing the line first regardless of Brown's eventual disqualification.
Jame Carney has had a dry few days in the Tasmanian carnivals and was delighted to finally land a win. An equipment change had made the difference, he said, "I put my gear way up. I decided I'm getting old and losing my spin so I should go to a 96 and see what happens, and there we go."
Carney was also motivated by missing his chance in the earlier Kym Smoker wheelrace. "I had a good opportunity to go with three-quarters of a lap to go and instead I stayed on Nathan Clarke. We had the chance and we just got caught in the traffic. I felt kind of bad because I sat up and probably could have placed but I knew I wasn't going to win. It was frustrating." So he brought that anger to the final race, "and Brownie tried to kill me!" he laughed. "Eh, rubbing's racing, so that's cool. I was going to beat him solid and then he went into me and slowed me down a little bit. He's a bit bigger than me, but that's cool, that's the way it goes. I'm cool with it - he's a great bike rider and we're big boys we can bounce around a little bit."
Although Carney was not bothered by Brown's erratic behaviour, commissaires nevertheless disqualified him. Top riders and E graders are covered by the same rules, and allowing pros to bounce around at 60km/h might send a signal to less-skilled riders that taking similar risks was permissible. They also pointed out that no harm had been done this time, but had there been another rider in the area on Carney's right, they'd have been unwrapping him from one of the trackside poles.
Brown believes a bit of pushing and shoving is part of the show riders are paid to put on for the spectators at these carnivals. "I get paid, as well as Jame, to put on a show. He didn't even look like coming off his bike. We're here to put on a show and obviously the commissaires don't want us to put on a show. I'm just disappointed for the guys that helped me out."
Supporting events
Graeme Brown might have been worn out by the close of play at Launceston last night, and in trouble later in the evening, but he was fresh and feisty for the first event of the Devonpart carnival today, the Midas Car Care Systems Lightning Handicap. Qualifying easily by winning his heat, Brown rode from scratch along with Scottish sprinter Chris Hoy who was back racing today after taking a day out yesterday with a stomach bug.
Hoy towed Brown toward the front-markers as Dan Cutting, Gareth Atkins, Stephen Price, Ben Price and Corey Heath piled on the pressure to try and stay away from the scratchmen. As Brown fought to catch the front-markers, Ben price took the front and was challenged by Corey Heath with 150m to go. Brown came alongside Heath as the two overtook Price and as they crossed the line it was impossible to separate Brown and Heath with the naked eye. The photo revealed Graeme Brown just in front.
The sprint derby saw some entertaining shoulder-barging and jockeying in the opening laps until Wouter van Mechlen took off with a lap and a half to go in an attempt to get away and time trial to the line. Van Mechlen reckoned without the power of a thoroughly recovered Chris Hoy as the big Scottish sprinter reeled him in, chewed him up and spat him out, then charged solo for the line from 250m out. Hoy's countryman Craig Maclean took second and Italian Roberto Chiappa was a surprise third from way out the back.
Back in 2001 Ryan Bayley set a record of 26.65 seconds for a flying lap of the 500m and a cash bonus was on offer for any rider who could break that record. Craig Maclean came closest with a time of 28.91, cheered on by thousands of enthusiastic fans in this north coast port town.
Photography
Images by Shane Goss/www.licoricegallery.com
Results

Kym Smoker Mersey wheelrace final
 
1 Stephen Rossendell (Aus) (30m)      2.11.33
2 Mark Jamieson (Aus) (60m)                  
3 Miles Olman (Aus) (30m)                    
  
A Grade scratch
 
1 Jame Carney (USA)                  19.31.62
2 Stephen Rossendell (Aus)                   
3 Nathan Clarke (Aus)                        

Lightning handicap final
 
1 Graeme Brown (Aus) (scr)            1.02.61
2 Ben Price (Aus) (70m)                      
3 Corey Heath (Aus) (70m)                    
 
Sprint Derby
 
1 Chris Hoy (GBr)                     0.12.71
2 Craig Maclean (GBr)                        
3 Roberto Chiappa (Ita)                      
 
Flying lap record attempts
 
1 Craig Maclean (GBr)                 0.28.91
2 Graeme Brown (Aus)                  0.29.08
3 Grant Irwin (Aus)                   0.29.35
4 Mark Jamieson (Aus)                 0.30.04
 
Complete results