Introduction to Track Racing - What's a Wheelrace? - Introduction to Six Day racing
Tasmanian Christmas Carnivals
Tasmania, December 26, 2003 - January 4, 2004
Burnie Carnival - January 1, 2004
Brown belts it
Scratchmen prove a point in scorching style
By John Stevenson in Burnie
Graeme Brown - at last
Photo ©: Shane Goss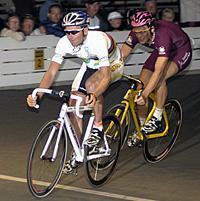 Graeme Brown finally got the prize he came to Tasmania for when he won tonight's $7,000 Burnie Wheel in fine style. Brown fought off a late challenge to put 90m rider Grant Irwin into second; Brown's fellow scratchman Nathan Clarke was third.
A powerful coalition of scratchmen tore the field to shreds as they ploughed from the back to the front in the first half of this 3,000m wheelrace on Burnie's unusual egg-shaped and slightly sloping track. With two laps to go Brett Lancaster led the scratchmen past the middle-markers like an interstate express passing a tram with Jame Carney, Nathan Clarke, Brown, Grant Irwin and Brendan Geale in close formation with him.
Jame Carney led the scratchmen's fighter formation into the last lap, as Lancaster peeled off, his work for the evening done. At 250m out, Nathan Clarke stormed round Carney but Brown was having none of it, and answered with a blistering attack that carried him all the way to the line as Grant Irwin came round a spent Clarke.
Brown acknowledged that the scratchmen knew they had to do something tonight, after being beaten in every wheelrace of the carnivals so far. Also on their mind was enacting a show of strength to make a point to the middle-markers. The point was made: when the likes of Graeme Brown and Nathan Clarke, Jame Carney and Brett Lancaster are on song - look out, world!
The scratchmen cometh
Photo ©: Shane Goss

"Last night, last opportunity," said Brown of his win. "The scratch bunch worked unbelievably hard. There were five guys off scratch and a few guys close by. We got on really easily - well, not easily, but we got on and there was a few laps to spare. It was one of the fastest and best wheel races I've ridden. This was one of my goals for the carnivals. You can't beat world championships, world records, but this was definitely up there."
"I knew it would be a tough race. I wasn't confident earlier in the carnivals of getting up in any of the wheelraces, because we were just so far away each time, but today with the wind and the hill it was definitely our opportunity."
The top riders at these carnivals have had a disappointing series by their own admission, and this was their time to remind everyone just why they start from the back mark. "Everyone said 'right, we've got to win one,'" said Brown. "Everyone helped out to make sure we won one."
And there was a message to the middle-marked riders, whom Jame Carney had criticized earlier in the day for waiting for the scratchmen and tagging along for the ride. "We definitely wanted to prove a point tonight," said Brown. "We knew if the wind kept up and with the hill here it was our best opportunity and we wanted to really show 'em."
Brown acknowledged the assistance he's had all week from Australian and Ceramiche Panaria team-mate Brett Lancaster, who was instrumental in driving the scratch bunch tonight as he has done so many times in these carnivals. "He's awesome," said Brown. "He's an absolute ox. You can always rely on him to do a big few laps and make sure it's all together for me."
Supporting events
Lightning handicap
Chris Hoy
Photo ©: Shane Goss

Visiting Scottish sprinter Craig Maclean took his first win of these carnivals in the 1000m lightning handicap, a shorter distance that suits Maclean and fellow fast man Chris Hoy better than the endurance events. "I'm not particularly fit at the moment," Maclean told Cyclingnews after his win, "but I can just about hang on for a kilo. The finish line seemed to take ages to come though." While it looked like Maclean and Hoy put in a strong finishing surge, "it didn't feel like it - I think it was a case of everyone else blowing!" said Maclean "We had the weight advantage coming down the hill."
Like the rest of the British contingent in Tasmania, Maclean seems to be having fun as well as working hard. "The racing's been really hard, but that's good. There are some great riders out here; it's good for us." Maclean would like to see some more sprint events on the carnivals program, though. "That's all I'd like to see!" he laughed. "[The format] is pretty savage, but it's good training."
Sprint Derby
In the international sprint derby, Chris Hoy got the better of the USA's Kevin Belz as Belz challenged in the closing metres. Graeme Brown went early with three-quarters of a lap to go of the 500m Burnie track, but was unable to stay ahead of Hoy's fellow Scotsman Craig Maclean. As Maclean led Hoy over the top of Brown, Belz made a late charge, but Hoy got on the front and powered to the line for a fine win.
Women's scratch
Becky Conzelman takes out the women's scratch
Photo ©: Shane Goss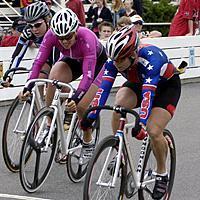 A fine piece of tactical team-work gave the women's scratch race to Becky Conzelman. Conzelman's team-mate Sarah Hammer got on the front with a lap and a half to go, taking with her Belinda Goss, Conzelman and Liz Williams. Conzelman moved to the front with almost a lap to go and drove for the line, with Williams attempting to challenge.
Staying ahead of Williams looked easy for Conzelman, who told Cyclingnews, "I saw her on my hip and I just wanted to keep her [there] and Belinda back. But Liz is a great competitor and that made it fun."
Arriving in Australia, Conzelman and her compatriots were thrown in at the deep end, racing "two out of four days. It took me about a week to get over the jet lag, then we jumped right into racing and it's been great. It's a great experience for me; I'm learning a lot tactically and getting stronger for the endurance rides this year."
On the surface there might not seem to be much women's racing on the programs at these carnivals, but Conzelman is not complaining. "I've heard that a lot of women complain, but the way I look at it, they're letting us race with the men and that's more experience. Not only do we get the men's races - and we don't always make the finals - but we have our own women's races and the E Grade [scratch races.] Out of everyone I think we're actually racing the most. I'm happy about that - the more experience I can get, the better."
Conzelman is likely to be back for future Tasmanian carnivals, following the trail blazed by her coach Jame Carney. "If Jame thinks it's the best for next season, then we'll definitely be back. It's a great place, everyone's been so hospitable, it's been awesome."
Like so many of the riders here, Conzelman is chasing a berth on her country's Olympic team in 2004. "I've got a World Cup qualifier at the end of February in Florida, then hopefully I'll qualify a spot in the pursuit. My good event's the 500m, but getting there through the sprints, that's not my forte, so I've switched back with more emphasis on the endurance stuff."
2000m handicap
Jame Carney
Photo ©: Shane Goss

In the 2000m handicap, Jame Carney demonstrated that he was finding the form that has made him a crowd favourite at previous Tasmanian carnivals, winning handsomely from scratch from Graeme Brown and Gareth Atkins.
With Brown, Peter Dawson, Stephen Rossendell and Todd Wilksch, Carney was part of a five-rider scratch group that quickly picked up Gareth Atkins (20m) and Russell Downing (50m) before storming past the 60m group with two and a half laps to go. Moments later the front markers were also eclipsed and as Peter Dawson rode pace for Brown into the final lap, it was clear that another Brown/Carney showdown as in the offing.
Dawson peeled off and Brown went hard from 350m to go. Carney moved alongside Brown and as they came round the final bend into the wind, Carney turned on the gas and crossed the line just half a bike ahead of Brown.
It was a ride of redemption for Carney, who has been hunting for a handicap win all week. The windy conditions and unusual track, which has a slight incline, suit Carney. "If it stays this windy we're sweet for tonight," said Carney after his win, referring to the day's feature event, the $7,0000 Toll Shipping Burnie Wheel. "It's already hard for the front and the middle to deal with [the scratchmen] with the hill in the course, but with it being this windy it suits me really well because I get behind some big guys like Brown and Lancaster and Dawson and I can get a really good draft."
"I had a good run on Brown. I wanted to give him some room on the back stretch, make sure there wasn't going to be a big swarm, so if I had to accelerate hard I could - it's important to protect your back-markers. You want to do the right thing by them, so they'll do the right thing by you."
Carney was critical of the riding by the middle-markers. "They didn't even try, they just swung up. You're handicapped for a reason and you're supposed to go for it and they didn't go for it, they just swung up and got on and that's not cool. The crowd doesn't want to see that. Those guys are the ones who have been taking all the money. You know what, if it doesn't look so good for you one ride, don't be a wussy and swing up and try to get on. We try each time, it doesn't matter what our numbers are. At Launceston we had three guys and we tried to get on. Graeme Brown has been trying every single ride. They had a lot of guys and they just said 'ho-hum'. It was real lame. You wanna make sure the crowd's happy and everything's going smoothly, that's the thing."
Carney said he has been improving as the series goes on, and defended himself against local media criticism that he's not riding as well as in previous years. "2003 was for me to go to school full time, make sure I'm going to graduate without having to retake classes and I rehabbed all my injuries from the last five years, so I have half as many kilometers in my legs this year than [any year since] I was a junior. I got outta school, jumped on an airplane and I'm starting my training for the Olympics. And that's it - nine months as hard as I can go, but this is the first month.
"I am feeling better every day, but I have to, I rode really badly at Latrobe; I better ride well sometimes. I was third in [the Burnie Wheel] a couple of years ago and this is a great track for scratch."
Nevertheless, a dominant ride by the scratchmen in the Wheel was not guaranteed, according to Carney. "The only problem we have, as I've learning getting familiar with the handicap system, is that five riders [go through] from the five heats of the wheel. Twenty-five riders on this track isn't a big deal, but the problem is when you have five guys there in a heat, you don't have five backmen in a heat, so you're guaranteed front markers will make it, but there's no guarantee that all of our back marker will make it. That puts us in a really bad numbers game in the final. We'll probably have six guys in the final, but they'll have nineteen! That's a lot of people to come around for a final. But the hill's not going anywhere!"
Women's 2000m handicap
Fourteen-year-old Carrie Price from Ulverston, Tasmania won the women's 2000m handicap from the 140m mark, holding off a high-quality group of back-markers who couldn't seem to properly organize the chase. Nevertheless, Price worked well with her fellow young rider Grace Sulzberger and first-year senior Natasha Mapley to stay at the front throughout the four-lap contest. Scratchwomen Becky Conzelman and Belinda Goss soon caught Sarah hammer (10m), Louise yaxley (20m), and Liz Williams (30m) and the five-strong group set about chasing the front-markers. But with two laps to go they seemed unable to agree whose turn it was to work, and after half a lap Conzelman lost patience and took off, taking Goss and Yaxley with her. But by then the damage was done and the gap to the leaders was too large for Conzelman to close it and pass them.
Price didn't realize she had a chance until they were 200m out. "I wasn't so much worried about them catching me as Grace and Natasha beating me," said Price. How did it feel to win against riders such as Conzelman and Goss? "It feels good. I think it always feel good to win!"
16,000m A grade scratch
Russell Downing
Photo ©: Shane Goss

British rider Russell Downing pulled out his best ride of the carnivals at the last possible moment in tonight's final event, the 16,000m scratch race. The opening stages unfolded as the usual procession, with Miles Olman livening things up with a long solo escape, but with six laps to go everything was back together. Mark Jamieson hammered off the front for the sprint prime at five laps to go, and Downing, Kristian House and matt Goss went with him. Jamieson got the prime and dropped back. Downing put his head down, did what he thought was a long pull with House in tow and discovered only Goss was with him. , "Gossy swung off and I could see he was struggling so I put an attack in." he said afterwards. "I thought, 'I'm gonna go for it' and if I get caught with one lap to go at least I've had a go."
As the bell rang for the final lap Downing still had five seconds on the pack. Jamieson and his Tasmanian team-mates moved to the front and the Brown/Lancaster train seemed to get caught in traffic mid-pack. Carney leapt past Jamieson on the front and dug deep for a final, spirited chase, but Downing's margin was too great and he had time to sit up and celebrate as he crossed the line.
Photography
Images by Shane Goss/www.licoricegallery.com
Results
Toll Shipping Burnie Wheel final 3000m
 
1 Graeme Brown (Aus) scr             3.22.75
2 Grant Irwin (Aus) 90m
3 Nathan Clarke (Aus) scr
4 Brendan Geale (Aus) 90m
5 Kevin Belz (USA) 90m
6 Matthew Atkins (Aus) 135m
7 Jame Carney (USA) scr
8 Daniel Vogels (Aus) 180m
9 Kaidan Homan (Aus) 225m
 
A Grade scratch 16,000m
 
1 Russell Downing (GBr)                     
2 Jame Carney (USA)                         
3 Graeme Brown (Aus)                        
4 Nathan Clarke (Aus)                       
5 Gareth Atkins (Aus)   
 
Women's scratch 2000m
 
1 Howard Smith (Aus)                        
2 Liz Williams (NZl)                        
3 Belinda Goss (Aus)                        
 
2000m Handicap final
 
1 Jame Carney (USA) (scr)                   
2 Graeme Brown (Aus) (scr)                  
3 Gareth Atkins (Aus) (30m)                 
4 Russell Downing (GBr) (50m)               
5 Grant Irwin (Aus) (60m)       
 
Lightning handicap 1000m final
 
1 Craig Maclean (GBr) (10m)          1.07.32
2 Daniel Vogels (Aus) (60m)                 
3 Chris Hoy (GBr) (20m)                     
4 Brendan Geale (Aus) (30m)    
 
Complete results