Recently on Cyclingnews.com
Introduction to Track Racing - What's a Wheelrace? - Introduction to Six Day racing - UCI codes
Results and Reports for Australia
Promoters wishing to submit results should send them to cyclingnews
Forestry Tasmania Carnival, Mersey Valley, Tasmania,
January11, 2004
By Rod Morris
Becky Conzelman pips Sarah Hammer
Photo ©: Lynne Ryan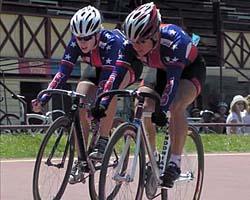 American cyclist Jame Carney continued his love affair with Tasmania with victory in the Mersey Valley - Devonport Cycling Club's annual Forestry Tasmania Carnival yesterday, Sunday, January 11. Carney (35) is currently enjoying his sixth - and possibly last - trip to Australia as a competitive cyclist, but he was able to show a clean pair of heels to his younger opponents in the 2000 m final. Carney had little trouble qualifying for the final and with a good crop of fellow backmarkers to call on, was able to reel in the front bunch, which included the in-form Ben Price, who eventually finished fourth behind the three scratchmen, Carney, Darren Young and Nathan Clarke.
Consistent Launceston rider Ryan Johnson missed out on the major spoils, finishing fifth behind Price. Carney failed to win any of the major wheelraces over the Basslink Tasmanian Christmas Carnival Series, but has still been a consistent finalist and kept all those around him honest. He finished second to Stephen Rossendell in last week's Hobart Wheel and will be one of the favourite's for next Saturday's 50th annual St Helen's Wheel.
Carney's countrywoman Becky Conzleman claimed her second successive wheelrace, winning the MVDCC Wheel off scratch, while Carney also enjoyed success in the A Grade Scratch. Ulverstone's Ben Price won the 1000 m Lightning Handicap, while another of the Americans, Kevin Belz, won the Sprint Derby. The junior MVDCC wheelraces were won by Samantha Hellyer (Under 17), Ben Grenda (Under 15) and Madison Catlin (Under 13).
Photos
Images by Lynne Ryan
Results
Forestry Tasmania MVDCC Wheelrace
1 Jame Carney (scr)                                                                  2.17.40
2 Darren Young (scr)
3 Nathan Clarke (scr)
4 Ben Price (120)

Forestry Tasmania Women's Wheelrace
1 Becky Conzleman (scr)                                                              2.47.46
2 Sarah Hammer (10)
3 Natasha Mapley (50)
4 Carrie Price (70)

Derrico Lightning Handicap
1 Ben Price (60)                                                                     1.06.09
2 Ryan Johnson (65)
3 Kaidan Homan (65)
4 John Rayner (75)

Martin/McPherson Sprint Derby
1 Kevin Belz                                                                           13.00
2 Gareth Atkins
3 Jame Carney
4 Becky Conzleman

Jock Wotherspoon International Italian Pursuit
MVDCC                                                                                1.39.17
(Darren Young, Nathan Clarke, Gareth Atkins, Matthew Atkins, Ben Price, Natasha Mapley, Carrie Price)
USA                                                                                  1.41.25
(Jame Carney, Kevin Belz, David Wiswell, Gui Nelessen, Andy Sparks, Becky Conzleman, Sarah Hammer)

Morris Media A Grade Scratch
1 Jame Carney                                                                        7.51.58
2 Nathan Clarke
3 Darren Young
4 Matthew Atkins

Flint Enterprises B Grade Scratch
1 Jarrod Harman                                                                      6.41.45
2 John Rayner
3 Becky Conzleman
4 Sarah Hammer

Brenton Best Junior 1 Wheelrace
1 Samantha Hellyer (200)                                                             2.34.29
2 Alex Lyons (200)
3 Grace Sulzberger (200)
4 Carrie Price (200)

Brenton Best Junior 2 Wheelrace
1 Ben Grenda (90)                                                                    2.51.26
2 Brenden Sutton (40)
3 Bethany Coleman (120)
4 Zac Harris (80)

Brenton Best Junior 3 Wheelrace
1 Madison Catlin (140)                                                               1.24.22
2 Callan Walker (220)
3 Isaac Guest (220)
4 Sam Brett (100)

MVDCC Junior 1 Lightning Handicap
1 Tom Robinson (30)                                                                  1.14.68
2 Alex Lyons (100)
3 Ben Laskey (80)
4 Alex Holden (50)

MVDCC Junior 2 Lightning Handicap
1 Natalie Reading (160)                                                              1.20.82
2 Zac Harris (80)
3 Ben Grenda (45)
4 Brenden Sutton (20)

MVDCC Junior 3 Lightning Handicap					        
1 Callan Walker (220 m)                                                              1.22.95
2 Madison Catlin (140)
3 Josh Cole (190)
4 Isaac Guest (220)

Latrobe Council Junior 1 Derby
1 Ben Fielding                                                                         12.85
2 Tom Robinson
3 Clay Murfett
4 Daniel Jamieson

Latrobe Council Junior 2 Derby
1 Andrew Dolan                                                                         16.86
2 Brenden Sutton
3 Ben Grenda
4 Ed Robinson

Latrobe Council Junior 3 Derby
1 Brandon Stewart                                                                      16.90
2 Jake Laskey
3 Jason Bounday
4 Sam Brett

Mark Jamieson Junior 1 Scratch
1 Ben Fielding                                                                       5.36.70
2 Clay Murfett
3 Alex Holden
4 Tom Robinson

Cycling Tasmania Junior 2 Scratch
1 Brenden Sutton                                                                     4.29.90
2 Ben Grenda
3 Bethany Coleman
4 Ed Robinson

MVDCC Junior 3 Scratch
1 Brandon Stewart                                                                    3.09.45
2 Jake Laskey
3 Jason Bounday
4 Jacob Fielding


Local results 2003