Interbike 2004
Las Vegas, USA, October 4-8, 2004
Leading the way: Trek shows off for 2005
The USA's biggest bike company showed off its usual slew of new models at Interbike. Tim Maloney got a tour of the highlights of the range.
Madone SSL
Photo ©: Tim Maloney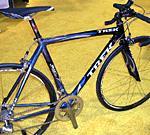 Bontrager's new carbon stem
Photo ©: Tim Maloney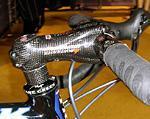 I shall call him 'Mini-Me'
Photo ©: Tim Maloney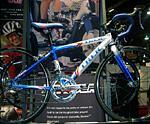 Trek Pilot 5.0
Photo ©: Tim Maloney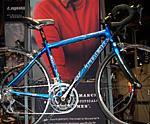 Bontrager XXX Race Lite carbon fiber saddle
Photo ©: Tim Maloney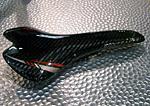 Bontrager XXX Race Lite carbon fiber cranks
Photo ©: Tim Maloney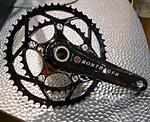 Trek brand manager Zapata Espinoza took Cyclingnews through the highlights of the American bike manufacturer's range at Interbike. Espinoza was keen to point out the things that Trek believes differentiate its bikes from other makers'. "There's a crowded field of lightweight carbon bikes on the market these days," said Espinoza, "and we at Trek believe that the most important questions a consumer should be asking themselves are: How many of these manufacturers offer a lifetime warranty as we do at Trek? And how many have won the Tour de France six times in a row? How many of these bike companies actually manage their manufacturing processes themselves? Because each of our bikes are handmade at the Trek factory in Wisconsin, and like the Madones used by the USPS team, they are the exact same bikes used by Lance."
Trek debuted the exotic Madone SSL at Interbike; of course, Cyclingnews first showed you this super light climbing rig, developed specially for Lance Armstrong, when he debuted it in the Dauphiné Libéré in June. Armstrong rode his Madone SSL to his best-ever time up Mont Ventoux, but LA opted for his more familiar Madone SL in the l'Alpe d'Huez TT in the Tour de France because the SSL had Bontrager aero bars and Armstrong chose not to use them in the tight confines of the crowded Alpe d'Huez mountain time trial. Espinoza told Cyclingnews, "The SSL uses OCLV 55, a special grade of our proprietary OCLV Carbon. OCLV 55 is to OCLV 110 Carbon what 6/4 titanium is to 3.2/5. It's more expensive to procure and much harder to work with in the lay-up process." Trek claims a 100 gram weight savings over the Madone (an unpainted 58 cm SSL frame weighs 950 grams). Paired with the Bontrager Race XXX Lite fork in OCLV 110 Carbon, the Madone SSL rolls on Bontrager Race XXX Lite Road clinchers and sports a Shimano Dura-Ace 10 speed group and Bontrager components. Priced at $US7,699.99 and clad in a Gloss Black/Blue Pearl Carbon, Trek's Madone SSL is - Trek believes - currently the ultimate expression of 'made in USA' bicycle technology. Order yours today to get it in time for Christmas!
While dad Lance Armstrong is cruising through the Alps on his Madone SSL, Lance's five year old son Luke may soon be testing his legs on an Austin, Texas playground aboard the all-new Trek KDR 1000. Dubbed the Madone Mini-Me and priced at $US610, the KDR 1000 is one of the coolest kidsbikes to come along in years. With a Pearl White/Rally Blue paint job that resembles the big boys on USPS, this little road rocket is no toy. It's got an Alpha aluminium 43cm frame and aluminium fork, with Shimano Sora and Tiagra 16-speed group and Bontrager components with 24in wheels. "Hey, it's simple," Espinoza joked, "every kid should have one!"
Espinoza also showed us the four bikes in Trek's new Pilot lineup that focuses on the comfort performance market segment. "The Pilot 5.9 is the top model," he said, "with a OCLV 110 frame and the same OCLV VC seatstays that are shared on the 5.0 and 5.2. OCLV VC (Vibration Control) is the newest addition to our OCLV family; we use a thin sheet of elastomer in the base layer of the OCLV layup, so the seat stays do an even more efficient job of damping road buzz." Espinoza explained that Trek's Pilot story is about providing a more upright and relaxed riding position, with a host of frame and component features that increase comfort while still providing a performance ride associated with Trek road bikes.
"Our Pilot retains the Tour-proven geometry that Lance has come to rely on, but [with] a higher hand position, a sloping top tube, the OCLV VC seat stays and a Bontrager Comfort Control system." The BCC system is the Bontrager Satellite Plus fork [with a strip of Aramid to damp road buzz], Bontrager FlatTop handlebar with double gel tape, the new Bontrager Buzz Kill handlebar inserts [harmonic dampers that double as bar end plugs, and exclusively deal with Mathews Harmonics] that also help negate the road vibrations that can cause discomfort, and Bontrager puncture resistant tires.
"Pilot is the ultimate combination of comfort and performance. Pilot 5.2 and 5.0 use OCLV 120 frames while the entry level 2.1 uses a ZR9000 aluminum frame with carbon stays," Espinoza explained. He also showed us the Trek Pilot 5.0, with its OCLV 120 Carbon frame with OCLV VC Carbon seat stays, Bontrager Satellite Plus fork, Bontrager Race Lite triple crank (52/42/30) and Shimano Dura-Ace rear derailleur. In fact, Bontrager components are featured widely throughout Trek's entire 2005 line. Clad in attractive Blue Carbon livery, Pilot 5.0 offers the best of comfortable riding and high-end performance for a MSRP of $US3,000.
Fresh off the mountain bike circuit where he was Trek's team manager, newly minted Bontrager product manager Tyler Pilger put his experience to work showing Cyclingnews a superb array of high-end carbon fibre componentry from Bontrager for 2005. The always creative Keith Bontrager must have locked himself in his Santa Cruz, CA workshop and in a mad orgy of innovation, he's brought forth some of the most excellent products for next season. Already well known in the mountain bike world, Bontrager's made in Italy saddles had hit the road and will be the exclusive bum support for Team Discovery in 2005.
According to Bontrager, the XXX Race Lite carbon fiber saddle weighs in at 99 grams and will provide greater comfort thanks to a wider 135mm support distance and tapered edges. Price is $299.
Bontrager carbon fiber XXX Race Lite cranks are featured throughout the Trek, Klein and LeMond range and will be an aftermarket product for 2005. Offered in 130 and 110 PCD versions, pictured is the compact version of Bontrager cranks with a 36 tooth inner chainring. Keith didn't neglect road bars and stems for the carbon fiber treatment. Pictured is a Bontrager XXX Race Lite carbon fiber stem, standard equipment on the exotic Trek Madone SSL. This good looking stem, priced at $250 for aftermarket reportedly tips the scales at 135g for a 110mm length model.