Interbike 2004
Las Vegas, USA, October 4-8, 2004
Tooled up in Vegas
The two biggest players in bike tools, Park Tool and Pedro's had plenty of new toys for those of us who love do our own wrenching or work in the backroom and basement arm of the bike industry keeping other people's rides running sweetly.
Park Tool's new PRS-20 workstand
Photo ©: Park Tool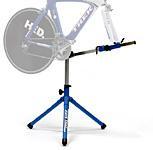 Probably the most interesting introduction from Park was the PRS-20 workstand. Every Park workstand since, well, forever, has used a variant on Park's clamp that grabs a handy part of the bike such as the seat tube or seat post. The PRS-20 breaks the mould with a design based on the stands popular with European pro team mechanics. It holds the bike by the bottom bracket and the front or rear dropouts and includes a 'sleeping hub' so that the wheel can be removed and the chain cleaned.
On the subject of portable stands for pro mechanics, Park has created a host of accessories for its PRS-15 folding workstand. If you wrench at races and use a PRS-15 your life is now not complete without a BTK-1 Bucket and Tool Kilt; a TS-15 Truing Stand Attachment; a PTH-1 Paper Towel Holder and a BAG-15 Travel and Storage Bag.
Good news for those of us who repeatedly lose Allen keys (where do they go?) is that Park's P-handled ball-end Allen keys are now available individually, so you don't have to buy a complete set next time your 6mm goes AWOL. Park also introduced 11mm and 12mm sizes, as needed for the innards of some hubs.
At Cyclingnews we've been serializing Park's guides for repairing your bike for the last couple of years, and the wisdom and information contained therein is now in Park's Big Blue Book of Bike Repair, written by Calvin Jones, education director at Park Tool.
Pedro's new crank arm puller
Photo ©: Jon Devich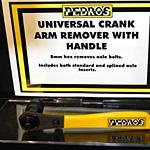 Other new stuff from Park that caught our eye included the company's foray into chain lubes, a new consumer-level truing stand and a special plier for chains with master links such as Wipperman and SRAM. These links are intended to be opened without tools, but often get a bit clogged with crud and sticky. The MLP-1 solves the problem.
From the Big Blue of tools to Old Yella, and Pedro's had a few new bits and pieces for 2005, including a portable wheel truing jig that can be clamped to any handy flat surface.
In a nice bit of 'doing more with less' Pedro's also has a new crank puller with a built-in 8mm Allen key for removing crank bolts and inserts to cope with both square taper and splined axles - one tool to pull them all.
Getting the placement of the star-fangled nut in a threadless headset just right is always a headache so Pedro's has a tool for it, a star-nut setter that includes a guide so that the star nut goes in clean and square.
Photos
Park Tool's new PRS-20 workstand
Photo ©: Park Tool

New accessories for the PRS-15
Photo ©: Park Tool

Park's bucket and tool kit
Photo ©: Park Tool

Park P-handled Allen keys
Photo ©: Park Tool

Do it yourself
Photo ©: Park Tool

Park Chain Lube
Photo ©: Park Tool

Park Master Link Plier
Photo ©: Park Tool

Park's TS-8
Photo ©: Park Tool

Pedro's showed off
Photo ©: Jon Devich

Pedro's new star nut setter
Photo ©: Jon Devich

Pedro's new crank arm puller
Photo ©: Jon Devich

Pedro's grips
Photo ©: Jon Devich

The Domestique Pump
Photo ©: Jon Devich

This nifty portable truing stand
Photo ©: Jon Devich