Special news feature, October 12, 2004
Sponsorship update: Will Specialized hit the jackpot with Levi?
Ridley makes major move
By Gerard Knapp in Las Vegas
Levi Leipheimer with with Kevin Franks (L) and Mike Sinyard of Specialized
Photo ©: cyclingnews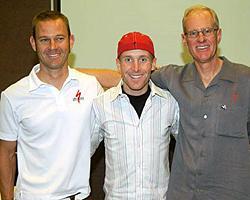 While sponsoring leading European road racing squads can bring mixed fortunes for American bicycle manufacturers, it is considered an essential part of the marketing strategy, particularly if capitalizing on the USA's current boom in road racing is a priority, writes Gerard Knapp.
But it's not always a smooth road to increased sales, as companies can back a team and riders and not all will perform to expectations, at least in a marketing sense. In 2001, Angel Casero won the Vuelta Espana on a Specialized, but then Festina withdrew from sponsoring the team. Next up was the company's relationship with Mario Cipollini's various teams, which looked good in theory, until the organizers of the Tour de France left his squad out of the Tour de France (which not only disappointed Specialized, it has to be said). Cannondale was also hit for six out of the TdF by the unpredictable and inconsistent rulings of the French organizer.
But in 2003, it all came together beautifully for Specialized when 'Cipo' bagged Milan - San Remo and the rainbow jersey in the World Road Championships in Zolder.
This year has not seen those bikes reach the line first in such prestigious races, but in 2005, the California-based company will have one of America's best road cyclists, Levi Leipheimer, riding a Specialized for the Gerolsteiner team.
Trek and Lance Armstrong has been a powerful combination
Photo ©: Cyclingnews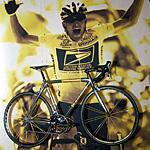 The combination of an American cyclist on an American-made bicycle - particularly if they perform strongly in the big tours - is a nice double-whammy on the marketing front. The only thing missing is an American corporation as the title sponsor; one only has to look at Trek's incredible run with Lance Armstrong to see how six consecutive wins can help the publicity department.
Cannondale will almost certainly be back in the peloton in 2005
Photo ©: Cyclingnews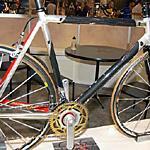 In 2005, Armstrong will be back on a Trek for the Discovery team, and while the details of the proposed Lampre-Saeco merger are still being finalized, the industry would be shocked if Gilberto Simoni and Damiano 'The Kid' Cunego will not be on Cannondales next year.
On the domestic front, the exciting news for Little Rock, Arkansas-based Javelin is that the promising USA development squad, TIAA-CREF, will be riding its frames in 2005. It's a significant development for Javelin, as it is replacing Trek-brand LeMond. The U23 TIAA-CREF team, brainchild of retired Credit Agricole professional Jonathan Vaughters, has performed beyond expectations in 2004 and is looking to ride an enhanced program next season. Javelin is also supporting the Ford-Basis women's squad of Nicole Freedman and co for another two years, concentrating its efforts within its key market - the USA - and within a sensible budget range.
Can't get enough of Europe
There was the inevitable talk at Interbike of pitches to secure sponsorships of other Div 1 teams (the term 'Pro Tour' won't apply here until it actually exists) and disputes between former riders impacting on these relationships. It only serves to indicate the tenuous nature of these deals; maintaining a relationship for more than two years, particularly when teams are always looking for more revenue, is quite an achievement.
Davitamon-Lotto will be aboard Ridley in 2005
Photo ©: Cyclingnews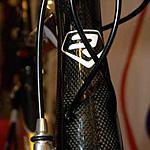 The Davitamon-Lotto squad is a case in point. As arguably Belgium's leading squad in 2005, with Axel Merckx, Robbie McEwen, Fred Rodriguez and Cadel Evans among the substantial rider roster, the team will be riding bikes from a Belgian company. Except it's not Merckx; rather, they will come from relative newcomer (well, relative to Eddy), Ridley. A beaming company founder, Jochim Aerts, was at Interbike on the booth of its new USA distributor, Sinclair Imports, to meet and greet dealers and press.
As Ridley - yes, it sounds British, but it's definitely Belgian - is primarily a bike-maker, this left a range of other sponsorship opportunities open to the team. Consequently, the heads of Davitamon-Lotto riders will be covered with Specialized helmets, while their eyes will be protected by its eyewear. Fred Rodriguez will also continue to use Specialized's shoes in 2005.
These are only a few of the deals will be - or are close to - shaping what kit will be seen in the big races next year. Of course, there are always rider preferences and exceptions, particularly at those all-important contact points on the bike: namely the saddle, shoes and pedals. In those circumstances, the team can either insist on sponsors' kit being used - even if it simply is not suited to a rider's anatomy, only to watch that rider develop a repetitive injury - or surreptitiously cover up the rival maker's brand with tape.
And it seems the larger the rider and team, the less respect may be shown, in that a relatively minor source of sponsorship can be overlooked to appease the preference of a star rider. Almost each equipment sponsor - particularly in areas as such as highly-specific time trial kit - has had its equipment put aside in favour of something else. It should be pointed out it's not a case of a rider or team 'double-dipping' into the sponsorship trough; rather, it's using what it perceives is the best solution on the day. After all, winning is everything.
Levi looks forward for 2005
Levi enjoying the publicity at Interbike
Photo ©: cyclingnews

Speaking at a press conference for Specialized at Interbike, Levi Leipheimer was looking forward to the 2005 season and especially the Tour de France. He described his years at Rabobank as a "huge learning curve" and after the setbacks of previous Tours de France, particularly where he was forced to abandon very early on due to injury, he is "very motivated" for the season ahead.
He said the combination of he and climber Georg Totschnig gives the team "two eggs in one basket" for the Grand Tours, and the team should be stronger for the all-important team time trial and nervous first week of the Tour, where strength in numbers is an asset.
The Tour remains his primary focus for 2005, he said, with the big one-day races in April "not my style or suited to my strengths". However, he does hope to be able to assist Davide Rebellin secure more Classics victories.
The American is also doing some lobbying in the background to secure the services of Dave Zabriskie, currently contracted to the US Postal Service team, who was fifth in the individual time trial at the 2004 World Road Championships.
Leipheimer will be riding Specialized's Tarmac carbon fibre bikes in 2005, and the company is also expecting its time trial frame, called the Transition, to be used by the team, said Sean McLaughlin, manager of global marketing at Specialized.
McLaughlin said if the geometry of the existing Transition model didn't fit a particular rider, the company would custom-build a frame to fit.
Arguably, Leipheimer will be in a better-fitting team for the Tour de France in 2005 than previous years and the same could be said for Specialized. Perhaps in 2005, it could be the time for a very determined American rider, and an equally persistent bike sponsor, to pull off the big one.