Interbike 2004
Las Vegas, USA, October 4-8, 2004
Dressing for dinner: Components, clothes and nutrition
Here's a final round-up of kit from Interbike, looking at more new components, clothing and nutrition products.
Crank Brothers finally makes cranks
Photo ©: Jon Devich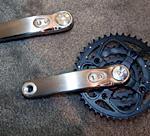 One of the biggest component announcements of Interbike was the news that Crank Brothers is finally making - ta-da! - cranks. The arms have a hollow structure with a striking brushed steel outer plate. In a world that seems to be being taken over by very similar-looking carbon cranks, they're dramatically different.
Speaking of carbon, Italy's Selcof had its line of carbon bars, stems and seatposts on show for ogling. The line features silver carbon - already a big hit in frames - and a very tidy one-piece bar and stem for the very deep of wallet. US importer Red Rose also had new carbon cranks and lightweight pedals from Miche.
Giordana's new jersey
Photo ©: Jon Devich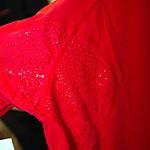 The effect of dimples and bobbles on the aerodynamics of surfaces is well known - take a look at a golf ball or the surfaces of the latest deep-rim aero wheels from the likes of Zipp. Giordana is bringing the same idea to clothing with its new range of jerseys that features silicone texturing on the shoulders to smooth airflow over the rider. Giordana also has a new, smooth leg gripper, and a bibshort design that eliminates seams at the shoulders.
Also from Italy, clothing company Bergamo showed off its new design of shorts pad (since these things no longer even vaguely resemble a slab of leather, it's starting to feel silly to call them 'chamois') and Capo had some nifty socks.
Southern California clothing manufacturer Canari was spruiking its custom clothing - canari will make as few as ten of a special-order item, which is handy for small clubs and teams and special occassions.
On the nutrition front, Maxim and Extran, two of the bigger companies in the area, recently merged and had a combined presence for the first time. Both Honey Stinger - maker of honey-based energy gels - and Powerbar announced new flavours, with Powerbar's cookies and cream variety sounding like it can't possibly be good for you. It's still very much a Powerbar though.
Photos
Crank Brothers finally makes cranks
Photo ©: Jon Devich

They're hollow
Photo ©: Jon Devich

Lots of titanium
Photo ©: Jon Devich

Crank Bros pedal range
Photo ©: Jon Devich

The Quattra Ti cleat
Photo ©: Jon Devich

Selcof carbon post
Photo ©: Jon Devich

Selcof all-in-one carbon bar and stem
Photo ©: Jon Devich

Cable routing
Photo ©: Jon Devich

Silver carbon comes to bars
Photo ©: Jon Devich

A close look
Photo ©: Jon Devich

Two-bolt Selcof seatpost
Photo ©: Jon Devich

Supertype by Miche cranks
Photo ©: Jon Devich

Miche's new Supertype pedal
Photo ©: Jon Devich

Giordana's new jersey
Photo ©: Jon Devich

A flat, smooth silicone band
Photo ©: Jon Devich

Giordana continued the smooth lines
Photo ©: Jon Devich

Bergamo displays
Photo ©: Jon Devich

A new chamois was introduced by Bergamo
Photo ©: Jon Devich

Capo showed its line of slick-looking socks.
Photo ©: Jon Devich

Canari's custom men and women's design clothing
Photo ©: Kristy Scrymgeour

Canari's custom clothing
Photo ©: Kristy Scrymgeour

Canari's Arrogant Bastard Ale jersey
Photo ©: Kristy Scrymgeour

Maxim and Extran become one
Photo ©: Kristy Scrymgeour

Honey stinger at large
Photo ©: Kristy Scrymgeour

Honey Stinger added flavours
Photo ©: Kristy Scrymgeour

Powerbar also has a new flavour
Photo ©: Kristy Scrymgeour