Tech Feature: Trek & Gary Fisher 2008 mountain bike range, July 30, 2007
Trek and Gary Fisher aim to retake piece of mountain bike pie
Gary Fisher Superfly
Photo ©: Sterling Lorence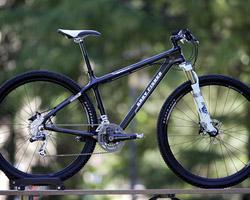 After (perhaps a few too many) years of basking in the 'Lance era', US bicycle monolith Trek and dedicated MTB division Gary Fisher refocuses its attention to the mountain bike world with new ideas and innovations for the 2008 model year. Cyclingnews' Sue George headed to Sun Valley, Idaho, to sample the company's newest wares for herself.
Inasmuch the Trek Madone was inspired and shaped by Lance Armstrong and his United States Postal Service and Discovery Channel teams, many of the 2008 mountain bikes from Trek and Gary Fisher are heavily influenced by their sponsored racers. No longer content to just react to the actions of its competitors, Trek now intends to portray itself as a trendsetter and is using the experience of those riders to help hone its range. The new lineups from Trek and Gary Fisher include a heavily revamped Fuel and expanded 69er offerings from Trek and a wealth of 29" bikes from early big wheel adopter Gary Fisher.
Gary Fisher continues to win over racers to the 29" cause
Gary Fisher Hi Fi
Photo ©: Sterling Lorence

"Anything we do with two-niners flows through product manager [and semi-retired pro racer] Travis [Brown] on the R&D side and Nat Ross on the race side," said Aaron Mock, Brand Manager for Gary Fisher. "[Pros] Jeremy Horgan-Kobelski and Heather Irmiger are both racing two-niners."
Brown and Ross were already 29" wheel converts (with Brown being more of a 'half convert' with his preferred '69' format), but winning over Horgan-Kobelski and Irmiger required a more convincing argument, especially given Irmiger's decidedly diminutive size. Gary Fisher has demonstrated its commitment to making the alternative wheel format a viable option for the die-hard racing crowd for 2008 with an all-new carbon fiber 29er hardtail aptly named 'Superfly'.
Fisher increases its bottom bracket shell and changes shape of tube junction for greater stiffness
Photo ©: Sterling Lorence

Gary Fisher claims the Superfly is not only lightweight at just 1229g for a medium frame, but also delivers ample drivetrain and torsional rigidity to match its impressive showing at the scale. According to Gary Fisher, the Superfly derives its stiffness from key design evolutions that include a carefully engineered lay-up schedule in its new all-carbon frame, larger head tube junctions courtesy of a semi-integrated headset, asymmetric chain stays, a wider and flatter down tube underside near the bottom bracket, a beefier-looking reinforced seat cluster design, and a return to a wider 73mm bottom bracket shell.
The Superfly is also engineered with 10mm of rear tire clearance (with a 2.25" wide tire) to allow room for mud build-up. To address concerns about carbon's fragility, Gary Fisher has added stainless steel armouring at key locations on the frame, including the driveside chain stay and on the down tube just ahead of the bottom bracket shell.
Testing the bikes in an area burnt by a forest fire
Photo ©: Sterling Lorence

The semi-integrated headset also has the added benefit of facilitating lower hand positions-a feature driven by Nat Ross-but the headsets are still fully replaceable. Unlike fully integrated designs, the bearing races rest on hidden internal cups that are pressed into the head tube, instead of directly on the frame itself.
Some of the Superfly's design features, such as the complex tube shaping and semi-integrated headset, also trickle down to other models in Gary Fisher's newly revamped 29er hardtail line, including the aluminium Paragon, X-Caliber, Cobia, and Rig, and the steel-framed Ferrous 29.
Gary Fisher had already rolled out its ultralight 26" HiFi Carbon trail bike earlier in the year at the Sea Otter Classic as the next step up from its aluminium HiFi Pro, but production versions of the recently previewed 29" version were finally available for riding for the first time in Idaho.
As mentioned earlier, Gary Fisher's updated G2 geometry will be found on all 2008 models, although 29" versions also get a uniquely offset custom fork crown (51mm instead of 46mm for 26") to improve handling for the larger 29" wheel.
Extreme Makeover: Fuel EX
You can see all three new Trek Fuel EX technologies:
Photo ©: Sterling Lorence

Trek's recent mountain bike efforts have apparently already begun to pay off as reported sales have increased by 19% as compared to last year. Much of that improvement is likely due to the incremental improvements in its full suspension range that were introduced last year.
Cyclingnews first glimpsed and reported details on the next phase at the Trek Madone launch in June. The thoroughly redesigned Trek Fuel EX trail bike benefits from a new 120mm travel R1i suspension design that is loosely based on the existing R1 layout but adds several key features.
An innovative Active Braking Pivot (ABP) places a dropout pivot concentric with the rear axle to improve braking performance and traction, a new welded EVO rocker link both drastically reduces weight and increases stiffness, and a new 'Full Floater' dynamic shock mount helps keep the rear shock in its ideally tuned sweet spot for a greater proportion of the travel. According to recently hired Suspension Development Director Jose Gonzalez, all of these elements (especially the latter) work together to address the "'We wish it felt like it had more travel' complaint."
Riders head out to test their Trek & Fisher bikes
Photo ©: Sterling Lorence

The premium-level Fuel EX 9.5 and 9.0 both utilize an OCLV carbon main frame and thixomolded magnesium EVO link, while aluminium main frames and aluminium EVO links grace the EX 9, 8, and 7, and Women's Specific Design (WSD) EX 8 and 5.5 models. The more moderately priced EX 5.5 and 6.6 carries on with 2007 frames, with 120mm, trickle down to entry-level bikes.
Overall, Trek claims its Fuel EX has gained 35% more stiffness (relative rear to front axle deflection) as compared to last year's version. Based on popular demand, Trek has also added an 18.5" size to complete the existing 15.5", 17.5", 19.5", and 21.5" men's sizes and 14", 15", and 18" WSD sizes.
69er options triple
Trek 69er 3x9
Photo ©: Sterling Lorence

The 69er is arguably Trek's most racing-influenced bike: Travis Brown himself was instrumental in pushing its development and six-time 24 Hours of Adrenaline World Solo Champion Chris Eatough used one to win the recent Lumberjack 100 and Mohican 100 National Ultra-Endurance Series (NUE). Eatough had championed Trek's 26" wheeled Top Fuel for each of his six championships but has apparently been smitten with the 69er's enhanced ability to roll over objects with its 29" front wheel while still preserving the stiff rear end, light chassis weight, familiar gear ratios, quick acceleration, and climbing prowess of the 26" rear wheel.
Trek Top Fuel 69er
Photo ©: Sterling Lorence

Trek's 2007 69er offerings were limited to a sole singlespeed hardtail, but 2008 sees two new models, both benefiting from a crossover of Fisher G2 geometry: a 3x9 geared hardtail based on the singlespeed frame, and a full suspension geared bike with 100mm and 90mm of rear and front wheel travel, respectively, and the existing R1 rear end instead of the newer R1i design.
All Trek and Gary Fisher models will come with Fox Racing Shox forks and shocks for now, and Trek said it has no plans to do its own suspension, preferring instead to continue to work with third parties on custom tuning. Final production costs had not yet been set at press time but Trek predicted prices approximately US$100 higher than 2007 for similar models. 2008 Gary Fishers go on sale this month, while Trek buyers must wait until August.
Photography
For a thumbnail gallery of these images, click here
Images by Sterling Lorence/www.sterlinglorence.com