Recently on Cyclingnews.com
Tech Feature: 2008 Trek Madone, June 7, 2007
Trek finally ventures out of its shell for new Madone
By James Huang in Milwaukee, Wisconsin
Trek incorporates a sloping top tube
Photo ©: James Huang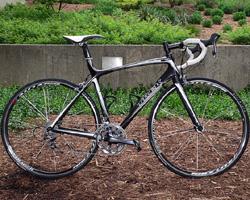 If you were to take a hot-selling bicycle line and ask its dealers what they wanted for the next year, the obvious answer would be, 'more of the same'. After all, why mess with a good thing, right? However, after years of playing it safe on the road with level top tube geometries, round carbon tubing, and conservative layouts and graphics, Trek found itself in disturbingly unfamiliar territory after the retirement of its one-man marketing juggernaut, Lance Armstrong. The public stopped buying once the 'Lance factor' wore off, and Trek was left peddling its Madone lineup for what it was: an extremely competent racing-specific platform that unfortunately had little sex appeal on the showroom floor as compared to its more progressive competition.
Trek goes to the mattresses
One look at the all-new Madone is all it takes to see that Trek is a company reborn, or at least a company that has finally thrown the gloves off and ventured outside of its conservative box to reveal its true potential. Especially when compared to its somewhat staid predecessor, the new Madone displays a decidedly more aggressive profile and sleeker lines (including a first-for-Trek sloping top tube on its top-level race machine), more radically-shaped tube sections and lugs, and an eye-catching graphics package with heaps more 'pop' than what we're used to seeing from Trek.
Bold and bright new graphics packages
Photo ©: James Huang

It is underneath the swaths of color, though, where things really get interesting. Trek adopted a self-proclaimed 'no constraints' approach to the new Madone's design and cast aside the usual limitations of existing frame and component systems. Arguably the most defining feature is the 90mm-wide bottom bracket shell (standard ones measure a relatively puny 68mm) around which the rest of the frame is based.
Standard-sized cartridge bearings are integrated directly into the new bottom bracket shell, and the bearing seats are formed during the initial molding process using a new 'Precision Fit Socket' technology. According to Trek, the new procedure not only completely eliminates the need for post-mold machining operations, but also provides a perfect slip-fit for the bearings without any need for weighty aluminum inserts or even installation tools, and the bearing seats have stood up to millions of test cycles in the lab. When viewed as a complete assembly, the new configuration is vastly simplified (using only four or five parts instead of nine) and sheds 40g in the process.
Naturally, the idea of a 90mm-wide bottom bracket shell immediately conjures up the question of 'q-factor', but since the bearings are set in exactly the same spacing as in a conventional setup, pedal stance width is completely unaffected. Moreover, the new interface will be wholly compatible with all major external-bearing crankset systems, including Shimano, Campagnolo, FSA, and SRAM.
Lather, rinse, repeat
So what does Lance think?
Lance Armstrong joins Trek head John Burke
Photo ©: James Huang

Naturally, there are few people more qualified to comment on the changes in the new Madone than someone who has likely put more miles on the old one than anyone else on Earth, and seven-time Tour de France winner Lance Armstrong himself was on hand for the new Madone's official unveiling at the Milwaukee Art Museum.
Armstrong has been retired from the sport since winning his record-setting TdF two years ago, but as a long-time Trek-sponsored athlete and the company's undisputed poster child, he still is very actively involved. According to Road Brand Manager Scott Daubert (who was the team liaison for several seasons), "Lance's roles for Trek are two-fold. He's a great spokesperson for cycling… and he is also a reliable sounding board for new products that we develop for high-end customers. His competitive experience and attention to detail is a great resource for Trek to draw from."
Moreover, Armstrong is also part owner of the Trek Bicycle Corporation and as such, has a vested interest in making sure it churns out quality product with which he can be proud to associate himself. After receiving his own new-generation Madone several months ago, what'd he think?
Somehow we get the feeling that Lance
Photo ©: James Huang

Armstrong has long been known for preferring frames with level top tubes, but admitted that, "These guys finally got me to ride a sloping top tube. Even if I were still racing, I would still ride the sloping top tube. It's lively, it's stiff, the ride to me is different from the previous Madone. It feels… more solid. It feels like a heavy bike, almost like a… this is a bad analogy, but it almost feels like a motorcycle, but has the liveliness and stiffness of a race bike. I've enjoyed it a lot. I take it with me everywhere I go."
On a special editors' ride that Trek had arranged around a rural Wisconsin lake, Armstrong was still noticeably fit and still displayed his trademark rapid-fire pedaling action (gone, however, were the black mid-length socks that he made so popular in favor of some shorter ankle-length ones). Life for Armstrong these days, he says, is hardly slower-going even in retirement, and his travel calendar is arguably more full than it has ever been with multiple special events, speaking engagements, and so forth.
Still, though, when asked if he missed racing, Armstrong quickly responded in the negative in light of the current atmosphere of professional cycling: "Now? No." What he says he does miss, however, is the simplicity of that life's singular purpose.
Cutaway of the Bontrager Race XXX Lite E2 fork
Photo ©: James Huang

Trek uses the same Precision Fit Socket concept for the new Madone headset which now uses a giant 1 ½" bearing at the fork crown paired with a conventional 1 ⅛" bearing up top. The larger diameter lower bearing yields a stiffer system for more precise handling, while the inherent strength benefits also allow for thinner-walled and significantly lighter fork crowns with integrated bearing seats.
The new Bontrager Race XXX Lite fork will use a one-piece carbon fiber leg, crown, and lower steerer tube assembly. Somewhat surprisingly, this assembly is then bonded to an aluminum upper steerer tube on early production samples, although our information (as well as inconsistencies in Trek's own print materials) strongly suggests that full-carbon versions utilizing continuous fibers running uninterrupted from end-to-end are waiting in the near future.
As compared to the '07 version, the new Race XXX Lite fork drops an impressive 120g (although it is unclear whether that figure corresponds to the aluminum or carbon steerer), while the integrated lower bearing seat will also provide the same 100% tool-free assembly and maintenance benefits as on the bottom bracket.
The new Race Lite fork will use a more conventional carbon leg and aluminum crown configuration, but a unique one-piece forged steerer tube and thin-walled crown supposedly sheds 100g from typical aluminum crowned setups. As on the Race XXX Lite, the lower bearing seat is integrated into the crown, again indicating that no tools will be required for assembly.
Unique to the Race Lite (and Race) forks, however, is a molded 'pocket' on the inside of the driveside leg which can accept an optional 2.4GHz wireless sensor for use on new Trek computers.
Integrated seatposts a la Trek
The carbon fiber 'cap' incorporates more overlap
Photo ©: James Huang

Integrated seatposts are currently the rage in the high-end road frame world, but their inherent benefits (stiffer pedaling platform and lighter weight) are also associated with some substantial drawbacks (requires irreversible cutting, more difficult to ship, limited sizing options).
Trek may have been slow to develop its own version, but that patience may have paid off. As compared to its competition, the seat mast on the new Madone is only moderately extended, and the carbon fiber seat 'cap' is significantly longer with more overlap (but still much less than a conventional seat post design).
A new Madone-specific tool wraps around the seatpost cap
Photo ©: James Huang

As a result, the new Madone offers up to 95mm of saddle height adjustment without having to cut the frame (using the optional tall cap), is still 25% lighter than traditional post designs, and can be shipped in a UPS-compliant box (save for the largest size frame). Moreover, Trek will offer caps in three different offsets (+10mm, -5mm, -20mm) to satisfy most fit requirements, and the mast is fully sealed against contaminants.
In a distinct departure from other integrated designs, though, the seat mast on the Madone is not intended to offer a more solid pedaling platform. Instead, Trek actually intentionally designed a measurable amount of flex into the system to provide more rider comfort. According to Trek, the new Madone delivers a whopping 39% increase in vertical compliance as compared to last year's version.
Bigger is better
The wider bottom bracket shell
Photo ©: James Huang

The dramatically oversized bottom bracket shell and head tube provide an awful amount of real estate to play with, and Trek takes full advantage. The down tube is now a full 74mm wide at the bottom bracket shell, while the new box-type chainstay yoke measures 75mm across. The widely-set chainstays are also asymmetric to better combat each side's unique applied loads: measured just aft of the chainstay yoke, the driveside stay is almost 40mm tall and 18mm wide, while the non-driveside is 38mm tall and 25mm wide. If those numbers don't mean much to you, just think 'big', but that 'bigness' is also somewhat size-specific to help maintain consistent ride quality across the size range.
The larger tube sections deliver a claimed 40% increase in lateral rigidity on the down tube side of the bottom bracket shell as compared to the '07 Madone, and 20% on the chainstay side. Impressively, those numbers also come with a concurrent 250g+ drop in total fuselage weight (including the frame, fork, seat post, headset, and bottom bracket).
What has changed, what has remained the same
If all of this sounds like a total revamp of the Madone, you'd be largely correct. When placed side-by-side, the two frames bear virtually no resemblance to each other, and the relatively small proportions of the old Madone even look downright fragile in comparison.
Tom Rose has been one of Trek's top frame technicians
Photo ©: James Huang

However, while Trek gave the Madone a thorough overhaul, it wisely retained the original frame geometry along with its well-proven handling characteristics. With that being said, Trek has still acknowledged that the majority of Madone customers aren't likely to possess the flexibility of your typical ProTour rider.
Instead of resorting to the usual stack of headset spacers and upturned stem (or offering a softened version of the geometry), Trek will offer the Madone in three distinct fits: the Pro Fit is a carbon copy of the current Madone, while the Performance Fit is also identical save for a 30mm head tube extension and 1cm shorter stem. A separate WSD (Women's Specific Design) geometry will also bear the same extension and proportionally shorter reach. All Madones will also be available with either 15mm or 5mm headset cones.
Size offerings will be extensive, particularly for a carbon bike. Currently, Trek plans to offer eight standard sizes (50-64cm in 2cm increments, in both Pro and Performance Fit) and five WSD sizes (47, 50, 52, 54, and 56cm.
The proof is in the pudding…mmm, pudding
Smaller frames use a short stainless steel tube
Photo ©: James Huang

Tech-speak certainly always sounds good on paper (or in pixels, as the case may be), but the true measure of a bicycle is how it performs on the road. We sampled a mid-level Madone 5.2 for several hours over two days on the back roads of Wisconsin (including the Trek 100 and came away pleasantly surprised.
This latest-generation Madone is indeed noticeably snappier and more comfortable: out-of-saddle efforts are rewarded with responsive acceleration, and road imperfections are absorbed so well that we actually checked the tires before heading out the first time to make sure our tires were properly inflated. At the same time, though, the new Madone delivers a reasonably lively feel that has often been somewhat lacking in previous OCLV offerings.
True to Trek's claims, the Performance Fit of our tester manages to provide a slightly more relaxed fit without compromising the confident handling (we did switch to the stem length of the Pro Fit, however). More importantly, though, the updated dimensions allowed for a minimal stack of headset spacers to maintain the racy appearance.
The new Bontrager Speed Limit brake
Photo ©: James Huang

To be fair, most of technologies and concepts incorporated into the new Madone really aren't completely new - new to Trek, perhaps, but much of its technologies have been seen before on other makes and models and many will undoubtedly also draw some visual parallels between several noteworthy competitors. What Trek has done, however, is take the best of what was out there, refined it in typical Trek fashion, and then add its own twist to seemingly make the original idea even better.
In totality, initial impressions on the finished product are certainly extremely positive, and we'll keep you posted on the long-term prognosis once our test bike arrives. However, you may develop your own opinions by then as Trek has already had the new Madone in production for some time now and complete bikes should already be on showroom floors as of this writing.
A new Trek?
The new face of Trek.
Photo ©: James Huang

On a more general level, the new Madone represents a significant change from what we've typically come to expect out of Waterloo. Whereas previous offerings were of that 'more of the same' mentality, Trek has now made a concerted effort to lead the pack instead of follow in the draft. Obviously, it's not certainly if the company's newfound willingness to take a chance will always pan out, but at least few of those risk-takers have ever been accused of being dull.
Increasingly stout competition has likely provided plenty of the needed motivation for what was once thought to be a nearly-unstoppable machine, and we've certainly seen this trend before: after taking a healthy beating from its rivals across the pond at SRAM, Shimano is currently enjoying a healthy resurgence in the mountain bike componentry market after re-examining the way it conducts itself.
If our hunches are correct, this new Madone will only be the first of a number of surprisingly bold introductions from Trek, and the new company logo offers plenty of insight into what direction the company intends to head. Forward is good in this case, and time will tell what else Trek has in store for us.
Photography
For a thumbnail gallery of these images, click here
Images by James Huang/Cyclingnews.com