On test: Gary Fisher HiFi Pro, June 27, 2007
Moving onwards from Cake
A low-slung top tube
Photo ©: James Huang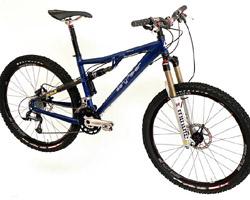 The Gary Fisher Hi Fi trail bike platform was introduced last year as the replacement for the discontinued Cake, and also is the first model to feature the company's newly revamped Genesis 2.0 geometry. Cyclingnews' Sue George tested the Hi Fi Pro for five months - taking it up and over as many rocks and roots and mountains as she could find.
Gary Fisher's new HiFi trail bike picks up where the single-pivot Cake left off, at least in terms of its target market. With 120mm of travel front and rear, it's aimed at today's core group of mountain bikers who focus on XC-style riding (with the occasional race thrown in for good measure) but also are looking for something with a little more overall capability than a pure race machine.
Interestingly, although the HiFi is more closely related to the Cake in terms of lineage, its physical appearance bears a striking resemblance to the old short-travel Sugar with a similar profile and linkage configuration. However, the HiFi offers substantially more travel and is lighter to boot. Like the old Sugar, the HiFi is also essentially a single-pivot design but the addition of seat stay-located dropout pivots on the new 'faux bar' configuration better accommodates the additional movement, and a full complement of widely-spaced press-fit cartridge bearings in each pivot (including the linkage and the 'Four Barrel' dropout pivots with two cartridges each) replace the old wear-prone bushings.
As compared to the Cake, Gary Fisher claims the HiFi is both lighter and more rigid, thanks to beefier asymmetric chain stays, carbon fiber seat stays, and more extensive hydroforming throughout the Platinum Series 6061-T6 aluminum main frame and chain stays. In addition to the geometry changes associated with 'G2', the HiFi also boasts a lower bottom bracket height in order to lower the center of gravity, improve stability, and also make it easier to dab a foot in technical sections.
Avid Juicy 7 brakes
Photo ©: James Huang

The Four Barrel dropout pivots on the seatstays
Photo ©: James Huang

A multi-slotted seat tube
Photo ©: James Huang

The Manitou Minute Super Air
Photo ©: James Huang

The main pivot on the HiFi Pro
Photo ©: James Huang

Torque figures
Photo ©: James Huang

Shimano LX trigger shifters and Avid Juicy 7 brakes
Photo ©: James Huang

Our HiFi Pro tester came equipped with a set of components clearly chosen to strike a balance between solid performance, durability, and economy, including a Shimano XTR rear derailleur, XT crankset, LX front derailleur and Rapidfire shifters, and PD-M520 SPD pedals. SRAM supplies the Avid Juicy 7 disc brakes and PG-970 cassette, while the Trek house brand Bontrager logo decorates the Race Lite Disc wheels, Race Lite OS riser handlebar, stem, and seatpost, and even the tires. A cartridge bearing-equipped Cane Creek S2 headset fills things out up front, and suspension duties are handled by a Manitou Minute Super Air fork and Fox Racing Shox RP23 rear shock.
As equipped, our HiFi Pro is certainly light at 11.6kg (25.29lb) for our small-sized tester, especially considering the modest componentry setup. Much of the credit goes to the 2.3kg (5.1lb) frame and shock weight, which is curiously even lighter than Gary Fisher's XC race-specific Race Day.
Hopefully you're a fan of matte blue as it's the only color choice for the US$2799.99 HiFi Pro, but Gary Fisher does offer it in four sizes. A range of women's-specific Genesisters models is also available from the mid-level down (although the standard geometry happened to work better for me thanks to my relatively long torso).
So how does it ride?
As with any new bike, it took some doing to set things up to personal preferences: swapping to longer 175mm crankarms and a lower and shorter flat handlebar (which still retained a moderately upright position suitable for the genre) ate up a decent amount of time, but a convenient suspension setup card that was included with the HiFi provided a very good starting point without much fiddling.
Once the initial bugs were worked out, I spent a lot of time on the HiFi over a five-month period. This included countless 4- to 6-hour rides over rugged backcountry National Forest terrain in the mountains of Virginia and one particular early summer two-day epic which accounted for over twenty hours of ride time by itself. The bike also faced variable early spring conditions (think water, mud, and temperature) with admittedly not as much TLC as it deserved between rides, and it even made an appearance at a local marathon-type cross country event held in rather miserable, wet conditions associated with the remnants of a nearby passing tropical storm.
The HiFi Pro's updated G2 geometry displayed both similarities and differences relative to the original Genesis concept (my personal Gary Fisher Big Sur hardtail still gets regular use). Thankfully, G2 retains the same remarkable climbing ability - especially on steep or loose terrain where, in general, the rear wheel always hugged the ground for good traction going up or over rough stuff - and low-speed handling and balance are noticeably improved.
As with the original, the bike was extremely stable at high speeds - in practice, it was best to adopt a 'point and shoot' approach and let the bike do the rest. However, it was so stable that it almost seemed difficult to make subtle steering adjustments as speeds increased and the bike was less responsive to being steered from its center with my hips than I was used to.
Don't get me wrong, I was using both my hips and my arms just like on any bike, but G2 encouraged me to steer more just with handlebar inputs than did G1. To be fair, this characteristic was often good - at high speeds, I was far less likely to get knocked off course by an unexpected obstacle or trail feature. When asked about my reluctant steering at high speed, Gary Fisher Assistant Brand Manager Travis Ott said, "With this bike you get to do more steering with the hands with G2 geometry due to less trail which means, in theory, it's true at high and low speeds."
In general, the Manitou Minute Super Air fork and Fox Racing Shox RP23 pair offered a smooth, plush, and well-controlled ride. I'm the kind of person who usually likes to keep both wheels on the ground, but the suspension (when I had it dialled in well) often inspired me to catch air over tank traps and rolling grade dips. The fork's crown-mounted manual lockout dial was easy to operate while riding and had a crisp, decisive feel. Unfortunately, our particular fork felt a little low on oil as there was still about 10mm of play when the lockout was engaged, but the Fox RP23 generally worked as advertised, with a firm platform when the ProPedal was engaged, and a nice, cushy feel when set to be fully active.
The HiFi Pro's rear end exhibited considerable pedal-induced movement on pavement or smoother surfaces when ProPedal was not activated (shock open). When it was activated in the firmest setting, such movement was reasonably minimal. In either open or ProPedal settings, pedal induced movement wasn't noticeable on technical trails or generally rougher terrain and didn't seem to adversely affect acceleration or responsiveness. In either case, the RP23's ProPedal platform function worked very well at minimizing unwanted movement while sacrificing little in bump performance.
While the Manitou fork certainly worked well enough, we wonder if the proprietary nature of its custom-offset crown will create some replacement issues down the road (contrary to popular belief, suspension forks don't last forever). While I'm a fan of engineering things specifically to get the job done better, part interchangeability and future availability is also important, particularly on such a relatively expendable item
Thankfully, Ott confirmed that Gary Fisher is already working with both Rock Shox and Fox Racing Shox for 2008 so chances are good that this won't be an obsolete platform any time soon - whether or not Manitou stays on the fork roster in addition to these remains to be seen.
Overall, the components performed well in all conditions, with only some regular lubing and minor cable adjustments required. The front brake would repeatedly squeal once wet, though, and rotors occasionally had to be tweaked back into true (lot of debris around here to knock rotors out of true). The stock Bontrager Jones tires were ok for general all-around use, but are not ideally suited for rocky terrain as the sidewalls were worn through to the threads in many places by the end of our test period.
On the other hand, the wheels held their true throughout the review, and after five months, we sacrificed just one derailleur hanger. That's par for the course in the local conditions, though, and it was easily replaced.
Conclusion
In general, the HiFi Pro was a pleasure to ride, especially after I became more acclimated to the Genesis 2.0 geometry. Its generous suspension soaked up most rough terrain with ease, and it handled very steadily (arguably too steadily at times), especially at high speeds. As promised, the improved low speed handling made it fun to play in rock gardens.
The solid component package also proved reliable and durable, even in some tough conditions, and I developed no noticeable play in the suspension or component bearings during five months of regular, serious use. At just under US$2800, the price is reasonable for a lightweight, reliable bike in the 5" travel, all-day ride and occasional race category, particularly if you regularly ride tough terrain that's hard on bikes or like to race marathon events.
The 2008 model will only receive some minor tweaks, including a switch to down tube-routed cables and the introduction of two carbon models. Gary Fisher will continue to use Fox Racing Shox RP23 rear shocks, but will apparently be "custom-tuned" in a way that Ott was not yet willing to disclose.
Perhaps the biggest news for 2008, however, is the introduction of the HiFi 29, which Subaru-Gary Fisher endurance race specialist Nat Ross is already using for the 2007 season.
Weight: 11.6kg (25.6lb)
Price: US$2799.99
Pros: Excellent low speed handling and general climbing ability, reliable components, light weight
Cons: Proprietary fork design, reluctant cornering at high speeds
Cyclingnews rating:

Photography
For a thumbnail gallery of these images, click here
Images by James Huang/Cyclingnews.com
Full specification: Gary Fisher HiFi Pro
Frame: Platinum Series 6061T6 Aluminum (available in Matte Prime Blue)
Swingarm: Platinum Series 6061 T6 Aluminum
Available sizes: Small (16", tested), Medium (17"), Large (19"), Extra Large (21")
Fork: Manitou Minute Super Air with Lockout, 120m
Rear Shock: Fox RP23
Headset: Cane Creek S3
Stem: Bontrager Race Lite OS, 7 degree
Handlebars: Bontrager Race Lite OS Riser (changed to flat bar for testing)
Tape/grips: Bontrager
Front brake: Avid Juicy Hydraulic Disc
Rear brake: Avid Juicy Hydraulic Disc
Brake levers: Avid Juicy 7
Front derailleur: Shimano LX
Rear derailleur: Shimano M520 Clipless


Shift levers: Shimano LX
Cassette: SRAM PG970, 9 speed, 11-32
Chain: Shimano CN HG 53
Crankset: Shimano XT 44/32/22
Bottom Bracket: Shimano XT
Wheelset: Bontrager Race Lite Disc
Front tire: Bontrager Jones XR 26 x 2.25
Rear tire: Bontrager Jones XR 26 x 2.20
Saddle: Bontrager Race
Seat post: Bontrager Race Lite