Interbike 2004
Las Vegas, USA, October 4-8, 2004
Unique Approach: IsoTruss Mountain Bike
By Tim Maloney
Not your average bike
Photo ©: Cyclingnews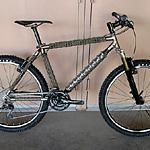 Perhaps the most unique bicycle that Cyclingnews saw at Interbike was not even on display. We ran into Brigham Young University engineering student Tyler Evans outside the show with this unique mountain bike that uses IsoTruss open grid structure in composite instead of traditional round or shaped tubing.
"It is part of a student project at B.Y.U.", explained Evans, "and we wanted to make a useable mountain bike." This bike was created under Prof. David W. Jensen the Director of the Center for Advanced Structural Composites at Brigham Young University in Provo, Utah.
The tubes can be either open or sheathed
Photo ©: Cyclingnews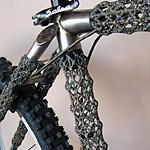 Developed at Brigham Young University, and usually used for structural components in meteorological, surveillance and Wi-Fi Towers, these B.Y.U. students modelled the IsoTruss grid structure as a closed, multi-cell box beam for this mountain bike in carbon fibre and Kevlar to demonstrate its application in other areas.
The longitudinal frame tubes in IsoTruss were designed to resist all axial and bending loads, while helical members like chain and seatstays support transverse shear and torsion loads. "We put a clear sheathing over some of the tubes to show how it can be protected", said Evans. "It's pretty dusty in Utah so the open IsoTruss works well but it could use protection in muddy conditions."
For more information on the bike, including video of the bike in action, see their website at http://www.isotruss.org/bike.htm
Photos
Images by Tim Maloney/Cyclingnews