Results and Reports from Australia
Promoters wishing to submit results should send them to Cyclingnews
Trek Bikes Summer Series Rd 12
Heffron Park, March 25, 2003
C Grader Markham takes series final
By John Sunde
Da winnahs!
Photo: © John Sunde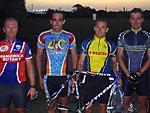 The sun has set an another outstanding summer racing season at Heffron Park with last night's final round in the 12 week Trek Bike Series run under clear autumn skies. With the 3 competition jerseys for Series Leader, A/B grade Sprint King and C grade Leader already decided, the final round didn't have the usual suspense and excitement of who was going to grab the last round points, but still had all the drama of a tough night's racing.
Missing from action this week was none other than Easts Supremo, Frank Conceicao who after 30 years of cycling appears not to have quite mastered the art of putting on a rain vest and riding hands free at the same time while he was out training at the weekend. Even without Frank's guidance, C grade were once again able to hold off the entire field to record their 5th consecutive outright win. In a slight upset to the script, line honours went to Duncan Markham who soloed his way to victory.
Determined to finish the Series with a consolation win, Anthony Spurgeon stormed home to take the A grade sprint and sneak into 3rd on the Sprint King table, while Trent Iliffe won B grade proving that last weeks 1100km Starlight Charity Ride from Melbourne to Sydney did wonders for his form.
Wonderful people
Photo: © John Sunde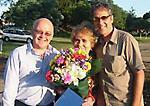 Well, that's it for another year.The racing was as tough as ever, especially with likes of European Pros, Matt White and Graeme Brown, World Track Champions, Steve Wooldridge and Mark Renshaw doing their bit to keep the racing honest. Pity there isn't a rainbow jersey for handicapping.
On behalf of all the riders a big hearty thank you must go to Pat Johnston and Jenny Spurgeon who almost singlehandedly made it all happen, week in week out. Thanks also to the generosity of the Randwick Botany team Fred and Helen Vella, John Buckton, Richard Jenkins and Tony Horneman who generously made their clubrooms and facilities available each week. Last but not least, thanks to our resident St Johns Medic, Roy Magill who was always on hand to patch us up when we had the misfortune of a fall.
Ride safely over winter, go hard and see you on the start line next summer.
Photography
Images by John Sunde & Tony Horneman
Results
1 Duncan Markham (Easts)
2 Keegan Aitchison (Southern Cross)
3 Craig Dempsey (Easts)
4 Chris Young (Easts)
5 Danny Iannazo (Easts)
 
1st A Grade
 
Anthony Spurgeon (Caravello)
 
1st B Grade
 
Trent Iliffe (Easts)
 
Trek Bikes Pointscore   
 
1 Craig Dempsey        28 pts
2 Anthony Spurgeon     16
3 Dave Jackson         15
4 Mark Renshaw         14
5 Steve Fitzpatrick    11
5 Duncan Markham       11
7 Stewart Campbell     10
7 Stuart Dangerfield   10
9 Jeff Hopkins          9
10 Robert Cater         7
10 Liam Kelly           7
12 Matt White           4
12 Steve Wooldridge     4
12 Dave Stewart         4
12 Tim Rice             4
12 Jose Rodriguez       4
12 Keegan Aitchison     4
18 Nathan Russell       3
18 Sean Bloch           3
18 Dave Evans           3
21 Graeme Moffet        2
21 Sean Ballesty        2
21 Andrew Hudson        2
21 Roger Shackleton     2
21 Michael Murdoch      2
21 Frank Fortuna        2
21 Chris Young          2
28 Dave McHugh          1
28 Danny Iannazzo       1
 
A/B Grade Sprint King
 
1 Robert Cater         94 pts
2 Chris Jenkins        54
3 Anthony Spurgeon     23
4 Patrick Jones        18
5 Mark Renshaw         15
6 Stuart Dangerfield   12
7 John Sunde           10
7 Stewart Campbell     10
7 Troy Glennan         10
7 Jono Davis           10
7 Stuart Hayes         10
7 Paul Rowney          10
7 Brian Appleyard      10
14 Steve Fitzpatrick    9
14 Clive Hammerson      9
16 Liam Kelly           8
17 Will Gray            7
18 Jeff Hopkins         6
18 Klayten Smith        6
20 Nathan Russell       5
20 Korean 1             5
22 John Kenny           4
22 Matthew Loupis       4
22 Alan Bozunovic       4
25 Matt White           3
25 Steve Wooldridge     3
25 Dave Watkinson       3
25 Andrew Kildaire      3
25 Ross McKay           3
30 Steve Williams       1
30 Dave Stewart         1
30 Warren Scott         1
30 Korean 2             1
30 Josh Fleming         1
30 Simon Rice           1
 
C Grade Pointscore
 
1 Craig Dempsey        43 pts
2 Dave Jackson         21
3 Roger Shackleton      7
4 Chris Young           6
4 Duncan Markham        6
6 Frank Fortuna         4
7 Tim Rice              3
8 Stefan Bozunovic      1
8 Tim Rice              1
8 Katie Brown           1
8 Luke Picton           1
8 Sean Bloch            1
8 Dave Evans            1
8 Keegan Aitchison      1
 
Previous Winners  
 
2002  
Series Leader: Anthony Spurgeon  
A/B Sprint King: Todd Sinclair         
C Grade: Clive Hammerson 
 
2001  
Series Leader: Stewart Campbell  
A/B Sprint King: John Sunde 
C Grade: David Johanson