U.S. National Criterium Championships - NE
Downer's Grove Village, Illinois, USA, August 16-17, 2008
Main Page Results Overall standings Race Details Next Race
Race 1 - August 16: Women's Pro 1/2/3 International Challenge,
Franges edges ahead of Miller
By Mark Zalewski, North American Editor in Downers Grove, Illinois
Lauren Franges (TIBCO) led from the final turn to take the win
Photo ©: Mark Zalewski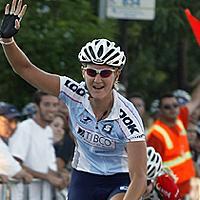 Lauren Franges (TIBCO) won out of breakaway in the women's race. A four-rider breakaway up the road meant it was much harder to see which of the favorites was on form, as the field coasted with all of the favorites staying safe. Lauren Franges took the sprint, leading out of the final corner ahead of a hard-charging Meredith Miller (Aaron's).
"Typically this race is always a break – not everyone is motivated to race with the big day tomorrow," said Franges. "I don't think it hurts to go out and race and see how the legs feel."
"Laura Bowles (Advil-Chapstick) attacked with three corners to go and it set it up for the rest of us. I just put my head down and went for the final 150 meters."
The defending champ Tina Pic (Colavita-Sutter Home) looked as comfortable as ever in her stars and stripes, and will be the center of attention tomorrow. However she will face a field with more sprinters than in recent years, with Katharine Carrol (Aaron's) coming off a big crit win in Charlotte and Franges' TIBCO team-mate Brooke Miller recently sprinting to the elite road race title.
"Obviously if it comes down to a sprint Brooke is our sprinter. We'll see how it plays out but in past years it always comes down to a sprint."
Photography
For a thumbnail gallery of these images, click here
Images by Mark Zalewski/Cyclingnews.com
Results
1 Lauren Franges (Team TIBCO)                     44.10
2 Meredith Miller (Aaron's Pro Cycling)                
3 Andrea Dvorak (Colavita/Sutter Home p/b)             
4 Laura Bowles (Team Advil-ChapStick)                  
5 Tina Pic (Colavita/Sutter Home p/b)                  
6 Brooke Miller (team TIBCO)                           
7 Katharine Carroll (Aaron's Pro Cycling)              
8 Kacey Manderfield (Verducci Breakaway Racing)        
9 Martina Patella (ValueAct Capital Cycling Team)      
10 Carmen Mcnellis (Aaron's Pro Cycling)               
11 Eve Mcneill (Sunapee/S&W)                           
12 Christina Smith (LONESTARWORKS.COM)                 
13 Carrie Cash (Team Revolution)                       
14 Karla Kingsley (Easton/SugarCRM/Specialized)        
15 Alison Powers (Colavita/Sutter Home p/b)            
16 Arielle Filiberti                                   
17 Erica Allar (Aaron's Pro Cycling)                   
18 Lauren Edwards (ProBike Cycling)                    
19 Brenda Lyons (Team Advil-ChapStick)                 
20 Kirsten Davis (Sonella Cycling/BVM)                 
21 Catherine Walberg (team kenda tire)                 
22 Amanda Miller (Mesa Cycles Racing Team)             
23 Samantha Schneider (Colavita/Sutter Home p/b)       
24 Rebecca Larson (Aaron's Pro Cycling)                
25 Andrea Wilson (Team Kenda Tire)                     
26 Shontell Gauthier (Colavita/Sutter Home p/b)        
27 Monique Hanley (Team type 1)                        
28 Mary-Ellen Ash (Easton/SugarCRM/Specialized)        
29 Sherri Stedje (Hub Racing)                          
30 Sheba Farrin (Hub Racing)                           
31 Anna Lang (Aaron's Pro Cycling)                     
32 Elizabeth Morse-Hill (Hub Racing)                   
33 Kristin Wentworth (Team Kenda Tire)                 
34 Devon Haskell (Team Get a Grip Cycles)              
35 Katie Weber (Team Revolution)                       
36 Jessie Maclean (Verducci Breakaway Racing)          
37 Holli Steelman (juice plus)                         
38 Christina Ruiter (ValueAct Capital Cycling Team)    
39 Alison Rosenthal (team TIBCO)                       
40 Amber Rais (team TIBCO)                             
41 Sarah Maguire (Bissell)                             
42 Jen Wilson (vanderkitten)                           
43 Jessica Cole (Kenda Tune)                           
44 Arley Kemmerer (Hub Racing)                         
45 Tricia Carnila (Verducci Breakaway Racing)          
46 Leigh Valletti (vanderkitten)                       
47 Laura Van Gilder (Cheerwine Cycling)                
48 Melissa Sanborn (vanderkitten)                      
49 Taitt Sato (ValueAct Capital Cycling Team)          
50 Sarah Caravella (team TIBCO)                        
51 Kristin Meshberg (Flatlandia)                       
52 Tara Tasma (Team Giant - MI)                        
53 Christine Roettger (Team Revolution)                
54 Nichole Wangsgard (Colavita/Sutter Home p/b)        
55 Elizabeth Hatch (vanderkitten)                      
56 Francine Hass (Alberto's Sport)                     
57 Kathryn Clark (Team Kenda Tire)                     
58 Lara Kroepsch                                       
59 Kelly Benjamin (Cheerwine Cycling)                  
60 Marisa Asplund-Owens                                
61 Allyson Brandt (Cheerwine Cycling)                  
62 Jennifer Petosa (BMW-Bianchi)