USA Crits Series - NE
USA and Canada, April 26-September 25, 2008
Main Page Results Overall standings Previous Race Next Race
Race 8 - August 2: Presbyterian Hospital Invitational Crit, Charlotte, North Carolina
Borrajo's pay day
By Kirsten Robbins in Charlotte, North Carolina
The men's podium (l-r):
Photo ©: Emory Ball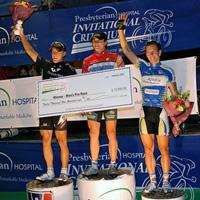 Argentinean Olympian Alejandro Borrajo (Colavita-Sutter Home) rode away with the richest single day criterium in American when he outsprinted Frank Pipp (Health Net-Maxxis) and Emile Abraham (Team Type 1) to take the victory.
"I want to thank my director Sebastian Alexandre, the Borrajo family, my girlfriend Bailee and my team - I want to dedicate this victory to them," said Borrajo, presented with an oversized stage check worth $12,500. "It is definitely one of the biggest criteriums I have ever won. The crowds are amazing here and every time it seems like there are more and more. It's really exciting to win here in front of such a tremendous crowd."
The three sprinters were a part of a late-race break of nine riders that set sail with 14 laps to go. They quickly organized themselves by forming equal rotations and finished ten seconds ahead of the main field. "Once the break had a good size gap we all worked well together," said Borrajo regarding several aggressive flyers towards the final laps. "My team-mate, Kyle Wamsley and I took turns covering attacks from that break."
The break included the top sprinters from each team like Borrajo, Pipp and Abraham along with Kyle Wamsley (Colavita/Sutter Home), Shawn Milne (Team Type 1), Mark Hekman (Toshiba), Adam Bergman (Texas Roadhouse), Daniel Ramsey and Thomas Soladay (Time Pro Cycling).
Mark Hekman (Toshiba)
Photo ©: Emory Ball

"I jumped early out of the last turn and had a gap but Alejandro came up on me so fast - he's such a fast field sprinter," said runner up Pipp, the only Health Net-Maxxis rider in the break. "I let most of the others do the work, hoping one of my guys would come across. Three different teams had two guys and it was their chance to win today and an opportunity for me to sit back a bit."
Former race winner, Milne, proved he was an asset to his team-mate Abraham's podium finish, setting tempo leading into the last laps. "There were so many fast sprinters in the break so the field seemed like they didn't have the power for bring it back," said Abraham. "Milne worked so well on the front. I liked the course today and felt like it was a good one for a break. But, Pipp and Borrajo are very fast sprinters."
The Brain Tumor Fund for the Carolinas (BTFC) has sponsored the event for four years. BTFC is a non-profit group founded in 2003. It has raised more than one million dollars in its fourth year. "We feel our event serves both our community and the sport of cycling - we are proud of that," said event director Thad Fischer.
How it unfolded
Bissel's Ted King was on the attack as usual.
Photo ©: Emory Ball

The 2008 Presbyterian Hospital Invitational offered a purse totalling $50,000 plus field primes to the Pro men. Money was not the only attraction to the event. It draws in the top cyclists searching for points toward the National Racing Calendar series and USA Crit series. Some 134 pro men lined up, hungry to score a piece of the money pie. The showcased criterium attracted more than 35,000 fans onto Charlotte's city streets.
The two-kilometre circuit kept a traditional dumbbell shape, through the downtown area, with some slight changes to this year's edition. Tighter corners on the end of each loop increased the chances of a successful breakway.
Arguably, the most aggressive rider in the race, Adam Bergman, launched the first flyer just two laps into the 40-lapped event. The effort forced a series of counter attacks that formed an eight-rider separation. Health Net, Team Type 1, Colavita-Sutter Home, Empire, and DLP Racing represented the early move. But it seemed too early for success and the high-strung field reabsorbed them.
Ted King (Bissell) responded to the lull in the field, an effort that resulted in a five lap solo effort. King picked up one of the many valuable primes offered on random laps. Upon his return, Luis Amaran (Colavita/Sutter Home) took the next flyer and dangled 15 seconds off the front for nine laps.
Several small chase groups formed behind the soloists but the fast paced peloton was reluctant to give too much leeway to too many riders. Ramsey and Pipp initiated the winning break of the evening with 14-laps to the end. A tactic that proved successful for the defending champion, Pipp, the previous year.
Bergman, Wamsley, Milne, and Soladay bridged across to the pair to form a front group of six. The six swelled to nine when Borrajo, Abraham and Hekman joined the fun with ten laps remaining. "Everyone was working really well," said Abraham. "I think the break stuck because all the team sprinters were up there."
Notable teams missing from the break were Rock Racing and Jittery Joe's, each contributed a rider to the chase in the peloton when the gap grew to more than 20 seconds. Careful not to catch the break, Colavita-Sutter Home set a tempo fast enough to keep the field at bay.
"I think there are some sprinters who were counting on a field sprint and stayed more calm in the field," said Abraham regarding fast sprinters like Rahsaan Bahati and Jeff Hopkins. "But sprinters can't always depend on a field sprint. It really depends on the course and the teams there.
Carroll solos to victory in Charlotte
Kat Carroll (Aaron's)
Photo ©: Emory Ball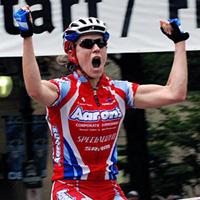 Katharine Carroll (Aaron's) pocketed several lucrative money primes and then kept on going to take a solo victory at the 2008 Presbyterian Hospital Invitational. The Nashville native rode in 15 seconds ahead of a field sprint where Brook Miller (Tibco) took second place ahead of US national criterium champion Tina Pic (Colavita/Sutter Home) in third.
"We always try to win the bike race, that's our ultimate goal," said Carroll describing her strengths on the circuit. "There was more wind than I thought there would be and I could motor a bit more because of that.I also took my speed through the corners well, which a large field couldn't do. When I saw I had three laps to go I liked my chances and I kept the pressure on."
Her victory solidified her lead in the Women's Prestige Series, of which the evening's event marked the finale. The series was also based points from the Redlands Classic and the Nature Valley Grand Prix.
"We really wanted the Prestige Series title," said Carroll who recently returned from a European racing campaign with the US national team. "I also wanted to do a few efforts to get some primes. I've been in Europe too long and I wanted to make some prize money."
Brooke Miller (Tibco)
Photo ©: Emory Ball

Unsuccessful bridge attempts where absorbed into the field and Carroll's lead continued to grow. Unable to reduce her time advantage, the teams with the fastest sprinters began to focus on the finishing laps.
"We had a bit of a rough day today and we were on the defensive more than we wanted to be," said runner up Brook Miller who competes with Carroll on the US national team. "Kat is a very talented rider and we didn't bring her back when we needed to - she did a great job.
"When it came down to the sprint, I wanted to be patient and go when I was ready. Tina is a phenomenal rider and I was worried she would come around me so I had to dig into another gear or two."
How it unfolded
The women's podium
Photo ©: Emory Ball

Some 85 riders lined up to compete in the pro women's 23-lap criterium held in downtown Charlotte. The event also offered points toward the NRC and the USA Crit series. Robin Farina (Cheerwine) ignited a series of attacks that led to several single lap flyers. Tibco and Aaron's responded to the multiple primes offered to the women's field ranging from $100 to $500.
Carroll helped herself to back-to-back money primes early on, an effort used to test her legs for the finish. "We wanted to be aggressive, go for primes, to be apart of moves and cover any breakaways," said Carroll. "I'm going to share all this prime cash with the team and maybe go out and have a few drinks tonight."
The money primes kept the speeds high but continuous solo attacks coming from Meredith Miller (Aaron's), Lauren Franges (Tibco), Laura Kroepsch (Value Act Capital), Kate Sherwin (Advil-ChapStick) and Ann Samplonius (Cheerwine) reduced the field to less than half.
Kat Carroll's been training in Europe to learn how to pop the champagne cork.
Photo ©: Emory Ball

Carroll jumped ahead of the field with eight laps to go. Her advantage grew to 15 seconds when opposing teams Cheerwine, Colavita-Sutter Home, Tibco, Advil-ChapStick tried to bridge across.
Without an organised chase, Carroll's lead grew to more than 20 seconds. Each team sent one or two riders to contribute to reducing the time gap but Carroll was able to match their efforts.
Colavita/Sutter Home added four riders to the chase for its sprinter Tina Pic but where unable to reduce Carroll's lead. "I think we did a good job but we needed to be more cohesive in our chase," said Pic. "It was difficult to be up there at the front, maybe because of the style of course or the wind but it broke up our rhythm."
On the last lap, Ann Samplonius (Cheerwine) and Lauren Franges (Tibco) succeeded in reducing the gap to Carroll down to 15 seconds. Their attempts did not bring the solo rider back in time for the sprint but it allowed the speedsters to position themselves for second and third podium places.
"I hesitated a bit in the sprint because I wasn't sure if she was going to come over or not," said Pic who came up the left side of the rode against the barriers. "Brook is fast."
Photography
For a thumbnail gallery of these images, click here
Images by Emory Ball/Cyclingnews.com
Images by Dennis Johnson
Results
Pro men
 
1 Alejandro Borrajo (Colavita Sutter Home p/b Cookin)    53.41
2 Frank Pippp (Team Health Net by Maxxis)                      
3 Emile Abraham (Team Type 1)                                 
4 Mark Hekman (TOSHIBA-Santo Present By Herbal)               
5 Adam Bergman (Texas Roadhouse Cycling Team)                 
6 Thomas Soladay (Time Pro Cycling)                           
7 Shawn Milne (Team Type 1)                                   
8 Kyle Wamsley (Colavita Sutter Home p/b Cookin)              
9 Daniel Ramsey (Time Pro Cycling)                        0.09
10 Ricardo Escuela (Successfuliving.com)                      
11 Kirk Obee (Team Healthnet by Maxxis)                       
12 Yosvany Falcon (TOSHIBA-Santo Present By Herbal)           
13 Kayle Leogrande (Rock Racing)                              
14 Chad Burdzilausk (Texas Roadhouse Cycling Team)            
15 Daniel Holt (Team Type 1)                                  
16 Clayton Barrows (Rite Aid pb Shebell & Shebell)            
17 Davide Frattini (Colavita Sutter Home p/b Cookin)          
18 Matthew Johnson (CRCA/Empire Cycling Team)                 
19 Esteban Jukich (Richmond Pro Cycling)                  0.14
20 Kyle Gritters (Team Health Net by Maxxis)                  
21 Carlos Hernandez (AeroCat/ Latino Cycling)                 
22 Tommy Nankervis (DLP Racing)                               
23 Luis Amaran (Colavita Sutter Home p/b Cookin)              
24 Paul Martin (Texas Roadhouse Cycling Team)                 
25 Vives Maxime (Calyon Pro Cycling Team)                     
26 Adam Myerson (Time Pro Cycling)                            
27 Hutchenson Charles (Battley Harley-Davidson/Sonoma)        
28 Scott Stewart (U23 National Team)                          
29 Diego Garavito (AeroCat/ Latino Cycling)                   
30 Richard Geng (Rite Aid pb Shebell & Shebell)               
31 Jim Baldesare (Team Inferno Pro Cycling)                   
32 Tim Johnson (Team Healthnet by Maxxis)                     
33 Scott Jackson (DLP Racing)                             0.32
34 Luca Damiani (Colavita Sutter Home p/b Cookin)             
35 Keck Baker (Battley Harley-Davidson/Sonoma)            0.36
36 Gerardo Castro (Richmond Pro Cycling)                      
37 Dirk Pohlmann (Texas Roadhouse Cycling Team)               
38 David Guttenplan (Time Pro Cycling)                        
39 Edward King (Bissell Pro Cycling Team)                     
40 Scottie Weiss (Hincapie/Coca-Cola pb BARKLEY)              
41 Michael Margarite (CRCA/Empire Cycling Team)           0.52
42 Vives Charly (Calyon Pro Cycling Team)                 1.06
43 Ryan Dewald (Battley Harley-Davidson/Sonoma)               
44 Jim Cunningha (Carolina Tri-Metro Reprographic)            
45 John Durango (TOSHIBA-Santo Present By Herbal)         1.21
46 Rahsaan Bahati (Rock Racing)                               
47 Michael Stoop (Time Pro Cycling)                           
48 Chris Harkey (Hincapie/Coca-Cola pb BARKLEY)               
49 Frank Travieso (TOSHIBA-Santo Present By Herbal)       1.28
50 Thaddeus Dulin (DLP Racing)                            1.34
51 Alessandr Bazzana (Successfulliving.com)               1.41
52 Ben King (Kelly Benefit Strategies/Medifa)                 
53 Norton Mike (Calyon Pro Cycling Team)                      
54 Seth Hansley (Locos Grill & Pub)                           
55 Jonathan Erdely (Rite Aid pb Shebell & Shebe)              
56 Kem Omer (Bissell Pro Cycling Team)                        
57 Gustavo Artacho (Colavita Sutter Home p/b Cookin)          
58 Kirk Albers (Texas Roadhouse Cycling Team)                 
 
Women
 
1 Katharine Carroll (Aaron's Professional Women's Cy)    54.35
2 Brooke Miller (Team TIBCO)                              0.15
3 Tina Pic (Colavita/Sutter Home)                             
4 Jen Mcrae (Team Advil-ChapStick)                            
5 Lara Kroepsch (ValueAct Capital Cycling Team)               
6 Theresa Cliff-Ryan (Verducci/Breakaway Racing)              
7 Laura Van Gilder (Cheerwine Cycling)                        
8 Rebecca Larson (Aaron's Professional Women's Cy)            
9 Christina Smith (LONESTARWORKS.COM)                         
10 Kelly Benjamin (Cheerwine Cycling)                         
11 Meredith Miller (Aaron's Professional Women's Cy)          
12 Melissa Sanborn (Vanderkitten Rcing)                       
13 Carla Swart (Fulton Flyers)                                
14 Shontell Gauthier (Colavita/Sutter Home)                   
15 Kacey Manderfield (Verducci/Breakaway Racing)              
16 Alison Testroete (Aaron's Professional Women's Cy)         
17 Anne Samplonius (Cheerwine Cycling)                        
18 Katherine Sherwin (Team Advil-Chapstick)                   
19 Robin Farina (Cheerwine Cycling)                           
20 Taitt Sato (ValueAct Capital Cycling Team)                 
21 Leslie Jennings (Team CycleLife)                           
22 Samantha Schneider (Colavita/Sutter Home)                  
23 Leigh Valletti (Vanderkitten Rcing)                        
24 Allyson Brandt (Cheerwine Cycling)                     0.24
25 Liz Hatch (Vanderkitten Rcing)                             
26 Andrea Dvorak (Colavita/Sutter Home)                       
27 Lauren Franges (TEAM TIBCO)                            0.30
28 Laura Bowles (Team Advil-Chapstick)                    0.39
29 Tiffany Cromwell (Colavita / Sutter Home)              1.32
30 Laura Mccaughey (Juice Plus Cycling)                  16.05
31 Jennifer Wilson (Vanderkitten Rcing)                       
32 Holli Steelman (Juice Plus Cycling)                        
33 Emily Helmboldt (Team Marshall Mechanical/RCWR)            
34 Kathryn Clark (Team Kenda Tire)                            
35 O'connor Brooke (Hub Racing)                               
36 Virginia Perkins (PROMAN Racing)                           
37 Lorena Candrian (HPC powered by Altarum)                   
38 Tye Dale (Hub Racing)                                      
39 Morse Hill Elizabeth (Hub Racing)                          
40 Nicole Bossie (Team Kenda Tire)                            
41 Manderson Leeanne (Hub Racing)                             
42 Cheryl Fuller-Muller (REALITY BIKES / CAMP HIGHLAND)       
43 Jennifer Maxwell (Team Kenda Tire)                         
44 Leyden Liz (Hub Racing)                                    
45 Christy Blakely (BMW-Bianchi)                              
46 Hadley Trotter (Team 19)                                   
47 Marni Harker (Team Kenda Tire)                             
48 Kirsten Davis (Sorella Cycling/BVM Engineering)            
49 Julie Kuliecza (Team Marshall Mechanical/RCWR)             
50 Dana Martin (Peachtree Bikes)                              
51 Kemmerer Arley (Hub Racing)                                

Back to top