Tour of Tasmania - NE
Australia, October 2-7, 2007
Main Page Results Overall standings Previous Stage Next Stage
Stage 5 - October 4: Burnie to Sulphur Creek, 71.4km
Sportsmanship from competitors allows Meyer's win
By Rod Morris in Burnie
The podium, fair and square.
Photo ©: Shane Goss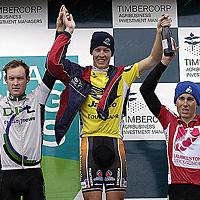 A fall four kilometres from the finish line and a generous show of sportsmanship from two rivals gave West Australian Cameron Meyer his second stage win in the Jayco Tour of Tasmania and extended his overall lead to more than two minutes. Meyer was "gifted" the Burnie to Sulphur Creek fifth stage when Tasmanian Bernard Sulzberger and fellow WA rider Benjamin King sat and waited for the tour leader when he crashed on a dangerous hairpin turn.
Sulzberger and King may well have reasoned that there was safety in numbers for the final sprint in Stage 5, but it cost them dearly as Meyer is a renowned sprinter and showed no mercy in the home straight, winning by a bike length to the Tasmanian, who is edging closer to a stage win. An unwritten law in road cycling dictates riders do not attack when a fellow competitor has fallen or suffered a mechanical failure, particularly if that rider is the tour leader. Some cycling cynics may see that as a negative reaction and offer the old cliché of "Never give a sucker an even break." That may be now ringing true in the ears of Sulzberger and King as Meyer sits back and enjoys his second stage win of the tour and an extended lead on the General Classification honour board.
"I'm glad they [Sulzberger and King] waited for me but I'm also conscious that I probably now owe them one," Meyer said. Meyer also took time out to start seriously dreaming that GC honours will fall his way when the tour hits Launceston on Sunday "I think I can start thinking about, I've now got a pretty handy lead and have some in-form teammates helping me, so I don't think it's unrealistic to at least start imagining," he said.
How it unfolded
If the field of riders thought Wednesday's Ulverstone to Penguin stage was rough, nobody warned them what was to come. Stage 5, a 78.5-kilometre road race from Burnie to Sulphur Creek sounds innocuous enough, but when you include six intermediate sprints and seven hill climbs and then throw some horrendous weather which would have done a Tasmanian winter an injustice to its brutality, then you may get some sort of idea of what the cyclists had to endure.
Tour leader Cameron Meyer (SouthAustralia.com/AIS) caught the break, fell four kilometres from home,
Photo ©: Shane Goss

Consistent rain greeted the field for the hour leading up to the start at Burnie's West Park and it set in for the entire journey. The tough race would have claimed its casualties on the best of the days, but with a "Tasmanian Belter" at full force, the riders succumbed like nine-pins.
No sooner had the race started before two category-four climbs sorted the men out from the boys. With stragglers strewn over the countryside, little hard-working groups were soon established with the tour's main challengers all safely tucked away in the lead bunches.
Tour leader Cameron Meyer, a triple world junior champion, won three of the first five hill climbs including the first of two category-three ascents, with young Tasmanian Josh Wilson claiming the other. The six intermediate sprints were shared around with Tom Middleton, Patrick Shaw, Kristian House, Bernard Sulzberger, Josh Wilson and Ben King all winning one each.
With less than 25 kilometres left to race, the lead group of around 25 riders started to split decidedly with Cameron Meyer, Benjamin King and Bernard Sulzberger breaking clear. Down a tricky, slippery and lightning fast descent the trio opened up a sizeable gap and looked all the world home and preparing to fight out the final sprint. But at four kilometres to go, Meyer came crashing to earth on a hairpin turn. In a show of sportsmanship – which proved costly – King and Sulzberger eased up and waited for Meyer to regain his place in the break group.
Into Sulphur Creek and Meyer showed his undoubted prowess as sprinter to claim his second stage of the tour and to extend his overall lead to 1'41" minutes over his younger brother Travis, while Sulzberger remained in contention, but is more than two minutes behind. Meyer may well have beaten Sulzberger and King in a close sprint, but the sportsmanship showed almost certainly cost them and Meyer took full advantage.
Photography
For a thumbnail gallery of these images, click here
Images by Shane Goss/www.licoricegallery.com
Results

1 Cameron Meyer (WA)                               1.57.44 (36.387 km/h)
2 Bernard Sulzberger (Tas)                                
3 Benjamin King (WA)                                      
4 Leigh Howard (Vic)                                  0.54
5 Joel Pearson (NSW)                                      
6 Evan Oliphant (Sco)                                     
7 David Pell (Vic)                                        
8 Ben Mather (Tas)                                        
9 Cameron Hughes (Qld)                                    
10 Travis Meyer (WA)                                      
11 Tim Roe (SA)                                           
12 Shaun Higgerson (NSW)                                  
13 Stuart Shaw (Act)                                      
14 Steven Robb (Vic)                                      
15 Tom Southam (GBr)                                      
16 Kristian House (GBr)                                   
17 Richard England (Vic)                                  
18 Adam Semple (WA)                                       
19 Casey Munro (Vic)                                  1.15
20 Chris Jory (NSW)                                   3.27
21 Joshua Wilson (Tas)                                4.25
22 Ben Grenda (Tas)                                   5.04
23 Patrick Shaw (Vic)                                 6.10
24 Mark Jamieson (Tas)                                    
25 Miles Olman (Qld)                                 10.44
26 Matthew McDonagh (Tas)                            11.21
27 Be Grieve-Johnson (Tas)                                
28 Aaron Jones (Tas)                                      
29 Daniel Braunsteins (Vic)                               
30 Tony Mann (Qld)                                        
31 Hayden Josefski (Qld)                                  
32 Daniel Furmston (Tas)                                  
33 Simon Price (NSW)                                 11.25
34 Joe Lewis (NSW)                                        
35 Nicholas Walker (Vic)                                  
36 Craig McCartney (Vic)                                  
37 Sid Taberlay (Tas)                                     
38 Alexander Machin (Vic)                                 
39 Peter Milostic (NSW)                                   
40 Peter Herzig (Qld)                                     
41 Brendan Brooks (NSW)                                   
42 Tom Middleton (SA)                                     
43 Timothy Walker (Tas)                              11.29
44 Brendon Sharratt (NZl)                                  
45 Simon Brown (Tas)                                 13.05
46 Tim Elmer (Tas)                                        
47 Nicholas Sanderson (Vic)                               
48 Charles Howlett (Tas)                                  
49 Darcy Rosenlund (Qld)                                  
50 Grant Irwin (Qld)                                      
51 Lachlan Stewart (Vic)                                  
52 Andrew Roe (SA)                                        
53 Daniel Cutting (Tas)                                   
54 Jonathan Cantwell (Qld)                                
55 Brett Aitken (SA)                                      
56 William Ford (Vic)                                     
57 Glenn O'shea (Vic)                                     
58 Malcolm Rudolph (Qld)                                  
59 Trent Stevenson (Vic)                                  
60 Nathan Dyke (WA)                                       
61 Jay Bourke (Vic)                                       
62 Jarrod Harman (Tas)                                    
63 Nathan Clarke (Tas)                               13.14
64 Nathan Wise (Vic)                                      
65 Miles Watson (NZl)                                 15.12
66 John Embling (NSW)                                17.46
67 Peter McDonald (NSW)                                   
68 Robbie Cater (NSW)                                     
69 Tom Robinson (Tas)                                19.56
70 Jack Anderson (Qld)                                    
71 Jeremy Hills (Tas)                                28.16
72 Will Wettenhall (Vic)                                  
73 Andrew Ward (Vic)                                      
74 Matthew Sydes (Tas)                                    
75 Suki Stone (Qld)                                       
76 Jason Hegert (Vic)                                30.11
77 Brendan Jones (NSW)                                    
78 Michael Smith (Tas)                                    
79 Andras Nagy (Tas)                                      
80 Alistair Crossling (NZl)                                
81 Brad Edmunds (Vic)                                     
82 Simon Pearson (SA)                                     
83 Jaso Bellchambers (Tas)                                
84 Sean Finning (Vic)                                     
85 Joshua Edwards (Qld)                                   
86 Mathew Camilleri (NSW)                                 
87 Gilbert Gutowski (Qld)                                 
88 Matt King (Nt)                                         
DNF Richie Porte (Tas)                                    
DNF Re Meneaud-young (SA)                                 
DNF Christopher Fry (Vic)                                 
DNS Joshua Chugg (Tas)                                    
 
Points
 
Ridgley P - km 28
1 Tom Middleton (SA)                                     3 pts
2 Kristian House (GBr)                                   2
3 Tom Southam (GBr)                                      1
 
Caltex Ro - km 39
1 Patrick Shaw (Vic)                                     3 pts
2 Kristian House (GBr)                                   2
3 Joshua Wilson (Tas)                                    1
 
House on - km 49 
1 Kristian House (GBr)                                   3 pts
2 Patrick Shaw (Vic)                                     2
3 Shaun Higgerson (NSW)                                  1
 
Loyatena - km 61
1 Stuart Shaw (Act)                                      3 pts
2 Benjamin King (WA)                                     2
3 Shaun Higgerson (NSW)                                  1
 
House N - km 66
1 Joshua Wilson (Tas)                                    3 pts
2 Stuart Shaw (Act)                                      2
3 Kristian House (GBr)                                   1
 
Natone P - km 73
1 Benjamin King (WA)                                     3 pts
2 Stuart Shaw (Act)                                      2
3 David Pell (Vic)                                       1
 
Mountains 
 
Refuse Centre (Cat 4) - km 21
1 David Pell (Vic)                                       3 pts
2 Tom Southam (GBr)                                      2
3 Peter McDonald (NSW)                                   1
 
Green Letter (Cat 4) - km 24
1 Cameron Meyer (WA)                                     3 pts
2 Tom Southam (GBr)                                      2
3 Travis Meyer (WA)                                      1
 
Water Tank (Cat 4) - km 43
1 Cameron Meyer (WA)                                     3 pts
2 Tom Southam (GBr)                                      2
3 Shaun Higgerson (NSW)                                  1
 
Granites Sign (Cat 3) - km 54
1 Joshua Wilson (Tas)                                    5 pts
2 Bernard Sulzberger (Tas)                               3
3 Shaun Higgerson (NSW)                                  2
 
Letterbox on L (Cat 3) - km 69
1 Cameron Meyer (WA)                                     5 pts
2 Ben Mather (Tas)                                       3
3 Bernard Sulzberger (Tas)                               2
 
Gravel Track (Cat 2) - km 80
1 Benjamin King (WA)                                     7 pts
2 Bernard Sulzberger (Tas)                               5
3 Joel Pearson (NSW)                                     3
 
Bullock Ridge (Cat 4) - km 85
1 Bernard Sulzberger (Tas)                               3 pts
2 Cameron Meyer (WA)                                     2
3 Benjamin King (WA)                                     1
 
Most aggressive rider
 
1 Joshua Wilson (Tas)                                    2 pts
 
General classification after stage 5
 
1 Cameron Meyer (WA)                               7.44.15
2 Travis Meyer (WA)                                   1.41
3 Bernard Sulzberger (Tas)                            2.31
4 Tom Southam (GBr)                                   2.52
5 Leigh Howard (Vic)                                  3.08
6 Steven Robb (Vic)                                   3.51
7 Shaun Higgerson (NSW)                               4.15
8 Tim Roe (SA)                                            
9 Benjamin King (WA)                                  4.48
10 Kristian House (GBr)                               5.04
11 Joel Pearson (NSW)                                 5.38
12 David Pell (Vic)                                   5.43
13 Stuart Shaw (Act)                                  5.50
14 Cameron Hughes (Qld)                               5.59
15 Casey Munro (Vic)                                  6.37
16 Adam Semple (WA)                                   6.49
17 Ben Mather (Tas)                                   9.05
18 Evan Oliphant (Sco)                                9.08
19 Joshua Wilson (Tas)                                9.17
20 Patrick Shaw (Vic)                                11.05
21 Hayden Josefski (Qld)                             16.44
22 Daniel Braunsteins (Vic)                          19.40
23 Matthew McDonagh (Tas)                            21.16
24 Darcy Rosenlund (Qld)                             21.22
25 Ben Grenda (Tas)                                  21.33
26 Brendan Brooks (NSW)                              22.31
27 Peter McDonald (NSW)                              22.40
28 Richard England (Vic)                             22.45
29 Chris Jory (NSW)                                  25.23
30 Mark Jamieson (Tas)                               28.07
31 Nicholas Walker (Vic)                             28.29
32 Timothy Walker (Tas)                              28.59
33 Nicholas Sanderson (Vic)                          30.01
34 Trent Stevenson (Vic)                             30.31
35 Lachlan Stewart (Vic)                             31.46
36 Craig McCartney (Vic)                             33.05
37 Tony Mann (Qld)                                   34.14
38 Jonathan Cantwell (Qld)                           34.48
39 Tom Middleton (SA)                                35.01
40 Alexander Machin (Vic)                            35.23
41 Miles Olman (Qld)                                 36.26
42 Charles Howlett (Tas)                             36.32
43 Nathan Wise (Vic)                                 36.36
44 Glenn O'shea (Vic)                                36.55
45 Miles Watson (NZl)                                 38.08
46 Simon Pearson (SA)                                38.29
47 Jack Anderson (Qld)                               39.09
48 Brett Aitken (SA)                                 39.18
49 Sid Taberlay (Tas)                                41.00
50 John Embling (NSW)                                     
51 Simon Brown (Tas)                                 41.43
52 Joe Lewis (NSW)                                   42.21
53 Peter Milostic (NSW)                              42.53
54 Tim Elmer (Tas)                                   43.58
55 Andrew Roe (SA)                                   44.05
56 Jay Bourke (Vic)                                  44.30
57 Peter Herzig (Qld)                                46.16
58 Simon Price (NSW)                                 46.22
59 William Ford (Vic)                                47.33
60 Brendon Sharratt (NZl)                             50.20
61 Robbie Cater (NSW)                                51.37
62 Malcolm Rudolph (Qld)                             55.19
63 Grant Irwin (Qld)                                 57.09
64 Matt King (Nt)                                    57.31
65 Will Wettenhall (Vic)                             59.24
66 Nathan Dyke (WA)                                  59.40
67 Nathan Clarke (Tas)                             1.00.28
68 Jarrod Harman (Tas)                             1.00.33
69 Tom Robinson (Tas)                              1.00.36
70 Aaron Jones (Tas)                               1.00.37
71 Daniel Furmston (Tas)                           1.00.45
72 Brad Edmunds (Vic)                              1.01.11
73 Mathew Camilleri (NSW)                          1.01.32
74 Be Grieve-Johnson (Tas)                         1.04.20
75 Alistair Crossling (NZl)                         1.05.21
76 Daniel Cutting (Tas)                            1.07.53
77 Andrew Ward (Vic)                               1.09.27
78 Brendan Jones (NSW)                             1.12.59
79 Gilbert Gutowski (Qld)                          1.15.13
80 Sean Finning (Vic)                              1.17.55
81 Joshua Edwards (Qld)                            1.18.59
82 Jason Hegert (Vic)                              1.21.36
83 Suki Stone (Qld)                                1.21.58
84 Matthew Sydes (Tas)                             1.22.18
85 Jaso Bellchambers (Tas)                         1.29.31
86 Jeremy Hills (Tas)                              1.36.42
87 Michael Smith (Tas)                             1.44.25
88 Andras Nagy (Tas)                               1.53.53
 
Sprints classification
 
1 Kristian House (GBr)                                  43 pts
2 Tom Southam (GBr)                                     22
3 David Pell (Vic)                                      15
4 Cameron Meyer (WA)                                    14
5 Peter McDonald (NSW)                                  13
6 Stuart Shaw (Act)                                     12
7 Patrick Shaw (Vic)                                    11
8 Brett Aitken (SA)                                      9
9 Travis Meyer (WA)                                      9
10 Bernard Sulzberger (Tas)                              8
11 Sean Finning (Vic)                                    8
12 Craig McCartney (Vic)                                 7
13 Joel Pearson (NSW)                                    7
14 Benjamin King (WA)                                    6
15 Miles Olman (Qld)                                     6
16 Joshua Wilson (Tas)                                   6
17 Richard England (Vic)                                 5
18 Leigh Howard (Vic)                                    5
19 Charles Howlett (Tas)                                 4
20 Steven Robb (Vic)                                     3
21 Tom Middleton (SA)                                    3
22 Jonathan Cantwell (Qld)                               3
23 Cameron Hughes (Qld)                                  3
24 Tony Mann (Qld)                                       3
25 Chris Jory (NSW)                                      2
26 Nicholas Sanderson (Vic)                              2
27 Nicholas Walker (Vic)                                 2
28 Nathan Wise (Vic)                                     2
29 Jack Anderson (Qld)                                   2
30 Shaun Higgerson (NSW)                                 2
31 Ben Grenda (Tas)                                      2
32 Darcy Rosenlund (Qld)                                 1
33 Peter Herzig (Qld)                                    1
34 Ben Mather (Tas)                                      1
35 Gilbert Gutowski (Qld)                                1
36 Tom Robinson (Tas)                                    1
 
Mountains classification
 
1 Tom Southam (GBr)                                     30 pts
2 Cameron Meyer (WA)                                    23
3 Shaun Higgerson (NSW)                                 15
4 Bernard Sulzberger (Tas)                              13
5 Joshua Wilson (Tas)                                   10
6 Benjamin King (WA)                                     8
7 Leigh Howard (Vic)                                     7
8 Travis Meyer (WA)                                      7
9 Sid Taberlay (Tas)                                     6
10 David Pell (Vic)                                      4
11 Joel Pearson (NSW)                                    3
12 Ben Mather (Tas)                                      3
13 Nicholas Sanderson (Vic)                              3
14 Jack Anderson (Qld)                                   2
15 Patrick Shaw (Vic)                                    2
16 Daniel Braunsteins (Vic)                              2
17 Craig McCartney (Vic)                                 1
18 Peter McDonald (NSW)                                  1
 
Criterium championships classification
 
1 Joel Pearson (NSW)                                    16 pts
2 Leigh Howard (Vic)                                    15
3 Brett Aitken (SA)                                     15
4 Richard England (Vic)                                 10
5 Sid Taberlay (Tas)                                    10
6 Kristian House (GBr)                                   9
7 Jonathan Cantwell (Qld)                                8
8 Miles Olman (Qld)                                      7
9 Bernard Sulzberger (Tas)                               5
10 Nicholas Sanderson (Vic)                              4
11 Peter McDonald (NSW)                                  4
12 Robbie Cater (NSW)                                    3
13 Grant Irwin (Qld)                                     3
14 Joshua Wilson (Tas)                                   1
 
Most aggressive rider classification
 
1 Tom Southam (GBr)                                      4 pts
2 Joshua Wilson (Tas)                                    2
3 Brett Aitken (SA)                                      2
 Kristian House (GBr)                                     
 
Tasmanian rider classification
 
1 Bernard Sulzberger (Tas)                         7.46.46
2 Ben Mather (Tas)                                    6.34
3 Joshua Wilson (Tas)                                 6.46
4 Matthew McDonagh (Tas)                             18.45
5 Ben Grenda (Tas)                                   19.02
6 Mark Jamieson (Tas)                                25.36
7 Timothy Walker (Tas)                               26.28
8 Charles Howlett (Tas)                              34.01
9 Sid Taberlay (Tas)                                 38.29
10 Simon Brown (Tas)                                 39.12
11 Tim Elmer (Tas)                                   41.27
12 Nathan Clarke (Tas)                               57.57
13 Jarrod Harman (Tas)                               58.02
14 Tom Robinson (Tas)                                58.05
15 Aaron Jones (Tas)                                 58.06
16 Daniel Furmston (Tas)                             58.14
17 Be Grieve-Johnson (Tas)                         1.01.49
18 Daniel Cutting (Tas)                            1.05.22
19 Matthew Sydes (Tas)                             1.19.47
20 Jaso Bellchambers (Tas)                         1.27.00
21 Jeremy Hills (Tas)                              1.34.11
22 Michael Smith (Tas)                             1.41.54
23 Andras Nagy (Tas)                               1.51.22