Tour of Tasmania - NE
Australia, October 2-7, 2007
Main Page Results Overall standings Previous Stage Next Stage
Stage 4 - October 3: Ulverstone to Penguin, 78.5kms
Howard wins "stage from hell"
Meyer clings to lead but under threat
By Rod Morris in Penguin
The talented Leigh Howard (Jayco/VIS) from Geelong in Victoria
Photo ©: Shane Goss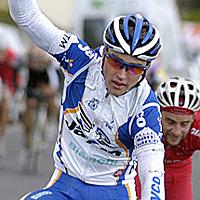 Seventeen year-old Geelong star Leigh Howard claimed his second win of the tour, while his 19 year-old WA adversary Cameron Meyer maintained his slender hold on the general classification, with a gutsy fourth in the afternoon race.
Cameron Meyer's overall tour lead has now been extended to 25 seconds from his younger brother Travis, while Englishman Tom Southam edged his way into third, while Leigh Howard remains fourth.
Defending champion Kristian House fell to ninth, 3'55" minutes behind Meyer after a less-than-average fourth stage, which saw him finish 2'10" behind Howard. But with four days of tough racing still remaining, the tour is wide open.
Flowery Gully rider Bernard Sulzberger is now the leading Tasmania – fifth overall – at 2'29" behind.
How it unfolded
Riders encounter a treacherous corner
Photo ©: Shane Goss

One rider described it as the "stage from hell" while others simply shrugged their shoulders, wiped the mud from their eyes and hoped tomorrow would be a better day. The 78.5-kilometre fourth stage from Ulverstone to Penguin offered riders a little bit of everything – everything nasty. Solid rain greeted the field at the start in Ulverstone and for the first 30 kilometres, strong winds buffeted riders from the asphalt and into the grass verge.
In fact there was no respite, if it wasn't a side wind, they met it head on. At no point did they get an advantage from the conditions.
On top of that tour organizers also slotted in a category one hill climb, just to rub salt into the already gaping wounds. New South Welshman Shaun Higgerson, winner of the 2005 Tour of Tasmania scaled the Gunns Plains "Gorilla" ahead of Englishman Tom Southam and eventual stage winner Leigh Howard.
As you would expect such a hard stage took its toll on many riders and the starting bunch of 94 were spread out over many kilometres along the course, which at least made things a little easier for the line judges. With 20 kilometres still to race the lead group had broken into a small but elite bunch of 10 riders, including tour leader Cameron Meyer, Timbercorp Cup leader Peter McDonald, Leigh Howard, Tom Southam, top Tasmanian Bernard Sulzberger and talented Victorian Steven Robb.
The leading group begin their ascent up the category one
Photo ©: Shane Goss

Cameron Meyer originally had some teammate assistance from Shaun Higgerson, but the latter punctured, taking him out of the equation. Meyer had forged ahead by 27 seconds with about 10 kilometres remaining, but the strong chasing group mowed down and eventually caught him at the six-kilometre mark.
Hitting the Penguin township for the frenetic final sprint, the rain blasted again and the wind just continued – only stronger. In a hectic throw to the line, Leigh Howard had enough young power to outlast Tom Southam, with the latter's Drapac Porsche team-mate Travis Meyer third home and the tour leader, Cameron Meyer fourth. Bernard Sulzberger was the only Tasmanian in the top 10, finishing sixth.
The tour continues on the North-West Coast on Thursday with a Burnie to Sulphur Creek road race in the morning, starting at West Park at 11:00 followed by a twilight criterium in Burnie at 17:00.
Photography
For a thumbnail gallery of these images, click here
Images by Shane Goss/www.licoricegallery.com
Results
1 Leigh Howard (VIC)                                      2.09.57 (36.24 km/h)
2 Tom Southam (GBr)
3 Travis Meyer (WA)                                          0.04
4 Cameron Meyer (WA)
5 Steven Robb (VIC)
6 Bernard Sulzberger (TAS)
7 Tim Roe (SA)
8 Shaun Higgerson (NSW)                                      0.51
9 Joel Pearson (NSW)                                         2.10
10 Peter McDonald (NSW)
11 Joshua Wilson (TAS)
12 Stuart Shaw (ACT)
13 Cameron Hughes (QLD)
14 Casey Munro (VIC)
15 Benjamin King (WA)
16 Patrick Shaw (VIC)
17 David Pell (VIC)
18 Kristian House (GBr)
19 Hayden Josefski (QLD)
20 Adam Semple (WA)                                          2.57
21 Daniel Braunsteins (VIC)                                  5.09
22 Ben Mather (TAS)                                          5.17
23 Evan Oliphant (Sco)
24 Simon Pearson (SA)                                        5.20
25 Darcy Rosenlund (QLD)
26 Timothy Walker (TAS)
27 Matthew McDonagh (TAS)                                    5.29
28 Brendan Brooks (NSW)                                      8.08
29 Miles Watson (NZ)                                        13.22
30 Alistair Crossling (NZ)                                  13.33
31 Ben Grenda (TAS)
32 Nicholas Sanderson (VIC)                                 13.53
33 Trent Stevenson (VIC)                                    13.56
34 Miles Olman (QLD)
35 Nicholas Walker (VIC)
36 Lachlan Stewart (VIC)
37 Jack Anderson (QLD)                                      16.19
38 Sid Taberlay (TAS)                                       17.49
39 Aaron Jones (TAS)                                        18.50
40 Simon Brown (TAS)
41 Jonathan Cantwell (QLD)
42 Tony Mann (QLD)
43 Craig McCartney (VIC)
44 Brett Aitken (SA)
45 Grant Irwin (QLD)
46 Brendan Jones (NSW)
47 Nathan Dyke (WA)
48 Jarrod Harman (TAS)
49 Simon Price (NSW)
50 John Ebeling (NSW)
51 Brad Edmunds (VIC)
52 Charles Howlett (TAS)
53 Joe Lewis (NSW)
54 Mark Jamieson (TAS)
55 Will Wettenhall (VIC)
56 Tim Elmer (TAS)
57 Matthew Sydes (TAS)
58 Suki Stone (QLD)
59 Andrew Ward (VIC)
60 Andrew Roe (SA)
61 Jay Bourke (VIC)
62 Brendon Sharratt (NZ)
63 Chris Jory (NSW)
64 Nathan Clarke (TAS)
65 Mathew Camilleri (NSW)
66 Ben Grieve-Johnson (TAS)
67 Jason Bellchambers (TAS)
68 Daniel Furmston (TAS)
69 Peter Milostic (NSW)
70 Nathan Wise (VIC)
71 Glenn O'Shea (VIC)
72 Richard England (VIC)
73 Alexander Machin (VIC)                                   20.41
74 Tom Middleton (SA)
75 Joshua Edwards (QLD)                                     22.19
76 Malcolm Rudolph (QLD)
77 Daniel Cutting (TAS)
78 Peter Herzig (QLD)                                       22.42
79 Jason Hegert (VIC)
80 Joshua Chugg (TAS)
81 William Ford (VIC)
82 Matt King (NT)
83 Christopher Fry (VIC)                                    29.15
84 Michael Smith (TAS)                                      30.02
85 Robbie Cater (NSW)
86 Tom Robinson (TAS)                                       30.58
87 Gilbert Gutowski (QLD)                                   33.13
88 Jeremy Hills (TAS)                                       34.50
89 Sean Finning (VIC)
90 Andras Nagy (TAS)
91 Richie Porte (TAS)
92 Reuben Meneaud-Young (SA)                                22.42
DNF Jonathan Lovelock (VIC)
DNF Matthew Sherwin (VIC)
 
Points
 
Mocka 22 Gawler G
1 Craig McCartney (VIC)                                         3 pts
2 Chris Jory (NSW)                                              2
3 Nathan Wise (VIC)                                             1
 
Mocka 35 Sprent Pr
1 Tom Southam (GBr)                                             3 pts
2 David Pell (VIC)                                              2
3 Benjamin King (WA)                                            1
 
Mocka 45 Houses o
1 Bernard Sulzberger (TAS)                                      3 pts
2 David Pell (VIC)                                              2
3 Joel Pearson (NSW)                                            1
 
Mocka 56 House on
1 Tom Southam (GBr)                                             3 pts
2 David Pell (VIC)                                              2
3 Jack Anderson (QLD)                                           1
 
Mocka 64 J.R. Lee
1 Joel Pearson (NSW)                                            3 pts
2 Stuart Shaw (ACT)                                             2
3 Bernard Sulzberger (TAS)                                      1
 
Mocka 76 Eastley's
1 Cameron Meyer (WA)                                            3 pts
2 Steven Robb (VIC)                                             2
3 Bernard Sulzberger (TAS)                                      1
 
Mocka 84 Riana Sto
1 Cameron Meyer (WA)                                            3 pts
2 Travis Meyer (WA)                                             2
3 Steven Robb (VIC)                                             1
 
Mocka 98 Penguin
1 Bernard Sulzberger (TAS)                                      3 pts
2 Tom Southam (GBr)                                             2
3 Leigh Howard (VIC)                                            1
 
Mountains
 
Cat 3 Mocka 26 J.A. Allen Sig
1 Tom Southam (GBr)                                             5 pts
2 Nicholas Sanderson (VIC)                                      3
 
Cat 4 Mocka 47 Tank on Left
1 Leigh Howard (VIC)                                            3 pts
2 Daniel Braunsteins (VIC)                                      2
3 Tom Southam (GBr)                                             1
 
Cat 4 Mocka 54 Preston Tow
1 Tom Southam (GBr)                                             3 pts
2 Jack Anderson (QLD)                                           2
3 David Pell (VIC)                                              1
 
Cat 1 Mocka 70 Shed on Right
1 Shaun Higgerson (NSW)                                        10 pts
2 Tom Southam (GBr)                                             6
3 Leigh Howard (VIC)                                            4
 
Most aggressive rider
 
1 Tom Southam (GBr)                                             2 pts
 
General classification after stage 4
 
1 Cameron Meyer (WA)                                      5.46.54
2 Travis Meyer (WA)                                          0.25
3 Tom Southam (GBr)                                          1.42
4 Leigh Howard (VIC)                                         1.55
5 Bernard Sulzberger (TAS)                                   2.29
6 Steven Robb (VIC)                                          2.34
7 Tim Roe (SA)                                               2.58
8 Shaun Higgerson (NSW)                                      3.03
9 Kristian House (GBr)                                       3.55
10 Joel Pearson (NSW)                                        4.26
11 David Pell (VIC)                                          4.30
12 Peter McDonald (NSW)                                      4.32
13 Patrick Shaw (VIC)                                        4.37
14 Joshua Wilson (TAS)                                       4.38
15 Stuart Shaw (ACT)                                         4.40
16 Cameron Hughes (QLD)                                      4.42
17 Benjamin King (WA)                                        4.44
18 Casey Munro (VIC)                                         4.59
19 Hayden Josefski (QLD)                                     5.00
20 Adam Semple (WA)                                          5.32
21 Ben Mather (TAS)                                          7.51
22 Evan Oliphant (Sco)                                       7.52
23 Darcy Rosenlund (QLD)                                     7.54
24 Simon Pearson (SA)                                        7.55
25 Daniel Braunsteins (VIC)                                  7.56
26 Matthew McDonagh (TAS)                                    9.32
27 Brendan Brooks (NSW)                                     10.43
28 Ben Grenda (TAS)                                         16.06
29 Nicholas Sanderson (VIC)                                 16.33
30 Nicholas Walker (VIC)                                    16.41
31 Trent Stevenson (VIC)                                    17.03
32 Timothy Walker (TAS)                                     17.07
33 Lachlan Stewart (VIC)                                    18.18
34 Jack Anderson (QLD)                                      18.50
35 Craig McCartney (VIC)                                    21.17
36 Jonathan Cantwell (QLD)                                  21.20
37 Richard England (VIC)                                    21.28
38 Chris Jory (NSW)                                         21.33
39 Mark Jamieson (TAS)                                      21.34
40 Tony Mann (QLD)                                          22.30
41 Miles Watson (NZ)                                        22.33
42 John Ebeling (NSW)                                       22.51
43 Nathan Wise (VIC)                                        22.59
44 Charles Howlett (TAS)                                    23.04
45 Tom Middleton (SA)                                       23.16
46 Glenn O'Shea (VIC)                                       23.27
47 Alexander Machin (VIC)                                   23.35
48 Miles Olman (QLD)                                        25.19
49 Brett Aitken (SA)                                        25.50
50 Matt King (NT)                                           26.57
51 Simon Brown (TAS)                                        28.15
52 Sid Taberlay (TAS)                                       29.12
53 Tim Elmer (TAS)                                          30.30
54 Joe Lewis (NSW)                                          30.33
55 Brad Edmunds (VIC)                                       30.37
56 Andrew Roe (SA)
57 Will Wettenhall (VIC)                                    30.45
58 Mathew Camilleri (NSW)                                   30.58
59 Jay Bourke (VIC)                                         31.02
60 Peter Milostic (NSW)                                     31.05
61 Robbie Cater (NSW)                                       33.28
62 William Ford (VIC)                                       34.05
63 Peter Herzig (QLD)                                       34.28
64 Simon Price (NSW)                                        34.34
65 Alistair Crossling (NZ)                                  34.47
66 Christopher Fry (VIC)                                    36.39
67 Brendon Sharratt (NZ)                                    38.28
68 Tom Robinson (TAS)                                       40.17
69 Andrew Ward (VIC)                                        40.48
70 Malcolm Rudolph (QLD)                                    41.51
71 Brendan Jones (NSW)                                      42.25
72 Reuben Meneaud-Young (SA)                                43.35
73 Grant Irwin (QLD)                                        43.41
74 Gilbert Gutowski (QLD)                                   44.39
75 Nathan Dyke (WA)                                         46.12
76 Nathan Clarke (TAS)                                      46.51
77 Jarrod Harman (TAS)                                      47.05
78 Sean Finning (VIC)                                       47.21
79 Joshua Edwards (QLD)                                     48.25
80 Aaron Jones (TAS)                                        48.53
81 Daniel Furmston (TAS)                                    49.01
82 Richie Porte (TAS)                                       49.47
83 Jason Hegert (VIC)                                       51.02
84 Ben Grieve-Johnson (TAS)                                 52.36
85 Suki Stone (QLD)                                         53.19
86 Matthew Sydes (TAS)                                      53.39
87 Daniel Cutting (TAS)                                     54.25
88 Jason Bellchambers (TAS)                                 58.57
89 Joshua Chugg (TAS)                                     1.01.08
90 Jeremy Hills (TAS)                                     1.08.03
91 Michael Smith (TAS)                                    1.13.51
92 Andras Nagy (TAS)                                      1.23.19
 
Points classification
 
1 Kristian House (GBr)                                         35 pts
2 Tom Southam (GBr)                                            21
3 David Pell (VIC)                                             14
4 Cameron Meyer (WA)                                           14
5 Peter McDonald (NSW)                                         13
6 Brett Aitken (SA)                                             9
7 Travis Meyer (WA)                                             9
8 Bernard Sulzberger (TAS)                                      8
9 Sean Finning (VIC)                                            8
10 Craig McCartney (VIC)                                        7
11 Joel Pearson (NSW)                                           7
12 Patrick Shaw (VIC)                                           6
13 Miles Olman (QLD)                                            6
14 Richard England (VIC)                                        5
15 Leigh Howard (VIC)                                           5
16 Stuart Shaw (ACT)                                            5
17 Charles Howlett (TAS)                                        4
18 Cameron Hughes (QLD)                                         3
19 Jonathan Cantwell (QLD)                                      3
20 Steven Robb (VIC)                                            3
21 Tony Mann (QLD)                                              3
22 Jonathan Lovelock (VIC)                                      2
23 Jack Anderson (QLD)                                          2
24 Ben Grenda (TAS)                                             2
25 Nicholas Sanderson (VIC)                                     2
26 Joshua Wilson (TAS)                                          2
27 Chris Jory (NSW)                                             2
28 Nathan Wise (VIC)                                            2
29 Nicholas Walker (VIC)                                        2
30 Darcy Rosenlund (QLD)                                        1
31 Ben Mather (TAS)                                             1
32 Peter Herzig (QLD)                                           1
33 Benjamin King (WA)                                           1
34 Gilbert Gutowski (QLD)                                       1
35 Tom Robinson (TAS)                                           1
 
Mountains classification
 
1 Tom Southam (GBr)                                            24 pts
2 Shaun Higgerson (NSW)                                        12
3 Cameron Meyer (WA)                                           10
4 Leigh Howard (VIC)                                            7
5 Travis Meyer (WA)                                             6
6 Sid Taberlay (TAS)                                            6
7 Joshua Wilson (TAS)                                           5
8 Nicholas Sanderson (VIC)                                      3
9 Jack Anderson (QLD)                                           2
10 Daniel Braunsteins (VIC)                                     2
11 Patrick Shaw (VIC)                                           2
12 Craig McCartney (VIC)                                        1
13 David Pell (VIC)                                             1
 
Criterium Championship classification
 
1 Joel Pearson (NSW)                                           16 pts
2 Leigh Howard (VIC)                                           15
3 Brett Aitken (SA)                                            15
4 Richard England (VIC)                                        10
5 Sid Taberlay (TAS)                                           10
6 Kristian House (GBr)                                          9
7 Jonathan Cantwell (QLD)                                       8
8 Miles Olman (QLD)                                             7
9 Bernard Sulzberger (TAS)                                      5
10 Nicholas Sanderson (VIC)                                     4
11 Peter McDonald (NSW)                                         4
12 Robbie Cater (NSW)                                           3
13 Grant Irwin (QLD)                                            3
14 Joshua Wilson (TAS)                                          1
 
Most aggressive rider classification
 
1 Tom Southam (GBr)                                             4 pts
2 Brett Aitken (SA)                                             2
3 Kristian House (GBr)                                          2
 
Tasmanian Rider classification
 
1 Bernard Sulzberger (TAS)                                5.49.23
2 Joshua Wilson (TAS)                                        2.09
3 Ben Mather (TAS)                                           5.22
4 Matthew McDonagh (TAS)                                     7.03
5 Ben Grenda (TAS)                                          13.37
6 Timothy Walker (TAS)                                      14.38
7 Mark Jamieson (TAS)                                       19.05
8 Charles Howlett (TAS)                                     20.35
9 Simon Brown (TAS)                                         25.46
10 Sid Taberlay (TAS)                                       26.43
11 Tim Elmer (TAS)                                          28.01
12 Tom Robinson (TAS)                                       37.48
13 Nathan Clarke (TAS)                                      44.22
14 Jarrod Harman (TAS)                                      44.36
15 Aaron Jones (TAS)                                        46.24
16 Daniel Furmston (TAS)                                    46.32
17 Richie Porte (TAS)                                       47.18
18 Ben Grieve-Johnson (TAS)                                 50.07
19 Matthew Sydes (TAS)                                      51.10
20 Daniel Cutting (TAS)                                     51.56
21 Jason Bellchambers (TAS)                                 56.28
22 Joshua Chugg (TAS)                                       58.39
23 Jeremy Hills (TAS)                                     1.05.34
24 Michael Smith (TAS)                                    1.11.22
25 Andras Nagy (TAS)                                      1.20.50