Tour of Tasmania - NE
Australia, October 2-7, 2007
Main Page Results Overall standings Previous Stage Next Stage
Stage 3 - October 3: Ulverstone criterium, 36km
England wins criterium in calm before storm
By Rod Morris in Penguin
Richard England (Jayco/VIS) edges out Brett Aitken (right)
Photo ©: Shane Goss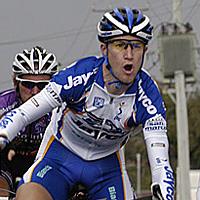 Former Australian criterium champion Richard England won the morning criterium in Ulverstone before the heavens opened and dumped consistent rain and powerful winds for the afternoon's road stage from Ulverstone to Penguin.
'Welcome to Tasmania and some of the most brutal weather the Apple Isle has experienced in recent times.' That was the message visiting mainland and international cyclists were greeted with in Wednesday's second day of the Jayco Tour of Tasmania, the final leg of the Timbercorp Cup National Cycling Series.
How it unfolded
The Meyer brothers on the front:
Photo ©: Shane Goss

Unheralded Victorian Richard England caught the big guns napping when he clinched the 36-kilometre Ulverstone Criterium, the third stage of the Tour. In what turned out to be a tough race because of the weather conditions, England held off the fast finishing Brett Aitken (South Australia) and former NSW rider Joel Pearson, who is now based in Ballarat.
Wind and threatening rain forced all remaining 94 riders within the tour to stay on top of their game, although current world junior teams pursuit champion, Glenn O'Shea was not so lucky. He became tangled in a mesh of wheels and handlebars around the back straight, and the tour medics treated him for an injured knee, hip and elbow. The plucky rider however hoped to continue racing in the afternoon stage.
Defending tour champion Kristian House started the day 1'56" behind leader Cameron Meyer, but after a bold showing in the intermediate sprints where he gained a further 23 seconds in time bonuses, whilst the latter added six seconds to his bonus tally, thereby reducing the deficit to 1'39". Split in between Meyer and House however is Travis Meyer, the 18 year-old younger sibling of the leader. Travis started the day 20 seconds behind, and finished stage three, 23 seconds adrift.
Others to show prominence in the intermediate sprints were Peter McDonald, the Timbercorp Cup National Series leader; Sean Finning and David Pell. England also played cards early, winning the second of the intermediates.
Photography
For a thumbnail gallery of these images, click here
Images by Shane Goss/www.licoricegallery.com
Results
1 Richard England (VIC)                                     48.20 (44.69 km/h)
2 Brett Aitken (SA)                                              
3 Joel Pearson (NSW)                                             
4 Miles Olman (QLD)                                              
5 Jonathan Cantwell (QLD)                                        
6 Leigh Howard (VIC)                                             
7 Peter McDonald (NSW)                                           
8 Sid Taberlay (TAS)                                             
9 Grant Irwin (QLD)                                              
10 Joshua Wilson (TAS)                                           
11 Travis Meyer (WA)                                             
12 Miles Watson (NZ)                                             
13 Darcy Rosenlund (QLD)                                         
14 Bernard Sulzberger (TAS)                                      
15 Nathan Clarke (TAS)                                           
16 Robbie Cater (NSW)                                            
17 Ben Mather (TAS)                                              
18 Evan Oliphant (Sco)                                           
19 Benjamin King (WA)                                            
20 Patrick Shaw (VIC)                                            
21 David Pell (VIC)                                              
22 Jack Anderson (QLD)                                           
23 Kristian House (GBr)                                          
24 Stuart Shaw (ACT)                                             
25 Gilbert Gutowski (QLD)                                        
26 Charles Howlett (TAS)                                         
27 Craig McCartney (VIC)                                         
28 Simon Pearson (SA)                                            
29 Cameron Meyer (WA)                                            
30 Hayden Josefski (QLD)                                         
31 Cameron Hughes (QLD)                                          
32 Tom Southam (GBr)                                             
33 Ben Grenda (TAS)                                              
34 John Ebeling (NSW)                                            
35 Steven Robb (VIC)                                             
36 Adam Semple (WA)                                              
37 Brendan Brooks (NSW)                                          
38 Tom Robinson (TAS)                                            
39 Joe Lewis (NSW)                                           0.10
40 Tony Mann (QLD)                                               
41 Nathan Wise (VIC)                                             
42 Tim Elmer (TAS)                                               
43 Nicholas Sanderson (VIC)                                      
44 Shaun Higgerson (NSW)                                         
45 Chris Jory (NSW)                                              
46 Simon Brown (TAS)                                         0.14
47 Peter Herzig (QLD)                                            
48 Daniel Braunsteins (VIC)                                      
49 Richie Porte (TAS)                                            
50 Brad Edmunds (VIC)                                            
51 Tom Middleton (SA)                                            
52 Timothy Walker (TAS)                                          
53 Reuben Meneaud-Young (SA)                                     
54 Andrew Roe (SA)                                               
55 Simon Price (NSW)                                             
56 Nicholas Walker (VIC)                                         
57 Jarrod Harman (TAS)                                           
58 Casey Munro (VIC)                                             
59 Mark Jamieson (TAS)                                           
60 Matt King (NT)                                                
61 Jonathan Lovelock (VIC)                                       
62 Jay Bourke (VIC)                                          0.19
63 Glenn O'Shea (VIC)                                            
64 Tim Roe (SA)                                                  
65 Alexander Machin (VIC)                                        
66 Matthew McDonagh (TAS)                                        
67 Jason Hegert (VIC)                                            
68 Will Wettenhall (VIC)                                     0.24
69 Nathan Dyke (WA)                                          0.28
70 Trent Stevenson (VIC)                                     0.32
71 Alistair Crossling (NZ)                                   0.35
72 Mathew Camilleri (NSW)                                        
73 Lachlan Stewart (VIC)                                     0.46
74 Christopher Fry (VIC)                                     0.52
75 Jeremy Hills (TAS)                                        0.55
76 Sean Finning (VIC)                                        1.06
77 Joshua Edwards (QLD)                                      1.15
78 Aaron Jones (TAS)                                         2.02
79 Daniel Cutting (TAS)                                      2.10
80 Daniel Furmston (TAS)                                         
81 Jason Bellchambers (TAS)                                  3.40
82 William Ford (VIC)                                        4.51
83 Ben Grieve-Johnson (TAS)                                      
84 Michael Smith (TAS)                                       6.28
85 Andrew Ward (VIC)                                             
86 Joshua Chugg (TAS)                                            
87 Matthew Sydes (TAS)                                           
88 Matthew Sherwin (VIC)                                         
89 Suki Stone (QLD)                                              
90 Brendan Jones (NSW)                                       8.05
91 Malcolm Rudolph (QLD)                                         
92 Brendon Sharratt (NZ)                                         
93 Peter Milostic (NSW)                                          
94 Andras Nagy (TAS)                                             
 
Points
 

End of Lap 6
1 Kristian House (GBr)                                          3 pts
2 Craig McCartney (VIC)                                         2
3 Gilbert Gutowski (QLD)                                        1

End of Lap 8
1 Richard England (VIC)                                         3 pts
2 Sean Finning (VIC)                                            2
3 Kristian House (GBr)                                          1

End of Lap 10
1 Sean Finning (VIC)                                            3 pts
2 Richard England (VIC)                                         2
3 Kristian House (GBr)                                          1

End of Lap 12
1 Kristian House (GBr)                                          3 pts
2 Miles Olman (QLD)                                             2
3 Tom Southam (GBr)                                             1

End of Lap 14
1 Peter McDonald (NSW)                                          3 pts
2 Cameron Meyer (WA)                                            2
3 Nicholas Walker (VIC)                                         1

End of Lap 16
1 Kristian House (GBr)                                          3 pts
2 Cameron Meyer (WA)                                            2
3 Travis Meyer (WA)                                             1

End of Lap 18
1 Bernard Sulzberger (TAS)                                      3 pts
2 Ben Grenda (TAS)                                              2
3 Tony Mann (QLD)                                               1

End of Lap 20
1 Kristian House (GBr)                                          3 pts
2 Cameron Meyer (WA)                                            2
3 Leigh Howard (VIC)                                            1

End of Lap 22
1 Kristian House (GBr)                                          3 pts
2 Tony Mann (QLD)                                               2
3 Craig McCartney (VIC)                                         1

End of Lap 24
1 Kristian House (GBr)                                          3 pts
2 Patrick Shaw (VIC)                                            2
3 Peter Herzig (QLD)                                            1

End of Lap 26
1 Kristian House (GBr)                                          3 pts
2 Travis Meyer (WA)                                             2
3 Darcy Rosenlund (QLD)                                         1
 
Mountains classification
 
1 Cameron Meyer (WA)                                           10 pts
2 Tom Southam (GBr)                                             9
3 Travis Meyer (WA)                                             6
4 Sid Taberlay (TAS)                                            6
5 Joshua Wilson (TAS)                                           5
6 Patrick Shaw (VIC)                                            2
7 Shaun Higgerson (NSW)                                         2
8 Craig McCartney (VIC)                                         1
 
Criterium Championship
 
1 Richard England (VIC)                                        10 pts
2 Brett Aitken (SA)                                             9
3 Joel Pearson (NSW)                                            8
4 Miles Olman (QLD)                                             7
5 Jonathan Cantwell (QLD)                                       6
6 Leigh Howard (VIC)                                            5
7 Peter McDonald (NSW)                                          4
8 Sid Taberlay (TAS)                                            3
9 Grant Irwin (QLD)                                             2
10 Joshua Wilson (TAS)                                          1
 
Most aggressive rider
 
1 Kristian House (GBr)                                          2 pts
 
General classification after stage 3
 
1 Cameron Meyer (WA)                                      3.37.03
2 Travis Meyer (WA)                                          0.23
3 Kristian House (GBr)                                       1.39
4 Leigh Howard (VIC)                                         2.07
5 Tom Southam (GBr)                                              
6 Joel Pearson (NSW)                                         2.14
7 Peter McDonald (NSW)                                       2.16
8 Shaun Higgerson (NSW)                                          
9 Patrick Shaw (VIC)                                         2.21
10 David Pell (VIC)                                              
11 Joshua Wilson (TAS)                                       2.22
12 Jonathan Cantwell (QLD)                                   2.24
13 Craig McCartney (VIC)                                         
14 Stuart Shaw (ACT)                                         2.26
15 Cameron Hughes (QLD)                                          
16 Ben Grenda (TAS)                                          2.27
17 Bernard Sulzberger (TAS)                                  2.28
18 Darcy Rosenlund (QLD)                                         
19 Jack Anderson (QLD)                                           
20 Ben Mather (TAS)                                              
21 Evan Oliphant (Sco)                                       2.29
22 Benjamin King (WA)                                            
23 Tom Middleton (SA)                                            
24 Simon Pearson (SA)                                            
25 Brendan Brooks (NSW)                                          
26 Adam Semple (WA)                                              
27 Steven Robb (VIC)                                             
28 Richard England (VIC)                                     2.32
29 Nicholas Sanderson (VIC)                                  2.37
30 Mark Jamieson (TAS)                                       2.38
31 Nicholas Walker (VIC)                                     2.39
32 Chris Jory (NSW)                                              
33 Jonathan Lovelock (VIC)                                   2.41
34 Daniel Braunsteins (VIC)                                  2.43
35 Casey Munro (VIC)                                             
36 Hayden Josefski (QLD)                                     2.44
37 Tim Roe (SA)                                              2.48
38 Alexander Machin (VIC)                                        
39 Trent Stevenson (VIC)                                     3.01
40 Robbie Cater (NSW)                                        3.20
41 Tony Mann (QLD)                                           3.34
42 John Ebeling (NSW)                                        3.55
43 Matthew McDonagh (TAS)                                    3.57
44 Nathan Wise (VIC)                                         4.04
45 Charles Howlett (TAS)                                     4.08
46 Matt King (NT)                                            4.09
47 Lachlan Stewart (VIC)                                     4.16
48 Glenn O'Shea (VIC)                                        4.31
49 Brett Aitken (SA)                                         6.54
50 Christopher Fry (VIC)                                     7.18
51 Miles Watson (NZ)                                         9.05
52 Tom Robinson (TAS)                                        9.13
53 Simon Brown (TAS)                                         9.19
54 Sid Taberlay (TAS)                                       11.17
55 Miles Olman (QLD)                                             
56 William Ford (VIC)                                            
57 Gilbert Gutowski (QLD)                                   11.20
58 Tim Elmer (TAS)                                          11.34
59 Joe Lewis (NSW)                                          11.37
60 Peter Herzig (QLD)                                       11.40
61 Brad Edmunds (VIC)                                       11.41
62 Timothy Walker (TAS)                                          
63 Andrew Roe (SA)                                               
64 Will Wettenhall (VIC)                                    11.49
65 Mathew Camilleri (NSW)                                   12.02
66 Jay Bourke (VIC)                                         12.06
67 Peter Milostic (NSW)                                     12.09
68 Sean Finning (VIC)                                       12.25
69 Richie Porte (TAS)                                       14.51
70 Simon Price (NSW)                                        15.38
71 Malcolm Rudolph (QLD)                                    19.26
72 Brendon Sharratt (NZ)                                    19.32
73 Reuben Meneaud-Young (SA)                                20.47
74 Alistair Crossling (NZ)                                  21.08
75 Andrew Ward (VIC)                                        21.52
76 Brendan Jones (NSW)                                      23.29
77 Grant Irwin (QLD)                                        24.45
78 Joshua Edwards (QLD)                                     26.00
79 Nathan Dyke (WA)                                         27.16
80 Nathan Clarke (TAS)                                      27.55
81 Jarrod Harman (TAS)                                      28.09
82 Jason Hegert (VIC)                                       28.14
83 Aaron Jones (TAS)                                        29.57
84 Daniel Furmston (TAS)                                    30.05
85 Daniel Cutting (TAS)                                     32.00
86 Jeremy Hills (TAS)                                       33.07
87 Matthew Sherwin (VIC)                                    33.16
88 Ben Grieve-Johnson (TAS)                                 33.40
89 Suki Stone (QLD)                                         34.23
90 Matthew Sydes (TAS)                                      34.43
91 Joshua Chugg (TAS)                                       38.20
92 Jason Bellchambers (TAS)                                 40.01
93 Michael Smith (TAS)                                      43.43
94 Andras Nagy (TAS)                                        48.23
 
Points classification
 
1 Kristian House (GBr)                                         35 pts
2 Peter McDonald (NSW)                                         13
3 Tom Southam (GBr)                                            13
4 Brett Aitken (SA)                                             9
5 David Pell (VIC)                                              8
6 Sean Finning (VIC)                                            8
7 Cameron Meyer (WA)                                            8
8 Travis Meyer (WA)                                             7
9 Miles Olman (QLD)                                             6
10 Patrick Shaw (VIC)                                           6
11 Richard England (VIC)                                        5
12 Craig McCartney (VIC)                                        4
13 Leigh Howard (VIC)                                           4
14 Charles Howlett (TAS)                                        4
15 Stuart Shaw (ACT)                                            3
16 Cameron Hughes (QLD)                                         3
17 Jonathan Cantwell (QLD)                                      3
18 Joel Pearson (NSW)                                           3
19 Tony Mann (QLD)                                              3
20 Joshua Wilson (TAS)                                          2
21 Nicholas Sanderson (VIC)                                     2
22 Nicholas Walker (VIC)                                        2
23 Ben Grenda (TAS)                                             2
24 Jonathan Lovelock (VIC)                                      2
25 Nathan Wise (VIC)                                            1
26 Peter Herzig (QLD)                                           1
27 Darcy Rosenlund (QLD)                                        1
28 Jack Anderson (QLD)                                          1
29 Gilbert Gutowski (QLD)                                       1
30 Tom Robinson (TAS)                                           1
31 Ben Mather (TAS)                                             1
 
Criterium Championship classification
 
1 Joel Pearson (NSW)                                           16 pts
2 Leigh Howard (VIC)                                           15
3 Brett Aitken (SA)                                            15
4 Richard England (VIC)                                        10
5 Sid Taberlay (TAS)                                           10
6 Kristian House (GBr)                                          9
7 Jonathan Cantwell (QLD)                                       8
8 Miles Olman (QLD)                                             7
9 Bernard Sulzberger (TAS)                                      5
10 Nicholas Sanderson (VIC)                                     4
11 Peter McDonald (NSW)                                         4
12 Robbie Cater (NSW)                                           3
13 Grant Irwin (QLD)                                            3
14 Joshua Wilson (TAS)                                          1
 
Most aggressive rider classification
 
1 Tom Southam (GBr)                                             2 pts
2 Brett Aitken (SA)                                             2
3 Kristian House (GBr)                                          2
 
Tasmanian general classification
 
1 Joshua Wilson (TAS)                                     3.39.25
2 Ben Grenda (TAS)                                           0.05
3 Bernard Sulzberger (TAS)                                   0.06
4 Ben Mather (TAS)                                               
5 Mark Jamieson (TAS)                                        0.16
6 Matthew McDonagh (TAS)                                     1.35
7 Charles Howlett (TAS)                                      1.46
8 Tom Robinson (TAS)                                         6.51
9 Simon Brown (TAS)                                          6.57
10 Sid Taberlay (TAS)                                        8.55
11 Tim Elmer (TAS)                                           9.12
12 Timothy Walker (TAS)                                      9.19
13 Richie Porte (TAS)                                       12.29
14 Nathan Clarke (TAS)                                      25.33
15 Jarrod Harman (TAS)                                      25.47
16 Aaron Jones (TAS)                                        27.35
17 Daniel Furmston (TAS)                                    27.43
18 Daniel Cutting (TAS)                                     29.38
19 Jeremy Hills (TAS)                                       30.45
20 Ben Grieve-Johnson (TAS)                                 31.18
21 Matthew Sydes (TAS)                                      32.21
22 Joshua Chugg (TAS)                                       35.58
23 Jason Bellchambers (TAS)                                 37.39
24 Michael Smith (TAS)                                      41.21
25 Andras Nagy (TAS)                                        46.01