Trust House Women's Tour - 2.2
New Zealand, March 1-3, 2006
Main Page Results Overall standings Stage Details Previous Stage Next Stage
Stage 3 - March 3: Masterton criterium, 45km
Teutenberg doubles up
By Nick Warren in Masterton
Teutenberg again,
Photo ©: Nick Warren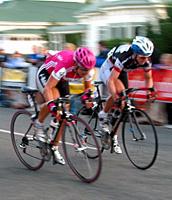 Masterton's criterium stage of the women's Trust House Tour saw Ina Teutenberg (T-Mobile) round off a perfect day with another well-timed sprint ahead of Jo Kiesanowski (Univega) and Georgia Bronzini (AS Team FRW).
"It doesn't get much better than this," a jubilant Teutenberg said. "I'm very happy with how today has gone."
Sarah Ulmer (Trust House NZ National Team) retains her yellow jersey and is all but certain to keep it with just one time-trial stage remaining. Her Trust House teammates put in some hard graft to quash any breakaway attempts during the high-paced evening circuit race which saw 97 riders take the start.
Pulling on her third yellow jersey of the Tour, Ulmer once again thanked her teammates: "It's been a great couple of days for the team."
"They did a fantastic job tonight and it shows good team work is all part of road racing."
The bunch was stretched out from the start and riders tired from the afternoon's stage two were soon struggling. Perfect conditions and fast, wide roads meant speeds were well over 40km/h for the duration of the one hour race. Alexis Rhodes (Australian National Team) was one of the first riders to withdraw, pulling out after just two laps, while many competitors bore the scars of stage two's crashes, sporting various bandages on elbows and knees.
During the opening 25 minutes, a number of riders tried their luck in attacking, among them Sweden's Susanne Ljungskog (Sandoval Promotions) who made countless attempts to escape, but each time only gained a few bike lengths before being chased down. Trust House's Melissa Holt and Tammy Boyd spent much of their race on the front policing moves while Ulmer, looking calm and collected, stayed within the top 20 riders throughout.
Ulmer on the startline
Photo ©: Nick Warren

The sprinter's green jersey prize was still up for grabs with Dale Tye (Samsung NZ) and Josie Loane (UKNZJobs.com) tied on eight points each. After Tye won the first of three intermediate sprints to move ahead, Loane was unable to counter on the final two, effectively handing Tye the competition.
Going into the final four laps, teams Univega and T-Mobile hit the front, pushing the pace up to lead out their designated sprinters Kiesanowski and Teutenberg. A well drilled T-Mobile emerged victorious however as Teutenberg cleanly won the sprint by half a length.
The Tour finishes with a 12km time trial on Friday March 2nd in Scorching Bay and given Ulmer's form, is unlikely to lose the eight second lead she holds over Priska Doppmann (Univega).
Photography
For a thumbnail gallery of these images, click here
Images by CJ Farquharson/WomensCycling.net
Images by Nick Warren/Cyclingnews.com
Results
1 Ina Teutenberg (Ger) T-Mobile Team                            1.06.50
2 Joanne Kiesanowski (NZl) Univega Pro Team
3 Giorgia Bronzini (Ita) A.S. Team F.R.W
4 Oenone Wood (Aus) Equipe Nürnberger Versicherung
5 Susanne Ljungskog (Swe) Sandoval Promotions
6 Trixi Worrack (Ger) Equipe Nürnberger Versicherung
6 Jenny MacPherson (Aus) Australian National Team
6 Emma Mackie (Aus) Australian National Team
6 Elke Gebhardt (Ger) German National Team
6 Marlen Johrend (Ger) German National Team
6 Priska Doppmann (Swi) Univega Pro Team
6 Emma Rickards (Aus) Univega Pro Team
6 Charlotte Goldsmith (GBr) Safi Pasta Zara Manhattan
6 Masami Mashimo (Jpn) Japan National Team
6 Ayako Toyooka (Jpn) Japan National Team
6 Judith Arndt (Ger) T-Mobile Team
6 Amy Moore (Can) T-Mobile Team
6 Sigrid Corneo (Ita) Nobili Rubinetterie - Menikini Cogeas
6 Olivia Gollan (Aus) Nobili Rubinetterie - Menikini Cogeas
6 Miho Oki (Jpn) Nobili Rubinetterie - Menikini Cogeas
6 Elodie Touffet (Fra) Nobili Rubinetterie - Menikini Cogeas
6 Isabella Wieser (Aut) Elk Haus Noe
6 Annette Beutler (Swi) Elk Haus Noe
6 Yongli Liu (Chn) China National Team
6 Na Zhao (Chn) China National Team
6 Michelle Hyland (NZl) Trust House New Zealand National Team
6 Sarah Ulmer (NZl) Trust House New Zealand National Team
6 Gina Waible (NZl) BP New Zealand
6 Hayley Brown (Aus) Chase Smart Mercedes-Benz
6 Tina Mayolo-Pic (USA) Uknzjobs.com
6 Nikkie Egyed (Aus) Uknzjobs.com
6 Martina Corazza (Ita) A.S. Team F.R.W
6 Ketti Manfrin (Ita) A.S. Team F.R.W
34 Sarah Deuster (Ger) Univega Pro Team                           0.07
34 Nicole Cooke (GBr) Univega Pro Team
34 Amy Hunt (GBr) Safi Pasta Zara Manhattan
34 Youko Okuda (Jpn) Japan National Team
34 Magali Le Flock (Fra) T-Mobile Team
34 Olga Slyusareva (Rus) Russia National Team
34 Svetlana Bubnenkova (Rus) Russia National Team
34 Natalia Boyarskaya (Rus) Russia National Team
34 Libo Ma (Chn) China National Team
34 Jing Chen (Chn) China National Team
34 Toni Bradshaw (NZl) Trust House New Zealand National Team
34 Melissa Holt (NZl) Trust House New Zealand National Team
34 Susie Wood (NZl) Trust House New Zealand National Team
34 Brei Gudsell (NZl) Samsung New Zealand
34 Natalie Bates (Aus) Chase Smart Mercedes-Benz
34 Edwige Pitel (Fra) Sandoval Promotions
50 Claudia Stumpf (Ger) German National Team                      0.13
50 Akemi Morimoto (Jpn) Japan National Team
50 Patricia Schwager (Swi) Elk Haus Noe
50 Lisa Haynes (NZl) BP New Zealand
50 Serina Sheridan (NZl) BP New Zealand
50 Emma James (Aus) Chase Smart Mercedes-Benz
50 Karina Wilkinson (NZl) Wholly Bagels Team
50 Josie Loane (Aus) Uknzjobs.com
50 Jenny Trew (Can) Uknzjobs.com
59 Meifang Li (Chn) China National Team                           0.17
60 Tamara Boyd (NZl) Trust House New Zealand National Team        0.19
61 Lang Meng (Chn) Giant Pro Cycling Team                         0.23
62 Dale Tye (NZl) Samsung New Zealand                             0.32
63 Kimberly Baldwin (USA) T-Mobile Team                           0.41
63 Kelly Benjamin (USA) Sandoval Promotions
65 Laura Pisaneschi (Ita) A.S. Team F.R.W                         1.17
66 Helen Kelly (Aus) Safi Pasta Zara Manhattan                    2.00
67 Anke Wickman (Ger) Equipe Nürnberger Versicherung              2.10
67 Eva Lutz (Ger) Equipe Nürnberger Versicherung
67 Amanda Spratt (Aus) Australian National Team
67 Larissa Kleinmann (Ger) German National Team
67 Marta Villatosana (Spa) Nobili Rubinetterie - Menikini Cogeas
67 Tatiana Antoschina (Rus) Russia National Team
67 Baerbell Jungmeier (Aut) Elk Haus Noe
67 Yanxia Jiang (Chn) Giant Pro Cycling Team
67 Min Gao (Chn) Giant Pro Cycling Team
67 Marina Duvnyak (NZl) Samsung New Zealand
67 Joanne Buick (NZl) Samsung New Zealand
67 Karen Fulton (NZl) BP New Zealand
67 Amy Mosen (NZl) Wholly Bagels Team
67 Emma Hutchings (NZl) Dialed In Motion Team
67 Jennie Stenerhag (Swe) Uknzjobs.com
67 Ombreta Ugolini (Ita) A.S. Team F.R.W
83 Silvia Valsecchi (Ita) Nobili Rubinetterie - Menikini Cogeas   4.20
83 Nicola Cox (NZl) Dialed In Motion Team
83 Donna Sibley (NZl) Dialed In Motion Team
83 Vickie Burr (NZl) Dialed In Motion Team
83 Daniela Pintarelli (Aut) Sandoval Promotions
88 Stacy Sims (NZl) Dialed In Motion Team                         8.40
DNF Alexis Rhodes (Aus) Australian National Team
DNF Rochelle Gilmore (Aus) Safi Pasta Zara Manhattan
DNF Irina Sempyanskaya (Rus) Russia National Team
DNF Pu Xiang Zhen (Chn) Giant Pro Cycling Team
DNF Xiong Yin Ruan (Chn) Giant Pro Cycling Team
DNF Kara Northcott (NZl) Samsung New Zealand
DNF Jessie MacLean (Aus) Chase Smart Mercedes-Benz
DNF Robin Farina (USA) Wholly Bagels Team
DNF Kate Mercer (Aus) Sandoval Promotions
DNF Carly Hibberd (Aus) Uknzjobs.com
DNS Katherine Bates (Aus) Equipe Nürnberger Versicherung
 
General classification after stage 3
 
1 Sarah Ulmer (NZl) Trust House New Zealand National Team      4.53.26
2 Priska Doppmann (Swi) Univega Pro Team                          0.08
3 Trixi Worrack (Ger) Equipe Nürnberger Versicherung              0.12
4 Elodie Touffet (Fra) Nobili Rubinetterie - Menikini Cogeas      0.18
4 Hayley Brown (Aus) Chase Smart Mercedes-Benz
6 Magali Le Flock (Fra) T-Mobile Team                             0.27
7 Josie Loane (Aus) Uknzjobs.com                                  0.35
8 Dale Tye (NZl) Samsung New Zealand                              0.54
9 Ina Teutenberg (Ger) T-Mobile Team                              1.47
10 Joanne Kiesanowski (NZl) Univega Pro Team                      1.55
10 Giorgia Bronzini (Ita) A.S. Team F.R.W
12 Oenone Wood (Aus) Equipe Nürnberger Versicherung               1.59
12 Susanne Ljungskog (Swe) Sandoval Promotions
12 Elke Gebhardt (Ger) German National Team
12 Emma Rickards (Aus) Univega Pro Team
12 Charlotte Goldsmith (GBr) Safi Pasta Zara Manhattan
12 Masami Mashimo (Jpn) Japan National Team
12 Judith Arndt (Ger) T-Mobile Team
12 Sigrid Corneo (Ita) Nobili Rubinetterie - Menikini Cogeas
12 Olivia Gollan (Aus) Nobili Rubinetterie - Menikini Cogeas
12 Miho Oki (Jpn) Nobili Rubinetterie - Menikini Cogeas
12 Annette Beutler (Swi) Elk Haus Noe
12 Michelle Hyland (NZl) Trust House New Zealand National Team
12 Tina Mayolo-Pic (USA) Uknzjobs.com
12 Martina Corazza (Ita) A.S. Team F.R.W
26 Sarah Deuster (Ger) Univega Pro Team                           2.06
26 Nicole Cooke (GBr) Univega Pro Team
26 Amy Hunt (GBr) Safi Pasta Zara Manhattan
26 Youko Okuda (Jpn) Japan National Team
26 Olga Slyusareva (Rus) Russia National Team
26 Svetlana Bubnenkova (Rus) Russia National Team
26 Natalia Boyarskaya (Rus) Russia National Team
26 Toni Bradshaw (NZl) Trust House New Zealand National Team
26 Melissa Holt (NZl) Trust House New Zealand National Team
26 Susie Wood (NZl) Trust House New Zealand National Team
26 Brei Gudsell (NZl) Samsung New Zealand
26 Natalie Bates (Aus) Chase Smart Mercedes-Benz
26 Edwige Pitel (Fra) Sandoval Promotions
39 Claudia Stumpf (Ger) German National Team                      2.12
39 Akemi Morimoto (Jpn) Japan National Team
39 Patricia Schwager (Swi) Elk Haus Noe
39 Lisa Haynes (NZl) BP New Zealand
39 Serina Sheridan (NZl) BP New Zealand
39 Karina Wilkinson (NZl) Wholly Bagels Team
45 Meifang Li (Swi) China National Team                           2.16
46 Lang Meng (Swi) Giant Pro Cycling Team                         2.22
47 Kimberly Baldwin (USA) T-Mobile Team                           2.40
48 Helen Kelly (Aus) Safi Pasta Zara Manhattan                    3.59
49 Eva Lutz (Ger) Equipe Nürnberger Versicherung                  4.09
49 Larissa Kleinmann (Ger) German National Team
49 Baerbell Jungmeier (Aus) Elk Haus Noe
49 Min Gao (Swi) Giant Pro Cycling Team
53 Daniela Pintarelli (Aus) Sandoval Promotions                   6.19
54 Joanne Buick (NZl) Samsung New Zealand                         7.56
55 Jenny MacPherson (Aus) Australian National Team                8.45
56 Amy Moore (Can) T-Mobile Team                                  8.46
56 Yongli Liu (Swi) China National Team
56 Gina Waible (NZl) BP New Zealand
56 Nikkie Egyed (Aus) Uknzjobs.com
60 Emma James (Aus) Chase Smart Mercedes-Benz                     8.59
61 Tamara Boyd (NZl) Trust House New Zealand National Team        9.11
62 Yanxia Jiang (Swi) Giant Pro Cycling Team                     10.55
63 Marta Villatosana (Spa) Nobili Rubinetterie - Menikini Cogeas
63 Karen Fulton (NZl) BP New Zealand
63 Jennie Stenerhag (Swe) Uknzjobs.com
66 Marina Duvnyak (NZl) Samsung New Zealand                      11.02
67 Ayako Toyooka (Jpn) Japan National Team                       11.58
68 Libo Ma (Swi) China National Team                             12.05
69 Kelly Benjamin (USA) Sandoval Promotions                      12.39
70 Jing Chen (Swi) China National Team                           13.14
71 Amy Mosen (NZl) Wholly Bagels Team                            14.08
72 Anke Wickman (Ger) Equipe Nürnberger Versicherung             15.17
72 Tatiana Antoschina (Rus) Russia National Team
72 Ombreta Ugolini (Ita) A.S. Team F.R.W
75 Emma Mackie (Aus) Australian National Team                    17.24
75 Marlen Johrend (Ger) German National Team
75 Isabella Wieser (Aus) Elk Haus Noe
75 Na Zhao (Swi) China National Team
75 Ketti Manfrin (Ita) A.S. Team F.R.W
80 Jenny Trew (Can) Uknzjobs.com                                 17.37
81 Laura Pisaneschi (Ita) A.S. Team F.R.W                        18.41
82 Nicola Cox (NZl) Dialed In Motion Team                        19.12
83 Donna Sibley (NZl) Dialed In Motion Team                      21.44
84 Emma Hutchings (NZl) Dialed In Motion Team                    23.15
85 Silvia Valsecchi (Ita) Nobili Rubinetterie - Menikini Cogeas  25.25
85 Vickie Burr (NZl) Dialed In Motion Team
87 Amanda Spratt (Aus) Australian National Team                  42.37
88 Stacy Sims (NZl) Dialed In Motion Team
DNF Alexis Rhodes (Aus) Australian National Team
DNF Rochelle Gilmore (Aus) Safi Pasta Zara Manhattan
DNF Irina Sempyanskaya (Rus) Russia National Team
DNF Pu Xiang Zhen (Swi) Giant Pro Cycling Team
DNF Xiong Yin Ruan (Swi) Giant Pro Cycling Team
DNF Kara Northcott (NZl) Samsung New Zealand
DNF Jessie MacLean (Aus) Chase Smart Mercedes-Benz
DNF Robin Farina (USA) Wholly Bagels Team
DNF Kate Mercer (Aus) Sandoval Promotions
DNF Carly Hibberd (Aus) Uknzjobs.com
DNS Katherine Bates (Aus) Equipe Nürnberger Versicherung

Points classification

1 Dale Tye (NZl) Samsung New Zealand                             11 pts
2 Josie Loane (Aus) Uknzjobs.com                                  8
3 Melissa Holt (NZl) Trust House New Zealand National Team        5
4 Priska Doppmann (Swi) Univega Pro Team                          5
5 Tamara Boyd (NZl) Trust House New Zealand National Team         3
6 Miho Oki (Jpn) Nobili Rubinetterie - Menikini Cogeas            2
7 Nicole Cooke (GBr) Univega Pro Team                             2
8 Judith Arndt (Ger) T-Mobile Team                                1
9 Natalia Boyarskaya (Rus) Russia National Team                   1
10 Emma Rickards (Aus) Univega Pro Team                           1
11 Trixi Worrack (Ger) Equipe Nürnberger Versicherung             1
12 Hayley Brown (Aus) Chase Smart Mercedes-Benz                   1
13 Elodie Touffet (Fra) Nobili Rubinetterie - Menikini Cogeas     1