Trust House Women's Tour - 2.2
New Zealand, March 1-3, 2006
Main Page Results Overall standings Stage Details Previous Stage Next Stage
Stage 2 - March 2: Martinborough - Masterton, 99km
Teutenberg triumphs
By Nick Warren in Masterton
Ina Teutenberg
Photo ©: Nick Warren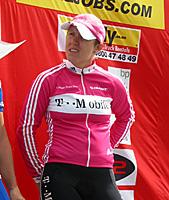 Ina Teutenberg (T-Mobile) took a fine win on stage two of the Trust House Women's Tour of Wellington after a fairly uneventful race which finished in Masterton. Sarah Ulmer (Trust House NZ National Team) finished in second place to hold onto her leader's yellow jersey.
"It's really great to win today," said the German star. "I think Sunday's (World Cup) race will be really hard, I heard it's a tough course."
Ulmer, ever the popular people's champion praised her teammates' hard work during the stage. "They did an awesome job and really looked after me today. They'll probably be really buggered tonight."
Kiwi supporters were out in force throughout the day. "I think I heard my name shouted on every corner," commented Ulmer.
The Tour's only long road stage provided little action despite the rolling terrain and light winds. Perhaps wary of the brutal Kureaw Hill, which came after 69km of racing, the peloton stuck pretty much together and any attacks were soon put down by a watchful Trust House NZ team.
However, there were numerous crashes throughout the day, the most serious of which saw Wholly Bagels rider Pernell Fletcher taken to hospital with a fractured wrist. Other abandonments were also to follow, including Australian national team member Amanda Spratt who climbed off at the 65km mark.
Nicole Cooke
Photo ©: Nick Warren

Approaching Kureaw Hill, and with the peloton still together, Melissa Holt (Trust House) set a ferocious pace on the front, immediately ejecting weaker riders from the rear of the pack. Whilst only 2km long, Kureaw is steep enough to pack a good punch and by the summit a group of 25 had left the rest behind.
Nicole Cooke (Univega) was first over the top to claim the Tour's only Queen of the Mountains points and therefore the QOM polka dot jersey. After a long 8km descent followed by a rapid chase along the valley towards Masterton, it was all back together save for three riders who managed to slip off the front.
Sarah Düster (Univega), Svetlana Bubnenkova (Russia) and Susanne Ljungskog (Sandoval Promotions) enjoyed a brief 12km of freedom before being brought back into the fold by Ulmer's Trust House team with just 8km remaining.
An inevitable bunch sprint came after sporadic attacks during the final few kilometres, Teutenberg out-sprinting Ulmer to underline the great form she showed during last week's Geelong Tour in Australia. Italian Georgia Bronzini (AS Team FRW) was third.
Photography
For a thumbnail gallery of these images, click here
Images by CJ Farquharson/WomensCycling.net
Images by Nick Warren/Cyclingnews.com
Results
1 Ina Teutenberg (Ger) T-Mobile Team                             2.41.35
2 Sarah Ulmer (NZl) Trust House New Zealand National Team
3 Giorgia Bronzini (Ita) A.S. Team F.R.W
4 Priska Doppmann (Swi) Univega Pro Team
5 Joanne Kiesanowski (NZl) Univega Pro Team
6 Oenone Wood (Aus) Equipe Nrnberger Versicherung
6 Trixi Worrack (Ger) Equipe Nrnberger Versicherung
6 Katherine Bates (Aus) Equipe Nrnberger Versicherung
6 Eva Lutz (Ger) Equipe Nrnberger Versicherung
6 Alexis Rhodes (Aus) Australian National Team
6 Larissa Kleinmann (Ger) German National Team
6 Elke Gebhardt (Ger) German National Team
6 Claudia Stumpf (Ger) German National Team
6 Emma Rickards (Aus) Univega Pro Team
6 Sarah Deuster (Ger) Univega Pro Team
6 Nicole Cooke (GBr) Univega Pro Team
6 Charlotte Goldsmith (GBr) Safi Pasta Zara Manhattan
6 Amy Hunt (GBr) Safi Pasta Zara Manhattan
6 Helen Kelly (Aus) Safi Pasta Zara Manhattan
6 Masami Mashimo (Jpn) Japan National Team
6 Akemi Morimoto (Jpn) Japan National Team
6 Youko Okuda (Jpn) Japan National Team
6 Judith Arndt (Ger) T-Mobile Team
6 Kimberly Baldwin (Usa) T-Mobile Team
6 Magali Le Floch (Fra) T-Mobile Team
6 Sigrid Corneo (Ita) Nobili Rubinetterie - Menikini Cogeas
6 Olivia Gollan (Aus) Nobili Rubinetterie - Menikini Cogeas
6 Miho Oki (Jpn) Nobili Rubinetterie - Menikini Cogeas
6 Elodie Touffet (Fra) Nobili Rubinetterie - Menikini Cogeas
6 Olga Slyusareva (Rus) Russia National Team
6 Svetlana Bubnenkova (Rus) Russia National Team
6 Natalia Boyarskaya (Rus) Russia National Team
6 Annette Beutler (Swi) Elk Haus Noe
6 Baerbell Jungmeier (Aut) Elk Haus Noe
6 Patricia Schwager (Swi) Elk Haus Noe
6 Meifang Li (Chn) China National Team
6 Pu Xiang Zhen (Chn) Giant Pro Cycling Team
6 Lang Meng (Chn) Giant Pro Cycling Team
6 Min Gao (Chn) Giant Pro Cycling Team
6 Toni Bradshaw (NZl) Trust House New Zealand National Team
6 Michelle Hyland (NZl) Trust House New Zealand National Team
6 Melissa Holt (NZl) Trust House New Zealand National Team
6 Susie Wood (NZl) Trust House New Zealand National Team
6 Dale Tye (NZl) Samsung New Zealand
6 Brei Gudsell (NZl) Samsung New Zealand
6 Lisa Haynes (NZl) Bp New Zealand
6 Serina Sheridan (NZl) Bp New Zealand
6 Natalie Bates (Aus) Chase Smart Mercedes-Benz
6 Hayley Brown (Aus) Chase Smart Mercedes-Benz
6 Karina Wilkinson (NZl) Wholly Bagels Team
6 Susanne Ljungskog (Swe) Sandoval Promotions
6 Daniela Pintarelli (Aut) Sandoval Promotions
6 Edwige Pitel (Fra) Sandoval Promotions
6 Josie Loane (Aus) Uknzjobs.Com
6 Tina Mayolo-Pic (Usa) Uknzjobs.Com
6 Martina Corazza (Ita) A.S. Team F.R.W
57 Xiong Yin Ruan (Chn) Giant Pro Cycling Team                      3.47
57 Joanne Buick (NZl) Samsung New Zealand
59 Kate Mercer (Aus) Sandoval Promotions                            5.15
60 Jenny Macpherson (Aus) Australian National Team                  6.46
60 Yanxia Jiang (Chn) Giant Pro Cycling Team
62 Amy Moore (Can) T-Mobile Team                                    6.47
62 Marta Villatosana (Spa) Nobili Rubinetterie - Menikini Cogeas
62 Yongli Liu (Chn) China National Team
62 Kara Northcott (NZl) Samsung New Zealand
62 Karen Fulton (NZl) Bp New Zealand
62 Gina Waible (NZl) Bp New Zealand
62 Emma James (Aus) Chase Smart Mercedes-Benz
62 Jennie Stenerhag (Swe) Uknzjobs.Com
62 Nikkie Egyed (Aus) Uknzjobs.Com
71 Tamara Boyd (NZl) Trust House New Zealand National Team          6.53
71 Marina Duvnyak (NZl) Samsung New Zealand
73 Rochelle Gilmore (Aus) Safi Pasta Zara Manhattan                 9.59
73 Ayako Toyooka (Jpn) Japan National Team
73 Irina Sempyanskaya (Rus) Russia National Team
73 Libo Ma (Chn) China National Team
73 Amy Mosen (NZl) Wholly Bagels Team
73 Kelly Benjamin (Usa) Sandoval Promotions
79 Anke Wickman (Ger) Equipe Nrnberger Versicherung                11.08
79 Tatiana Antoschina (Rus) Russia National Team
79 Jing Chen (Chn) China National Team
79 Nicola Cox (NZl) Dialed In Motion Team
79 Ombreta Ugolini (Ita) A.S. Team F.R.W
84 Emma Mackie (Aus) Australian National Team                      15.25
84 Marlen Johrend (Ger) German National Team
84 Isabella Wieser (Aut) Elk Haus Noe
84 Na Zhao (Chn) China National Team
84 Jessie Maclean (Aus) Chase Smart Mercedes-Benz
84 Donna Sibley (NZl) Dialed In Motion Team
84 Jenny Trew (Can) Uknzjobs.Com
84 Carly Hibberd (Aus) Uknzjobs.Com
84 Ketti Manfrin (Ita) A.S. Team F.R.W
84 Laura Pisaneschi (Ita) A.S. Team F.R.W
94 Silvia Valsecchi (Ita) Nobili Rubinetterie - Menikini Cogeas    19.06
94 Stacy Sims (NZl) Dialed In Motion Team
94 Emma Hutchings (NZl) Dialed In Motion Team
94 Vickie Burr (NZl) Dialed In Motion Team
98 Amanda Spratt (Aus) Australian National Team                    38.28
98 Robin Farina (Usa) Wholly Bagels Team
DNF Candice Sullivan (Aus) Australian National Team
DNF Hannah Banks (Aus) Australian National Team
DNF Prinsloo Dorette (NZl) Safi Pasta Zara Manhattan
DNF Ruijuan Liu (Chn) China National Team
DNF Melissa Pilla (NZl) Bp New Zealand
DNF Frith Brown (NZl) Bp New Zealand
DNF Erin Chamberlen (Aus) Chase Smart Mercedes-Benz
DNF Leonie Aisbett (Aus) Chase Smart Mercedes-Benz
DNF Pernille Fletcher (NZl) Wholly Bagels Team
DNF Nicola Johnson (NZl) Wholly Bagels Team
DNF Rosy Mccall (NZl) Wholly Bagels Team
DNF Carolyn Jenkins (NZl) Dialed In Motion Team
DNS Lauren Koedyk (NZl) Samsung New Zealand
 
General classification after stage 2
 
1 Sarah Ulmer (NZl) Trust House New Zealand National Team        5.09.32
2 Priska Doppmann (Swi) Univega Pro Team                            1.02
3 Trixi Worrack (Ger) Equipe Nrnberger Versicherung                 1.16
4 Elodie Touffet (Fra) Nobili Rubinetterie - Menikini Cogeas        1.58
5 Hayley Brown (Aus) Chase Smart Mercedes-Benz                      2.28
6 Judith Arndt (Ger) T-Mobile Team                                  2.44
7 Meifang Li (Chn) China National Team                              2.47
7 Josie Loane (Aus) Uknzjobs.Com
9 Dale Tye (NZl) Samsung New Zealand                                2.51
10 Melissa Holt (NZl) Trust House New Zealand National Team         2.55
11 Svetlana Bubnenkova (Rus) Russia National Team                   3.00
12 Susanne Ljungskog (Swe) Sandoval Promotions                      3.23
13 Susie Wood (NZl) Trust House New Zealand National Team           3.36
13 Edwige Pitel (Fra) Sandoval Promotions
13 Magali Le Floch (Fra) T-Mobile Team
16 Annette Beutler (Swi) Elk Haus Noe                               3.44
17 Toni Bradshaw (NZl) Trust House New Zealand National Team        3.45
18 Olga Slyusareva (Rus) Russia National Team                       3.46
19 Natalia Boyarskaya (Rus) Russia National Team                    3.52
20 Lang Meng (Chn) Giant Pro Cycling Team                           3.53
21 Nicole Cooke (GBr) Univega Pro Team                              3.54
22 Brei Gudsell (NZl) Samsung New Zealand                           3.58
23 Sarah Deuster (Ger) Univega Pro Team                             4.05
24 Serina Sheridan (NZl) Bp New Zealand                             4.27
25 Patricia Schwager (Swi) Elk Haus Noe                             4.28
26 Kimberly Baldwin (Usa) T-Mobile Team                             4.31
27 Masami Mashimo (Jpn) Japan National Team                         4.34
27 Olivia Gollan (Aus) Nobili Rubinetterie - Menikini Cogeas
27 Joanne Kiesanowski (NZl) Univega Pro Team
30 Amy Hunt (GBr) Safi Pasta Zara Manhattan                         4.38
31 Natalie Bates (Aus) Chase Smart Mercedes-Benz                    4.39
32 Karina Wilkinson (NZl) Wholly Bagels Team                        4.44
33 Emma Rickards (Aus) Univega Pro Team                             4.45
34 Akemi Morimoto (Jpn) Japan National Team                         4.46
35 Elke Gebhardt (Ger) German National Team                         4.53
36 Lisa Haynes (NZl) Bp New Zealand                                 5.00
37 Charlotte Goldsmith (GBr) Safi Pasta Zara Manhattan              5.08
38 Youko Okuda (Jpn) Japan National Team                            5.15
39 Martina Corazza (Ita) A.S. Team F.R.W                            5.32
40 Giorgia Bronzini (Ita) A.S. Team F.R.W                           5.52
41 Baerbell Jungmeier (Aut) Elk Haus Noe                            6.03
41 Claudia Stumpf (Ger) German National Team
43 Min Gao (Chn) Giant Pro Cycling Team                             7.01
44 Oenone Wood (Aus) Equipe Nrnberger Versicherung                  7.23
45 Eva Lutz (Ger) Equipe Nrnberger Versicherung                     9.39
46 Daniela Pintarelli (Aut) Sandoval Promotions                     9.51
47 Yongli Liu (Chn) China National Team                             9.54
48 Joanne Buick (NZl) Samsung New Zealand                          10.48
49 Emma James (Aus) Chase Smart Mercedes-Benz                      11.21
50 Amy Moore (Can) T-Mobile Team                                   11.23
51 Gina Waible (NZl) Bp New Zealand                                11.26
52 Nikkie Egyed (Aus) Uknzjobs.Com                                 11.39
53 Jenny Macpherson (Aus) Australian National Team                 12.08
54 Marina Duvnyak (NZl) Samsung New Zealand                        13.00
55 Yanxia Jiang (Chn) Giant Pro Cycling Team                       13.49
56 Jennie Stenerhag (Swe) Uknzjobs.Com                             13.51
57 Karen Fulton (NZl) Bp New Zealand                               14.06
58 Libo Ma (Chn) China National Team                               14.19
59 Jing Chen (Chn) China National Team                             14.34
60 Ayako Toyooka (Jpn) Japan National Team                         15.22
61 Amy Mosen (NZl) Wholly Bagels Team                              16.55
62 Tamara Boyd (NZl) Trust House New Zealand National Team         17.21
63 Tatiana Antoschina (Rus) Russia National Team                   18.11
64 Ombreta Ugolini (Ita) A.S. Team F.R.W                           18.26
65 Marlen Johrend (Ger) German National Team                       20.29
66 Jenny Trew (Can) Uknzjobs.Com                                   20.39
67 Emma Mackie (Aus) Australian National Team                      21.34
68 Na Zhao (Chn) China National Team                               21.35
69 Isabella Wieser (Aut) Elk Haus Noe                              21.47
70 Anke Wickman (Ger) Equipe Nrnberger Versicherung                22.03
71 Ketti Manfrin (Ita) A.S. Team F.R.W                             22.23
72 Laura Pisaneschi (Ita) A.S. Team F.R.W                          23.03
73 Nicola Cox (NZl) Dialed In Motion Team                          23.12
74 Donna Sibley (NZl) Dialed In Motion Team                        25.06
75 Emma Hutchings (NZl) Dialed In Motion Team                      27.23
76 Vickie Burr (NZl) Dialed In Motion Team                         29.25
77 Amanda Spratt (Aus) Australian National Team                    46.56
 
Mountains classification
 
1 Nicole Cooke (GBr) Univega Pro Team                                  3 pts
2 Annette Beutler (Swi) Elk Haus Noe                                   2
3 Judith Arndt (Ger) T-Mobile Team                                     1
 
Sprints classification
 
1 Dale Tye (NZl) Samsung New Zealand                                  11 pts
2 Josie Loane (Aus) Uknzjobs.Com                                       8
3 Melissa Holt (NZl) Trust House New Zealand National Team             5
4 Priska Doppmann (Swi) Univega Pro Team                               5
5 Tamara Boyd (NZl) Trust House New Zealand National Team              3
6 Miho Oki (Jpn) Nobili Rubinetterie - Menikini Cogeas                 2
7 Nicole Cooke (GBr) Univega Pro Team                                  2
8 Judith Arndt (Ger) T-Mobile Team                                     1
9 Natalia Boyarskaya (Rus) Russia National Team                        1
10 Emma Rickards (Aus) Univega Pro Team                                1
11 Trixi Worrack (Ger) Equipe Nrnberger Versicherung                   1
12 Hayley Brown (Aus) Chase Smart Mercedes-Benz                        1
13 Elodie Touffet (Fra) Nobili Rubinetterie - Menikini Cogeas          1