Trust House Women's Tour - 2.2
New Zealand, March 1-3, 2006
Another windy week
A huge international field hits Wellington
Last years winner Catherine Sell (New Zealand)
Photo ©: Mike Heydon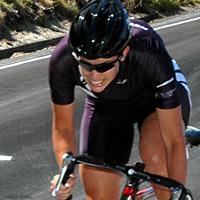 After starting their season in Geelong, Australia last week, a large majority of the international women's field headed straight across the Tasman to the southern tip of New Zealand's North Island this week to compete in the Trust House Women's Tour followed by round two of the UCI Women's World Cup Series.
Starting with a criterium on Wednesday night, the tour continues with a double stage day on Thursday including a 99km road race and another criterium, then a 14km time trial on the third and final day. The three days of racing will be another good warm-up for the challenging World Cup course in downtown Wellington on Sunday.
Last years tour winner Catherine Sell (New Zealand) is not on the start list, but a world class field will line up, including last weeks winner of the Geelong Tour and world ranked number one, Oenone Wood (Nürnberger) as well as second place in Geelong, local New Zealander Melissa Holt. The race also boasts a couple of former world champions in Judith Arndt (T-Mobile) and Susanne Ljungskog (Buitensport Flexpoint).
Also on the start list is Olympic Pursuit Champion and New Zealand hero Sarah Ulmer who showed her form in Australia last week and will head up the Trust House New Zealand team and recently crowned World Cup leader Ina-Yoko Teutenberg (T-Mobile).
Last year the race was won in the 99km road race where a break of 5 riders rode away from the field on a windy day typical of the region. This year the weather looks to be just as windy with chances of rain.