Trust House Women's Tour - 2.2
New Zealand, March 1-3, 2006
Main Page Results Overall standings Stage Details Previous Stage
Stage 4 - March 4: Wellington - Miramar peninsular ITT, 14km
Ulmer strong in blustery time trial
By Nick Warren in Wellington
She's loving it!
Photo ©: Paul Millin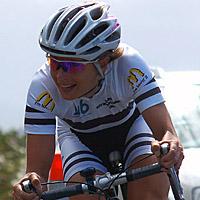 It was always going to be a tough call for Priska Doppmann (Univega) and Trixi Worrack (Equipe Nurnberger) to overthrow Sarah Ulmer (Trust House NZ) from the top of the podium on the Tour's final 14km time trial stage.
Lying second and third respectively, Doppmann and Worrack were a mere eight and 12 seconds behind Ulmer on the overall standings. As it turned out, Ulmer's time of 16 minutes 7 seconds was 31 seconds faster than her nearest rival and more than enough to seal the Tour. Given that her year has been focussed on peaking her form to win the Commonwealth Games time trial, which is just three weeks away, it would have taken a monumental effort to upstage the Kiwi riding hero. "I felt great today," said Ulmer after the finish. "This is all part of a bigger picture with the Games coming up and Sunday's (World Cup) race, but it's important for Kiwis to perform well on home soil and I think we've done that."
It was a typical Wellington day, with strong, blustery winds along the exposed coastal course on Scorching Bay. While many riders seemed to struggle on the return leg which was subject to fierce headwinds, China's national team riders excelled. They topped the leader board for most of the day, first with Chen Jing (17 minutes 27 seconds) and then with eventual second place getter Meifang Liu who was first to break the 40km/h average speed mark with 16 minutes 38 seconds.
Ulmer pushes hard
Photo ©: Nick Warren

Many of the competitors were obviously uninspired by the prospect of a 14km windy waterfront effort and were seemingly saving themselves for Sunday's World Cup. World number one Oenone Wood (Equipe Nurnberger), wearing leggings and a winter jacket barely got out of the saddle at the start and returned a time of 21 minutes 31 seconds. New Zealand's Tammy Boyd, who had worked so hard during the previous day's two stages to defend Ulmer's yellow jersey, cruised round in 24 minutes.
The three top riders on general classification however, Ulmer, Doppmann and Worrack, were interested in racing. Worrack clocked a respectable 17 minutes 11 seconds but just a couple of minutes later Ulmer stormed through, nearly catching Doppmann (17 minutes 1 second) on the finish line. Judith Arndt (T-Mobile) finished with the stage's third fastest time of 16 minutes 52 seconds.
Liu was stoked with her hard won second spot, rescuing her team's relatively anonymous performance at the Tour. Ulmer's good fitness looks set to continue, but she warned of complacency heading into the World Cup race. "There are a lot of girls who didn't really race today but they'll no doubt show their face on Sunday." The cyclists have a day off on (Saturday before the second World Cup round takes place over 20 laps of a 6.5km course around Wellington's CBD. Racing kicks off outside Parliament's Beehive building at 12.30pm.
Photography
For a thumbnail gallery of these images, click here
Images by Paul Millin
Images by Nick Warren/Cyclingnews.com
Images by CJ Farquharson/WomensCycling.net
Results
1 Sarah Ulmer (NZl) Trust House New Zealand National Team          16.06
2 Meifang Li (Chn) China National Team                              0.31
3 Judith Arndt (Ger) T-Mobile Team                                  0.45
4 Melissa Holt (NZl) Trust House New Zealand National Team          0.49
5 Svetlana Bubnenkova (Rus) Russia National Team                    0.54
6 Priska Doppmann (Swi) Univega Pro Team
7 Trixi Worrack (Ger) Equipe Nrnberger Versicherung                 1.04
8 Yongli Liu (Chn) China National Team                              1.08
9 Jing Chen (Chn) China National Team                               1.20
10 Susanne Ljungskog (Swe) Sandoval Promotions                      1.24
11 Susie Wood (NZl) Trust House New Zealand National Team           1.30
11 Edwige Pitel (Fra) Sandoval Promotions
13 Lang Meng (Chn) Giant Pro Cycling Team                           1.31
14 Natalia Boyarskaya (Rus) Russia National Team                    1.36
15 Toni Bradshaw (NZl) Trust House New Zealand National Team        1.39
16 Elodie Touffet (Fra) Nobili Rubinetterie - Menikini Cogeas       1.40
16 Olga Slyusareva (Rus) Russia National Team
18 Annette Beutler (Swi) Elk Haus Noe                               1.45
19 Nicole Cooke (GBr) Univega Pro Team                              1.48
20 Kimberly Baldwin (Usa) T-Mobile Team                             1.51
21 Brei Gudsell (NZl) Samsung New Zealand                           1.52
22 Baerbell Jungmeier (Aut) Elk Haus Noe                            1.54
23 Dale Tye (NZl) Samsung New Zealand                               1.57
24 Marina Duvnyak (NZl) Samsung New Zealand                         1.58
25 Sarah Deuster (Ger) Univega Pro Team                             1.59
26 Hayley Brown (Aus) Chase Smart Mercedes-Benz                     2.10
27 Josie Loane (Aus) Uknzjobs.Com                                   2.12
28 Libo Ma (Chn) China National Team                                2.14
29 Serina Sheridan (NZl) Bp New Zealand                             2.15
30 Patricia Schwager (Swi) Elk Haus Noe                             2.16
31 Amy Hunt (GBr) Safi Pasta Zara Manhattan                         2.22
31 Emma James (Aus) Chase Smart Mercedes-Benz
33 Natalie Bates (Aus) Chase Smart Mercedes-Benz                    2.23
34 Karina Wilkinson (NZl) Wholly Bagels Team                        2.32
35 Akemi Morimoto (Jpn) Japan National Team                         2.34
36 Masami Mashimo (Jpn) Japan National Team                         2.35
36 Olivia Gollan (Aus) Nobili Rubinetterie - Menikini Cogeas
38 Amy Moore (Can) T-Mobile Team                                    2.37
39 Joanne Kiesanowski (NZl) Univega Pro Team                        2.39
40 Gina Waible (NZl) Bp New Zealand                                 2.40
41 Elke Gebhardt (Ger) German National Team                         2.44
41 Tatiana Antoschina (Rus) Russia National Team
43 Emma Rickards (Aus) Univega Pro Team                             2.46
44 Amy Mosen (NZl) Wholly Bagels Team                               2.47
45 Lisa Haynes (NZl) Bp New Zealand                                 2.48
46 Min Gao (Chn) Giant Pro Cycling Team                             2.52
46 Joanne Buick (NZl) Samsung New Zealand
48 Nikkie Egyed (Aus) Uknzjobs.Com                                  2.53
49 Yanxia Jiang (Chn) Giant Pro Cycling Team                        2.54
50 Jennie Stenerhag (Swe) Uknzjobs.Com                              2.55
51 Jenny Trew (Can) Uknzjobs.Com                                    3.02
52 Marlen Johrend (Ger) German National Team                        3.05
53 Charlotte Goldsmith (GBr) Safi Pasta Zara Manhattan              3.09
53 Youko Okuda (Jpn) Japan National Team
53 Magali Le Floch (Fra) T-Mobile Team
53 Ombreta Ugolini (Ita) A.S. Team F.R.W
57 Karen Fulton (NZl) Bp New Zealand                                3.10
58 Donna Sibley (NZl) Dialed In Motion Team                         3.22
59 Jenny Macpherson (Aus) Australian National Team                  3.23
60 Ayako Toyooka (Jpn) Japan National Team                          3.24
61 Daniela Pintarelli (Aut) Sandoval Promotions                     3.32
62 Martina Corazza (Ita) A.S. Team F.R.W                            3.33
63 Claudia Stumpf (Ger) German National Team                        3.51
64 Giorgia Bronzini (Ita) A.S. Team F.R.W                           3.57
65 Emma Mackie (Aus) Australian National Team                       4.00
65 Nicola Cox (NZl) Dialed In Motion Team
65 Vickie Burr (NZl) Dialed In Motion Team
68 Emma Hutchings (NZl) Dialed In Motion Team                       4.08
69 Na Zhao (Chn) China National Team                                4.11
70 Amanda Spratt (Aus) Australian National Team                     4.19
71 Laura Pisaneschi (Ita) A.S. Team F.R.W                           4.22
72 Isabella Wieser (Aut) Elk Haus Noe                               4.23
73 Ketti Manfrin (Ita) A.S. Team F.R.W                              4.49
74 Oenone Wood (Aus) Equipe Nrnberger Versicherung                  5.24
75 Eva Lutz (Ger) Equipe Nrnberger Versicherung                     5.30
76 Anke Wickman (Ger) Equipe Nrnberger Versicherung                 6.46
77 Tamara Boyd (NZl) Trust House New Zealand National Team          8.10
 
Final general classification
 
1 Sarah Ulmer (NZl) Trust House New Zealand National Team
2 Priska Doppman (Swi) Univega
3 Trixie Worrack (Ger) Nürnberger Versicherung
 
Mountains classification
 
1 Nicole Cooke (GBr) Univega Pro Team                                  3 pts
2 Annette Beutler (Swi) Elk Haus Noe                                   2
3 Judith Arndt (Ger) T-Mobile Team                                     1
 
Sprints classification
 
1 Dale Tye (NZl) Samsung New Zealand                                  11 pts
2 Josie Loane (Aus) Uknzjobs.Com                                       8
3 Melissa Holt (NZl) Trust House New Zealand National Team             5
4 Priska Doppmann (Swi) Univega Pro Team                               5
5 Tamara Boyd (NZl) Trust House New Zealand National Team              3
6 Miho Oki (Jpn) Nobili Rubinetterie - Menikini Cogeas                 2
7 Nicole Cooke (GBr) Univega Pro Team                                  2
8 Judith Arndt (Ger) T-Mobile Team                                     1
9 Natalia Boyarskaya (Rus) Russia National Team                        1
10 Emma Rickards (Aus) Univega Pro Team                                1
11 Trixi Worrack (Ger) Equipe Nrnberger Versicherung                   1
12 Hayley Brown (Aus) Chase Smart Mercedes-Benz                        1
13 Elodie Touffet (Fra) Nobili Rubinetterie - Menikini Cogeas          1