Giro d'Italia Cycling News for May 15, 2006
Edited by Jeff Jones
Stage 8 wrap-up: Basso blasts the rest on the Passo Lanciano
A happy Ivan Basso
Photo ©: Sirotti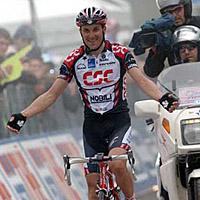 Ivan Basso (CSC) has made his first big move in this year's Giro, winning the eighth stage between Civitanova Marche and Maielletta Passo Lanciano. Basso countered a move by Damiano Cunego in the last four kilometres of the final 12.3 km climb, and finished with a 30 second advantage on Lampre's 'Little Prince'. Third place, in the same time, was Phonak's José E. Gutierrez, while the rest of the favourites lost between one and three minutes: Simoni lost 1'15, Di Luca 1'32, Savoldelli 2'20, and Gonchar 2'35.
The general classification shows some big time gaps for the first time, as Basso took the maglia rosa. Gutierrez is the next best placed at 1'34, then Cunego at 1'48. Savoldelli slipped back to fourth at 2'35, and all of the top GC riders will have to rely on Basso having a bad day to get that time back.
Coming up on
Cyclingnews will cover the 60th edition of the Dauphiné Libéré live as of stage 4 on Wednesday, June 10, at approximately 15:00 local Europe time (CEST)/ 23:00 Australian time (CDT)/ 9:00 (USA East).

WAP-enabled mobile devices: http://live.cyclingnews.com/wap/

The stage was run at a very fast average speed of just under 42 km/h. A break of 14 riders escaped on the flat after 54 km, with Marzio Bruseghin (Lampre-Fondital) the best placed on GC at 3'46. The breakaways were never given that much room by the bunch, and the gap was only 50 seconds once the foot of the final climb was reached. Bruseghin persisted for the longest, until the bunch blew to bits under the impulse of CSC and Saunier Duval. Gonchar was dropped with 9 km to go, then Savoldelli a couple of km later. Basso, Sastre, Simoni, Piepoli, Cunego, Mazzanti, Gutierrez, Caruso, Di Luca and Rujano were left, but when the real attacking started with 5 km to go, Basso emerged as the most powerful rider.
See also: Stage 8 full results, report & photos and Live report.
Scott Sunderland's Giro diary: In the pink
Ivan Basso (CSC)
Photo ©: Sirotti

Last time I wrote, we had just won the team time trial. This time we're in pink, so the least I can say is that it's been good!
I always found it a magic period, getting into the second week. Everybody is just starting to find their rhythm for the next two weeks. It's been very busy for the mechanics and soigneurs, a lot of work from the transfer to the TT, followed by a dead flat sprinters' stage and then two hard and long race days. We've been able to deal with it ok so far. The riders are well looked after by the staff, and we've got cook Soren who's waiting on them for brekky and dinner.
There was a bit of tiredness to be noticed today though, a few tired bodies to be seen out on the bike. Yesterday was a demanding day for everyone, a real day of attrition. Then today we had the first of the mountain top finishes. We came into today's stage and I think everyone was feeling a bit tired; so were our boys. But Ivan, well, Ivan was ready for it. And you've seen that too.
We were feeling confident but our vision wasn't clouded, we didn't get overly positive. Firstly the team directors had a meeting - Bjarne, Allain, and myself - and we talked about the different possible scenarios. Really, today, there weren't too many unexpected things that could happen due to the parcours. It was different to yesterday where, as we saw confirmed, anything could happen; the boys had to be on their toes all the time. Keeping control is pretty difficult on a day like yesterday. It was like moving pieces around the board to have everything covered. A parcours like today's was easier to read and the moves easier to anticipate. The break was controlled to the foot of the climb, and the strongest guy arrived first on the top of the mountain.
Click here for the full entry
Cunego crashes, but finishes second
Damiano Cunego (Lampre)
Photo ©: Sirotti

Damiano Cunego had a solid ride in the eighth stage, showing that he's back to his best in finishing half a minute behind Ivan Basso on Maielletta. Cunego didn't have it all his own way, though, as he actually crashed a few kilometres before the final climb started, according to his team. Cunego was relatively uninjured, and he was still one of the best on the climb. His teammate Paolo Fornaciari also crashed towards the end of the stage, bruising his knee.
Caruso good for Liberty
Liberty Seguros-Wurth had a mixed day in Stage 8 of the Giro d'Italia, with Giampaolo Caruso riding very well to finish fourth in the stage and move up to eighth overall, but crashes and injuries plaguing the other riders. Caruso finished 45 seconds behind winner Ivan Basso, beating favourites such as Gilberto Simoni, Danilo Di Luca, Paolo Savoldelli, and Serguei Gonchar.
Giampaolo Caruso (Liberty Seguros)
Photo ©: Sirotti

On the other hand, Michele Scarponi did not have a good day. He crashed at kilometre zero and although he didn't suffer too many injuries, he was not strong on the final climb and lost 2'34 to Basso, and is now in 15th overall at 4'47.
Daniel Navarro, who up until yesterday had ridden a good race, suffered from the injury he sustained yesterday: a broken fourth finger in his right hand. Team doctor Sergio Quilez will try to keep Navarro in the race with a bandage to avoid the pain.
Caisse d'Epargne going for stage wins
With José Ivan Gutierrez Palacios finishing 29th today at 3'46, slipping to 21st on GC, Caisse d'Epargne-Illes Balears has abandoned any thoughts of a high general classification. "We lost plenty of time in the first mountain stage, where Iván Gutiérrez was the only one who was able to follow the favourites' rhythm," declared team director Eusebio Unzue. "We have to forget the general classification and focus on the stage wins. From now on, we will give it all to go and win one of them!"
Ullrich "very satisfied" with his Giro ride
"I am very satisfied with how the first stages have gone," said T-Mobile's Jan Ullrich of his only second-ever Giro d'Italia. "I have been able to do what I set out to do. I feel how my form is coming. The preparations for the Tour are going well." On www.t-mobile-team.com, he also praised his teammates Olaf Pollack and Serguei Gonchar for winning the leader's jersey. "Of course that was great. The whole team has worked well. Too bad we weren't able to win the team time trial. Losing by only one second to CSC is a little irritating."
He added that he would not be riding all out in the upcoming mountain stages. "I will surely not ride so hard every day as I did in the seventh stage, where I rode along with the best. I am still continuing to use the Giro as preparation for the Tour de France in July." Ullrich finished over 16 minutes down on Sunday's mountaintop finish, and he reiterated, "I cannot and will not ride ride on my limit every day."
Directeur sportif and Ullrich mentor Rudy Pevenage was also satisfied with his charge's progress. "Jan is getting better step by step. The last three stages were very difficult, but he has looked very good."
Courtesy of Susan Westemeyer
Bad luck continues for Brown
Graeme Brown (l) with Mat Hayman
Photo ©: Gennie Sheer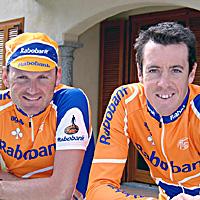 After narrowly missing out on stage wins at this year's Giro d'Italia, Graeme Brown was forced to withdraw following a crash early in stage 7 from Cesena to Saltara. It continues a bad run of luck Brown has experienced in recent times, with the Australian coming down for the fifth time in a matter of weeks, as Les Clarke reports.
"I crashed after about 15 kilometres of the stage," said Brown. "One of the T-Mobile guys [Andre Korff - ed.] was looking around and I crashed into him." The crash brought down a number of riders, as Brown explained, and this latest accident has him baffled as to why he's been having so much bad luck lately. "That's my fifth [crash] in a few weeks," said Brown before he added with a laugh, "I'm trying to tell what I've done wrong to get all this bad luck!"
This latest accident means Brown's racing program will change, and a planned mid-season break in Australia may be foregone to concentrate on getting his season back on track. "The original plan was to do another week of the Giro before I headed back to Australia for a break to just freshen up and get set for the rest of the season," said Brown, "But now I may not be able to do that - I don't really mind, though," he added.
Click here for the full feature
(All rights reserved/Copyright Knapp Communications Pty Limited 2006)