Giro d'Italia news feature, May 5, 2005
A mixed mission for Rabobank
At the 2006 Giro d'Italia, the phrase 'all for one and one for all' may apply to teams like CSC and Discovery Channel with outright leaders, but for Dutch squad Rabobank, it's quite the reverse, with virtually every one of their nine riders entering the first Grand Tour of the year for different reasons. On an unusually warm Thursday afternoon in Maastricht, Cyclingnews' Anthony Tan went to the team's hotel and spoke with three of their riders - Michael Rasmussen, Mathew Hayman and Graeme Brown - as well as first assistant directeur-sportif for the Giro, Frans Maassen.
Michael Rasmussen says the pressure's totally off him
Photo ©: Anthony Tan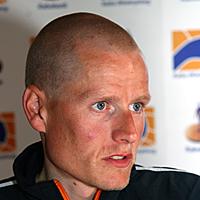 Michael Rasmussen
So far this season, last year's Tour de France mountains winner hasn't posted a single result of note. And he isn't intending to change the situation anytime soon, either.
"My team-mates, they don't have any problems with it at all; they know why I'm here," says Rasmussen.
"I'll do my share of the job, but at the same time, they know they can't expect anything from me - and I don't expect anything from them, either. I'm not a protected rider here, and I have to take care of myself, like everybody else except for [Mauricio] Ardila; for the rest, they have to see if they can get in the breakaways or win a stage in the next three weeks."
The 31 year-old Dane spent part of the winter working on improving his time trialing position in the velodrome, and only two days ago in Apeldoorn, underwent wind-tunnel testing. Memories of what happened to him on that Saturday in Saint-Etienne are hard to forget, and most likely hardest for Rasmussen. But who'd dare ask him again, when he's been asked a thousand times already?
As for the results of his modified position, the best test will be on Thursday, May 18 in Pontedera, where a 50 kilometre flat-as-a-tack time test awaits. [Cyclingnews will also feature Rasmussen's TT bike in the coming days - ed.]
So when did he decide to ride the Giro, and was he encouraged by the likes of Basso or Ullrich to ride a lap of Italy?
"Well, to answer your last question first," begins Rasmussen, "I don't care what the other guys do - I do what's best for me. I've been giving it a lot of thought, and at first, it just came naturally to follow the same program as the other Tour riders [on the team] who are going to the Volta a Catalunya and Dauphine.
"But then [Frans] Maassen told me you can go to the Giro under the same conditions as last year, if you want to, and I accepted immediately. Italy is my home country, more or less, and we don't have a lot of race days [there]. I really enjoy racing in Italy, so that's also part of the reason. Otherwise, I'll do one race in Italy a year, and that would be the Tour of Lombardy."
With much of the debate centring around the difficulty of the third week, the man they nickname 'Chicken' says there's too ways of looking at things: "It's definitely a hard Giro and it could of been done a different way to make it more doable for many riders," he said. "There's a large risk that there will only be 100 riders coming to Milan, the way they've put it together this year.
"If you look at the parcours of the Tour, it's not as difficult as the Giro. But at the end of the day, it's the riders who make the race; you can go up the Galibier slow and it's not hard - but if you go over a two kilometre climb at 45 k's an hour and there's only eight guys left, that makes all the difference.
"The Tour de France is the best of the best of the best: the twenty best teams in the world that bring their nine best riders in the best possible condition; the Giro is more of a national tour but we are obliged to be there. We go there with a mix of old guys and young guys for whom it is their first experience [at a Grand Tour], and the team can experiment a little bit. You cannot do that at the Tour."
For Graeme Brown, it's quite the reverse,
Photo ©: Anthony Tan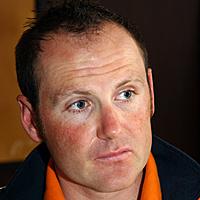 Mathew Hayman
It's a little ironic that a little over a week ago, Commonwealth Games champion Mathew Hayman was in Italy, visiting the new Cycling Australia - AIS (Australian Institute of Sport) high performance base in Castronno, but on the eve of the Giro, he finds himself back in The Netherlands.
"It feels a bit weird starting here," Hayman says with a small grin, "but I'm sure we'll get into it quick enough. My last Giro was in 2002, I think, and that started in Groningen in Holland. Every time I start the Giro... I mean, I live three k away from here."
For the 28 year-old from Canberra, it must feel like he's about to head out for a training ride, rather than start a three-week tour.
"Yeah, showing the boys which bike paths I normally train on," he jokes. "I'll go home this afternoon and put a load of washing on!"
More seriously, though, Hayman's here for a fairly specific reason, particularly in the first week, where he'll act as Graeme Brown's lead-out man, guiding him through the mayhem of those fast and furious final kilometres. But he almost didn't make it.
"In [Rund um den] Henninger Turm, I crashed after about 30k, so my knee's blown up a bit and a bit of skin off, but it's not going to cause a problem. After about 30k, I was going down a steep descent and people just started braking and falling off. It's just one of those things, though I didn't come away as bad as some others - I heard three or four got carted away to hospital, so I think I got off pretty lightly," he says.
Asked if he'll try and take it easy for the first few days, Hayman says there isn't time for that - he's got a job to do.
"Graeme's pretty excited about the first few flat stages, so we're going to try and do as much as we can to get him up there in the sprints.
"It's something I'm pretty new to, helping lead people out in the sprints, and Graeme's starting to expect a few things from here and it's put a bit of pressure on me trying to help him out. We're starting to work pretty well together, I think. So there's a bit of pressure from him; he's keen to do really well, and the better I do, the better he can [do]. In Germany [at the Rheinland-Pfalz Rundfahrt - ed.], we started working well together; it's not perfect yet but the more we ride together, the better I'm getting."
After a solid Spring, it sounds as if he's keen to put another feather in his cap of talents, believing it will aid his own objectives later on, should the opportunity present itself.
Says Hayman: "I'm not gonna roll Petacchi or Boonen or McEwen in a sprint, so why not help Graeme out, who has a chance in the sprints against those guys?
"For me to help out, it's no problem. And while I'm doing that, it's given me a lot of training; I think it's only to my advantage if, later on in the year, it comes down to 10 or 12 guys in a race, and I've been helping Graeme out and leading sprints out...
"Everybody here has an opportunity and I've said it before about this team: although you're often asked to work for somebody, there's plenty of times during the year you get your own chance, so you can never say you're never given a chance. I mean, I'll be working for Graeme in the sprint stages and there's the mountain stages which aren't going to suit me, but anything else... " he says wistfully, already envisaging such a scenario.
But back to reality and now: "It's a bit hard to mess up Petacchi's train with just two guys, but we just have to see how we're going, profit from the others and use that to our advantage - try and hide a bit in the bunch and see what we can do," Hayman says.
Graeme Brown & Frans Maassen
First assistant directeur-sportif for the Giro, Frans Maassen,
Photo ©: Anthony Tan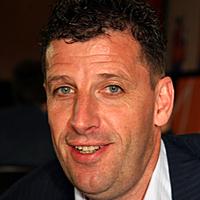 When we caught up with first assistant directeur-sportif Frans Maassen, he was happily sitting next to another of the team's Australians, their sprinter Graeme Brown, telling Cyclingnews it won't just be Hayman helping out 'Brownie' if he's in a position to win.
"I think five," says Maassen.
"Five when it's really a stage for him, but the most important man for him is Mathew, and I'm very happy that he still is here because he crashed three days ago in Frankfurt and there was a bit of doubt that maybe he was out [out of the Giro]. Now that he's here, it's really important, and I know he will do everything for Graeme to bring him in a good position."
Brown acknowledges the importance of having his lead-out man there by his side, and an Aussie at that: "The best part about it for us is that we know how to communicate," he says.
"If it's 1000 metres to go and I'm yelling at someone from Denmark or Colombia to go, it's like, 'What, what, what?' I can say to him [Hayman] any way and he's going to understand it - 'Get on with it', 'Chop chop', whatever, he's going to understand it. So there's no breakdown in communication, and we can get on with the task ahead."
But is up to five guys going to be enough against the teams of Petacchi and McEwen?
"I think it is," says Maassen, "because in the Tour, you have four, five, six, seven of these trains, and you also have the train of Boonen. There are more sprinters in the Tour, but here there are a little less sprinters. Of course, we don't have a train like Petacchi or like McEwen, but he [Brown] knows to put himself in a good position between these guys and he knows how important it is to have good position."
While 2006 marks the first year on a ProTour team for Brown, it isn't his first stab at a Grand Tour. In 2002, the 27 year-old Syndeysider rode the Giro d'Italia for the first time and came close to victory on a number of occasions, with his best result a second place on the opening road stage that finished in the German town of Munster. Not surprisingly, memories of mixing it up with the likes of Mario Cipollini or Robbie McEwen give him plenty of hope,
"And the fact that I'm five kilos lighter probably helps," Brown adds, grinning at his own deadpan humour. "I wasn't exactly in the best form of my life there and did some good results; now, I probably have the best form of my life, so hopefully I can go better."
Adds Maassen, who seems to have taken a real liking to this larrikin Aussie: "He fought last week against Petacchi and he knows how to sprint and how he will do it. Of course, he needs a little bit of luck because Petacchi is the big favourite. Fifth place is already very good, but we hope one day everything will fall into place. You saw last year with Henk Vogels [referring to the sixth stage that finished in Marina Di Grosseto, where McEwen attempted to give Vogels the win by soft-pedaling]: he didn't win but he almost won the stage - you never know, anything's possible."
It sounds like the team's expecting a stage win, then, we say to Brown.
"Ask the boss," says Brown, who turns towards Maassen.
"Expecting is a big word," replies Maassen, "but I know it's possible and he knows it and he feels it, and maybe it will work in these first ten days... I saw it last week; twice, he was very close to Petacchi. Of course, we are hoping he can do it and I believe he can do it. We need a little bit of luck, but the first thing is to be very strong and to be at the top level [of fitness], and he feels very strong...
"Why not? It could be the moment now."