Recently on Cyclingnews.com
News feature, May 15, 2006
Bad luck continues for Brown
Graeme Brown (l) with Mat Hayman
Photo ©: Gennie Sheer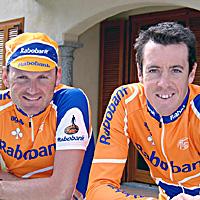 After narrowly missing out on stage wins at this year's Giro d'Italia, Graeme Brown was forced to withdraw following a crash early in stage 7 from Cesena to Saltara. It continues a bad run of luck Brown has experienced in recent times, with the Australian coming down for the fifth time in a matter of weeks, as Les Clarke reports.
"I crashed after about 15 kilometres of the stage," said Brown. "One of the T-Mobile guys [Andre Korff - ed.] was looking around and I crashed into him." The crash brought down a number of riders, as Brown explained, and this latest accident has him baffled as to why he's been having so much bad luck lately. "That's my fifth [crash] in a few weeks," said Brown before he added with a laugh, "I'm trying to tell what I've done wrong to get all this bad luck!"
This latest accident means Brown's racing program will change, and a planned mid-season break in Australia may be foregone to concentrate on getting his season back on track. "The original plan was to do another week of the Giro before I headed back to Australia for a break to just freshen up and get set for the rest of the season," said Brown, "But now I may not be able to do that - I don't really mind, though," he added.
Brown will now ride the Tour of Luxembourg, and although it's a much smaller field with less stars than the Giro, it offers the Rabobank sprinter the chance to put a few results on the board, by his own admission something which has been hard in 2006. "It'll be good if I can get my first win [in 2006] because I feel good - the morale's good," he said. He explained that despite some second and third placings, wins have been hard to come by - for good reason, though - he was up against the best in the business at their best.
After stage 2 of this year's Giro
Photo ©: Brecht Decaluwé

Brown finished third behind Alessandro Petacchi and Tom Boonen on stage 3 and stage 4 of the Ruta del Sol in February this year, and although he admitted sprinting against the best sprinters is good for his own development, it doesn't do many favours for his list of results - "It's good to improve my sprinting but not for results," said Brown wryly. He also said that while Boonen is a "freak of nature", he believes Petacchi is beatable, something he hoped to do at the Giro.
But it didn't quite work out in the early sprinter's stages throughout Belgium, because, according to Brown, "I was making massive mistakes - [I was] starting the sprint too early," which meant he ended stage 2, won by countryman Robbie McEwen, in tenth place, and ended the sprint finish of stage 4 in Hotton back in 14th.
It's now a case of, "going back to the drawing board" for Brown after his tough time at the Giro, but he's staying upbeat and has the support of his Rabobank team. "My director believes I could've done better, but he's not p***ed off, just a bit disappointed," said Brown. "I know I could've done better - it's my fault and I'm not trying to blame anyone," he added and said that he'll watch video footage of previous sprints to try and fix whatever is ailing the fast Aussie's finish.
Brown with wife Hayley
Photo ©: Anthony Tan

"It's not a question of of strength or speed, but just putting it all together," said Brown, who could be excused for being a little behind in his season after such a poor run of luck has meant racing and training time have been limited. This will hopefully be rectified with good performances in Luxembourg according to the Olympic gold medallist, who is also confident Rabobank are looking to the future to get the most of the Australian, and his recent misfortune shouldn't jeopardise any arrangements made when he arrived at the Dutch squad.
"They do talk about development," said Brown. "Hopefully that's what they want to do, and when we signed the contract they said I'm still young, which is good." Part of that development means Brown will ride the races that suit him, which may include the Vuelta a Espana, a good opportunity to gain more grand tour experience. Brown's keen to ride in Spain after his premature end to his Italian odyssey, but first it's time for treatment to a bruised hip suffered in his accident from Australian physiotherapist Margaret Hemsley in Frankfurt.
As for the remainder of the Giro, most observers have predicted it'll be the race of attrition, something Brown agrees with - which is natural, as he's a sprinter. "There'll be lots out by Milan," he said.