First Edition Cycling News for May 14, 2006
Edited by Jeff Jones
Stage 7 wrap-up: Verbrugghe with a brilliant finish
Gonchar back in pink after Giro's longest day
A tired Rik Verbrugghe
Photo ©: Sirotti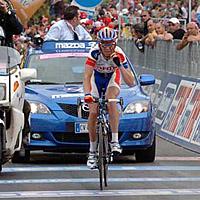 Belgian Rik Verbrugghe (Cofidis) scored a surprise stage win today in the longest leg of the Giro d'Italia, 236 km between Cesena and Saltara. Attacking the lead break of five with just five kilometres to go and the peloton chasing at 40 seconds, Verbrugghe opened up a gap that was enough to carry him to the finish. Paolo Savoldelli (Discovery Channel) led the peloton up the final climb to eventually take second, 14 seconds behind the Belgian, while Luca Mazzanti (Panaria) was third. Serguei Gonchar (T-Mobile) lost a couple of seconds to Savoldelli, but still regained the leader's jersey from his teammate Olaf Pollack.
Most of the top favourites looked strong enough today, but Danilo Di Luca (Liquigas) was in trouble on several of the climbs. He will have to recover well to limit the damage on tomorrow's tougher mountain top finish in Maielletta.
The stage was easily the hardest of the Giro so far, and it was dominated by numerous breakaways and crashes. The first break to succeed consisted of Sylvain Calzati (AG2R) and Staf Scheirlinckx (Cofidis), who went away after 24 km and built a massive 17'48 lead by km 94. But a 30 man chase group formed behind at that point, which gradually whittled down to eight: Vladimir Efimkin (Caisse d'Epargne-Illes Balears), Rik Verbrugghe (Cofidis, le Credit par Telephone), Francisco J. Vila Errandonea (Lampre-Fondital), Serguei Yakovlev (Liberty Seguros-Würth Team), Victor Hugo Pena Grisales (Phonak Hearing Systems), Juan Manuel Garate (Quick Step-Innergetic), Manuele Mori (Saunier Duval-Prodir) and Matthias Kessler (T-Mobile Team). The group hauled back Scheirlinckx with 71 km to go. He then worked for his teammate Verbrugghe, until he was spent.
Coming up on
Cyclingnews will cover the 60th edition of the Dauphiné Libéré live as of stage 4 on Wednesday, June 10, at approximately 15:00 local Europe time (CEST)/ 23:00 Australian time (CDT)/ 9:00 (USA East).

WAP-enabled mobile devices: http://live.cyclingnews.com/wap/

On the climb of Monte delle Cesane, the lead group reduced to just Verbrugghe, Vila, Pena, Mori and Garate. They managed to stay clear of the peloton almost until the finish, as the Lampre-Fondital led chase tried to set it up for Cunego. But Verbrugghe was too strong today: he attacked the break, which was absorbed by the hard charging bunch in the final 500m, and won the stage.
See also: Stage 7 full results, report & photos and Live report.
An interview with Victor Hugo Peña
Peña for president at the Giro
Much talk has been made of Floyd Landis' chances of winning this year's Tour de France but before then, the Phonak team are seeking a strong performance in the Giro d'Italia. Their GC rider in Italy is the affable Colombian Victor Hugo Peña, who won a stage in this race back in 2000 and finished 15th overall. Cyclingnews' Shane Stokes spoke to Peña about last year, the team, plus his goals for the Giro and the Tour.
Victor Hugo Pena


Photo ©: Régis Garnier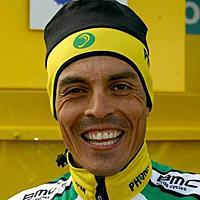 During his time riding for Lance Armstrong on the US Postal team, the high point of Peña's career came in the form of the Tour de France yellow jersey, which he wore on his 29th birthday in 2003. Following another season at US Postal the Colombian decided it was time for a change, and moved to Phonak for the 2005 season.
Peña's targeting of a strong ride in the Giro follows encouraging performances at the end of last year. In April 2005 he fell heavily in Paris-Roubaix and fractured his seventh vertebra, taking two months to recover before getting back on the bike and riding the Vuelta with just a month of racing in his legs.
The injury meant that he was under-prepared, but nevertheless he performed solidly, slipping into several good breakaways and taking sixth and seventh places in the two long time trials. His efforts saw him go into the final stage 23rd overall. Despite a crash which saw him break a rib [and slip down five places in the general classification], he rode the world championship time trial less than a week later, finishing 10th.
Nearly eight months later, he's had a much smoother buildup to his latest grand tour, the Giro, and heading into the race keen to explore his potential. He's the clear leader of the team and will have full team support during the race, something which he hopes will help him achieve a top ten finish on general classification.
Click here for the full interview.
Basso moves up
Ivan Basso (CSC)
Photo ©: Sirotti

Ivan Basso (CSC) improved his general classification position to third overall after today's 236 km stage between Cesena and Saltara. Basso finished sixth, 16 seconds behind Rik Verbrugghe, effectively losing 14 seconds to main rival Paolo Savoldelli (Discovery Channel), who took second in the stage and 12 bonus seconds, plus a two second gap to Basso.
"Today was the first really tough stage and I'm extremely satisfied with both Ivan and the rest of the team," said team manager Bjarne Riis on team-csc.com. "We worked hard at the front when the peloton was split and during the final, steep kilometres, Ivan was exactly where he should be. Tomorrow we have another very tough stage, but we have every reason to be optimistic after today's events."
Tough day in the saddle for Selle Italia
The Selle Italia-Serramenti Diquigiovanni team has been one of the most aggressive teams in the Giro so far, rarely missing the day's breakaway. But today, they were on the back foot as the whole team was afflicted with intestinal and stomach problems. Alessandro Bertolini had to abandon as a result; Santo Anzà made the breakaway, but had to let go; José Serpa had to get off the bike three times on the ascent of Monte Catria, and José Rujano was vomiting halfway through the stage, but managed to limit his losses to just a minute.
The team will be visited by doctor Omar Paez this evening in the hope of recovering better for the upcoming stages.
Strong ride by Liberty Seguros-Würth
In today's first hilly stage of the Giro, Liberty Seguros-Würth rode solidly, placing five men in the lead group of around five riders Scarponi, Caruso, Osa, Serrano and Abeja). Scarponi was the best placed of these, coming across the line in Saltara in 10th position, 20 seconds behind Rik Verbrugghe. Also, Liberty's Sergey Yakovlev was one of the riders in the long break during the 236 km stage.
Although today was tough, tomorrow will be the first real mountain top finish of this year's Giro, and everyone is sharpening their knives for it. "I believe that tomorrow's stage will make important differences, because today will pay," said team director Marino Lejarreta. "It was a very hard stage it will be difficult to recover. A stage like this one in the Vuelta a España would have undoubtedly been the queen stage.
"Today we could see Di Luca starting to fail, even though it might only be the effect of the change of pace, and Rujano, though in his case he was affected by gastroenteritis, like almost the whole Selle Italia team. Nevertheless, among Liberty Seguros-Würth, even though we stayed in the same hotel as the Italo-Colombian team, nobody suffered intestinal problems.
"Another piece of good news is that Unai Osa did not experience his knee problems again, which seems to indicate that he will be able to play his cards in this Giro until the end. Dani Navarro, on the other hand, suffered two crash today, although he only had superficial wounds and could finish without major problems."
Two more weeks for Armstrong investigation
UCI president Pat McQuaid has said that the results of the investigation into the L'Equipe allegations that Lance Armstrong used EPO in the 1999 Tour de France should be known within the next two weeks. McQuaid was speaking to journalists at the Giro d'Italia on Friday, and told Reuters "Dutch lawyer Emile Vrijman is currently writing his final conclusions and I understand the results will be published in the next two weeks. I haven't a clue what's in the report but we will be given a copy and it is possible it will be made public."
French sports newspaper L'Equipe published an article in August last year, claiming to have proof that Armstrong would have tested positive six times during the '99 Tour had there been an EPO test in place. Armstrong's six year-old frozen urine samples were among those tested by the French national anti-doping laboratory in Châtenay-Malabry, which was doing research into improving the EPO test. L'Equipe matched the sample numbers with Armstrong's medical control sheet, which it obtained from the UCI, and showed that six of the samples would have given a positive result. There were other riders who were also "positive", but these were not identified by L'Equipe.
Following the allegations, the UCI launched an independent investigation led by experienced Dutch lawyer Emile Vrijman. Armstrong, who is now very much retired, has always denied using performance enhancing drugs.
Cyclingnews coverage of the L'Equipe allegations
June 27, 2006 - Carmichael defends Armstrong, Armstrong answers L'Equipe & LeMond
June 26, 2006 - LeMond: "Armstrong threatened my life"
June 19, 2006 - Armstrong calls for Pound's exit
June 18, 2006 - Lance Armstrong's open letter against Dick Pound
June 4, 2006 - UCI hits back at WADA
June 3, 2006 - WADA slams the Vrijman report
June 2, 2006 - L'Equipe stands by its story, UCI supports Vrijman's findings
June 1, 2006 - UCI, WADA and Armstrong react to Vrijman's report
May 31, 2006 - UCI lawyer asks for Armstrong's name to be cleared
May 14, 2006 - Two more weeks for Armstrong investigation
Click here for full coverage of the L'Equipe allegations.
Gerolsteiner, T-Mobile for Catalunya
Levi Leipheimer is looking to win the Volta a Catalunya, which starts on Sunday. "When Levi is in good form, which I assume he is, then he is a man for a top overall placement," says Gerolsteiner's directeur sportif Reimund Dietzen. "You only win here if you are a good time trialist and also come over the mountains well" - a description that fits Leipheimer, the team believes. He has been training in his home in the USA and has now returned to Europe for his final preparations for the Tour de France. In Spain he will be accompanied by four other riders who are in the preliminary Tour squad.
T-Mobile, on the other hand, is sending only one potential Tour rider and is looking for stage wins. The team will be led by climber and Tour candidate Giuseppe Guerini. He will be accompanied by four young riders who have never ridden in Catalunya, including sprinter Andre Greipel, who "is our man" for the expected sprint finish in stage three, according to directeur sportif Frans van Looy.
Gerolsteiner: Markus Fothen, Thomas Fothen, Rene Haselbacher, Heinrich Haussler, Sebastian Lang, Levi Leipheimer, Marcel Strauss, and Beat Zberg.
T-Mobile: Linus Gerdemann, Bas Gilling, Andre Greipel, Giuseppe Guerini, Kim Kirchen, Bernhard Kohl, Daniele Nardello, and Thomas Ziegler.
Courtesy of Susan Westemeyer
Celestino to return in Catalunya
Mirko Celestino (Milram) will return to racing in next week's Volta a Catalunya, after a two month break due to a crash in Paris-Nice. Celestino fractured his right shoulder in the early season race, and missed all the classics.
"I'm happy to be coming back to competition, even if I am still bitter about missing the northern campaign and the Giro d'Italia," said Celestino. "I hope that my second half of the season is full of satisfaction."
Team roster: Mirko Celestino, Maarten Den Bakker, Michele Gobbi, Andriy Grivko, Maxim Iglinsky, Carlo Scognamiglio, Erik Zabel, Giovanni Visconti. D.S.: Oscar Pellicioli
MTB World Cup #2: Back in the groove in Madrid
By Rob Jones, Canadian Cyclist, in Madrid
Gunn-Rita Dahle got the win here in 2005
Photo ©: Rob Jones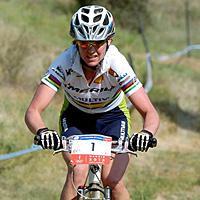 The cross-country mountain bike world cup could almost be considered to be starting up for a second time tomorrow in Madrid, after a six week break from the season-opener in Curacao at the beginning of April. The long gap has meant that it's difficult to know who is in good form, with many riders having gone from Curacao (or Sea Otter right after) to training, and having no results to show. Extremely large fields and a very hard, fast course also mean that a good start (and start position) will be crucial to doing well.
The Madrid circuit is extremely fast and dusty. Held in the Casa de Campo park, it's just on the outskirts of the city centre with the Metro making it easy for thousands of fans to get to the race. Some of the descents are so hard packed that there are literally black rubber skidmarks on the dirt. The removal of a set of stairs that riders usually bounce down towards the end of the lap have added to the speed. The stairs were removed because park authorities felt that too much damage had been done in the past.
A few other minor modifications have also been made to the course, all resulting in a 7.5 kilometre loop with almost nowhere to rest. The number of laps will not be known until the manager's meeting, but the expectation at this point is that the men will do seven laps and the women six.
The fields are almost among the largest ever seen at a world cup, with over 110 women and at least 225 men on the start list. The UCI is no longer holding qualifying races for the men, so all 225-plus riders will start. To thin out the field, an 80% rule is being used on the first lap - riders not within 80% of the first placed rider's time for the first lap will be cut. So, a mechanical, flat or crash on the first lap by any of the top riders could result in a very short day at the races.
Click here for the full preview
Previous News Next News
(All rights reserved/Copyright Knapp Communications Pty Limited 2006)