Recently on Cyclingnews.com
MTB index page for all MTB content
MTB World Cup XC # 2 - CDM
Madrid, Spain, May 13-14, 2006
The Program
Back in the groove in Madrid
By Rob Jones, Canadian Cyclist, in Madrid
Gunn-Rita Dahle got the win here in 2005
Photo ©: Rob Jones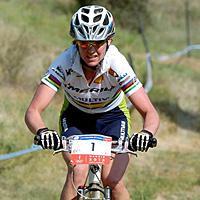 The cross-country mountain bike world cup could almost be considered to be starting up for a second time tomorrow in Madrid, after a six week break from the season-opener in Curacao at the beginning of April. The long gap has meant that it's difficult to know who is in good form, with many riders having gone from Curacao (or Sea Otter right after) to training, and having no results to show. Extremely large fields and a very hard, fast course also mean that a good start (and start position) will be crucial to doing well.
The Madrid circuit is extremely fast and dusty. Held in the Casa de Campo park, it's just on the outskirts of the city centre with the Metro making it easy for thousands of fans to get to the race. Some of the descents are so hard packed that there are literally black rubber skidmarks on the dirt. The removal of a set of stairs that riders usually bounce down towards the end of the lap have added to the speed. The stairs were removed because park authorities felt that too much damage had been done in the past.
A few other minor modifications have also been made to the course, all resulting in a 7.5 kilometre loop with almost nowhere to rest. The number of laps will not be known until the manager's meeting, but the expectation at this point is that the men will do seven laps and the women six.
The fields are almost among the largest ever seen at a world cup, with over 110 women and at least 225 men on the start list. The UCI is no longer holding qualifying races for the men, so all 225-plus riders will start. To thin out the field, an 80% rule is being used on the first lap - riders not within 80% of the first placed rider's time for the first lap will be cut. So, a mechanical, flat or crash on the first lap by any of the top riders could result in a very short day at the races.
Jose Hermida (Multivan Merida), a former winner here and the local favourite for the men, is not in favour of the changes:
"It is going to be very, very fast, and probably stay together as a group. Usually, there will be a small group that can get away, but it will be hard this year; I think we will see one long line of riders for quite a while. I think it should be more technical, less like a road race. And that 80% rule could be quite a problem for anyone who gets into trouble," said the Spaniard.
Julien Absalon (Bianchi Agos) was a winner in Madrid in 2005
Photo ©: Rob Jones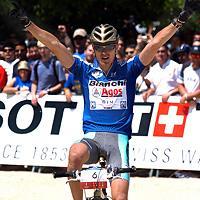 Christoph Sauser (Specialized) is one of the few riders who did keep racing after Curacao, having just finished the Cape Epic stage race in South Africa - but his team mate Liam Killeen has focussed on training since Sea Otter.
"I stayed at home and trained pretty well, I think, but I also had a lot of Commonwealth (Commonwealth Games, which he won) commitments. I'm using this more as a test of my fitness and to get back into racing for Fort William (Scotland - in two weeks). That's the big one for me."
Bart Brentjens (Giant), winner of Curacao and the world cup leader, gave pretty much the same outline for the last six weeks, citing family commitments. Olympic and world champion Julien Absalon (Bianchi Agos) made it clear at Curacao that he considered the three races starting with Madrid to be crucial to his goal of winning the world cup title this year and skipped Sea Otter, instead heading back to Europe to train.
In the women's field, Curacao winner Gunn-Rita Dahle (Multivan Merida) continues to look as strong as ever, although she has faltered in the heat in the past. Marie-Helene Premont (Rocky Mountain-Business Objects) hasn't raced much, as she's been busy with studies (a full time pharmacy degree), but races well in the heat. Sabine Spitz (Specialized), second to Dahle in Curacao, has been doing some local races - both road and offroad. An unknown factor - as always - is Spain's Margarita Fullana (Fullana). Fullana came to Curacao - something she normally wouldn't do, since she avoids air travel. She has also shown in the past that she responds well to support from the Spanish crowd, so she could surprise here.
Race notes:
Premont is sporting a new Rocky Mountain ride with the full 2007 XTR kit. It also has a metallic glitter finish in the red paint. It's very trick, and Premont says she really likes the new XTR - particularly the modulation of the brake levers and the shifting mechanism (which now allows her to go up or down two gears at once, rather than one at a time).
Geoff Kabush (Maxxis), fresh off winning the Norba national cross-country and short track last weekend, says that he feels at least "95%, maybe 98%" of his fitness is back after the mysterious ailment that robbed him of power in the early spring. "My legs feel 100%". However, he is starting well back in the 80's, so it will be a long ride up to the leaders.
Photography
For a thumbnail gallery of these images, click here
Images by Rob Jones/www.canadiancyclist.com