MTB index page for all MTB content
MTB World Cup XC # 2 - CDM
Madrid, Spain, May 13-14, 2006
Main Page Results Previous Race
Race 2 - Men
Champions on top in Spain
By Rob Jones in Madrid
Julien Absalon
Photo ©: Rob Jones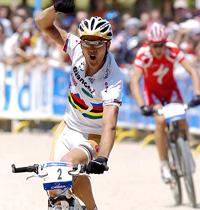 The Madrid mountain bike World Cup proved to be scorcher - both the temperature (low-30's Celsius) and the action on the track. The reigning world and Olympic champions were victorious in both the men's and women's races, with Gunn-Rita Dahle (Multivan Merida) riding away from the women's field as usual, and Julien Absalon (Bianchi Agos) winning a to-the-line battle against Christoph Sauser (Specialized). Dahle adds to her lead in the women's overall, while Absalon takes over the men's lead from Bart Brentjens (Giant).
Both the men's and women's fields were among the largest ever for a World Cup, with 109 women and 213 men taking the start. An 80% cutoff (riders had to finish each lap within 80% of the leader's time, or get pulled) made starting position crucial, and added to the speed. The 7.5 kilometre circuit proved to be just as fast as predicted, so moving up was difficult, and turned into a mess for the men's race.
The men's race in the first lap resembled nothing so much as a constantly flowing river (which took five minutes to pass, from the first to last rider). As the 213 riders poured across the start line the jostling for position began immediately. A rider went down in the first corner, 100 metres into the race, and riders were pushing and shoving to avoid being trapped behind him. One of those caught was American Jeremy Horgan-Kobelski (Subaru/Gary Fisher), who also commented on rampant course cutting that was going on in the first lap as riders scrambled to avoid the cutoff.
"I was caught behind that wreck at the start, and then I got chopped by 30 guys going under the tape," he said.
Geoff Kabush (Maxxis) agreed: "It was just absolute pandemonium on the first lap. People were cutting huge chunks of the course, riding into spectators."
Christoph Sauser
Photo ©: Rob Jones

For those at the front of the race, the difficulty was the speed. Lado Fumic (Fumic Bros. Racing) set the early pace in the first two laps (of seven), and a core group of 15 riders took a slight gap on the rest of the field. In the front group were many of the top contenders, including Julien Absalon (Bianchi Agos), Christoph Sauser (Specialized Factory Racing), Ralph Näf (Multivan Merida), Jose Hermida (Multivan Merida), Curacao winner Bart Brentjens (Giant), Roel Paulissen (Giant), Fredrik Kessiakoff (Cannondale-Vredstein), Michael Weiss (SRM Simplon Team) and Seamus McGrath (Felt-Canadian National).
As the race went on, the attacks started on the climbs, and the group began to shrink. Absalon, Sauser, Näf, Paulissen and Hermida were the most aggressive, and it was these five which finally broke away from the rest of the shattered group. With two laps to go, Absalon, Näf, Paulissen and Sauser opened up a gap on Hermida, who was briefly joined by Kessiakoff. Paulissen was the next to succumb to the pressure, and finally Näf in the last half lap. Absalon and Sauser were pretty evenly matched, and it came down to whoever managed to get into the final corners first, which was Absalon.
"You needed to be in good position at all times on this course, but try not to be at the front. So, for me it was a tactical race, an exciting race, where you always had to be attentive - one mistake and you were finished," explained Absalon. "I actually had a mistake on the first steep climb of the second lap, when my chain came off and I had to stop, but lucky for me they weren't going at 100 percent at that time.
Liam Killeen
Photo ©: Rob Jones

"I did some attacks on the steep climbs, maybe three or four times, because it is where I was riding very well today. Each time some riders would come off, and when we were down to five I though 'Okay, now we are on the podium'. Then it went to three and that was even better!
"On the last lap I attacked on the first climb and Ralph was gone. Sausie (Sauser) was strong; we were both attacking but always together, never able to drop each other. So in the last 500 metres my manager yelled to me 'Pass here, it is the last place to pass'. It was true, because there were corners after that where it was not possible for him to pass me."
Sauser agreed with Absalon's analysis of the final lap, commenting, "We were never more than a few wheels apart, always watching each other, always aware that the other was the strong rider (in the break). This should make it an exciting year, I think, with both of us riding so well."
Race Notes
Ralph Naf
Photo ©: Rob Jones

Ralph Näf was surprised and relieved with how well he raced. "I was sick after Sea Otter (he dropped out after winning the second stage), and was riding very badly - I was in a deep hole two weeks ago with no motivation, I didn't think I could race here. So, for that reason I am more than pleased with my third!"
Roel Paulissen was another rider happy just to have a good ride. he was sporting a large bandage on his little finger (left hand). "Last week I had a crash in a race going over a bridge and it ripped the nail and the flesh away on my finger; they had to put stitches all around it. So, it was hard to hold the bars, and the pain was going up my arm. Just to finish and get some points was my goal, so this was a very good race for me."
Geoff Kabush
Photo ©: Rob Jones

Kabush had realistic goals going into the race, despite knowing his form was good from winning the NORBA National race last week. He had a poor showing in Curacao, still recovering from an inner ear infection which ruined his Commonwealth Games, and there was starting well back in 89th place. "My goal was to get into the top-30 if I had a really good start lap, but then the crash slowed everything down, so I was just trying to get as many places as possible. After the chaos of the start lap it stretched out and I was able to settle in to my ride. Guys started to fade and I could just keep moving up; I was pleased that my strength was consistent right up to the end. This race was a write-off for a good finish, as far as I was concerned, it was all about getting a better start position for the next couple of races."
Photography
For a thumbnail gallery of these images, click here
Images by Rob Jones/www.canadiancyclist.com
Results

1 Julien Absalon (Fra) Bianchi Agos                                2.02.18
2 Christoph Sauser (Sui) Specialized Factory Racing                   0.01
3 Ralph Naf (Sui) Multivan Merida Biking Team                         0.31
4 Jose Antonio Hermida Ramos (Esp) Multivan Merida Biking Team        0.52
5 Roel Paulissen (Bel) Giant-Racing-Team                              1.07
6 Liam Killeen (GBr) Specialized Factory Racing                       1.08
7 Michael Weiss (Aut) SRM Simplon Team                                1.31
8 Fredrik Kessiakoff (Swe) Cannondale-Vredestein                          
9 Lado Fumic (Ger) Fumic.Brothers.International                       2.18
10 Bart Brentjens (Ned) Giant-Racing-Team                             2.45
11 Martin Gujan (Sui) Athleticum-Mtb-Team                             3.21
12 Hector Leonardo Paez Leon (Col) Team Full Dynamix                  3.29
13 Martin Kraler (Aut) Giant-Racing-Team                              3.53
14 Nino Schurter (Sui) Swisspower MTB Team                            4.11
15 Marti Gispert Labarta (Esp) Freebike Team                          4.14
16 Thomas Frischknecht (Sui) Swisspower MTB Team                      4.20
17 Kashi Leuchs (NZl) Cannondale-Vredestein                               
18 Filip Meirhaeghe (Bel) Groep Versluys-Sportstech-Landbouwkredie    4.26
19 Carlos Coloma Nicolas (Esp) Proflex                                4.29
20 Ludovic Dubau (Fra) Pro Race Team                                  5.32
21 Mirko Pirazzoli (Ita) Team Salieri Arredoquattro                   5.37
22 Jeremy Horgan-Kobelski (USA) Subaru/Gary Fisher                    5.45
23 Balz Weber (Sui) Team Bikepark.Ch Tui                              5.50
24 Florian Vogel (Sui) Swisspower MTB Team                            6.09
25 Peter Riis Andersen (Den) Cannondale-Vredestein                        
26 Marc Trayter Alemany (Esp) Maxxis-MSC                              6.29
27 Karl Markt (Aut)                                                   6.34
28 Bas Peters (Ned) binnenvaart-merida                                6.52
29 Tony Longo (Ita) Team Mapei Merida                                 6.55
30 Gion Manetsch (Sui) Athleticum-Mtb-Team                            7.04
31 Stefan Sahm (Ger) Giant-Racing-Team                                7.10
32 Thomas Dietsch (Fra) Bianchi Agos                                  7.21
33 Oliver Beckingsale (GBr) Giant-Racing-Team                         7.46
34 Christof Bischof (Sui) Bikin'cyprus Int.                           7.55
35 Karl Platt (Ger) Rocky Mountain Business Objects                   8.17
36 Jelmer Pietersma (Ned) Dolphin                                     8.28
37 Geoff Kabush (Can) Maxxis                                          8.31
38 Milan Spesny (Cze) Merida Biking Team                              8.37
39 Tomas Vokrouhlik (Cze) Ceska Sporitelna Mtb                        8.41
40 Pierre Lebreton (Fra) Pro Race Team                                8.45
41 Adam Craig (USA) Giant                                             8.55
42 Seamus McGrath (Can) Felt                                          9.00
43 Rene Tann (Ger) Heijdens-Ten Tusscher                              9.07
44 Hakon Austad (Nor) Team Hoydahl                                    9.17
45 Hannes Metzler (Aut)                                               9.29
46 Moritz Milatz (Ger) Multivan Merida Biking Team                        
47 Roman Rametsteiner (Aut)                                               
48 Todd Wells (USA) GT                                                9.56
49 Tim Bohme (Ger) Team Alb-Gold Mountainbike                        10.05
50 Jochen Kaess (Ger) Team Alb-Gold Mountainbike                     10.09
51 Yury Trofimov (Rus)                                               10.11
52 Julio Humberto Caro Silva (Col)                                   10.15
53 Cédric Ravanel (Fra) Team Lapierre International                  10.16
54 Jose Manuel Garcia Rodriguez (Esp) Maxxis-MSC                     10.19
55 Jeremiah Bishop (USA) Trek Volkswagen Pro Factory Team                 
56 Davy Coenen (Bel)                                                 10.46
57 Stéphane Tempier (Fra) Scott Les 2 Alpes                               
58 Lukas Flückiger (Sui) Bianchi Agos                                10.49
59 Alban Lakata (Aut) Specialized Factory Racing                     10.56
60 Philip Spencer (GBr) Bikin'cyprus Int.                                 
61 Marco Aurelio Fontana (Ita) Hard Rock FRW                         11.16
62 Filip Eberl (Cze)                                                 11.32
63 Ivan Seledkov (Rus)                                               11.35
64 Steffen Thum (Ger)                                                11.40
65 Torsten Marx (Ger) Team Alb-Gold Mountainbike                     11.45
66 Jader Zoli (Ita) Ktm International Team                           11.50
67 Sergio Mantecon Gutierrez (Esp) Massi-Abarth                      11.53
68 Dario Acquaroli (Ita)                                             11.57
69 François Bailly Maitre (Fra) Scott Les 2 Alpes                    12.03
70 Joan Llordella Prat (Esp)                                         12.08
71 Jürg Graf (Sui)                                                   12.15
72 Michael Broderick (USA)                                           12.35
73 Jan Skarnitzl (Cze)                                               12.52
74 Mathieu Toulouse (Can) Maxxis                                     12.59
75 Chris Jongewaard (Aus) Australian National Team                   13.23
76 Ruben Ruzafa Cueto (Esp) Team Orbea                               13.32
77 Frank Schotman (Ned)                                              13.43
78 Nicolas Filippi (Fra) Scott Les 2 Alpes                           13.49
79 Clinton Robert Avery (NZl)                                        13.54
80 Murray Spink (Aus)                                                13.55
81 Juan Pedro Trujillo Hernandez (Esp) Massi-Abarth                  14.00
82 Joris Boillat (Sui)                                               14.08
83 James Ouchterlony (GBr) Massi-Abarth                              14.20
84 Andi Weinhold (Ger)                                               14.25
85 Yannick Bernasconi (Sui) Team Bikepark.Ch Tui                     14.42
86 Eloj Gispert Labarta (Esp) Massi-Abarth                           14.55
87 Benjamin Giraud (Fra) Egobike - 06 - Msc                          14.58
88 Bjorns Brems (Bel)                                                15.00
89 Rick Evers (Ned)                                                  15.13
90 Thomas Roccaro (Sui) Kona Verbier Factory Team                    15.19
91 Marco Schätzing (Ger)                                             15.28
92 Pierre Geoffroy Plantet (Fra) BH-SRSuntour                        15.39
93 Andras Melts (Hun)                                                15.48
94 Christoph Soukup (Aut)                                            16.06
95 Tobias Witzak (Ger)                                               16.13
96 Maxim Gogolev (Rus)                                               16.22
97 Simon Richardson (GBr)                                            16.46
98 Ivan Schalbetter (Sui)                                            17.09
99 Ole Christian Fagerli (Nor) Team Hoydahl                          17.11
100 Marcus Roy (NZl)                                                 17.18
101 Hans Becking (Ned)                                               17.29
102 Perren Delacour (Aus)                                            17.39
103 Michael Giraud (Fra) Team Lapierre International                 17.45
104 Axel Bult (Ned)                                                       
105 Francisco Javrier Macias Bonano (Esp)                            17.58
106 Ruud Rentmeester (Ned)                                           18.01
107 Martin Matrat (Fra) BH-SRSuntour                                 18.11
108 Szilard Buruczki (Hun)                                           18.19
109 Denis Vorontsov (Rus)                                            18.28
110 Friedeman Schmude (Ger)                                          18.36
111 Raffael Schmid (Sui) Fischer-BMC                                 18.37
112 José Carlos Macias Bonano (Esp)                                  18.40
113 Fabien Manfe (Fra) Egobike - 06 - Msc                            18.46
114 Andrea Tiberi (Ita) Ktm International Team                       18.55
115 Nicola Rohrbach (Sui) Kona Verbier Factory Team                  19.05
116 Petter Jorgensen (Nor)                                           19.28
117 Jiri Novak (Cze)                                                 19.30
118 Jochen Concocelli (Ger) Fumic.Brothers.International             19.34
119 Robert Odink (Sui) Kona Verbier Factory Team                     19.36
120 Lachlan Norris (Aus)                                             19.37
121 Jose Antonio De Segovia Botella (Esp)                                 
122 James Maebus (Aus)                                               19.59
123 Marcel Wildhaber (Sui)                                           20.21
124 Vincent Lombardi (Fra) BH-SRSuntour                              20.26
125 Tim Ottens (Ned)                                                 20.37
126 Rotem Ishai (Isr)                                                21.07
127 Gareth Montgomerie (GBr)                                         21.24
128 Mathijs Wagenaar (Ned)                                           21.37
129 Ian Bibby (GBr)                                                  21.46
130 Luka Kodra (Slo)                                                 22.18
131 Julian Adrada Rodriguez (Esp)                                    23.34
132 Burry Stander (RSA)                                              23.37
133 Marc Colom (Fra)                                                 24.03
134 Jiri Friedl (Cze) Merida Biking Team                             24.26
 
1 lap down
 
135 Silvio Bundi (Sui) Athleticum-Mtb-Team                                
136 Lukas Sablik (Cze)                                                    
137 Patxi Cia (Esp)                                                       
138 Patrick Gaudy (Bel)                                                   
139 Alejandro Dario Gasco (Arg)                                           
140 Alessandro Peretto (Ita) Ktm International Team                       
141 Dror Pekatch (Isr)                                                    
142 Carl Decker (USA)                                                     
 
2 laps down
 
143 Jimmy Tielens (Bel) Dolphin                                           
144 Thibault Legastelois (Fra) Team Lapierre International                
145 Oscar Vasquez Crespo (Esp)                                            
146 Sebastian Luciano Blanco (Arg)                                        
147 Frank Beemer (Ned) Dolphin                                            
148 Karel Videcky (Cze) Max Cursor                                        
149 Ludovic Mottet (Bel) Massi-Abarth                                     
150 Marc Perarnau Garcia Jo (Esp)                                         
151 Daniel Schütz (Sui)                                                   
152 Francesc Freixer (Esp) MSC Bikes                                      
153 Miguel Angel Calvente Alonso (Esp)                                    
154 Cody Peterson (USA)                                                   
155 Hilbert Wagenaar (Ned)                                                
156 Nicholas Ranno (USA)                                                  
157 Uwe Hochenwarter (Aut)                                                
158 Lee Williams (GBr)                                                    
159 Truls Haugseth (Nor) Team Hoydahl                                     
160 Joao Marinho (Por)                                                    
161 Martin Lazarski (Can) Rocky Mountain Business Objects                 
162 Marton Blazso (Hun)                                                   
163 Robert Mennen (Ger)                                                   
164 Jordi Vila Camps (Esp)                                                
165 Daniel Marques (Por)                                                  
166 David Escolar Ballestero (Esp)                                        
167 Maarten Kemperman (Ned)                                               
168 David Manuel Matos (Por)                                              
169 Lukas Hanus (Svk) Merida Biking Team                                  
170 Nicodemos Protopapas (Cyp) Bikin'cyprus Int.                          
171 David Leiman (RSA)                                                    
172 Bram Rood (Ned)                                                       
173 William Bjergfelt (GBr)                                               
174 Marios Athanasiades (Cyp) Bikin'cyprus Int.                           
 
3 laps down
 
175 Shaun Lewis (Aus)                                                     
176 Thomas Achouri (Bel)                                                  
177 Marcel Groothuismink (Ned)                                            
178 Zoltan Tatrai (Hun)                                                   
179 Mathieu Louis (Bel)                                                   
180 Roland Golderer (Ger)                                                 
181 Carlos Luengo Lopez (Esp)                                             
DNF Jérome Chevalier (Fra) BH-SRSuntour                                   
DNF Johann Pallhuber (Ita)                                                
DNF Jakob Diemer Fuglsang (Den) Cannondale-Vredestein                     
DNF Marc Golz (Ger) Fumic.Brothers.International                          
DNF Romain Dewaele (Fra) Massi-Abarth                                     
DNF Nicolas Bazin (Fra) BH-SRSuntour                                      
DNF Steven Roach (GBr)                                                    
DNF Massimo De Bertolis (Ita)                                             
DNF Benjamin Rudiger (Ger)                                                
DNF Sid Taberlay (Aus) Dolphin                                            
DNF Dariusz Batek (Pol) Lotto                                             
DNF Ivan Alvarez Gutierrez (Esp) Proflex                                  
DNF Andras Parti (Hun)                                                    
DNF Vaclav Jezek (Cze) Ceska Sporitelna Mtb                               
DNF Ismael Ventura Sanchez (Esp) MSC Bikes                                
DNF David Pons Vila (Esp)                                                 
DNF Miha Solar (Slo)                                                      
DNF Rudi Van Houts (Ned) Dolphin                                          
DNF Oriol Morata Abril (Esp)                                              
DNF David Anchu Kogl (Ger)                                                
DNF Unai Yus Kerejeta (Esp)                                               
DNF Paul Oldham (GBr) Hope Factory                                        
DNF Joris Massaer (Bel)                                                   
DNF Eric Diaz Martin (Esp)                                                
DNF Michael Hutter (Sui)                                                  
DNF Manuel Fumic (Ger) Fumic.Brothers.International                       
DNF Lukas Kaufmann (Sui)                                                  
DNF Marcos Moral Sanz (Esp)                                               
DNF Roberto Villa Garcia (Esp)                                            
DNF Daniel Ortiz Martinez (Esp)                                           
DNF Cédric Gaudy (Bel)                                                    
DNS Jean Christophe Peraud (Fra) Team Orbea