MTB index page for all MTB content
MTB World Cup XC # 2 - CDM
Madrid, Spain, May 13-14, 2006
Race 1 - Women
Dahle wins from Fullana, Premont unlucky to miss second
By Rob Jones in Madrid
Gunn-Rita Dahle zips up, ready for the finish
Photo ©: Rob Jones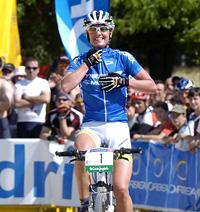 Gunn-Rita Dahle (Merida) started the World Cup season in Curacao as she left off last season: in the leader's jersey. However, it has been six weeks since that race, and a lot of the top women have been preparing hard for Madrid, the first of three consecutive World Cup races in Europe, so Dahle couldn't relax.
The Norwegian got off to her usual fast start, but was joined by local favourite Marga Fullana for the first half lap of the five lap race. Fullana bobbled a corner, and that was all Dahle needed to open up a gap.
"I was going the maximum on the first lap - in the second (lap) I thought maybe it was too hard - and Marga did a little mistake in a corner," said Dahle. "That gave me 10 seconds, and it was enough, since it is so hard to make up time here."
A bigger worry for Dahle was Canadian Marie-Helene Premont (Rocky Mountain-Business Objects), who is the only rider to have beaten Dahle for the last couple of years - twice last season. Premont was coming up fast from a slower start, and moved to within 25 seconds by the middle of the second lap.
"Marie-Helene was chasing at 25 or 30 seconds for a long time, and I was nervous with her on my back wheel, because one little mistake would be all it would take for her to catch me." admitted Dahle.
Marie-Helene Premont
Photo ©: Rob Jones

Dahle did gradually up the gap in the third lap to 40 seconds, with Fullana in third at 1:30, and a chase trio of Sabine Spitz (Specialized), Maja Wloszczowska (Lotto) and Irina Kalentieva (Topeak-Ergon) at three minutes. It looked like the front three were set, but then disaster struck for Premont, in the form of a rear flat halfway through the fourth lap.
"There was a lot of glass on the course, and it punctured my tyre," explained Premont. "It was a slow leak at first and I tried my CO2 cartridge but it wouldn't keep the tire up. Then in a corner the tire came off and I crashed. So I had to run for a long time (to the technical zone), maybe almost two kilometres. I was feeling so good, I would have had second for sure."
Premont dropped from second to the high teens with only a lap to go. Remarkably, she was able to recover to tenth by the finish.
"I caught many people, I gave it everything in the last lap. It (flats) happens, but I know now that I am strong, so there is another race next weekend (in Spa, Belgium)."
Fullana easily cruised in for second, but there was a battle underway for third between Spitz, Kalentieva and Wloszczowska. Kalentieva won the fight after attacks and counterattacks between Spitz and herself.
Marga Fullana
Photo ©: Rob Jones

"It was a hard fight," said Kalentieva. "I was behind Sabine and first Maja (Wloszczowska) attacked. I caught her and then Sabine passed me. It was only on the final uphill that I was able to pass her again, and I managed to hold until the finish."
Wloszczowska took fourth and Spitz fifth.
Photography
For a thumbnail gallery of these images, click here
Images by Rob Jones/www.canadiancyclist.com
Results

1 Gunn-Rita Dahle (Nor) Multivan Merida Biking Team           1.39.11
2 Margarita Fullana Riera (Spa) Spiuk Illes Balears              1.55
3 Irina Kalentieva (Rus)                                         3.09
4 Maja Wloszczowska (Pol) Lotto                                      
5 Sabine Spitz (Ger) Specialized Factory Racing                  3.13
6 Lene Byberg (Nor) Bikin'cyprus Int.                            4.40
7 Petra Henzi (Swi) Fischer-Bmc                                  4.53
8 Maroussia Rusca (Swi) Team Bikepark.Ch Tui                     5.11
9 Rosara Joseph (NZl)                                            5.17
10 Marie-Helene Premont (Can) Rocky Mountain Business Objects    5.28
11 Ren Chengyuan (Chn)                                           5.34
12 Hanka Kupfernagel (Ger) Sportsstar Focus                          
13 Nina Grohl (Ger) Multivan Merida Biking Team                  5.51
14 Shonny Vanlandingham (USA)                                    6.00
15 Anna Szafraniec (Pol) Lotto                                   6.03
16 Mary McConneloug (USA)                                        6.09
17 Maria Ostergren (Swe)                                         6.15
18 Saskia Elemans (Ned)                                          6.24
19 Jingling Wang (Chn)                                           6.40
20 Bärbel Jungmeier (Aut)                                        6.52
21 Adelheid Morath (Ger)                                         6.56
22 Ivonne Kraft (Ger)                                            7.07
23 Willow Koerber (USA)                                          7.10
24 Anna Enocsson (Swe) Ghost International Racing Team           7.13
25 Katrin Schwing (Ger)                                              
26 Eva Lechner (Ita)                                             7.34
27 Alison Sydor (Can) Rocky Mountain Business Objects            7.47
28 Katerina Nash (Cze)                                           7.55
29 Jaqueline Mourao (Bra)                                        8.01
30 Annika Smail (NZl)                                            8.20
31 Elena Giacomuzzi (Ita)                                        8.27
32 Kelli Emmett (USA)                                            8.48
33 Laura Turpijn (Ned)                                           8.57
34 Heather Irmiger (USA)                                         9.04
35 Wendy Simms (Can)                                             9.06
36 Renata Bucher (Swi)                                           9.21
37 Rocio Gamonal Ferrera (Spa)                                   9.37
38 Susan Haywood (USA) Trek Volkswagen Pro Factory Team          9.48
39 Githa Michiels (Bel)                                          9.57
40 Nina Homovec (Slo)                                            9.59
41 Pia Sundstedt (Fin) Rocky Mountain Business Objects          10.18
42 Kiara Bisaro (Can)                                           10.24
43 Sabrina Enaux (Fra) Team Lapierre International              10.28
44 Cristina Mascarreras Sabria (Spa)                            10.36
45 Esther Süss (Swi) Ghost International Racing Team                 
46 Tereza Hurikova (Cze) Ceska Sporitelna Mtb                   10.37
47 Daniela Louis (Swi)                                          10.40
48 Evelyn Staffler (Ita)                                        10.49
49 Ariëlle Van Meurs (Ned)                                      10.59
50 Séverine Hansen (Fra) Scott Les 2 Alpes                      11.24
51 Blaza Klemencic (Slo) Pintatim Full-Dynamix                  11.37
52 Janka Stevkova (Svk) Max Cursor                              11.46
53 Elisabeth Osl (Aut) Tonis Pro Team Kirchberg                 11.49
54 Jenny Copnall (GBr)                                          11.53
55 Helene Marcouyre (Fra) Bh-Sr. Suntour                        12.03
56 Maria Erlandsson Asa (Swe)                                   12.16
57 Elina Sophokleous (Cyp) Bikin'cyprus Int.                    12.37
58 Sara Bresnick (USA)                                          12.50
59 Maria Osl (Aut) Tonis Pro Team Kirchberg                     12.51
60 Sarah Koba (Swi)                                             13.02
61 Ruth Moll Marques (Spa)                                      13.13
62 Sheju Mei (Chn)                                              13.18
63 Elena Gaddoni (Ita)                                          13.37
64 Franziska Röthlin (Swi) Kona Verbier Factory Team            14.02
65 Patricia Sinclair (Can)                                      14.04
66 Sue Thomas (GBr) Massi-Abarth                                14.23
67 Bettina Schmid (Swi)                                         14.42
68 Jimena Florit (Arg)                                          15.00
69 Cécile Rode (Fra) Team Lapierre International                15.13
70 Sandra Walter (Can)                                          15.19
71 Wei Fang (Chn)                                               15.42
72 Inbar Ronen (Isr)                                            16.01
73 Sarka Chmurova (Cze) Max Cursor                              16.14
74 Catherine Delfosse (Bel) Massi-Abarth                        17.17
75 Caroline Mani (Fra) Massi-Abarth                             17.26
76 Caroline Jackson (GBr)                                       17.52
77 Nathalie Schneitter (Swi)                                    18.00
78 Lucia Vasquez Crespo (Spa)                                   18.08
79 Emma Colson (Aus)                                            18.29
80 Neus Parcerisses (Spa) Msc Bikes                             18.35
81 Kristine Danielson (USA)                                     18.43
82 Ivanda Eiduka (Lat)                                          18.51
83 Claire Baxter (Aus)                                          19.29
84 Ying Liu (Chn)                                               19.37
85 Sandra Santanyes Murillo (Spa) Massi-Abarth                  19.42
86 Francisca Campos Salas (Chi)                                      
87 Nekane Lasa (Spa)                                            19.50
88 Olivia Cascino (Fra) Egobike - 06 - Msc                      20.02
89 Anna Villar (Spa) Massi-Abarth                               20.10
90 Carla Salgado (Mex)                                          20.35
91 Linda Larsen (Nor)                                           20.51
92 Amy Hunt (GBr)                                               21.27
93 Sonja Traxel (Swi) Kona Verbier Factory Team                 22.22
94 Maria Bravo Soba Rosa (Spa)                                  22.47
 
1 lap down
 
95 Kristien Nelen (Bel)                                              
96 Genevieve Whitson (NZl)                                           
97 Elena Babikova Gogoleva (Rus)                                     
98 Marion Valette (Fra)                                              
99 Stephanie Wiedner (Aut)                                           
100 Muriel Bouhet (Fra)                                              
 
2 laps down
 
101 Audrey Wilst (Fra)                                               
102 Sarah Tescher (USA)                                              
103 Vanesa Fernandez Vidueira (Spa)                                  
104 Julie Cartner (GBr)                                              
DNF Magdalena Sadlecka (Pol) Lotto                                   
DNF Katrin Leumann (Swi) Team Bikepark.Ch Tui                        
DNF Martina Feldmann (Can)                                           
DNF Audrey Wilst (Fra)