U.S. National Criterium Championships - NE
Downer's Grove Village, Illinois, USA, August 19-20, 2006
Fastest riders in the land descend on Downers Grove
by Mark Zalewski, North American Editor in Chicago
Tyler Farrar and
Dave McCook in 2005
Photo ©: Matthew Moses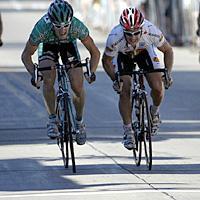 Regardless of all the drama from a month ago, the USPRO criterium championships will still include the fastest riders racing in the U.S. regardless of their nationality and, as always, the first American rider over the line will earn the stars and stripes jersey for a year. For the past three years, that jersey has remained in a closet -- with 2005 winner Tyler Farrar racing over in Europe with Cofidis and 2004 winner Jonas Carney as well as 2003 winner Kevin Monahan retiring after winning.
USPRO criterium nationals, everyone welcome!
This year's battle on the very well known one-mile, figure-eight course in the Chicago suburbs looks to be hotter than ever, and even hotter than some may have expected at the start of the season. Toyota-United will of course have it's speedy duo of Juan Jose Haedo and Ivan Dominguez in town, with Haedo winning again last weekend at the Manhattan Beach Grand Prix. Haedo looked to be set to dominate all season after his strong Tour of California performance, and has made his mark as the top sprinter in North America.
But Health Net-Maxxis has been coming on to form since the return of Kiwi Greg Henderson from injury, winning the Reading Classic and Philadelphia International back-to-back. Health Net's Aussie strongman Karl Menzies has also raced strong this season and veteran sprinter Gord Fraser is racing his last criterium nationals and may be looking to end like Carney and Monahan did.
However the big surprise, particularly in the crit-heavy month of August, is the Navigators Insurance team. Starting with wins at the Tour de Beauce, Fitchburg-Longsjo Classic and Tour de Toona, the team has racked up the two richest wins of the season in the last two weeks -- the Bank of America criterium with Sean Milne and the Tour of Elk Grove with Hilton Clarke. While Navigators has the fewest Americans on the roster, Milne has launched himself into being a favourite for both the win and the jersey with his strong season. But in a field sprint, look for the speedy Aussie Clarke.
Brad Huff in '05 USCF Champs
Photo ©: Mark Zalewski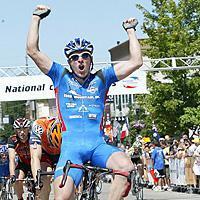 The big question for these top three NRC teams is to go for the win, the jersey, or maybe even both. Not an easy decision when your fastest riders are not American but having the stars and stripes for a year nets extra publicity for your sponsor. Toyota-United has Tony Cruz as their top contender for the jersey while Health Net-Maxxis has former winner Kirk O'Bee.
This question is somewhat easier to answer for the next three teams in the NRC ranking, as their squads are predominantly American. Jelly Belly has a potential sprint winner in Alex Candelario who finally conquered Superweek's Great Downer Avenue race, and followed up with winning the final race of the series. Colavita-Sutter Home has plenty of experience with Mark McCormack and some younger speed with the likes of Kyle Wamsley who won the final criterium at the Tour de Toona. KodakGallery-Sierra Nevada also is in contention, especially with Jackson Stewart almost pulling off a breakaway win in Charlotte.
TIAA-CREF is not as high on the NRC, due in part to spending ample time racing in Europe. But the team brings the 2005 elite criterium champion Brad Huff who won the sprint points at the Tour of Elk Grove, and the youngest elite criterium champion in Rahsaan Bahati.
Plenty of other teams will have aspirations of jumping up the NRC rankings and into the spotlight with one win. But every veteran racer knows anything can happen on the fast and technical course -- from the 'wall' on top of the course, to the tight final turn, to the uphill 200 meter sprint finish.
Another aspect of the race to consider are the NRC points on offer. The top two actively racing spots are occupied by Health Net-Maxxis' Nathan O'Neill and Sergey Lagutin (Navigators Insurance), both stage racers. The next three spots are Haedo, Henderson and Menzies, and all five are separated by just 129 points.
Tina Pic goes for number... oh, who can remember
Tina Pic (Quark Cycling Team)
Photo ©: Mark Zalewski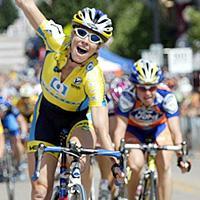 Actually, the defending NRC champion will be racing for five in-a-row this year, and with a new team in Colavita-Cooking Light. No longer will she have sidekick Laura Van Gilder who now races for TEAm Lipton. But by all indications, that has not been a problem this year. Pic has racked up top sprint wins again this year to put her on top of the NRC rankings, with a particularly strong three in-a-row at Bike Jam, Cap Tech and CSC. Her teammates will certainly be chasing down any and all breaks in an effort to get her to the final lap. From there Pic will pick her spot as usual, which seems to be earlier and earlier every year.
Challenging Pic's real estate on the top podium spot will be TEAm Lipton, which owns a commanding lead in the team NRC rankings. Laura Van Gilder has been burning Pic's heels all season, and is poised to finally come around her former teammate on the biggest sprint stage of the season. Lipton's Kristin Armstrong is always a threat, especially for a breakaway. With a win, she would take ownership of all three stars and stripes jerseys, following her TT and road race wins a month ago.
The third place team in the NRC is Victory Brewing. However, two of their top riders Rachel Heal and Laura Yoisten will be cheering from the sidelines as they are not U.S. citizens. The sprinting duties will fall to Brenda Lyons who came up with a win at the Tour de Toona criterium. Lauren Franges will be a likely breakaway rider as the 2005 U23 national road champion. Katharine Carroll is also dangerous, riding strong of late, especially at the Bank of America Invitational.
Because of the limitation to U.S. citizens, smaller teams have more of an opportunity to shine. Teams such as Cheerwine with Superweek overall winner Kelly Benjamin, Aaron's Corporate Furnishings and Advil-Chapstick will use this opportunity to raise their status.