Recently on Cyclingnews.com
USPRO Criterium Championships - 1.1
Chicago, USA, August 20-21, 2005
Fast Times at Criterium Nationals
By Mark Zalewski, North American Editor
Jonas Carney wins in 2004
Photo ©: Ken Carl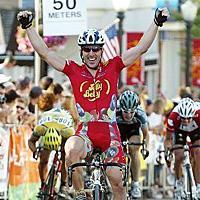 While the majority of residents in the Chicago area will be hearing the jets and airplanes of the annual Air and Water Show this weekend, those in the know will be headed to the western suburb of Downers Grove to watch the fastest cyclists in North America battle for bragging rights at the U.S. Criterium Championships. Three national championships are on the line - USPRO men, USCF professional and elite amateur women and USCF elite amateur men.
USPRO Men
As in Philadelphia, the stars and stripes jersey goes to the first American over the line, but that does not stop the usual North American based contingent of foreign riders from trying for a part of the $22,000 purse. Since 1991, when the race was first run in Downers Grove, an equal number of foreign and US riders have won the race, with the most recent being Jonas Carney in a spectacular final turn duel with veteran Robbie Ventura. However, both Ventura and Carney retired after last year's race, leaving the champion jersey out of competition this year.
This year's race will be a culmination of a season-long battle between the top domestic teams, led by Health Net-Maxxis and their stable of sprinters like Ivan Dominguez, Greg Henderson, Gord Fraser and Tyler Farrar. Of those four, only Farrar is a US citizen, posing a unique situation for the team - whether to work for the stars and stripes and win with one rider, or work for the best sprinter and a one-in-four shot of taking the jersey. Finally, another possible scenario is current USPRO Road champion Chris Wherry doubling-up on his wardrobe.
Navigators Insurance will be out hunting again
Photo ©: Ken Carl

Teams that have been chasing the Health Net-Maxxis train all season include Colavita-Sutter Home, Navigators Insurance and Jelly Belly-Pool Gel - each winning their own portion of races this year and each with competent sprinters. Mark McCormack (Colavita-Sutter Home) is riding well again this season, winning the Tour of Connecticut and a stage of the International Tour de Toona, along with Jonathan Page and Argentinian sprinter Juan Jose Haedo. Haedo has shown strong form all season, and is coming off a big win at the Bank of America Criterium two weeks ago.
Navigators Insurance will be certainly working for veteran domestic pro Vassili Davidenko who is in his last season or racing and winner of the Athens Twilight Criterium and CapTech Classic. Out of the ten riders on the team's roster, only three are Americans - Marty Nothstein, Chris Baldwin and Kirk O'Bee. O'Bee is a former winner here and has two stage wins of the Cascade Classic, Baldwin is the current national time trial champion and has wins at Nature Valley and the Boulder Stage Race and Nothstein is multiple Olympic medal winner and always ready for a sprint.
Jelly Belly's Kirk Albers
Photo ©: Jon Devich

Jelly Belly-Pool Gel has been knocking at the door all season, with their biggest result being a second place to Danny Pate at the USPRO Road championships. With only seven riders, the team will be at a disadvantage in terms of quantity, but not quality. Dave McCook won this race in 1994, and along with Kirk Albers and Brice Jones, they can have an extremely fast lead-out train. Aussie sprinter Benjamin Brooks took a second place in stage two of the Tour de Georgia and Alex Candelario is a criterium specialist, winning the final race of Superweek while Pate, Jones and McCook won their own stages.
Many other professional domestic teams will all be using this race as a springboard for sponsor negotiations for next year and individual riders will be looking to up their stock price when looking for another contract. Jittery Joe's-Kalahari are continuing their step-up to a higher level in terms of domestic racing, and will be hoping for a good sprint finish from Aussie Jeff Hopkins. New kids on the block, Advantage Benefits-Endeavour, want to put a cap on a successful first season of pro racing, and with Aussie Karl Menzies and current elite amateur criterium champion Frank Pipp as well as other fast sprinters, they have a good shot. TIAA-CREF, led by Colby Pearce, comes with their track nationals squad. Pearce and Chad Hartley won the madison and the team pursuit squad finished third.
USCF Professional and Elite Women
Three-time
Last year's winner Tina Pic heads the field
Photo ©: Paul Forsythe

Quark's Tina Pic is once again the favourite for the stars and stripes jersey, having worn it the past three years. Without the usual contingent of foreign riders allowed to race in the national championship, only US citizens can try to knock Pic off the top step of the podium. Trying to do this will be a number of teams, including T-Mobile, Ford-Basis and Victory Brewing.
T-Mobile is without its top sprinter Ina-Yoko Teutenberg, but will be in good shape with riders like Kori Seehafer, Kristin Armstrong, Mari Holden and Kimberly Baldwin. In fact, T-Mobile took the top five spots of the Cascade Classic criterium in early July. Ford-Basis' team manager/rider/sprinter/smart-ass Nicole Freedman won this race in 2001 and is always in the top five towards the end. A win here will help the young team with sponsorship for next year and give some good materials for Snerf to write in her Cyclingnews diary.
Nicole Freedman (Ford-Basis)
Photo ©: Paul Forsythe

Victory Brewing is without an injured Gina Grain for August, but the Canadian national would not be riding in the championships anyway. Therefore riders like Lauren Franges and Amy Moore will have to pick-up the reigns of the team. Younger rider Magen Long (The Bicycle Store) is having another good season, winning many races and the overall of Superweek.
Two days of racing comprise the entire weekend with just about every category of racing possible over Saturday and Sunday. (When's the last time you saw a major category 2 only race?) Saturday's racing finishes with two pro-am events for men and women, giving non-US women an opportunity to race and everyone a chance to win more money. Sunday's racing begins with the women's race at 10:00 am, followed by the men's elite race at 11:30 am, and culminating with the USPRO championship at 2:30 pm.