88th Giro d'Italia - PT
Italy, May 7-29, 2005
Can the Lampre juggernaut be broken?
By Jeff Jones
Damiano Cunego (Lampre)
Photo ©: AFP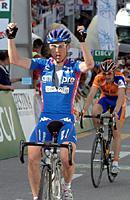 With defending champion Damiano Cunego and two-time Giro winner Gilberto Simoni still riding for the same team this year - Lampre-Caffita - it's going to take a very strong rider to topple them in the 88th Giro d'Italia. Both riders have had solid leadups to the Giro, with Cunego winning a tough mountain stage and finishing second overall in the Tour de Romandie last week, and Simoni winning the Mont Faron stage in Paris-Nice as well as the Giro dell'Appennino. It remains to be seen which rider has the legs to make it to the top of the podium in Milano on May 29. And if they both have good legs, like last year, then it will take a firm hand by Lampre's team management to ensure that intra-team rivalry does not ruin the plan.
As always, there are other riders who are capable of winning the maglia rosa in Milan. CSC's talented Italian Ivan Basso is probably chief among the challengers, even though he has not yet shown all his cards so far this season. Basso didn't ride in Romandie, and his last race was in Liege-Bastogne-Liege on April 24, where he finished 18th. A fourth overall in the Criterium International is his other result of note so far this season, but don't be surprised to see him butting heads with Cunego and Simoni throughout the Giro.
Perennial challenger Stefano Garzelli (Liquigas-Bianchi) is coming into form at the right time, evidenced by his fifth place in the final time trial in the Tour de Romandie - just 3 seconds behind Cunego. On the previous day in the mountains, he was again just nipped by Cunego in the sprint for third place. The 2000 Giro winner looks to have everything in order for the start in Reggio Calabria, but he may need a little bit extra to succeed in the mountains. Garzelli will have last year's fourth place getter Dario David Cioni and ProTour leader Danilo Di Luca at his side, which should make for a very powerful Liquigas squad.
2002 Giro winner Paolo Savoldelli is back from the wilderness of T-Mobile, where he has suffered for the last two years with various problems. Now riding for Discovery Channel, Savoldelli was good in the prologue of Romandie, where he finished second, but didn't do better than 27th overall, after suffering in the mountains. Savoldelli has the experience, but when the road goes uphill, it could be his young teammate Tom Danielson who shines. Danielson brilliantly won the Tour de Georgia recently, thanks to his climbing prowess on the Brasstown Bald stage. He will be an interesting rider to watch on the Colle della Finestre and up to Sestriere in stage 19, if not before then.
Finally, and just limiting ourselves to the main favourites, last year's "meat in the sandwich" between Cunego and Simoni, Serguei Gonchar (Domina Vacanze) should not be underestimated. Gonchar's excellent time trialling abilities and his doggedness in the mountains saw him ride to a career best second overall in the 2004 Giro. Can he do it again, or even go one better in 2005?
While the GC riders tear each other apart in the mountains, the sprinters are likely to dominate the other half of the Giro as they have done in recent years. Foremost among these is Fassa Bortolo's fuoriclasse sprinter Alessandro Petacchi, who set a post-war record last year by winning an incredible nine stages. This year, Fassa is not even bothering about the GC, as all the other eight riders picked for the team will be there in support of Petacchi.
Can anyone take a flat stage away from Ale-Jet? The quality is there this year, especially as the ProTour has forced more of the top teams into riding the Giro. Davitamon-Lotto also has a sprint squad, with the luxury of Tom Steels and Robbie McEwen in its lineup. Steels is in reasonable form at the moment, while McEwen has been rather quieter in the leadup. It will be interesting to see who the team rides for if they both come to the finish in the lead bunch.
Erik Zabel (T-Mobile) has just celebrated his first victory of the season in the tough Rund um den Henninger Turm in Frankfurt. As a result, Zabel changed his race program and is now riding the Giro along with Olaf Pollack and André Korff, who should be able to provide him with support in the finales.
Baden Cooke will lead the Francaise des Jeux charge, with fellow Aussies Matt Wilson and Mark Renshaw at his side. Another Aussie sprinter to watch is Stuart O'Grady (Cofidis), who is more likely to try and get himself into a long breakaway in order to win, rather than challenging Petacchi head to head. Look out also for Paride Grillo (Panaria) and Isaac Galvez (Illes Balears) to be in the bunch sprinting mix.
Live coverage
Cyclingnews will be providing live coverage of each stage of the 88th Giro d'Italia, starting from 14:30 CEST (Europe)/8:30 EDT (USA)/5:30 PDT (USA)/22:30 AEST (Australia) every day.
Giro presentation story - January 2005
Cunego-Basso battle clearly on the cards
By Tim Maloney, European Editor in Italy
2000 Giro champion Stefano Garzelli
Photo ©: Cyclingnews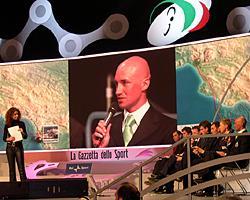 In a flashy live broadcast on RAI-TV from Milan's Mazda Palace, the 88th Giro d'Italia opened to the strains of The Doors "Light My Fire", a homage to 24 year-old Doors fan Damiano Cunego from Verona, who broke on through to the other side last year with his superb win at the Giro.
Although the 87th Giro was supposed to be a battle between 2003 winner Simoni and rival Garzelli, it was the unheralded Cunego, Simoni's Saeco team-mate, who took the final honours. With Marco Pantani dead a little less than a year, many cycling fans have embraced Cunego as the heir apparent in Italian cycling. With RAI-TV lead sportscaster Mimmo Fusco and Italian TV hottie Paola Saluzzi hosting the show, it was non-stop action from all over Italy during the one hour broadcast.
The always positive Cunego evaluated the 2005 Giro route with a smile, and said: "It's a beautiful course; very good for climbers and I think it's good for me." But Lampre-Cafitta's Cunego won't have an easy time repeating as Giro d'Italia champion, as his main rival will be CSC's Ivan Basso.
More determined and confident than ever, Basso showed that he will be ready to win his first Grand Tour in May. "I hope to do even better in the Giro than the last time I rode it five years ago; since then, I have done three Tours [de France] since. So my challenge will be to find the same level of fitness as I had at the Tour last year, more than just beating Cunego."
By no means is the 2005 Giro d'Italia a two-man race. Cunego's Lampre-Cafitta teammate Gilberto Simoni, will ride "united with me" according to Cunego, while Liquigas leader Garzelli also likes what he sees on the 2005 Giro race map. Discovery Channel's Paolo Savoldelli tipped Basso as the winner, while "il Falco" will be looking to heal up his broken collarbone and snag at least a podium spot in Milano.
The 2005 Giro d'Italia starts in Reggio Calabria on the tippy-toe of Italy's boot along the seafront that legendary Italian poet Gabriele d'Annunzio called the most beautiful kilometer in Italy, opening with a dead-flat, 1.150km sprint along the Strait of Messina. Then for the next few stages, the Giro heads due north up the boot, skipping Napoli and Roma, but heading inland on Stages 5 and 6, with an uphill finish in L'Aquila. The percorso then heads back to the coast into Tuscany, with a finish in Marina di Grosetto on Friday the 13th. Saturday's Stage 7 may see the first drama of the Giro, as the stage from Grosetto to Pistoia over 205km features the steep 5km ascent of the Muro di Sammommé with 30km to race.
The next day is the first race of truth at the 2005 Giro, a relatively flat 41km from Andrea Tafi's hometown of Lamporecchio to Firenze, then two fairly easy transition stages across Italy to the first rest on the Adriatic coast in Ravenna on Tuesday, May 17th. On Wednesday May 18, Stage 10 is a sprinters' stage that goes due north through Padova and finishes in Rossano, hometown of Giro d'Italia sponsor Wilier Triestina bicycles and Selle Italia saddles.
No Giro presentation would be complete
Photo ©: Cyclingnews

The next morning, the riders of the Giro will assemble in Marostica's Piazza degli Scacchi for their own human chess game in the first of four tough stages in the Dolomiti from Thursday to Sunday. First up on May 19th is the dangerous 150km Stage 11, the Giro's first mountain stage from Marostica with three tough passes before the mountaintop finish in Zoldo Alto. Friday May 20 is a transition stage from Alleghe to Rovereto with only one climb up Passo San Pellegrino, but Saturday May 21 is brutal. Stage 13 from Mezzacorona to Ortisei in Val Gardena covers 217km, climbing through the vineyards of the Adige valley over five ascents (Monte San Pietro-Passo Costalunga-Pordoi-Campolongo-Passo delle Erbe) before the final assault up to another mountaintop finish in Ortisei / St.Ulrich in Val Gardena.
Sunday morning May 22 brings on Stage 14 from Egna to Livigno via the mythical Passo dello Stelvio. The potentially decisive 210km stage starts amongst the vineyards of Alto Adige, then heads west towards the long, tough Stelvio, where Cima Coppi (the highest point in the Giro) awaits at 2758m. Then it's a long descent to Bormio, then up the seldom-raced Passo di Foscagno and down to the finish in Livigno. Monday morning is a mostly downhill sprinters' stage to Giro rest day #2 in Lissone, near Milano.
The final phase of the Giro d'Italia begins on Wednesday, May 25th on Stage 16 from Lissone to Varazze over 207km, with the tough ascent of Bric Berton with 60km to go likely to provoke attacks. Thursday's Stage 17 from Varazze to Limone Piemonte finished atop the steep Colle di Tenda, an ascent where Fausto Coppi fulfilled his WW2 military service as bicycle messenger in 1942.
Then Friday and Saturday have two difficult stages on the menu which will likely decide the winner of the 2005 Giro d'Italia. Friday's Stage 18 from Chieri to Torino is an individual time trial of 31km that scales the 6km ascent of the Colle di Superga, before plunging down into Torino for the finish. This difficult stage should make some selection, but riders must be conservative because Saturday's penultimate stage of the 2005 Giro d'Italia is extremely difficult.
The 190km Stage 19 from Savigliano to Sestriere through the Valli Olimpiche) commences with a long ascent to Sestriere, then the well-known descent to Susa where the Colle delle Finestre begins. The impossibly narrow Finestre ascent is an 18.5km mutha that climbs to 2178m., with the last 8.5km on a gravel road like something out of the Giro d'Italia from Coppi and Bartali's day half a century ago. After the summit, there is a 10km descent to Pourrieres, then back to Sestriere for the final mountain climb of the 2005 Giro d'Italia. All that remains is Sunday's Stage 20 from Albese Con Cassano to Milano, a sprinters stage over 121km.
2005 Giro d'Italia stages
Saturday May 7 - Prologue TT: Reggio Calabria, 1,150 m
Sunday May 8 - Stage 1: Reggio Calabria - Tropea, 208 km
Monday May 9 - Stage 2: Catanzaro Lido - S.M. del Cedro, 177 km
Tuesday May 10 - Stage 3: Diamante - Giffoni Valle Piana, 210 km
Wednesday May 11 - Stage 4: Giffoni Valle Piana - Frosinone, 197 km
Thursday May 12 - Stage 5: Celano - L'Aquila, 215 km
Friday May 13 - Stage 6: Viterbo - Marina Di Grosseto, 154 km
Saturday May 14 - Stage 7: Grosseto - Pistoia, 205 km
Sunday May 15 - Stage 8: Lamporecchio - Firenze ITT, 41,5 km
Monday May 16 - Stage 9: Firenze - Ravenna, 139 km
Tuesday May 17 - Rest Day-Ravenna
Wednesday May 18 - Stage 10: Ravenna - Rossano Veneto, 212 km
Thursday May 19 - Stage 11: Marostica - Zoldo Alto, 150 km
Friday May 20 - Stage 12: Alleghe - Rovereto, 178 km
Saturday May 21 - Stage 13: Mezzocorona - Ortisei, 217 km
Sunday May 22 - Stage 14: Egna - Livigno, 210 km
Monday May 23 - Stage 15: Livigno - Lissone, 207 km
Tuesday May 24 - Rest Day - Lissone
Wednesday May 25 - Stage 16: Lissone - Varazze, 207 km
Thursday May 26 - Stage 17: Varazze - Limone Piemonte (Colle di Tenda), 194 km
Friday May 27 - Stage 18: Chieri - Torino, ITT 31 km
Saturday May 28 - Stage 19: Savigliano - Sestriere (Le Valli Olimpiche), 190 km
Sunday May 29 - Stage 20: Albese con Cassano - Milano, 121 km
Total race distance: 3,465km
Photography
For a thumbnail gallery of these images, click here
Images by Fotoreporter Sirotti