Recently on Cyclingnews.com
44th Rund um den Henninger Turm - 1.HC
Frankfurt, Germany, May 1, 2005
2004 Results Results Past winners
Zabel for the third time
Erik Zabel (T-Mobile)
Photo ©: AFP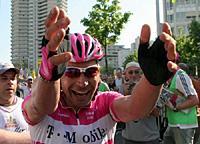 Erik Zabel has finished off the first part of his 2005 season with a victory in the 44th Rund um den Henninger Turm, becoming the first rider ever to win this prestigious race three times. Zabel outsprinted Argentinean Alejandro Alberto Borrajo (Ceramica Panaria) and Markus Zberg (Gerolsteiner) at the end of 211 very warm kilometres. There were only 21 finishers - a testament to the hot weather and aggressive riding by the two top teams: T-Mobile and Gerolsteiner.
The race started in Darmstädter Landstraße just before 11:00am in bright sunshine, with temperatures predicted to reach the high 20s during the afternoon. The riders had to complete a long 17 km neutral section before the actual start at 11:25, which made for a long day in the saddle for some. David Kupka (ZVVZ) opened the hostilities, attacking to take the first sprint after 4.5 km. Ben Day (MrBookmaker) took the second one, just 3 km later. Then it was open slather for the first two hours with a very hard, attacking tempo being ridden, which told on the riders' legs at the end of the day.
Linus Gerdemann (Akud Arnold's Sicherheit) started what would become the main move of the day when he attacked to take the third mountain sprint at 42.6 km. He was joined by Henk Vogels (Davitamon-Lotto) and then Sven Krauss (Gerolsteiner), and the trio built up a 1'15 lead until they were joined by T-Mobile's Matthias Kessler at km 75, and then a group containing last year's winner Karsten Kroon (Rabobank), Tomas Brozyna (Intel Action), Peter Wrolich, Fabian Wegmann (Gerolsteiner), Stefan Schumacher (Shimano Memory Corp) and Wladimir Efimkin (Barloworld) a few kilometres later.
The gap between the main field and the break grew to 2'45 after 100 km, but some strong work by T-Mobile brought it back to a minute as the field was reduced to 30 riders. On the steep Mammolshain climb after 108 km, Gerdemann, Wegmann, Schumacher, Kessler and Kroon dropped the rest of the break, with Efimkin eventually joining them after a 30 km chase. Amazingly, the Russian didn't wait long before attacking the lead group with 60 km to go, and rode off on his own while the other five were swallowed by a group of 18 riders with eventual winner Zabel, his T-Mobile teammate Steffen Wesemann, Mirko Celestino and Jörg Ludewig (Domina Vacanze), Jens Heppner and David Kopp (Team Wiesenhof), Igor Astarloa and David George (Barloworld-Valsir), Christophe Brandt and Serge Baguet (Davitamon-Lotto), Markus Zberg (Gerolsteiner), Petr Bencik (eD'system - ZVVZ), Cezary Zamana (Intel-Action), Holger Sievers (Lamonta), Corey Sweet (ComNet), Alberto Borrajo (Panaria), Erwin Thijs (MrBookmaker), and Gerhard Trampusch (Akud - Arnolds Sicherheit), among others.
The podium:
Photo ©: Andrea Hübner

After 15 km of freedom, Efimkin was caught by Wegmann, but the large group behind wouldn't let the pair stay away for long and it came back together for the run back into Frankfurt and the three finishing circuits of 4.5 km. Wesemann and Baguet were the main riders responsible for setting a high tempo that discouraged any attacks. Wegmann tried a move with just over a lap to go, but Wesemann easily chased him down, before recovering for a while, then towing the group to the 1 km to go banner, when it was up to Zabel to look after himself. The super-experienced sprinter did so to perfection, placing himself in 5th wheel with 400m to go, and when Wegmann led out the sprint for Zberg, Zabel jumped hard left at 200m out to take a clear win - his first for the season.
Photography
For a thumbnail gallery of these images, click here
Images by AFP Photo
Images by Andrea Hübner/www.velo-photos.com
Results - 211.3 km
1 Erik Zabel (Ger) T-Mobile                          5.10.34 (40.82 km/h)
2 Alejandro Alberto Borrajo (Arg) Ceramica Panaria          
3 Markus Zberg (Swi) Gerolsteiner                           
4 Mirko Celestino (Ita) Domina Vacanze                      
5 David Kopp (Ger) Wiesenhof                                
6 Petr Bencik (Cze) eD'system - ZVVZ                        
7 Cezary Zamana (Pol) Intel-Action                          
8 Holger Sievers (Ger) Lamonta                              
9 Stefan Schumacher (Ger) Shimano - Memory Corp             
10 Christophe Brandt (Bel) Davitamon - Lotto                
11 Corey Sweet (Aus) ComNet - Senges                        
12 Erwin Thijs (Bel) MrBookmaker.com - SportsTech           
13 Gerhard Trampusch (Aut) AKUD - Arnolds Sicherheit        
14 Karsten Kroon (Ned) Rabobank                             
15 David George (RSA) Barloworld - Valsir                   
16 Jörg Ludewig (Ger) Domina Vacanze                        
17 Fabian Wegmann (Ger) Gerolsteiner                    0.53
18 Steffen Wesemann (Ger) T-Mobile                          
19 Serge Baguet (Bel) Davitamon - Lotto                 2.00
20 Igor Astarloa Ascasibar (Spa) Barloworld - Valsir    1.59
21 Vladimir Efimkin (Rus) Barloworld - Valsir           7.04



Past winners
2004 

1 Karsten Kroon (Ned) Rabobank                205 km in 5.21.10
2 Danilo Hondo (Ger) Gerolsteiner                                    
3 Johan Coenen (Bel) MrBookmaker.com-Palmans                         

2003 

1 Davide Rebellin (Ita) Gerolsteiner          206 km in 5.09.17 (40.41 km/h)
2 Erik Zabel (Ger) Team Telekom                        
3 Igor Astarloa (Spa) Team Saeco

2002
 
1 Erik Zabel (Ger) Team Telekom               206km in 5.00.17 (41.26 km/h)
2 Jo Planckaert (Bel) Cofidis
3 Serguei Ivanov (Rus) Fassa Bortolo
 
2001
 
1 Marcus Zberg (Swi) Rabobank                 206 kms in 5.05.35
2 Rebellin (Ita) Liquigas-Pata
3 Kurt Van De Wouwer (Bel) Lotto-Adecco
 
2000
 
1 Kai Hundertmark (Ger) Deutsche Telekom-ARD  206 kms in 5.01.08
2 Matteo Tosatto (Ita) Fassa Bortolo
3 Jens Heppner (Ger) Deutsche Telekom-ARD
 
1999
 
1 Erik Zabel (Ger) Team Telekom 206 kms in 5.03.40
2 Leon Van Bon (Ned) Rabobank
3 Alberto Ongarato (Ita) Ballan-Alessio
 
1998
 
1 Fabio Baldato (Ita) Riso Scotti 206 kms in 5.00.14
2 Nicolaij Bo Larsen (Den) TVM-Farm Frites
3 Stefano Garzelli (Ita) Mercatone Uno
 
1997
 
1 Michele Bartoli (Italy)
2 Bjarne Riis (Denmark)
3 Mauro Gianetti (Swi)
 
1996
 
1 Beat Zberg (Switzerland)
2 Jens Heppner (Germany)
3 Rolf Sörensen (Denmark)
 
1995
 
1 Francesco Frattini (Italy)
2 Jens Heppner (Germany)
3 Massimo Podenzana (Italy)
 
1994
 
1 Olaf Ludwig (Germany)
2 Andreas Kappes (Germany)
3 Emmanuele Magnien (France)
 
1993
 
1 Rolf Sörensen (Denmark)
2 Max Sciandri (Italy)
3 Eddy Bouwmans (Belgium)
 
1992
 
1 Frank Van den Abbeele (Belgium)
2 Claudio Chiappucci (Italy)
3 Frans Maassen (Netherlands)
 
1991
 
1 Johan Bruyneel (Belgium)
2 Johan Musseuw (Belgium)
3 Martin Earley (Ireland)
 
1990
 
1 Thomas Wegmüller (Switzerland)
2 Jan Wijnants (Belgium)
3 Peter Winnen (Netherlands)
 
1989
 
1 Jean-Marie Wampers (Belgium)
2 Martial Gayant (France)
3 Claudio Chiappucci (Italy)
 
1988
 
1 Michel Dernies (Belgium)
2 Rolf Sörensen (Denmark)
3 G Montovani (Italy)
 
1987
 
1 Dag-Otto Lauritzen (Norway)
2 Peter Stevenhaagen (Netherlands)
3 Henk Lubberding (Netherlands)
 
1986
 
1 Jean-Marie Wampers (Belgium)
2 Steve Bauer (Canada)
3 Micheal Wilson (Australia)
 
1985
 
1 Phil Anderson (Australia)
2 Johan Lammerts (Netherlands)
3 Rolf Gölz (Germany)
 
1984
 
1 Phil Anderson (Australia)
2 Erik Vanderaerden (Belgium)
3 Sean Kelly (Ireland)
 
1983
 
1 Ludo Peters (Belgium)
2 Leo van Vliet (Netherlands)
3 Luc Colijn (Belgium)
 
1982
 
1 Ludo Peters (Belgium)
2 Jostien Wilmann (Norway)
3 Sean Kelly (Ireland)
 
1981
 
1 Jos Jakobs (Belgium)
2 Didi Thurau (Germany)
3 Daniel Willems (Belgium)
 
1980
 
1 Giabattista Baronchelli (Italy)
2 Francesco Moser (Italy)
3 Alfons de Wolf (Belgium)
 
1979
 
1 Daniel Willems (Belgium)
2 Henk Lubberding (Netherlands)
3 Gregor Braun (Germany)
 
1978
 
1 Gregor Braun (Germany)
2 Rudy Pevenage (Belgium)
3 Hennie Kuiper (Netherlands)
 
1977
 
1 Gerrei Knetemann (Netherlands)
2 Didi Thurau (Germany)
3 Frans Veerbeck (Belgium)
 
1976
 
1 Freddy Maertens (Belgium)
2 Frans Verbeek (Belgium)
3 Roger De Vlaeminick (Belgium)
 
1975
 
1 Roi Schuiten (Netherlands)
2 Frans Verbeeck (Belgium)
3 Walter Godefroot (Belgium)
 
1974
 
1 Walter Godefrood (Belgium)
2 Eddy Merckx (Belgium)
3 Frans Verbeeck (Belgium)
 
1973
 
1 Georges Pintens (Belgium)
2 Jürgen Tschan (Germany)
3 Freddy Maertens (Belgium)
 
1972
 
1 Gilbert Bellone (France)
2 Eddy Merckx (Belgium)
3 Noël Vantygmen (Belgium)
 
1971
 
1 Eddy Merckx (Belgium)
2 Jos Deschoenmaker (Belgium)
3 Lucien Aimar (France)
 
1970
 
1 Rudi Altig (Germany)
2 Joop Zopetemelk (Netherlands)
3 Ottavio Crepaldi (Italy)
 
1969
 
1 Georges Pintens (Belgium)
2 Michele Dancelli (Italy)
3 Herman van Springel (Belgium)
 
1968
 
1 Eddy Beugels (Netherlands)
2 V van Sweevelt (Belgium)
3 Herman van Springel (Belgium)
 
1967
 
1 Daniël von Rijckeghem (Belgium)
2 Willy Planckaert (Belgium)
3 Georges van Coningsloo (Belgium)
 
1966
 
1 Barry Hoban (England)
2 Walter Godefroot (Belgium)
3 Willy Planckaert (Belgium)
 
1965
 
1 Jean Stablinski (France)
2 Frans Verbeeck (Belgium)
3 Georges van Coningsloo (Belgium)
 
1964
 
1 Clement Roman (Belgium)
2 François Mahé (France)
3 Yvo Molengers (Belgium)
 
1963
 
1 Hans Junkermann (Germany)
2 Willi Altig (Germany)
3 Jean Stablinski (France)
 
1962
 
1 Armand Desmet (Belgium)
2 Huub Zilverberg (Netherlands)
3 Rik van Looy (Belgium)
 
Past winners courtesy of Mario Stiehl, www.world-of-cycling.com