43rd Rund um den Henninger Turm - 1.1/1.7.1
Germany, May 1, 2004
2003 Results Results Past winners
Kroon crowns Rabobank's success and spoils the Gerolsteiner party
Karsten Kroon takes a hard-fought victory
Photo ©: Christine Krüger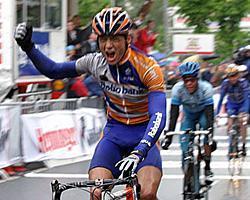 On a wet day in Frankfurt, Dutch rider Karsten Kroon (Rabobank) foiled what seemed to be another Gerolsteiner success, beating Danilo Hondo and Johan Coenen (MrBookmaker) to win the 43rd Rund um den Henninger Turm. Kroon was part of a five man breakaway - all that remained of a larger group that had escaped after 17 km - and with Gerolsteiner's Thorsten Schmidt also in the group, it seemed Hondo would have a rails run to the finish. But Kroon showed that winning a sprint after being in a breakaway the whole day was different to winning a bunch sprint, and Hondo simply didn't have the power to come around the Dutchman.
Kroon's victory followed the Rabobank division III team's clean sweep of the podium in the U23 race, where Marc de Maar soloed to the win ahead of teammates Thomas Dekker and Bas Gilling.
How it unfolded
The cold, wet conditions changed the face of this edition of the Rund um den Henninger Turm, and this time the early break wasn't caught. After 17 km of racing, a group of riders went clear with favourite Danilo Hondo (Gerolsteiner) accompanied by his teammate Torsten Schmidt, along with Frank van Dulmen (BankGiroLoterij), Johan Coenen and Jens Renders (MrBookmaker-Palmans), Gregory Rast (Phonak), Karsten Kroon (Rabobank), Christian Werner (T-Mobile), Frederik Veuchelen (Vlaanderen) and Björn Schröder (Wiesenhof). They were later joined by Emanuele Sella (Panaria), and with Gerolsteiner, T-Mobile and Rabobank all represented, the peloton did not bother chasing.
By the halfway point of the 205 km race, the leaders had reached an advantage of 8'40 and the peloton, which still contained Davide Rebellin (Gerolsteiner) and Erik Zabel (T-Mobile) started chasing. Slowly the gap came down but with 30 km to go, the now eight-strong lead group still had 3'15 to the T-Mobile/Domina Vacanze led peloton, and it seemed like it would be enough to stay away.
As the race headed back into Frankfurt for three 4.5 km finishing laps, Thorsten Schmidt started attacking to break things up, and with 13 km to go there were only five left: Schmidt, Hondo, Kroon, Coenen and Rast. The chasing peloton was down to just 25 riders at this point, and had the task of closing a 1'55 gap in the last three laps. With two laps to go it was 1'32 and with one lap (4.5 km) left it was just 45 seconds, as T-Mobile gave it everything to try and reach the leaders.
The break, with Schmidt doing a lot of work, picked up speed on the final lap to keep the peloton at bay, and came into the final kilometre with a 25 second lead on the bunch. Hondo was perfectly placed in fourth wheel, and looked to have the race in the bag when Kroon came off Schmidt's wheel to start the sprint in earnest. But Hondo could only follow Kroon across the line, and didn't quite have the legs to finish off the good work of his team. Behind them, Bjorn Leukemans (MrBookmaker) led Erik Zabel across for 6th place at 28 seconds.
Photography
Images by Elmar Krings
Images by Christine Krüger/www.cyclingimages.com
Photo gallery by Franklin Tello/www.franklintellophoto.com
The wet and cold conditions of today's start
Photo ©: Franklin Tello

A bus needs a push up the heartbreaker 26% grade Mammolshain hill
Photo ©: Franklin Tello

Emanuele Sella (Panaria)
Photo ©: Franklin Tello

Karsten Kroon (Rabobank)
Photo ©: Franklin Tello

The T-Mobile team
Photo ©: Franklin Tello

Erik Zabel, the champion of Germany
Photo ©: Franklin Tello

A focused Matthias Kessler (T-Mobile)
Photo ©: Franklin Tello

Bjorn Leukemans (MrBookmaker)
Photo ©: Franklin Tello

Dutch rider Karsten Kroon (Rabobank)
Photo ©: Franklin Tello
Results - 205 km
1 Karsten Kroon (Ned) Rabobank                                5.21.10
2 Danilo Hondo (Ger) Gerolsteiner                                    
3 Johan Coenen (Bel) MrBookmaker.com-Palmans                         
4 Gregory Rast (Swi) Phonak Hearing Systems                      0.03
5 Torsten Schmidt (Ger) Gerolsteiner                             0.06
6 Björn Leukemans (Bel) MrBookmaker.com-Palmans                  0.28
7 Erik Zabel (Ger) T-Mobile Team                                     
8 Marcus Zberg (Swi) Gerolsteiner                                    
9 Eddy Mazzoleni (Ita) Saeco                                         
10 Sergio Marinangeli (Ita) Domina Vacanze                           
11 Erwin Thijs (Bel) MrBookmaker.com-Palmans                         
12 Serge Baguet (Bel) Lotto-Domo                                     
13 Mirko Celestino (Ita) Saeco                                       
14 Michael Albasini (Swi) Phonak Hearing Systems                     
15 Petr Bencik (Cze) Ed' System-ZVVZ                                 
16 Uros Murn (Slo) Phonak Hearing Systems                        0.31
17 Davide Rebellin (Ita) Gerolsteiner                                
18 Wim Van Huffel (Bel) Vlaanderen-T Interim                         
19 Rik Verbrugghe (Bel) Lotto-Domo                               0.33
20 Jef Peeters (Bel) Vlaanderen-T Interim                            
21 Martin Deganc (Slo) Domina Vacanze                            0.36
22 Gianni Faresin (Ita) Gerolsteiner                                 
23 Rolf Aldag (Ger) T-Mobile Team                                0.41
24 Steffen Wesemann (Ger) T-Mobile Team                          0.50
25 Christophe Brandt (Bel) Lotto-Domo                            1.23
26 Tomasz Brozyna (Pol) Action ATI                               1.35
27 Delval Castre Sana (Spa) MrBookmaker.com-Palmans                  
28 Christi Pfannberger (Aut) Ed' System-ZVVZ                         
29 Johann Tschopp (Swi) Phonak Hearing Systems                       
30 Frederik Veuchelen (Bel) Vlaanderen-T Interim                 1.40
31 Massimo Giunti (Ita) Domina Vacanze                           2.27
32 Matthias Kessler (Ger) T-Mobile Team                          2.40
33 Christian Werner (Ger) T-Mobile Team                          3.23
34 Emanuele Sella (Ita) Ceramiche Panaria-Margres                5.14
35 Marc Lotz (Ned) Rabobank                                      5.44
DNF René Haselbacher (Aut) Gerolsteiner                              
DNF Marco Serpellini (Ita) Gerolsteiner                              
DNF Fabian Wegmann (Ger) Gerolsteiner                                
DNF Krzysztof Krzywy (Pol) Action ATI                                
DNF Piotr Chmielewski (Pol) Action ATI                               
DNF Michal Pawlyta (Pol) Action ATI                                  
DNF Eugen Wacker (Ger) Action ATI                                    
DNF Oleksandr Klymenko (Ukr) Action ATI                              
DNF Dennis Kraft (Ger) Action ATI                                    
DNF Kazimierz Stafiej (Pol) Action ATI                               
DNF Alain Van Katwijk (Ned) Bankgiroloterij                          
DNF Marco Bos (Ned) Bankgiroloterij                                  
DNF Julien Smink (Ned) Bankgiroloterij                               
DNF Jorgen Bo Petersen (Den) Bankgiroloterij                         
DNF Eelke Van Der Wal (Ned) Bankgiroloterij                          
DNF Laurens Ten Dam (Ned) Bankgiroloterij                            
DNF Frank Van Dulmen (Ned) Bankgiroloterij                           
DNF Alexandre Botcharov (Rus) Credit Agricole                        
DNF Bradley Wiggins (GBr) Credit Agricole                            
DNF Cédric Herve (Fra) Credit Agricole                               
DNF Sébastian Joly (Fra) Credit Agricole                             
DNF Mads Kaggestad (Nor) Credit Agricole                             
DNF Andrey Kashechkin (Kaz) Credit Agricole                          
DNF Geoffroy Lequatre (Fra) Credit Agricole                          
DNF Dmitriy Muravyev (Kaz) Credit Agricole                           
DNF Raivis Belohvosciks (Lat) Chocolade Jacques Wincor-Nixdorf       
DNF Bert Hiemstra (Ned) Chocolade Jacques Wincor-Nixdorf             
DNF Jan Koerts (Ned) Chocolade Jacques Wincor-Nixdorf                
DNF Rik Reinerink (Ned) Chocolade Jacques Wincor-Nixdorf             
DNF Christophe Stevens (Bel) Chocolade Jacques Wincor-Nixdorf        
DNF Andy Cappelle (Bel) Chocolade Jacques Wincor-Nixdorf             
DNF Jan Van Velzen (Ned) Chocolade Jacques Wincor-Nixdorf            
DNF Mario Perez Arango (Col) Colombia-Selle Italia                   
DNF Leonardo Scarselli (Ita) Colombia-Selle Italia                   
DNF Philippe Schnyder (Swi) Colombia-Selle Italia                    
DNF Russel Van Hout (Aus) Colombia-Selle Italia                      
DNF Trent Wilson (Aus) Colombia-Selle Italia                         
DNF Graziano Gasparre (Ita) De Nardi                                 
DNF Michele Gobbi (Ita) De Nardi                                     
DNF Matej Jurco (Svk) De Nardi                                       
DNF Mirco Lorenzetto (Ita) De Nardi                                  
DNF Rafael Nutridinov (Uzb) De Nardi                                 
DNF Igor Pugaci (Mda) De Nardi                                       
DNF Gian Matteo Fagnini (Ita) Domina Vacanze                         
DNF Francesco Failli (Ita) Domina Vacanze                            
DNF Murilo Fischer (Bra) Domina Vacanze                              
DNF Alexandr Kolobnev (Rus) Domina Vacanze                           
DNF Andrew Bradley (Aut) Elk Haus Radteam Sportunion Schrems         
DNF Marti Fischerlehner (Aut) Elk Haus Radteam Sportunion Schrems    
DNF Mario Lexmüller (Aut) Elk Haus Radteam Sportunion Schrems        
DNF Roland Wafler (Aut) Elk Haus Radteam Sportunion Schrems          
DNF Stefan Rucker (Aut) Elk Haus Radteam Sportunion Schrems          
DNF Ralph Scherzer (Aut) Elk Haus Radteam Sportunion Schrems         
DNF Jochen Summer (Aut) Elk Haus Radteam Sportunion Schrems          
DNF Sergey Lagutin OUZ Landbouwkrediet-Colnago                       
DNF Yuri Metlushenko (Ukr) Landbouwkrediet-Colnago                   
DNF Mikhail Timochine (Rus) Landbouwkrediet-Colnago                  
DNF Maxime Monfort (Bel) Landbouwkrediet-Colnago                     
DNF Nico Sijmens (Bel) Landbouwkrediet-Colnago                       
DNF Marc Streel (Bel) Landbouwkrediet-Colnago                        
DNF Geert Van Bondt (Bel) Landbouwkrediet-Colnago                    
DNF Tomas Vaitkus LIT Landbouwkrediet-Colnago                        
DNF Nick Gates (Aus) Lotto-Domo                                      
DNF Robbie Mcewen (Aus) Lotto-Domo                                   
DNF Gert Steegmans (Bel) Lotto-Domo                                  
DNF Lef Verbrugghe (Bel) Lotto-Domo                                  
DNF Aart Vierhouten (Ned) Lotto-Domo                                 
DNF Frédéric Gabriel (Fra) MrBookmaker.com-Palmans                   
DNF Jens Renders (Bel) MrBookmaker.com-Palmans                       
DNF Peter Wuyts (Bel) MrBookmaker.com-Palmans                        
DNF Kurt Van De Wouwer (Bel) MrBookmaker.com-Palmans                 
DNF Ruben Bongiorno (Arg) Ceramiche Panaria-Margres                  
DNF Scott Davis (Aus) Ceramiche Panaria-Margres                      
DNF Fabio Gilioli (Ita) Ceramiche Panaria-Margres                    
DNF Filippo Perfetto (Ita) Ceramiche Panaria-Margres                 
DNF Daniele Bennati (Ita) Phonak Hearing Systems                     
DNF Alexandre Usov (Blr) Phonak Hearing Systems                      
DNF Bert Grabsch (Ger) Phonak Hearing Systems                        
DNF Robert Bartko (Ger) Rabobank                                     
DNF Bram De Groot (Ned) Rabobank                                     
DNF Kevin De Weert (Bel) Rabobank                                    
DNF Maarten Den Bakker (Ned) Rabobank                                
DNF Thorwald Veneberg (Ned) Rabobank                                 
DNF Grischa Niermann (Ger) Rabobank                                  
DNF Giosuè Bonomi (Ita) Saeco                                        
DNF Antonio Bucciero (Ita) Saeco                                     
DNF Nicola Gavazzi (Ita) Saeco                                       
DNF Salvatore Commesso (Ita) Saeco                                   
DNF Stefan Adamsson (Swe) Team Barloworld-Androni Giocattoli         
DNF Enrico Degano (Ita) Team Barloworld-Androni Giocattoli           
DNF David George (RSA) Team Barloworld-Androni Giocattoli            
DNF Ivan Ravaioli (Ita) Team Barloworld-Androni Giocattoli           
DNF Antonio Salomone (Ita) Team Barloworld-Androni Giocattoli        
DNF Sean Sullivan (Aus) Team Barloworld-Androni Giocattoli           
DNF Andreas Klöden (Ger) T-Mobile Team                               
DNF Sergey Ivanov (Rus) T-Mobile Team                                
DNF Tobias Steinhauser (Ger) T-Mobile Team                           
DNF Benny De Schrooder (Bel) Vlaanderen-T Interim                    
DNF Geoffrey Demeyere (Bel) Vlaanderen-T Interim                     
DNF Jan Kuyckx (Bel) Vlaanderen-T Interim                            
DNF Paul Van Hyfte (Bel) Vlaanderen-T Interim                        
DNF David Meys (Bel) Vlaanderen-T Interim                            
DNF Ralf Grabsch (Ger) Team Wiesenhof                                
DNF Jens Heppner (Ger) Team Wiesenhof                                
DNF Roberto Lochowski (Ger) Team Wiesenhof                           
DNF Martin Müller (Ger) Team Wiesenhof                               
DNF Enrico Poitschke (Ger) Team Wiesenhof                            
DNF Björn Schröder (Ger) Team Wiesenhof                              
DNF René Obst (Ger) Team Wiesenhof                                   
DNF Lars Wackernagel (Ger) Team Wiesenhof                            
DNF Lubomir Kejval (Cze) Ed' System-ZVVZ                             
DNF David Kupka (Cze) Ed' System-ZVVZ                                
DNF Pavel Zerzan (Cze) Ed' System-ZVVZ                               
DNF Frantisek Trkal (Cze) Ed' System-ZVVZ                            
DNF Jindrich Vana (Cze) Ed' System-ZVVZ     
U23 Men - 169.4 km

1 Marc De Maar (Ned) Rabobank                      4.16.51
2 Thomas Dekker (Ned) Rabobank                        2.15
3 Bas Gilling (Ned) Rabobank                              
4 Andreas Dietziker (Swi) Swiss National Team         2.50
5 Rory Sutherland (Ned) Rabobank                      3.38
6 Carlo Westphal (Ger) Team Wiesenhof                 3.48
7 Linus Gerdemann (Ger) Winfix Arnolds Sicherheit     3.51
8 Stefan Heiny (Ger) Team Rothaus                     3.52
9 T. Stamsnijder (Ned) Rabobank                       4.01
10 Andy Schleck (Lux) Luxembourg National Team        4.02
11 Serge Pouwels (Ned) Rabobank                       4.16
12 Harald Berger (Aut) Austrian National Team         4.18
13 Mario Wernli (Ger) Bürgis Cycling Team             4.21
14 Florian Stalder (Swi) Swiss National Team          4.24
15 Daniel Musiol (Ger) KED Bianchi Berlin                 
16 Andre Greipel (Ger) RG Teag Team Kostritzer            
17 Christoph Kindle (Ger) Team Rothaus                    
18 Tom Veelers (Ned) Cycling Team Tegeltoko               
19 Alexander Gottfried (Ger) RG Hofbrau                   
20 Thomas Fothen (Ger) RG Teag Team Kostritzer            
21 Bart Oegema (Ned) Cycling Team Tegeltoko           4.28
22 Thomas Frei (Ger) Bürgis Cycling Team                  
23 Stun Crombez (Ned) Rabobank                            
24 Falk Dworatzek (Ger) RG Teag Team Kostritzer           
25 Marcel Siegfried (Ger) Bürgis Cycling Team             
26 Christian Leben (Ger) Winfix Arnolds Sicherheit    4.30
27 Arne Hassink (Ned) Cycling Team Tegeltoko              
28 Matthias Russ (Ger) RG Hofbrau                         
29 Thom Van Dulmen (Ned) Cycling Team Tegeltoko       4.33
30 Marcel Beima (Ned) Cycling Team Tegeltoko          4.38
31 Lars Burchert (Ger) KED Bianchi Berlin             7.38
32 Johann Berk (Ned) HSK Trias                            
33 Tom Vermeer (Ned) Midden Nederland                     
34 Björn Lucke (Ger) Team Wiesenhof                       
35 Rüdiger Wilhelm (Ger) Team Optik                       
36 Ger Soepenberg (Ned) Cycling Team Tegeltoko            
37 Timo Honstein (Ger) KED Bianchi Berlin                 
38 Peter Schmid (Ger) Team Stuttgart                      
39 Danilo Wyss (Ger) Bürgis Cycling Team                  
40 Fabian Züsli (Ger) GS Rufaflex                         
41 Simon Schärrer (Swi) Swiss National Team               
42 David Binnig (Ger) RG Hofbrau                          
43 Hubert Schwab (Swi) Swiss National Team                
44 Markus Eibegger (Aut) Austrian National Team           
45 Felix Gniot (Ger) KED Bianchi Berlin                   
46 Laurent Didier (Lux) Luxembourg National Team          
47 Joe Kirch (Lux) Luxembourg National Team               
48 Florian Piper (Ger) ISPO Lotusan Cottbus               
49 Daniel Aigner (Ger) Team Stuttgart                     
50 Rene Anke (Ger) Team Wiesenhof                         
51 Henrik Röglin (Ger) Winfix Arnolds Sicherheit          
52 Armin Spitzbarth (Ger) KED Bianchi Berlin              
53 Christoph Klipp (Ger) ISPO Lotusan Cottbus             
54 Matthias Schröger (Aut) Austrian National Team         
55 Ingmar Dassler (Ger) ISPO Lotusan Cottbus              
56 Marco Kiritschenko (Ger) Team Wiesenhof                
57 Sebastian Paddags (Ger) RG Teag Team Kostritzer        
58 Josef Kugler (Aut) Austrian National Team              
59 Thomas Grawunder (Ger) Team Wiesenhof                  
60 Hennes Rödel (Ger) Team Wiesenhof                      
61 Alexander Gut (Ger) Team Rothaus                       
62 Tony Martin (Ger) RG Teag Team Kostritzer              
63 Danny Kwiatkista (Ger) RG Frankfurt                    
64 Christian Müller (Ger) RG Teag Team Kostritzer         
65 Konrad Opitz (Ger) Team Wiesenhof                      
66 Johannes Fröhlinger (Ger) Team Optik                   
67 Manuel Phyn (Ger) Bürgis Cycling Team                  
68 Martin Fleig (Ger) RG Hofbrau                          
69 Tobias Rück (Ger) Team Stuttgart                       
70 Sebast Brandstetter (Ger) RV Sossenheim                
71 Karsten Fischer (Ger) LV Hessen                        
72 Dominik Dörflinger (Ger) Team Rothaus                  
73 Gilles Hendel (Lux) Luxembourg National Team           
74 Jeroen Akkermann (Ned) Midden Nederland                
75 Markus Reich (Ger) Team Wiesenhof                      
76 Christoph Schwerdt (Ger) Mapei Bayern                  
77 Johannes Reiser (Aut) Austrian National Team           
78 Patrick Keller (Ger) Team Wiesenhof                    
79 Josef Beneteseder (Aut) Austrian National Team         
80 Christian Rzen (Aut) Austrian National Team            
81 Jörg Diener (Ger) Team Optik                           
82 Daniel Heizmann (Ger) Team Optik                       
83 Benn Wurth (Lux) Luxembourg National Team              
84 Kurt Houben (Ned) Rabobank                             
85 Elnathan Heizmann (Ger) Team Optik                     
86 Jimmy Tapparel (Swi) Swiss National Team               
87 Peter Van Den Berg (Ger) Cycling Team Tegeltoko        
88 Gilbert Obrist (Ger) Bürgis Cycling Team               
89 Benjamin Stauch (Ger) Team Stuttgart                   

Past winners
2003 

1 Davide Rebellin (Ita) Gerolsteiner          206 km in 5.09.17 (40.41 km/h)
2 Erik Zabel (Ger) Team Telekom                        
3 Igor Astarloa (Spa) Team Saeco

2002
 
1 Erik Zabel (Ger) Team Telekom               206km in 5.00.17 (41.26 km/h)
2 Jo Planckaert (Bel) Cofidis
3 Serguei Ivanov (Rus) Fassa Bortolo
 
2001
 
1 Marcus Zberg (Swi) Rabobank                 206 kms in 5.05.35
2 Rebellin (Ita) Liquigas-Pata
3 Kurt Van De Wouwer (Bel) Lotto-Adecco
 
2000
 
1 Kai Hundertmark (Ger) Deutsche Telekom-ARD  206 kms in 5.01.08
2 Matteo Tosatto (Ita) Fassa Bortolo
3 Jens Heppner (Ger) Deutsche Telekom-ARD
 
1999
 
1 Erik Zabel (Ger) Team Telekom 206 kms in 5.03.40
2 Leon Van Bon (Ned) Rabobank
3 Alberto Ongarato (Ita) Ballan-Alessio
 
1998
 
1 Fabio Baldato (Ita) Riso Scotti 206 kms in 5.00.14
2 Nicolaij Bo Larsen (Den) TVM-Farm Frites
3 Stefano Garzelli (Ita) Mercatone Uno
 
1997
 
1 Michele Bartoli (Italy)
2 Bjarne Riis (Denmark)
3 Mauro Gianetti (Swi)
 
1996
 
1 Beat Zberg (Switzerland)
2 Jens Heppner (Germany)
3 Rolf Sörensen (Denmark)
 
1995
 
1 Francesco Frattini (Italy)
2 Jens Heppner (Germany)
3 Massimo Podenzana (Italy)
 
1994
 
1 Olaf Ludwig (Germany)
2 Andreas Kappes (Germany)
3 Emmanuele Magnien (France)
 
1993
 
1 Rolf Sörensen (Denmark)
2 Max Sciandri (Italy)
3 Eddy Bouwmans (Belgium)
 
1992
 
1 Frank Van den Abbeele (Belgium)
2 Claudio Chiappucci (Italy)
3 Frans Maassen (Netherlands)
 
1991
 
1 Johan Bruyneel (Belgium)
2 Johan Musseuw (Belgium)
3 Martin Earley (Ireland)
 
1990
 
1 Thomas Wegmüller (Switzerland)
2 Jan Wijnants (Belgium)
3 Peter Winnen (Netherlands)
 
1989
 
1 Jean-Marie Wampers (Belgium)
2 Martial Gayant (France)
3 Claudio Chiappucci (Italy)
 
1988
 
1 Michel Dernies (Belgium)
2 Rolf Sörensen (Denmark)
3 G Montovani (Italy)
 
1987
 
1 Dag-Otto Lauritzen (Norway)
2 Peter Stevenhaagen (Netherlands)
3 Henk Lubberding (Netherlands)
 
1986
 
1 Jean-Marie Wampers (Belgium)
2 Steve Bauer (Canada)
3 Micheal Wilson (Australia)
 
1985
 
1 Phil Anderson (Australia)
2 Johan Lammerts (Netherlands)
3 Rolf Gölz (Germany)
 
1984
 
1 Phil Anderson (Australia)
2 Erik Vanderaerden (Belgium)
3 Sean Kelly (Ireland)
 
1983
 
1 Ludo Peters (Belgium)
2 Leo van Vliet (Netherlands)
3 Luc Colijn (Belgium)
 
1982
 
1 Ludo Peters (Belgium)
2 Jostien Wilmann (Norway)
3 Sean Kelly (Ireland)
 
1981
 
1 Jos Jakobs (Belgium)
2 Didi Thurau (Germany)
3 Daniel Willems (Belgium)
 
1980
 
1 Giabattista Baronchelli (Italy)
2 Francesco Moser (Italy)
3 Alfons de Wolf (Belgium)
 
1979
 
1 Daniel Willems (Belgium)
2 Henk Lubberding (Netherlands)
3 Gregor Braun (Germany)
 
1978
 
1 Gregor Braun (Germany)
2 Rudy Pevenage (Belgium)
3 Hennie Kuiper (Netherlands)
 
1977
 
1 Gerrei Knetemann (Netherlands)
2 Didi Thurau (Germany)
3 Frans Veerbeck (Belgium)
 
1976
 
1 Freddy Maertens (Belgium)
2 Frans Verbeek (Belgium)
3 Roger De Vlaeminick (Belgium)
 
1975
 
1 Roi Schuiten (Netherlands)
2 Frans Verbeeck (Belgium)
3 Walter Godefroot (Belgium)
 
1974
 
1 Walter Godefrood (Belgium)
2 Eddy Merckx (Belgium)
3 Frans Verbeeck (Belgium)
 
1973
 
1 Georges Pintens (Belgium)
2 Jürgen Tschan (Germany)
3 Freddy Maertens (Belgium)
 
1972
 
1 Gilbert Bellone (France)
2 Eddy Merckx (Belgium)
3 Noël Vantygmen (Belgium)
 
1971
 
1 Eddy Merckx (Belgium)
2 Jos Deschoenmaker (Belgium)
3 Lucien Aimar (France)
 
1970
 
1 Rudi Altig (Germany)
2 Joop Zopetemelk (Netherlands)
3 Ottavio Crepaldi (Italy)
 
1969
 
1 Georges Pintens (Belgium)
2 Michele Dancelli (Italy)
3 Herman van Springel (Belgium)
 
1968
 
1 Eddy Beugels (Netherlands)
2 V van Sweevelt (Belgium)
3 Herman van Springel (Belgium)
 
1967
 
1 Daniël von Rijckeghem (Belgium)
2 Willy Planckaert (Belgium)
3 Georges van Coningsloo (Belgium)
 
1966
 
1 Barry Hoban (England)
2 Walter Godefroot (Belgium)
3 Willy Planckaert (Belgium)
 
1965
 
1 Jean Stablinski (France)
2 Frans Verbeeck (Belgium)
3 Georges van Coningsloo (Belgium)
 
1964
 
1 Clement Roman (Belgium)
2 François Mahé (France)
3 Yvo Molengers (Belgium)
 
1963
 
1 Hans Junkermann (Germany)
2 Willi Altig (Germany)
3 Jean Stablinski (France)
 
1962
 
1 Armand Desmet (Belgium)
2 Huub Zilverberg (Netherlands)
3 Rik van Looy (Belgium)
 
Past winners courtesy of Mario Stiehl, www.world-of-cycling.com