Tour de France News Extra for July 23, 2004
Edited by Jeff Jones
Armstrong's last Tour?
Nothing decided yet, says Bruyneel
By Tim Maloney and Jeff Jones
That's four.
Photo ©: Sirotti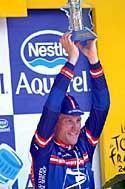 Will Lance Armstrong stop at six Tours de France and concentrate on other races in what could be his last year in cycling in 2006? An article by Sam Abt in today's New York Times entitled, "Armstrong Will Not Return to Tour de France, Official Says" suggests that this could be the case, quoting a "high-ranking official among the organizers of the Tour de France."
The New York Times wrote, "If he wins for a record sixth consecutive year Sunday, as seems certain, Armstrong will not return next year, the official said, but will focus instead on at least one of the two other big Tours, the Giro d'Italia in May and the Vuelta a Espa˝a in September, and several one-day classics...Armstrong, the defending champion, had already informed the Tour organizers of his plan, said the official, who did not want to be identified."
The rumour has been denied by Armstrong's team management, who have said that nothing has been decided yet. Nevertheless, none of them were able to give assurances that Armstrong will definitely be at the start of the Tour next year, suggesting that the outcome of this year's race may play a role.
Armstrong will be part of the new Discovery Channel cycling team next year, which has signed a three year deal to sponsor the team and will be part of the UCI's new Pro Tour. But the 32 year old, who is also looking to life after cycling, said that while he is still competing, "At some point I have to look at other races. There's still a lot of things I want to do in cycling."
US Postal team director Johan Bruyneel spoke to Cyclingnews before the start of today's 18th stage in Annemasse about the reports that Armstrong wouldn't be coming back. "Let's put it this way, we just haven't decided on a 2005 program yet," said Bruyneel. "We're still finalising the team and program, talking to our sponsors about what we're going to do next year. We do know that in the Pro Tour we'll be doing the three big tours but that's all we know now. We really haven't made any plans yet; we're just focusing right now on this Tour and getting to Paris. In August and September we'll sit down, finalise the team and look at the program for next year. So those reports are not accurate. We simply don't know yet."
However, as Angelo Zomegnan, La Gazzetta dell Sport's former cycling journalist, will take over the direction of the Giro d'Italia this September, his long time friendship with Lance Armstrong may seduce Lance to ride the Giro d'Italia next year. Italy is the country where Armstrong won his first pro race in Marostica 12 years ago.
Levi and the Bandit
Odessa and Bandit
Photo ©: CN

Levi Leipheimer was happy to see his wife Odessa and dog Bandit atop l'Alpe d'Huez Wednesday, but the Santa Rosa, CA, Rabobank racer was not all happy with his time. "I think I was slow the whole time...maybe when I saw my split time (at 9.5km in Huez-de-Oisans)...mentally, it's hard, you know. I just didn't feel good the whole time up l'Alpe d'Huez, it just wasn't a good day. But I'm still confident that I'll have a better ride (on Stage 17)."
Leipheimer's prediction proved accurate, as he hung tough all day in the Alps, finishing 7th in Le Grand-Bornand and moving from 10th to 9th on GC. With CSC's Carlos Sastre less than 1'00 ahead of the American and Leipheimer's TT skills, Levi should be able to move into 8th on GC after Saturday's 55km time test in Besanšon.
Christian at Liberty
Christian Vandevelde is happy to be back at the Tour De France with Liberty Seguros after a difficult road to get there this year due to team changes and visa issues. The likeable Vandevelde, originally from Lemont, Ill. but now living in Boulder, CO. (and Gerona, Spain) told Cyclingnews yesterday that "The Tour has been going good; pretty much exactly as I expected it to. I didn't come in in my greatest form, have progressed better and better throughout and feel better than when I started so that's good. I'm happy so far. I haven't done anything spectacular, but I've gotten myself in a few breaks so far. I helped out in the team time trial and helped Roberto (Heras) and Igor (Gonzalez de Galdeano) as much as I could."
We asked Vandevelde about being in the big break of the day on Stage 15 to Villard-de-Lans and he explained, "We didn't really think that break would be going away at first. There were so many guys, and a couple that were pretty well up on GC. And we really didn't know what was going on behind us until the s**t hit the fan. It became pretty much a selection with all the climbing. With 14 guys, we kept getting split up and coming back together. At the end, there were only four or five us left from the original break and it was good to be ahead of the real nastiness that Postal Service was throwin' down. It was nice to be ahead of that storm."
Vandevelde is now hoping his strong Tour ride so far will get him selected for Manolo Saiz's Vuelta a Espa˝a squad in September. "Yeah, I'm pretty sure it's on my program, so after (the Tour), I'll just rest up, lick the wounds and come up good for the Vuelta. I'm looking forward to it." After a series of injuries and bad luck over the past few years, we asked Vandevelde, who was part of Lance Armstrong's first Tour winning squad in 1999 as a 23 year old if the 'old' Christian was coming back. "Yeah, I hope so. It's been a long way coming. I'm just feeling more and more confident."
Bobby's wrist report
CSC's Bobby Julich had a decent day yesterday to Le Grand-Bornand, finishing 31st. After his bad crash on Stage 13 where he smashed his right wrist, Julich soldiered on and yesterday saw a great improvement in his Tour riding. "The swelling has all gone down and it's just really sore," he told Cyclingnews. I guess I'm just really lucky to still be in this race because three days ago I thought I was gone. I'm not patient enough to wait until it gets better. On l'Alpe d'Huez, I just couldn't pull on the bars and when I stood up, I could just basically stand up and stretch. I couldn't accelerate. But Stage 17 will be the most important day of the Tour so pain or not, I have to go 100%."
We asked Julich where his head was at from all the changes at this year's Tour and as always, Bobby was straight up, saying, "It's been such a roller coaster. I started great, then I crashed, I suffered for a day, came back and felt great then crashed (on Stage 13) and just been suffering. Because when you can't hold the handlebars right, it just changes your whole pedal stroke. Your back hurts, you hips hurt, your knee hurts, but you know, all that just goes out the window in the Tour."
Julich predicted T-Mobile's attacks on Stage 17, saying, "They are going to attack a lot and I just need to be there. But my experience is that (T-Mobile) attack lots but they don't attack smart. So (CSC) just need to stay calm and make sure that we get Ivan to the finish line without losing any more time."
T-Mobile did attack in the final on Stage 17, but Ivanov's early set-up move was too fast and Ullrich and Kl÷den only gained time bonuses on Basso, not any other time.
Bartoli for Athens
Although fuoriclasse Michele Bartoli abandoned on Stage 17 with a strained hamstring, when cyclingnews spoke to him Thursday, the CSC rider was upbeat about his selection to the Italian Olympics squad for Athens. "I spoke to (Italian selector) Ballerini and I'm happy to be going...I have good condition now and I just have to make sure that after the Tour I recover well and I'm sure I'll be ready. After the Olympic Games is when my season will become most important."
We asked Bartoli about the satisfaction of his selection after having been left off the Italian squad for last years Worlds in Canada. "Well I'm glad to see the trust that Ballerini has in me for Athens. I hope to be able to return this with a good performance in Athens and hopefully the Worlds in Verona. So things are going pretty well."
Merckx agrees with "No Gifts" Armstrong
Axel Merckx (Lotto-Domo) was in full agreement with Lance Armstrong's strong desire to take a third consecutive stage win in the Tour de France. Armstrong has been in sparkling form in this year's race and has not given any of his rivals an inch. Although he could have let Andreas Kl÷den ride away with the victory yesterday, his jump with 200m to go to mow down the German in the last 20 metres confirmed his "No Gifts" approach to this year's race. Although some criticised it as being a little selfish, most agreed that it was the right thing to do as it's a race, not a charity event.
"I can understand Lance Armstrong very well; not giving anything away in this Tour," Merckx told Het Nieuwsblad. "The whole day US Postal was working furiously. He wanted to give the win to Landis, but when this wasn't possible, he put things right himself. I am happy that I finally was able to see Lance working on his terrain during a whole stage, from up close."
Merckx rode very well yesterday to finish 6th at 1'01 down, and he is currently lying 21st on the general classification at 33'54. "It would be very audacious of me to say that I can do better than what I did today. I think that I'm close to my highest level. If I would work solemnly towards this tour then maybe I could do a bit more, but everything depends on the team you have around you."
Verbrugghe wants to show himself on birthday
Rik Verbrugghe (Lotto-Domo)
Photo ©: Sirotti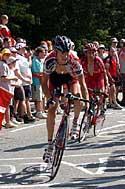 "A lot of people said behind my back that Rikske Verbrugghe was finished and that I won't race anymore next year because I will earn a lot less," Verbrugghe was quoted in today's Het Nieuwsblad. "Well, I'm going to continue racing and of course I am going to earn less money."
Verbrugghe continued, "My stage win in Lavaur in 2001 was very nice, but the attack before the Col de la Croix Fry I think was good too. The group held some big names. After two rotten years I still doubted myself a bit. But those are fading slowly. This the answer to those who had written me off. I feel that I'm getting back to my old self. Today I'll be there attacking from the start; that's my way to celebrate my birthday. And I hope to ride a good TT on Saturday. I would like to take this form to Athens, to the TT, but that decision is made by the national coach JosÚ De Cauwer."
More post-stage comments
Ivan Basso (CSC, 4th)
We tried to with the stage with Sastre but Landis' relentless pace was too high to attack. I'm not happy with the way I did my sprint. I finished very tired. I haven't been in big form in the last few days while at the same time my rivals for the podium Ullrich and Kl÷den are better than they were at the start of the Tour.
Christophe Moreau (CA, 19th)
"It's been three weeks that I've wanted to be in a good break like this one. I had a great day and it was very exciting. As soon as I found myself with just Simoni and Virenque our cooperation was not as good and that kept us from going further."
Ludovic Martin (RAGT, 90th)
"I'm happy with my day even I if hoped that our breakaway would go further. When I saw Moreau and Virenque coming back I didn't have any illusions. I crossed two big cols with the leaders and that's not bad. After that, I suffered in the heat on the Col de Tamie."
Source: L'Equipe
(All rights reserved/Copyright Knapp Communications Pty Limited 2004)