91st Tour de France - July 3-25, 2004
Prizes galore during the Tour
There's an amazing array of prizes on offer through Cyclingnews and our sponsors during this year's Tour de France. If you won them all, you could find yourself traveling to Australia and France with a couple of new bikes to ride, a wardrobe full of new clothing, making calls on a new mobile phone, and riding with new shoes and pedals - and then making a side trip to Texas to go ride with Lance Armstrong!
Win Giant's new TCR Advanced!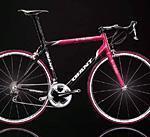 For starters, there's our Tour de France Fantasy Competition, where you get to play directeur sportif and choose one or more virtual Tour teams. It's easy and fun, and prizes on offer include a Giant 2005 TCR Advanced frameset in T-Mobile colours; a ten-day trip to one of next year's grand tours with Bikestyle Tours; Zero Gravity super-light Ciamillo brakes; CycleOps Electronic Trainer Plus; Bontrager wheels; Speedplay Tyler Hamilton Signature Edition Zero Pedals; Rudy Project Tour de France edition eyewear; Salsa Competidor™ six panel shorts.
To register for the Cyclingnews Tour de France fantasy Game, go to fantasy.cyclingnews.com. Good luck!
For more information on joining, see the rules section.
Win the Tour Down Under!
Photo: © Mark Gunter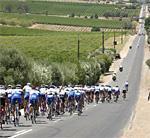 Australia's premier race is the Jacob's Creek Tour Down Under, which next year runs January 18 - 23, 2005. The JCTDU is always a huge but friendly event where fans can easily meet riders, and where the racers are happy to enjoy some Aussie sunshine when it's still chilly and damp in Europe. You can join them courtesy of the JCTDU organisation who will fly two lucky winners from anywhere in the world to see the 2005 race. The prize includes car hire and accommodation for the duration of the Tour and two JCTDU Club Tour memberships.
Win Specialized Pro Carbon 04 shoes!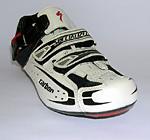 Our good friends at Specialized - the bike and shoe sponsor of Mario Cipollini and Domina Vacanza - invite you to play "Whose shoes" for the chance to win a pair of their carbon fiber-soled Pro Carbon Body Geometry road shoes. All you have to do is identify the rider belonging to the mystery feet and you could win - and keep checking back as there's a new pair of mystery feet every three days throughout the Tour de France
As well as these competitions, brought to you by our generous sponsors in conjunction with Cyclingnews there's a host of others: