91st Tour de France - July 3-25, 2004
Main Page Live report Results Overall standings Previous Stage Next Stage
Stage 17 - July 22: Bourg d'Oisans - Le Grand Bornand, 204.5 km
"No Gifts": Armstrong sprints to third consecutive stage win
Landis does yeoman's work on hot, hard mountain stage
By Tim Maloney and Jeff Jones in Le Grand-Bornand
Lance Armstrong (USPS)
Photo ©: Roberto Bettini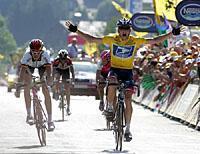 Today was the day that everyone was waiting for at the Tour de France: the longest, most difficult mountain stage with five categorized climbs across the Alps. Combined with the 30° summer heat, there were huge time gaps in the shattered peloton that was strewn across the Massif de la Vanois and the Chain des Aravis mountain ranges. For the third day running, it was Big Tex, Mr. Lance Armstrong himself who won the stage, his 20th Tour stage win. Armstrong sprinted in ahead of German champion Andreas Klöden (T-Mobile), who is currently sitting in third on GC at the Tour. Klöden's teammate Jan Ullrich tried hard today to set up his teammate for the stage win to gain valuable bonus seconds on Ivan Basso, but there was nothing doing as Lance blasted home in Le Grande-Bornand.
After the stage, Armstrong explained why he brought back Klöden's last kilometre attack with such a concerted effort. "As I stepped up to the top of the podium, Bernard Hinault met me at the top of the steps and said 'perfect.' No gifts, no gifts this year. I've given gifts in the Tour de France and very rarely has it ever come back to help me. And this is the biggest bike race in the world and it means more than any bike race in the world and it means more to me than any bike race in the world. And I wanna win. No gifts."
Andreas Kloden's (T-Mobile)
Photo ©: Caroline Yang

But atop the last climb of the day, the Col de la Croix Fry with 15km to go, Armstrong had encouraged his teammate Floyd Landis to attack and go for the stage win on a day when the former Pennsylvania farm boy showed just how strong he's become in this year's Tour. As he did two days ago on the stage to Villard-de-Lans, Armstrong paid tribute to the 29 year old from Murietta, California. "(Floyd) was the man of the day...he was incredible. For him to ride tempo on the final climb and end up with five guys, that says it all. That's really, really hard to do. And from our information, the people that were there were suffering. So I had hoped that he could ride a fast descent to the finish and win a stage. But it didn't work out that way."
Floyd Landis (USPS)
Photo ©: Sirotti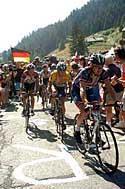 Armstrong continued his praise for Landis, who showed his strength and determination today in the Tour. "He is riding super; he's a great teammate and he's given everything. Today was the best day I've ever seen from Floyd and I've had some fast guys ride tempo on the climbs. Floyd seems to be getting better and better every day. And today is his best day ever. That's why I really wanted him to win the stage. For me, he deserved the win and for that matter, I should dedicate the stage win to him, because he deserved it. I think he wanted it and needed it. I asked him (on the final climb) 'how bad do you wanna win a stage in the Tour de France? And he said 'real bad'. I said 'how fast can you go downhill' and he said 'I go downhill real fast' and he said 'can I do it?' and I said 'sure you can do it; run like you stole something, Floyd.' And Jan chased him down."
For his part, Floyd returned the props for Lance today post-stage. Landis explained that, "Lance tried to let me win today but Ullrich didn't want me to win, so Lance won. Ha! Which is better anyway...whatever. Lance let me go on the descent he wanted to try and let me win the stage, but Ullrich was having none of it."
Lance
Photo ©: Sirotti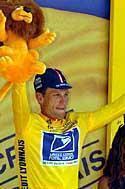 Yesterday, Landis was disappointed that the USPS team didn't let him ride harder in the l'Alpe d'Huez TT, but when his teammate Azevedo dropped back on the final climb, their strategy in saving Floyd for today's tough mountain made sense. Landis explained after the stage today with his famous sense of humour that "I've been feeling better every day since the start. Today was definitely a good day for me, so I'm happy for Lance. He can sprint too!"
T-Mobile have done little in this year's Tour results-wise, but Jan Ullrich and Klöden did gain time on Basso today thanks to US Postal's work, but Ullrich explained away his behaviour by saying, "I did everything for Klöden to win today. In the final, I was watching Landis as well as Armstrong. We knew that Landis would probably attack, so I covered his move."
Lance described the action on the final descent, saying "Floyd was scrapping it (up)...I was dropped; I was trying to take it easy and be careful."
Despite losing the stage win, Ullrich and Klöden were still happy to have gained time on everybody except Armstrong today. "Anyway, you saw the best riders in the front today on the hardest stage of the Tour." Klöden and Ullrich both gained time via time bonuses today on Basso, who suffered in the final kilometres on the Croix Fry, but recovered well on the descent and was still there at the finish in Le Grand-Bornand.
Ivan Basso and Jan Ullrich
Photo ©: Jon Devich

As Armstrong goes from strength to strength as his sixth consecutive Tour win looms in Paris on Sunday, the American reminisced on the last time he was in Le Grand-Bornand, in 1999 at the start of Stage 9's 213 km trip to Sestrieres, where Armstrong took his first career stage win wearing the Maillot Jaune. Armstrong spoke about how he's grown over the course of five - and now, barring any unexpected events - six straight Tour victories. "Each victory brings more experience and I think that in this event, that's critical. I can remember back to 1999, I was so nervous every day that I was going to lose the Tour de France. I don't have those feelings anymore; I'll get nervous and I'll have bad days and things like that, but I have a lot of confidence in myself and a lot of confidence in the team right now; that we can control any situation.
"And as long as I take care of myself physically, do all the things we're supposed to do, and eat right, get the proper rest, then I think I'm going to show up on the start line ready to race everyday. And that comes with a lot of experience...when I was here (at Le Grand-Bornand) in 1999, we hadn't started the mountains yet, so I had won the time trial, but for all I knew, I was going to get dropped in the mountains and lose the yellow jersey."
Like today's win in Le Grand-Bornand, Armstrong did it five years ago in Sestrieres wearing his favourite colour: Yellow.
How it unfolded
Gilberto Simoni (Saeco)
Photo ©: Roberto Bettini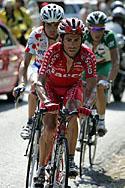 The peloton rolled out of Bourg d'Oisans under sunny blue skies and a warm temperature of over 30 degrees. Three riders didn't start: Roberto Heras (Liberty), Alessandro Bertolini (Alessio) and Laurent Lefevre (Brioches). Heras was lying in 45th place on GC nearly an hour down, and together with his team, he decided not to continue in such bad condition. A few kilometres into the stage, Janek Tombak (Cofidis) was also forced to abandon after slicing his fingers in his front wheel while trying to adjust his computer sensor.
It didn't take long for the first attack of the day to go, and it turned out to be the one that stuck. After 2 km, Filippo Simeoni (Domina Vacanze), Michele Bartoli (CSC), Gilberto Simoni (Saeco), Ludovic Martin (RAGT) and Rolf Aldag (T-Mobile) flew the coop and were able to get clear of the peloton, which was controlled by the blue jerseys of US Postal. When the leaders were 40 seconds ahead, Mikel Astarloza (Ag2r) set off after them, but the Basque rider was never able to make contact and came back to the peloton 60 km later.
The peloton
Photo ©: Jon Devich
The five hit the first of the day's climbs, the 21.9 km Col du Glandon, with a 1'50 lead over the bunch, and continued to increase it to over 5 minutes at the summit. Simoni took the points at the top with the other four in tow, while Astarloza came across in sixth at 2'50. The Basque came to grief on the steep switchbacks at the top of the descent and lost some skin, but was able to remount and continue his lone effort in between the break and the peloton.
From the peloton, Richard Virenque took the points for seventh followed by teammate Bettini and Christophe Moreau. With the gap they had at the top, Virenque and Moreau decided to continue and quickly opened up a minute's lead over the peloton on the long descent, catching Astarloza on the way down and closing in on the four leaders.
On the 2000m Col de la Madeleine (km 79), the highest mountain in this year's Tour, Moreau and Virenque left Astarloza behind and slowly but surely reeled in the early break. They made contact just before the top and Virenque went for the points and big cash prize (Souvenir Henri Desgranges), but met his match in Gilberto Simoni who outsprinted the polka-dot jersey for the honours. With Bartoli also dropped from the lead group on the climb, there were now six leaders: Simoni, Virenque, Moreau, Aldag, Simeoni and Martin. They had nearly eight minutes at one point before the US Postal and CSC led peloton realised the danger and started to up the tempo.
USPS
Photo ©: Jon Devich
The chase started in earnest on the long descent through the Isere valley as US Postal and CSC jerseys continued to set the tempo. On the Cat. 2 Col de Tamie (km 134), both Simeoni and Martin were dropped, leaving four men in front including a very tired Aldag. Gilberto Simoni was clearly on a mission to try for a stage win, and kept the tempo high, but the bunch had closed to four minutes with US Postal's Triki Beltran and George Hincapie on the front. Iker Flores (Euskaltel) tried a solo bridging attempt up to the leaders, but made no impression.
On the steep Col de la Forclaz (km 157.5), Aldag finally lost contact and over the top it was Virenque, Simoni and Moreau in that order, with Aldag at 2'15 and a rather select 20 man peloton at 2'40. With just one more climb to come, it was time to reel in the break and Postal's Rubiera and Azevedo rode a hard tempo to the foot of the climb, bringing the leaders back to 1'40 at the sprint in Thones (km 177). Belgian Rik Verbrugghe got a 30 second headstart on the climb when he tried to bridge across alone, but once he hit the steeper sections he quickly came back to the bunch.
Carlos Sastre (CSC)
Photo ©: CN

The remaining three were mopped up by Carlos Sastre with 20 km to go as the Spaniard took a flyer in an attempt to win the stage. But he could only gain a maximum of 18 seconds as Floyd Landis rode a brutal tempo all the way to the top of the climb, dropping everyone save for Armstrong, Basso, Klöden and Ullrich. Landis was given the go ahead by his boss to attack on the descent, but Ullrich saw it and quickly bridged the gap, followed by Armstrong.
The leading five regrouped, playing cat and mouse tactics until under 2 km to go when Landis attacked, but was chased by Ullrich. After they went under the flamme rouge with 1 km to go, it was Klöden's turn to counter, leaving Landis to chase with Armstrong, Ullrich and Basso on his wheel. Klöden held a 30 metre advantage on the slight uphill finish, but when Lance Armstrong launched himself in pursuit with 200m to go, Klöden looked back twice and the American surged past him in the last 20m to win by half a bike length. Ullrich took third ahead of Basso and Landis, while the remnants of the peloton limped in at various intervals over the next 40 minutes.
Stage 18 - Friday July 23: Annemasse - Lons le Saunier, 166.5 km
Annemasse will this year host its first Tour start, however it won't be an easy one. With five categorised climbs in the 166.5 kilometres, everyone today will looking forward to the final 40 km. which are mostly downhill. At 62.5 kilometres from the start, the riders start to ascend the major climb of the stage, the Cat. 2 Col de la Faucille, which averages 6.3% for 11.5 km. The race finishes up in Lons le Saunier with the Cat. 4 Côte de Nogna at 13 km to go a key point for a late attack. Look for a non-threatening breakaway to go clear in this stage with US Postal riding tempo behind to keep things under control before Saturday's final time trial.
Photography
Images by Jon Devich/www.epicimages.us
Images by Chris Henry/Cyclingnews.com
Images by Roberto Bettini
Images by Fotoreporter Sirotti
Images by Caroline Yang/Caroline Yang Photography
Results
1 Lance Armstrong (USA) US Postal p/b Berry Floor                  6.11.52 (33 km/h)
2 Andreas Klöden (Ger) T-Mobile Team                                      
3 Jan Ullrich (Ger) T-Mobile Team                                     0.01
4 Ivan Basso (Ita) Team CSC                                               
5 Floyd Landis (USA) US Postal p/b Berry Floor                        0.13
6 Axel Merckx (Bel) Lotto-Domo                                        1.01
7 Levi Leipheimer (USA) Rabobank                                          
8 Carlos Sastre (Spa) Team CSC                                        1.02
9 Michael Rasmussen (Den) Rabobank                                        
10 Georg Totschnig (Aut) Gerolsteiner                                     
11 Jose Azevedo (Por) US Postal p/b Berry Floor                           
12 Vladimir Karpets (Rus) Illes Balears - Banesto                     2.00
13 Oscar Pereiro (Spa) Phonak Hearing Systems                         2.05
14 Giuseppe Guerini (Ita) T-Mobile Team                                   
15 Francisco Mancebo Pérez (Spa) Illes Balears - Banesto                  
16 Pietro Caucchioli (Ita) Alessio-Bianchi                                
17 Richard Virenque (Fra) Quick Step-Davitamon                            
18 Juan Miguel Mercado (Spa) Quick Step-Davitamon                     2.08
19 Christophe Moreau (Fra) Crédit Agricole                            2.16
20 Sandy Casar (Fra) Fdjeux.com                                       2.20
21 Rik Verbrugghe (Bel) Lotto-Domo                                    4.48
22 Thomas Voeckler (Fra) Brioches La Boulangère                           
23 Michael Rogers (Aus) Quick Step-Davitamon                              
24 Gilberto Simoni (Ita) Saeco                                            
25 Iker Flores (Spa) Euskaltel - Euskadi                              6.50
26 Jérôme Pineau (Fra) Brioches La Boulangère                         7.19
27 Jose Luis Rubiera (Spa) US Postal p/b Berry Floor                      
28 Stéphane Goubert (Fra) AG2R Prévoyance                             8.18
29 David Moncoutié (Fra) Cofidis - Le Crédit Par Téléphone                
30 Rolf Aldag (Ger) T-Mobile Team                                         
31 Bobby Julich (USA) Team CSC                                            
32 Alexandre Botcharov (Rus) Crédit Agricole                         10.19
33 José Enrique Gutierrez (Spa) Phonak Hearing Systems               11.24
34 Nicolas Portal (Fra) AG2R Prévoyance                                   
35 Iker Camaño (Spa) Euskaltel - Euskadi                                  
36 Manuel Beltran (Spa) US Postal p/b Berry Floor                         
37 Oscar Sevilla (Spa) Phonak Hearing Systems                        11.29
38 Aitor Osa Eizaguirre (Spa) Illes Balears - Banesto                14.57
39 Sergei Ivanov (Rus) T-Mobile Team                                 16.08
40 Marius Sabaliauskas (Ltu) Saeco                                   16.16
41 Santos Gonzalez (Spa) Phonak Hearing Systems                      18.02
42 Paolo Bettini (Ita) Quick Step-Davitamon                          19.39
43 Patrice Halgand (Fra) Crédit Agricole                             20.49
44 Jörg Ludewig (Ger) Saeco                                               
45 Scott Sunderland (Aus) Alessio-Bianchi                                 
46 Laurent Brochard (Fra) AG2R Prévoyance                                 
47 Laurent Dufaux (Swi) Quick Step-Davitamon                              
48 Walter Bénéteau (Fra) Brioches La Boulangère                           
49 Andrea Peron (Ita) Team CSC                                            
50 Sylvain Calzati (Fra) R.A.G.T. Semences - MG Rover                     
51 Ronny Scholz (Ger) Gerolsteiner                                        
52 Bert Grabsch (Ger) Phonak Hearing Systems                              
53 Pierrick Fedrigo (Fra) Crédit Agricole                                 
54 Evgueni Petrov (Rus) Saeco                                             
55 Sylvain Chavanel (Fra) Brioches La Boulangère                          
56 George Hincapie (USA) US Postal p/b Berry Floor                        
57 Christian Vandevelde (USA) Liberty Seguros                             
58 Benjamin Noval (Spa) US Postal p/b Berry Floor                         
59 Jean-Cyril Robin (Fra) Fdjeux.com                                      
60 Iñigo Landaluze (Spa) Euskaltel - Euskadi                              
61 Jens Voigt (Ger) Team CSC                                              
62 Carlos Dacruz (Fra) Fdjeux.com                                         
63 Nicolas Jalabert (Fra) Phonak Hearing Systems                          
64 Anthony Charteau (Fra) Brioches La Boulangère                     27.28
65 Erik Zabel (Ger) T-Mobile Team                                         
66 Martin Elmiger (Swi) Phonak Hearing Systems                            
67 Franck Renier (Fra) Brioches La Boulangère                             
68 Santiago Botero (Col) T-Mobile Team                                    
69 Bernhard Eisel (Aut) Fdjeux.com                                        
70 José I.Gutierrez Palacios (Spa) Illes Balears - Banesto                
71 Yuriy Krivtsov (Ukr) AG2R Prévoyance                                   
72 Marzio Bruseghin (Ita) Fassa Bortolo                                   
73 Grischa Niermann (Ger) Rabobank                                        
74 Mark Scanlon (Irl) AG2R Prévoyance                                     
75 Benoît Salmon (Fra) Crédit Agricole                                    
76 Jan Hruska (Cze) Liberty Seguros                                       
77 Claus Michael Møller (Den) Alessio-Bianchi                             
78 Igor Gonzalez de Galdeano (Spa) Liberty Seguros                        
79 Allan Davis (Aus) Liberty Seguros                                      
80 Daniele Nardello (Ita) T-Mobile Team                                   
81 David Etxebarria (Spa) Euskaltel - Euskadi                             
82 Unai Etxebarria (Ven) Euskaltel - Euskadi                              
83 Michele Scarponi (Ita) Domina Vacanze                                  
84 Filippo Simeoni (Ita) Domina Vacanze                                   
85 Egoi Martínez (Spa) Euskaltel - Euskadi                                
86 Pavel Padrnos (Cze) US Postal p/b Berry Floor                          
87 David Loosli (Swi) Saeco                                               
88 Santiago Perez (Spa) Phonak Hearing Systems                            
89 Dmitri Fofonov (Kaz) Cofidis - Le Crédit Par Téléphone                 
90 Ludovic Martin (Fra) R.A.G.T. Semences - MG Rover                      
91 Viatcheslav Ekimov (Rus) US Postal p/b Berry Floor                     
92 Uwe Peschel (Ger) Gerolsteiner                                         
93 Karsten Kroon (Ned) Rabobank                                           
94 Xabier Zandio (Spa) Illes Balears - Banesto                            
95 Mikel Astarloza Chaurreau (Spa) AG2R Prévoyance                        
96 Stuart O'Grady (Aus) Cofidis - Le Crédit Par Téléphone                 
97 Danilo Hondo (Ger) Gerolsteiner                                   32.50
98 Sebastian Lang (Ger) Gerolsteiner                                      
99 Juan Antonio Flecha Giannoni (Spa) Fassa Bortolo                  33.27
100 Kim Kirchen (Lux) Fassa Bortolo                                       
101 Kurt-Asle Arvesen (Nor) Team CSC                                 33.42
102 Nicki Sørensen (Den) Team CSC                                         
103 Marcus Ljungqvist (Swe) Alessio-Bianchi                          35.24
104 Peter Wrolich (Aut) Gerolsteiner                                      
105 Andrea Noè (Ita) Alessio-Bianchi                                      
106 Frédéric Guesdon (Fra) Fdjeux.com                                     
107 Pierre Bourquenoud (Swi) R.A.G.T. Semences - MG Rover                 
108 Tom Boonen (Bel) Quick Step-Davitamon                                 
109 Robbie McEwen (Aus) Lotto-Domo                                        
110 Massimiliano Mori (Ita) Domina Vacanze                                
111 Marc Lotz (Ned) Rabobank                                              
112 Thierry Marichal (Bel) Lotto-Domo                                     
113 Julian Dean (NZl) Crédit Agricole                                     
114 Dariusz Baranowski (Pol) Liberty Seguros                              
115 Gilles Bouvard (Fra) R.A.G.T. Semences - MG Rover                     
116 Guillaume Auger (Fra) R.A.G.T. Semences - MG Rover                    
117 Baden Cooke (Aus) Fdjeux.com                                          
118 Marcos Serrano Rodriguez (Spa) Liberty Seguros                        
119 Salvatore Commesso (Ita) Saeco                                        
120 Matthew Wilson (Aus) Fdjeux.com                                       
121 Francesco Secchiari (Ita) Domina Vacanze                              
122 Isidro Nozal Vega (Spa) Liberty Seguros                               
123 Peter Farazijn (Bel) Cofidis - Le Crédit Par Téléphone                
124 Wim Vansevenant (Bel) Lotto-Domo                                      
125 Fabio Baldato (Ita) Alessio-Bianchi                                   
126 Christophe Edaleine (Fra) Cofidis - Le Crédit Par Téléphone           
127 Michael Boogerd (Ned) Rabobank                                        
128 Filippo Pozzato (Ita) Fassa Bortolo                                   
129 Fabian Cancellara (Swi) Fassa Bortolo                                 
130 Matteo Tosatto (Ita) Fassa Bortolo                                    
131 Koos Moerenhout (Ned) Lotto-Domo                                      
132 Servais Knaven (Ned) Quick Step-Davitamon                             
133 Christophe Mengin (Fra) Fdjeux.com                                    
134 José V. Garcia Acosta (Spa) Illes Balears - Banesto                   
135 Christophe Laurent (Fra) R.A.G.T. Semences - MG Rover                 
136 Bram de Groot (Ned) Rabobank                                          
137 Marc Wauters (Bel) Rabobank                                           
138 Stefano Zanini (Ita) Quick Step-Davitamon                             
139 Sébastien Joly (Fra) Crédit Agricole                             35.31
140 Christophe Rinero (Fra) R.A.G.T. Semences - MG Rover                  
141 Thor Hushovd (Nor) Crédit Agricole                                    
142 Frédéric Finot (Fra) R.A.G.T. Semences - MG Rover                     
143 Jean-Patrick Nazon (Fra) AG2R Prévoyance                              
144 Aitor Gonzalez Jimenez (Spa) Fassa Bortolo                       38.44
145 Erik Dekker (Ned) Rabobank                                       40.01
146 Jimmy Engoulvent (Fra) Cofidis - Le Crédit Par Téléphone              
147 Jimmy Casper (Fra) Cofidis - Le Crédit Par Téléphone             40.12
DNF Massimo Giunti (Ita) Domina Vacanze                                   
DNF Didier Rous (Fra) Brioches La Boulangère                              
DNF Janek Tombak (Est) Cofidis - Le Crédit Par Téléphone                  
DNF Daniel Becke (Ger) Illes Balears - Banesto                            
DNF Michele Bartoli (Ita) Team CSC                                        
DNS Alessandro Bertolini (Ita) Alessio-Bianchi                            
DNS Laurent Lefèvre (Fra) Brioches La Boulangère                          
DNS Roberto Heras Hernandez (Spa) Liberty Seguros                         
 
Points
 
1 Lance Armstrong (USA) US Postal p/b Berry Floor                       20 pts
2 Andreas Klöden (Ger) T-Mobile Team                                    17
3 Jan Ullrich (Ger) T-Mobile Team                                       15
4 Ivan Basso (Ita) Team CSC                                             13
5 Floyd Landis (USA) US Postal p/b Berry Floor                          12
6 Axel Merckx (Bel) Lotto-Domo                                          10
7 Levi Leipheimer (USA) Rabobank                                         9
8 Carlos Sastre (Spa) Team CSC                                           8
9 Michael Rasmussen (Den) Rabobank                                       7
10 Georg Totschnig (Aut) Gerolsteiner                                    6
11 Jose Azevedo (Por) US Postal p/b Berry Floor                          5
12 Vladimir Karpets (Rus) Illes Balears - Banesto                        4
13 Oscar Pereiro (Spa) Phonak Hearing Systems                            3
14 Giuseppe Guerini (Ita) T-Mobile Team                                  2
15 Francisco Mancebo Pérez (Spa) Illes Balears - Banesto                 1
 
Mountains
 
Col Du Glandon - Cat. 1, 36.00 km
1 Gilberto Simoni (Ita) Saeco                                           15 pts
2 Filippo Simeoni (Ita) Domina Vacanze                                  13
3 Ludovic Martin (Fra) R.A.G.T. Semences - MG Rover                     11
4 Michele Bartoli (Ita) Team CSC                                         9
5 Rolf Aldag (Ger) T-Mobile Team                                         8
6 Mikel Astarloza Chaurreau (Spa) AG2R Prévoyance                        7
7 Richard Virenque (Fra) Quick Step-Davitamon                            6
8 Paolo Bettini (Ita) Quick Step-Davitamon                               5
 
Col De La Madeleine - HC (Souvenir Henri Desgrange), 79.00 km
1 Gilberto Simoni (Ita) Saeco                                           20 pts
2 Richard Virenque (Fra) Quick Step-Davitamon                           18
3 Ludovic Martin (Fra) R.A.G.T. Semences - MG Rover                     16
4 Rolf Aldag (Ger) T-Mobile Team                                        14
5 Christophe Moreau (Fra) Crédit Agricole                               12
6 Filippo Simeoni (Ita) Domina Vacanze                                  10
7 Michele Bartoli (Ita) Team CSC                                         8
8 Paolo Bettini (Ita) Quick Step-Davitamon                               7
9 Michael Rasmussen (Den) Rabobank                                       6
10 Manuel Beltran (Spa) US Postal p/b Berry Floor                        5
 
Col De Tamié - Cat. 2, 134.50 km
1 Richard Virenque (Fra) Quick Step-Davitamon                           10 pts
2 Christophe Moreau (Fra) Crédit Agricole                                9
3 Gilberto Simoni (Ita) Saeco                                            8
4 Rolf Aldag (Ger) T-Mobile Team                                         7
5 Ludovic Martin (Fra) R.A.G.T. Semences - MG Rover                      6
6 Iker Flores (Spa) Euskaltel - Euskadi                                  5
 
Col De La Forclaz - Cat. 1, 157.50 km
1 Richard Virenque (Fra) Quick Step-Davitamon                           15 pts
2 Christophe Moreau (Fra) Crédit Agricole                               13
3 Gilberto Simoni (Ita) Saeco                                           11
4 Rolf Aldag (Ger) T-Mobile Team                                         9
5 Michael Rasmussen (Den) Rabobank                                       8
6 Jose Luis Rubiera (Spa) US Postal p/b Berry Floor                      7
7 Jose Azevedo (Por) US Postal p/b Berry Floor                           6
8 Floyd Landis (USA) US Postal p/b Berry Floor                           5
 
Col De La Croix Fry - Cat. 1, 191.50 km
1 Lance Armstrong (USA) US Postal p/b Berry Floor                       30 pts
2 Floyd Landis (USA) US Postal p/b Berry Floor                          26
3 Jan Ullrich (Ger) T-Mobile Team                                       22
4 Ivan Basso (Ita) Team CSC                                             18
5 Andreas Klöden (Ger) T-Mobile Team                                    16
6 Carlos Sastre (Spa) Team CSC                                          14
7 Jose Azevedo (Por) US Postal p/b Berry Floor                          12
8 Sergei Ivanov (Rus) T-Mobile Team                                     10
 
Sprints
 
Allemont, 9.00 km
1 Rolf Aldag (Ger) T-Mobile Team                                         6 pts
2 Ludovic Martin (Fra) R.A.G.T. Semences - MG Rover                      4
3 Gilberto Simoni (Ita) Saeco                                            2
 
Thônes, 177.50 km
1 Gilberto Simoni (Ita) Saeco                                            6 pts
2 Richard Virenque (Fra) Quick Step-Davitamon                            4
3 Christophe Moreau (Fra) Crédit Agricole                                2
 
Young rider
 
1 Vladimir Karpets (Rus) Illes Balears - Banesto                   6.13.52
2 Sandy Casar (Fra) Fdjeux.com                                        0.20
3 Thomas Voeckler (Fra) Brioches La Boulangère                        2.48
4 Michael Rogers (Aus) Quick Step-Davitamon                               
5 Jérôme Pineau (Fra) Brioches La Boulangère                          5.19
6 Nicolas Portal (Fra) AG2R Prévoyance                                9.24
7 Iker Camaño (Spa) Euskaltel - Euskadi                                   
8 Sylvain Calzati (Fra) R.A.G.T. Semences - MG Rover                 18.49
9 Sylvain Chavanel (Fra) Brioches La Boulangère                           
10 Benjamin Noval (Spa) US Postal p/b Berry Floor                         
11 Anthony Charteau (Fra) Brioches La Boulangère                     25.28
12 Bernhard Eisel (Aut) Fdjeux.com                                        
13 Yuriy Krivtsov (Ukr) AG2R Prévoyance                                   
14 Mark Scanlon (Irl) AG2R Prévoyance                                     
15 Allan Davis (Aus) Liberty Seguros                                      
16 Michele Scarponi (Ita) Domina Vacanze                                  
17 David Loosli (Swi) Saeco                                               
18 Mikel Astarloza Chaurreau (Spa) AG2R Prévoyance                        
19 Sebastian Lang (Ger) Gerolsteiner                                 30.50
20 Tom Boonen (Bel) Quick Step-Davitamon                             33.24
21 Christophe Edaleine (Fra) Cofidis - Le Crédit Par Téléphone            
22 Filippo Pozzato (Ita) Fassa Bortolo                                    
23 Fabian Cancellara (Swi) Fassa Bortolo                                  
24 Sébastien Joly (Fra) Crédit Agricole                              33.31
25 Jimmy Engoulvent (Fra) Cofidis - Le Crédit Par Téléphone          38.01
 
Most aggressive rider
 
1 Gilberto Simoni (Ita) Saeco                                             
 
Teams
 
1 US Postal presented by Berry Floor                              18.36.51
2 T-Mobile Team                                                       0.51
3 Quick Step-Davitamon                                                7.46
4 Team CSC                                                            8.06
5 Illes Balears-Banesto Santander                                    17.47
6 Phonak Hearing Systems                                             23.43
7 Rabobank                                                           28.16
8 Brioches La Boulangere                                             31.41
9 Credit Agricole                                                    32.09
10 Euskaltel-Euskadi                                                 37.48
11 Ag2R Prevoyance                                                   39.16
12 Lotto-Domo                                                        39.58
13 Saeco                                                             40.38
14 Fdjeux.Com                                                        42.43
15 Gerolsteiner                                                      48.04
16 Alessio-Bianchi                                                   49.07
17 Cofidis Credit Par Telephone                                    1.01.59
18 Liberty Seguros                                                 1.14.30
19 R.A.G.T. Semences-MG Rover                                      1.22.26
20 Domina Vacanze                                                  1.29.05
21 Fassa Bortolo                                                   1.33.07
 
General classification after stage 17
 
1 Lance Armstrong (USA) US Postal p/b Berry Floor                 74.04.56
2 Ivan Basso (Ita) Team CSC                                           4.09
3 Andreas Klöden (Ger) T-Mobile Team                                  5.11
4 Jan Ullrich (Ger) T-Mobile Team                                     8.08
5 Jose Azevedo (Por) US Postal p/b Berry Floor                       10.41
6 Francisco Mancebo Pérez (Spa) Illes Balears - Banesto              11.45
7 Georg Totschnig (Aut) Gerolsteiner                                 12.56
8 Carlos Sastre (Spa) Team CSC                                       15.14
9 Levi Leipheimer (USA) Rabobank                                     16.25
10 Pietro Caucchioli (Ita) Alessio-Bianchi                           16.33
11 Oscar Pereiro (Spa) Phonak Hearing Systems                        17.52
12 Christophe Moreau (Fra) Crédit Agricole                           19.57
13 Michael Rasmussen (Den) Rabobank                                  20.20
14 Gilberto Simoni (Ita) Saeco                                       20.41
15 Thomas Voeckler (Fra) Brioches La Boulangère                      21.12
16 Richard Virenque (Fra) Quick Step-Davitamon                       21.53
17 Vladimir Karpets (Rus) Illes Balears - Banesto                    21.57
18 Sandy Casar (Fra) Fdjeux.com                                      23.08
19 Jose Luis Rubiera (Spa) US Postal p/b Berry Floor                 29.10
20 Stéphane Goubert (Fra) AG2R Prévoyance                            29.33
21 Axel Merckx (Bel) Lotto-Domo                                      33.54
22 Michael Rogers (Aus) Quick Step-Davitamon                         34.30
23 Oscar Sevilla (Spa) Phonak Hearing Systems                        36.13
24 Jérôme Pineau (Fra) Brioches La Boulangère                        36.38
25 Giuseppe Guerini (Ita) T-Mobile Team                              38.58
26 Iker Camaño (Spa) Euskaltel - Euskadi                             39.24
27 Floyd Landis (USA) US Postal p/b Berry Floor                      40.20
28 Laurent Brochard (Fra) AG2R Prévoyance                            41.35
29 José Enrique Gutierrez (Spa) Phonak Hearing Systems               45.45
30 Sylvain Chavanel (Fra) Brioches La Boulangère                     48.41
31 Michele Scarponi (Ita) Domina Vacanze                             55.03
32 Santos Gonzalez (Spa) Phonak Hearing Systems                      57.03
33 David Moncoutié (Fra) Cofidis - Le Crédit Par Téléphone           57.48
34 George Hincapie (USA) US Postal p/b Berry Floor                 1.00.13
35 Patrice Halgand (Fra) Crédit Agricole                           1.01.48
36 Alexandre Botcharov (Rus) Crédit Agricole                       1.03.17
37 Jens Voigt (Ger) Team CSC                                       1.04.07
38 Evgueni Petrov (Rus) Saeco                                      1.06.18
39 Egoi Martínez (Spa) Euskaltel - Euskadi                         1.06.53
40 Marius Sabaliauskas (Ltu) Saeco                                 1.07.40
41 Rik Verbrugghe (Bel) Lotto-Domo                                 1.07.49
42 Bobby Julich (USA) Team CSC                                     1.10.13
43 Igor Gonzalez de Galdeano (Spa) Liberty Seguros                 1.11.13
44 Juan Miguel Mercado (Spa) Quick Step-Davitamon                  1.12.13
45 Aitor Gonzalez Jimenez (Spa) Fassa Bortolo                      1.13.09
46 Manuel Beltran (Spa) US Postal p/b Berry Floor                  1.19.02
47 Jean-Cyril Robin (Fra) Fdjeux.com                               1.22.14
48 Santiago Perez (Spa) Phonak Hearing Systems                     1.24.08
49 Daniele Nardello (Ita) T-Mobile Team                            1.27.59
50 Iñigo Landaluze (Spa) Euskaltel - Euskadi                       1.30.24
51 Aitor Osa Eizaguirre (Spa) Illes Balears - Banesto              1.30.42
52 José I.Gutierrez Palacios (Spa) Illes Balears - Banesto         1.34.42
53 Ronny Scholz (Ger) Gerolsteiner                                 1.35.51
54 Jörg Ludewig (Ger) Saeco                                        1.36.02
55 Marcos Serrano Rodriguez (Spa) Liberty Seguros                  1.37.19
56 Paolo Bettini (Ita) Quick Step-Davitamon                        1.40.21
57 Iker Flores (Spa) Euskaltel - Euskadi                           1.41.49
58 Sergei Ivanov (Rus) T-Mobile Team                               1.42.24
59 Christian Vandevelde (USA) Liberty Seguros                      1.42.48
60 Erik Zabel (Ger) T-Mobile Team                                  1.42.50
61 Stuart O'Grady (Aus) Cofidis - Le Crédit Par Téléphone          1.44.14
62 Mikel Astarloza Chaurreau (Spa) AG2R Prévoyance                 1.44.25
63 Laurent Dufaux (Swi) Quick Step-Davitamon                       1.47.32
64 Kim Kirchen (Lux) Fassa Bortolo                                 1.48.58
65 Grischa Niermann (Ger) Rabobank                                 1.49.00
66 Andrea Peron (Ita) Team CSC                                     1.49.49
67 Benjamin Noval (Spa) US Postal p/b Berry Floor                  1.51.43
68 Marzio Bruseghin (Ita) Fassa Bortolo                            1.52.35
69 Claus Michael Møller (Den) Alessio-Bianchi                      1.54.16
70 Rolf Aldag (Ger) T-Mobile Team                                  1.54.22
71 Sylvain Calzati (Fra) R.A.G.T. Semences - MG Rover              1.58.41
72 Nicolas Portal (Fra) AG2R Prévoyance                            1.59.08
73 Isidro Nozal Vega (Spa) Liberty Seguros                         2.01.14
74 Michael Boogerd (Ned) Rabobank                                  2.02.42
75 David Etxebarria (Spa) Euskaltel - Euskadi                      2.04.41
76 Santiago Botero (Col) T-Mobile Team                             2.05.47
77 Pierrick Fedrigo (Fra) Crédit Agricole                          2.06.46
78 Pavel Padrnos (Cze) US Postal p/b Berry Floor                   2.07.50
79 Sebastian Lang (Ger) Gerolsteiner                               2.09.04
80 Bert Grabsch (Ger) Phonak Hearing Systems                       2.10.09
81 Nicolas Jalabert (Fra) Phonak Hearing Systems                   2.10.26
82 Benoît Salmon (Fra) Crédit Agricole                             2.11.05
83 Viatcheslav Ekimov (Rus) US Postal p/b Berry Floor              2.12.09
84 Christophe Mengin (Fra) Fdjeux.com                              2.15.48
85 Carlos Dacruz (Fra) Fdjeux.com                                  2.17.25
86 Mark Scanlon (Irl) AG2R Prévoyance                              2.18.12
87 Nicki Sørensen (Den) Team CSC                                   2.18.14
88 Unai Etxebarria (Ven) Euskaltel - Euskadi                       2.19.51
89 Christophe Rinero (Fra) R.A.G.T. Semences - MG Rover            2.21.20
90 Scott Sunderland (Aus) Alessio-Bianchi                          2.23.23
91 Dariusz Baranowski (Pol) Liberty Seguros                        2.23.31
92 Xabier Zandio (Spa) Illes Balears - Banesto                     2.23.59
93 Allan Davis (Aus) Liberty Seguros                               2.25.06
94 Andrea Noè (Ita) Alessio-Bianchi                                2.26.08
95 Walter Bénéteau (Fra) Brioches La Boulangère                    2.26.09
96 Dmitri Fofonov (Kaz) Cofidis - Le Crédit Par Téléphone          2.27.49
97 Yuriy Krivtsov (Ukr) AG2R Prévoyance                            2.28.10
98 Koos Moerenhout (Ned) Lotto-Domo                                2.28.35
99 José V. Garcia Acosta (Spa) Illes Balears - Banesto             2.28.50
100 Marc Lotz (Ned) Rabobank                                       2.28.58
101 Thierry Marichal (Bel) Lotto-Domo                              2.29.56
102 Anthony Charteau (Fra) Brioches La Boulangère                  2.31.01
103 Juan Antonio Flecha Giannoni (Spa) Fassa Bortolo               2.31.42
104 David Loosli (Swi) Saeco                                       2.32.37
105 Thor Hushovd (Nor) Crédit Agricole                             2.33.54
106 Peter Farazijn (Bel) Cofidis - Le Crédit Par Téléphone         2.35.36
107 Matteo Tosatto (Ita) Fassa Bortolo                             2.36.30
108 Martin Elmiger (Swi) Phonak Hearing Systems                    2.36.53
109 Danilo Hondo (Ger) Gerolsteiner                                2.38.04
110 Peter Wrolich (Aut) Gerolsteiner                               2.40.00
111 Karsten Kroon (Ned) Rabobank                                   2.40.58
112 Franck Renier (Fra) Brioches La Boulangère                     2.42.21
113 Bram de Groot (Ned) Rabobank                                   2.42.41
114 Filippo Simeoni (Ita) Domina Vacanze                           2.42.55
115 Fabian Cancellara (Swi) Fassa Bortolo                          2.43.25
116 Marc Wauters (Bel) Rabobank                                    2.45.29
117 Filippo Pozzato (Ita) Fassa Bortolo                            2.45.33
118 Ludovic Martin (Fra) R.A.G.T. Semences - MG Rover              2.46.01
119 Massimiliano Mori (Ita) Domina Vacanze                         2.47.00
120 Salvatore Commesso (Ita) Saeco                                 2.48.01
121 Tom Boonen (Bel) Quick Step-Davitamon                          2.48.12
122 Robbie McEwen (Aus) Lotto-Domo                                 2.49.01
123 Jan Hruska (Cze) Liberty Seguros                               2.49.29
124 Julian Dean (NZl) Crédit Agricole                              2.50.09
125 Pierre Bourquenoud (Swi) R.A.G.T. Semences - MG Rover                 
126 Kurt-Asle Arvesen (Nor) Team CSC                               2.50.19
127 Frédéric Guesdon (Fra) Fdjeux.com                              2.50.27
128 Gilles Bouvard (Fra) R.A.G.T. Semences - MG Rover              2.50.35
129 Stefano Zanini (Ita) Quick Step-Davitamon                      2.50.45
130 Bernhard Eisel (Aut) Fdjeux.com                                2.54.34
131 Uwe Peschel (Ger) Gerolsteiner                                 2.54.53
132 Fabio Baldato (Ita) Alessio-Bianchi                            2.56.58
133 Christophe Laurent (Fra) R.A.G.T. Semences - MG Rover          2.57.20
134 Marcus Ljungqvist (Swe) Alessio-Bianchi                        2.58.04
135 Jean-Patrick Nazon (Fra) AG2R Prévoyance                       3.00.12
136 Erik Dekker (Ned) Rabobank                                     3.01.05
137 Guillaume Auger (Fra) R.A.G.T. Semences - MG Rover             3.01.12
138 Jimmy Engoulvent (Fra) Cofidis - Le Crédit Par Téléphone       3.02.23
139 Baden Cooke (Aus) Fdjeux.com                                   3.03.44
140 Servais Knaven (Ned) Quick Step-Davitamon                      3.10.08
141 Wim Vansevenant (Bel) Lotto-Domo                               3.10.53
142 Francesco Secchiari (Ita) Domina Vacanze                       3.12.20
143 Christophe Edaleine (Fra) Cofidis - Le Crédit Par Téléphone    3.13.14
144 Matthew Wilson (Aus) Fdjeux.com                                3.23.28
145 Frédéric Finot (Fra) R.A.G.T. Semences - MG Rover              3.29.17
146 Sébastien Joly (Fra) Crédit Agricole                           3.42.24
147 Jimmy Casper (Fra) Cofidis - Le Crédit Par Téléphone           3.43.48
 
Points classification
 
1 Robbie McEwen (Aus) Lotto-Domo                                       225 pts
2 Thor Hushovd (Nor) Crédit Agricole                                   213
3 Erik Zabel (Ger) T-Mobile Team                                       212
4 Stuart O'Grady (Aus) Cofidis - Le Crédit Par Téléphone               204
5 Danilo Hondo (Ger) Gerolsteiner                                      189
6 Lance Armstrong (USA) US Postal p/b Berry Floor                      128
7 Tom Boonen (Bel) Quick Step-Davitamon                                128
8 Andreas Klöden (Ger) T-Mobile Team                                   121
9 Laurent Brochard (Fra) AG2R Prévoyance                               118
10 Jean-Patrick Nazon (Fra) AG2R Prévoyance                            116
11 Jan Ullrich (Ger) T-Mobile Team                                      88
12 Francisco Mancebo Pérez (Spa) Illes Balears - Banesto                86
13 Jérôme Pineau (Fra) Brioches La Boulangère                           79
14 Kim Kirchen (Lux) Fassa Bortolo                                      78
15 Baden Cooke (Aus) Fdjeux.com                                         77
16 Ivan Basso (Ita) Team CSC                                            73
17 Georg Totschnig (Aut) Gerolsteiner                                   60
18 Michele Scarponi (Ita) Domina Vacanze                                60
19 Allan Davis (Aus) Liberty Seguros                                    60
20 Thomas Voeckler (Fra) Brioches La Boulangère                         58
21 Filippo Pozzato (Ita) Fassa Bortolo                                  50
22 Iñigo Landaluze (Spa) Euskaltel - Euskadi                            50
23 Peter Wrolich (Aut) Gerolsteiner                                     50
24 Fabian Cancellara (Swi) Fassa Bortolo                                47
25 Levi Leipheimer (USA) Rabobank                                       45
26 Aitor Gonzalez Jimenez (Spa) Fassa Bortolo                           44
27 Oscar Pereiro (Spa) Phonak Hearing Systems                           43
28 Jens Voigt (Ger) Team CSC                                            42
29 Egoi Martínez (Spa) Euskaltel - Euskadi                              42
30 David Moncoutié (Fra) Cofidis - Le Crédit Par Téléphone              41
31 Scott Sunderland (Aus) Alessio-Bianchi                               39
32 Richard Virenque (Fra) Quick Step-Davitamon                          38
33 Christophe Mengin (Fra) Fdjeux.com                                   38
34 Paolo Bettini (Ita) Quick Step-Davitamon                             33
35 Kurt-Asle Arvesen (Nor) Team CSC                                     32
36 Jose Azevedo (Por) US Postal p/b Berry Floor                         30
37 Sandy Casar (Fra) Fdjeux.com                                         30
38 Nicolas Jalabert (Fra) Phonak Hearing Systems                        30
39 Juan Antonio Flecha Giannoni (Spa) Fassa Bortolo                     30
40 Carlos Sastre (Spa) Team CSC                                         29
41 Michael Rasmussen (Den) Rabobank                                     28
42 Sylvain Calzati (Fra) R.A.G.T. Semences - MG Rover                   28
43 Pierrick Fedrigo (Fra) Crédit Agricole                               26
44 Filippo Simeoni (Ita) Domina Vacanze                                 25
45 Axel Merckx (Bel) Lotto-Domo                                         25
46 Iker Flores (Spa) Euskaltel - Euskadi                                25
47 Jimmy Engoulvent (Fra) Cofidis - Le Crédit Par Téléphone             24
48 Karsten Kroon (Ned) Rabobank                                         22
49 Christophe Moreau (Fra) Crédit Agricole                              20
50 Marc Lotz (Ned) Rabobank                                             20
51 Gilberto Simoni (Ita) Saeco                                          19
52 Igor Gonzalez de Galdeano (Spa) Liberty Seguros                      19
53 Bram de Groot (Ned) Rabobank                                         19
54 Santos Gonzalez (Spa) Phonak Hearing Systems                         18
55 Santiago Botero (Col) T-Mobile Team                                  18
56 Julian Dean (NZl) Crédit Agricole                                    18
57 Matteo Tosatto (Ita) Fassa Bortolo                                   17
58 David Etxebarria (Spa) Euskaltel - Euskadi                           17
59 Massimiliano Mori (Ita) Domina Vacanze                               17
60 Fabio Baldato (Ita) Alessio-Bianchi                                  17
61 Carlos Dacruz (Fra) Fdjeux.com                                       16
62 José Enrique Gutierrez (Spa) Phonak Hearing Systems                  16
63 Jimmy Casper (Fra) Cofidis - Le Crédit Par Téléphone                 16
64 Thierry Marichal (Bel) Lotto-Domo                                    14
65 Floyd Landis (USA) US Postal p/b Berry Floor                         14
66 José I.Gutierrez Palacios (Spa) Illes Balears - Banesto              14
67 Sylvain Chavanel (Fra) Brioches La Boulangère                        13
68 Pietro Caucchioli (Ita) Alessio-Bianchi                              13
69 Marcus Ljungqvist (Swe) Alessio-Bianchi                              13
70 Christophe Edaleine (Fra) Cofidis - Le Crédit Par Téléphone          12
71 Rolf Aldag (Ger) T-Mobile Team                                       12
72 Jean-Cyril Robin (Fra) Fdjeux.com                                    10
73 Vladimir Karpets (Rus) Illes Balears - Banesto                       10
74 Yuriy Krivtsov (Ukr) AG2R Prévoyance                                  9
75 Franck Renier (Fra) Brioches La Boulangère                            9
76 Wim Vansevenant (Bel) Lotto-Domo                                      8
77 Sergei Ivanov (Rus) T-Mobile Team                                     8
78 Sebastian Lang (Ger) Gerolsteiner                                     8
79 Martin Elmiger (Swi) Phonak Hearing Systems                           8
80 Erik Dekker (Ned) Rabobank                                            8
81 Salvatore Commesso (Ita) Saeco                                        7
82 Bernhard Eisel (Aut) Fdjeux.com                                       6
83 Mark Scanlon (Irl) AG2R Prévoyance                                    6
84 Laurent Dufaux (Swi) Quick Step-Davitamon                             5
85 Stéphane Goubert (Fra) AG2R Prévoyance                                4
86 Oscar Sevilla (Spa) Phonak Hearing Systems                            4
87 George Hincapie (USA) US Postal p/b Berry Floor                       4
88 Marius Sabaliauskas (Ltu) Saeco                                       4
89 Bobby Julich (USA) Team CSC                                           4
90 Ronny Scholz (Ger) Gerolsteiner                                       4
91 Marcos Serrano Rodriguez (Spa) Liberty Seguros                        4
92 Mikel Astarloza Chaurreau (Spa) AG2R Prévoyance                       4
93 Ludovic Martin (Fra) R.A.G.T. Semences - MG Rover                     4
94 Giuseppe Guerini (Ita) T-Mobile Team                                  2
95 Patrice Halgand (Fra) Crédit Agricole                                 2
96 Frédéric Finot (Fra) R.A.G.T. Semences - MG Rover                     2
97 Michael Rogers (Aus) Quick Step-Davitamon                             1
98 Koos Moerenhout (Ned) Lotto-Domo                                      1
99 Christian Vandevelde (USA) Liberty Seguros                           -5
100 Bert Grabsch (Ger) Phonak Hearing Systems                           -5
101 Xabier Zandio (Spa) Illes Balears - Banesto                         -5
102 Walter Bénéteau (Fra) Brioches La Boulangère                        -5
103 Christophe Laurent (Fra) R.A.G.T. Semences - MG Rover               -5
104 Matthew Wilson (Aus) Fdjeux.com                                     -5
 
Mountains classification
 
1 Richard Virenque (Fra) Quick Step-Davitamon                          226 pts
2 Lance Armstrong (USA) US Postal p/b Berry Floor                      172
3 Ivan Basso (Ita) Team CSC                                            119
4 Jan Ullrich (Ger) T-Mobile Team                                      115
5 Andreas Klöden (Ger) T-Mobile Team                                   112
6 Christophe Moreau (Fra) Crédit Agricole                              112
7 Michael Rasmussen (Den) Rabobank                                     109
8 Francisco Mancebo Pérez (Spa) Illes Balears - Banesto                 77
9 Jens Voigt (Ger) Team CSC                                             71
10 Jose Azevedo (Por) US Postal p/b Berry Floor                         71
11 Axel Merckx (Bel) Lotto-Domo                                         65
12 Gilberto Simoni (Ita) Saeco                                          64
13 Floyd Landis (USA) US Postal p/b Berry Floor                         55
14 Paolo Bettini (Ita) Quick Step-Davitamon                             54
15 Sylvain Chavanel (Fra) Brioches La Boulangère                        53
16 Carlos Sastre (Spa) Team CSC                                         50
17 Georg Totschnig (Aut) Gerolsteiner                                   41
18 Rolf Aldag (Ger) T-Mobile Team                                       38
19 David Moncoutié (Fra) Cofidis - Le Crédit Par Téléphone              36
20 Ludovic Martin (Fra) R.A.G.T. Semences - MG Rover                    33
21 Santos Gonzalez (Spa) Phonak Hearing Systems                         31
22 Filippo Simeoni (Ita) Domina Vacanze                                 25
23 Giuseppe Guerini (Ita) T-Mobile Team                                 24
24 Vladimir Karpets (Rus) Illes Balears - Banesto                       21
25 Laurent Brochard (Fra) AG2R Prévoyance                               20
26 Juan Miguel Mercado (Spa) Quick Step-Davitamon                       18
27 Laurent Dufaux (Swi) Quick Step-Davitamon                            17
28 Manuel Beltran (Spa) US Postal p/b Berry Floor                       15
29 Oscar Pereiro (Spa) Phonak Hearing Systems                           14
30 Egoi Martínez (Spa) Euskaltel - Euskadi                              14
31 Jose Luis Rubiera (Spa) US Postal p/b Berry Floor                    13
32 Ronny Scholz (Ger) Gerolsteiner                                      12
33 Levi Leipheimer (USA) Rabobank                                       12
34 Pietro Caucchioli (Ita) Alessio-Bianchi                              12
35 George Hincapie (USA) US Postal p/b Berry Floor                      12
36 Juan Antonio Flecha Giannoni (Spa) Fassa Bortolo                     11
37 Michele Scarponi (Ita) Domina Vacanze                                10
38 Sergei Ivanov (Rus) T-Mobile Team                                    10
39 Thomas Voeckler (Fra) Brioches La Boulangère                         10
40 Christian Vandevelde (USA) Liberty Seguros                            8
41 Matteo Tosatto (Ita) Fassa Bortolo                                    8
42 Bram de Groot (Ned) Rabobank                                          7
43 Erik Dekker (Ned) Rabobank                                            7
44 Mikel Astarloza Chaurreau (Spa) AG2R Prévoyance                       7
45 Jérôme Pineau (Fra) Brioches La Boulangère                            6
46 Walter Bénéteau (Fra) Brioches La Boulangère                          6
47 Iker Flores (Spa) Euskaltel - Euskadi                                 5
48 Christophe Rinero (Fra) R.A.G.T. Semences - MG Rover                  5
49 José V. Garcia Acosta (Spa) Illes Balears - Banesto                   5
50 Anthony Charteau (Fra) Brioches La Boulangère                         5
51 Thierry Marichal (Bel) Lotto-Domo                                     5
52 Sandy Casar (Fra) Fdjeux.com                                          3
53 Iñigo Landaluze (Spa) Euskaltel - Euskadi                             3
54 Aitor Gonzalez Jimenez (Spa) Fassa Bortolo                            3
55 Santiago Botero (Col) T-Mobile Team                                   3
56 Franck Renier (Fra) Brioches La Boulangère                            3
57 José Enrique Gutierrez (Spa) Phonak Hearing Systems                   2
58 Marcos Serrano Rodriguez (Spa) Liberty Seguros                        2
59 Bernhard Eisel (Aut) Fdjeux.com                                       2
60 Michael Rogers (Aus) Quick Step-Davitamon                             1
61 Igor Gonzalez de Galdeano (Spa) Liberty Seguros                       1
62 Jean-Cyril Robin (Fra) Fdjeux.com                                     1
63 Benjamin Noval (Spa) US Postal p/b Berry Floor                        1
64 Christophe Mengin (Fra) Fdjeux.com                                    1
65 Yuriy Krivtsov (Ukr) AG2R Prévoyance                                  1
66 Karsten Kroon (Ned) Rabobank                                          1
67 Jimmy Casper (Fra) Cofidis - Le Crédit Par Téléphone                  1
 
Young rider classification
 
1 Thomas Voeckler (Fra) Brioches La Boulangère                    74.26.08
2 Vladimir Karpets (Rus) Illes Balears - Banesto                      0.45
3 Sandy Casar (Fra) Fdjeux.com                                        1.56
4 Michael Rogers (Aus) Quick Step-Davitamon                          13.18
5 Jérôme Pineau (Fra) Brioches La Boulangère                         15.26
6 Iker Camaño (Spa) Euskaltel - Euskadi                              18.12
7 Sylvain Chavanel (Fra) Brioches La Boulangère                      27.29
8 Michele Scarponi (Ita) Domina Vacanze                              33.51
9 Mikel Astarloza Chaurreau (Spa) AG2R Prévoyance                  1.23.13
10 Benjamin Noval (Spa) US Postal p/b Berry Floor                  1.30.31
11 Sylvain Calzati (Fra) R.A.G.T. Semences - MG Rover              1.37.29
12 Nicolas Portal (Fra) AG2R Prévoyance                            1.37.56
13 Sebastian Lang (Ger) Gerolsteiner                               1.47.52
14 Mark Scanlon (Irl) AG2R Prévoyance                              1.57.00
15 Allan Davis (Aus) Liberty Seguros                               2.03.54
16 Yuriy Krivtsov (Ukr) AG2R Prévoyance                            2.06.58
17 Anthony Charteau (Fra) Brioches La Boulangère                   2.09.49
18 David Loosli (Swi) Saeco                                        2.11.25
19 Fabian Cancellara (Swi) Fassa Bortolo                           2.22.13
20 Filippo Pozzato (Ita) Fassa Bortolo                             2.24.21
21 Tom Boonen (Bel) Quick Step-Davitamon                           2.27.00
22 Bernhard Eisel (Aut) Fdjeux.com                                 2.33.22
23 Jimmy Engoulvent (Fra) Cofidis - Le Crédit Par Téléphone        2.41.11
24 Christophe Edaleine (Fra) Cofidis - Le Crédit Par Téléphone     2.52.02
25 Sébastien Joly (Fra) Crédit Agricole                            3.21.12
 
Teams classification
 
1 T-Mobile Team                                                  220.17.09
2 US Postal presented by Berry Floor                                  5.12
3 Team CSC                                                           10.49
4 Phonak Hearing Systems                                             52.04
5 Quick Step-Davitamon                                               54.36
6 Illes Balears-Banesto Santander                                    58.07
7 Brioches La Boulangere                                           1.14.53
8 Rabobank                                                         1.30.54
9 Euskaltel-Euskadi                                                1.31.29
10 Credit Agricole                                                 1.31.42
11 Saeco                                                           1.54.30
12 Ag2R Prevoyance                                                 2.09.41
13 Liberty Seguros                                                 2.47.31
14 Gerolsteiner                                                    2.52.51
15 Lotto-Domo                                                      3.00.14
16 Fdjeux.Com                                                      3.05.05
17 Alessio-Bianchi                                                 3.23.51
18 Fassa Bortolo                                                   4.12.31
19 Cofidis Credit Par Telephone                                    4.22.53
20 Domina Vacanze                                                  4.48.41
21 R.A.G.T. Semences-MG Rover                                      5.59.28