Tour de France Cycling News for July 1, 2004
Edited by John Stevenson
Life goes on like a song for Stuart O'Grady
By Anthony Tan
I get knocked down, but I get up again: Life goes on for Stuart O'Grady
Photo ©: AFP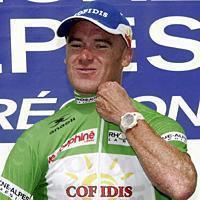 Stuart O'Grady certainly did not expect such an eventful 2004 when he decided to join Cofidis late last year, but the French team's main man for the upcoming Tour de France could well prove to be their shining light amidst a barrage of doping allegations that have plagued the team almost since the start of the year.
The song 'Tubthumping' by European anarchist band Chumbawamba has never resounded so strongly for the freckled-faced sprinter from Adelaide, his favourite part the lyric: 'I get knocked down, but I get up again, you're never going to keep me down'. From his third place at the World Cup opener Milan-San Remo on March 20 - to breaking a rib in a crash at the E3 Prijs Vlaanderen one week later - to the entire Cofidis team being suspended two days before Paris-Roubaix - to his team manager and doctor leaving the day before the team's return to competition at the Four Days of Dunkirk on May 5 - to his brilliant return to form at the Dauphiné Libéré in early June - and now, less than two weeks before the start of the world's greatest cycling event, his team-mate David Millar is reported to have admitted to using the sport's perennial blood-boosting agent EPO, according to French sports newspaper L'Equipe. Will it ever end?
"I definitely didn't expect to see this coming, that's for sure. I still don't believe there's a problem involved with the team itself; I believe it's a problem with individuals," said O'Grady in an interview with Cyclingnews from his European home in Toulouse, France. "So, yeah, I've had a pretty tough year, but I came back well after missing the Classics, and I've come back hungry. I've tried to keep having fun and givin' it everything I've got... and just try not to think about all the crap that's going on."
Despite an interrupted season of training and racing, the former wearer of both the yellow jersey and green jersey at the Tour de France is, somewhat ironically, enjoying his best season to date. At his last major stage race outing, the Critérium du Dauphiné Libéré (somewhat of a mini-Tour de France), "Stuey" was unstoppable, winning two stages and finishing second, third and fourth in another three, as well as taking the overall prize in the sprints classification.
Not only that, but his prowess in the prologue already sees O'Grady's eyes firmly focused on the 'golden fleece' in the opening week of the Tour de France: "Obviously Brad McGee and [Fabian] Cancellara are going to be favourites for the prologue, but I hope to finish within 10 seconds of the winner. There's going to be three stages where we're going to go all-out for the bonus sprints, so it's going to be a real battle for the yellow jersey those first few days, that's for sure," he said.
A fortnight after the traditional finish of the Tour in Paris, O'Grady will ride in Olympic Games road race in Athens, which, based on current form and the demanding parcours offered, places him high on the list of favourites for an Olympic gold medal.
Look out for the full interview to be posted on Cyclingnews tomorrow.
Simoni ready for a quiet start
After making lots of noise before the 2003 Tour de France but very little in the race itself until his face-saving win of stage 14, Gilberto Simoni is taking a less gung-ho approach to this year's race, but, he says, he still believes he's a contender.
Simoni admits that he came to last year's Tour tired, but this year feels he has, "much more energy than last year."
"I'm still convinced I've got the right characteristics to be a contender at the Tour," said Simoni. "Naturally the experience of last year taught me a lot and I'm trying to use it all this year".
But instead of making a conscious effort to challenge for the overall lead, which was the plan last year, in 2004 Simoni will take each day as it comes. "I'm going to start the race quietly and prudently," he said. "I'm going to wait to see what happens in the team time trial and then day after day I'll try and understand what I can do".
The 2003 Giro left Simoni mentally tired, he says. Without the pressure of defending the lead he finished this year's race fresher. "I think it could be an important factor in the final part of the Tour," he said. "In the key moments of the race, when things get really hard, I think I'll have something left to give".
However, Simoni admits he has no real idea how his form is. "I haven't raced since the Giro except for a few criteriums and so I can't really know how well I'm going," he said. "However I spent 10 days in Maloia in Switzerland with my family and I've done a very careful final build up for the Tour."
Simoni's favourite for the Tour is the reigning champion, "Lance Armstrong. I know people who saw him training on the Mortirolo and so I think differently. He knows what he wants."
Simoni, for his part, wants, "to be in the action, fight on equal terms with the best because I've got the conviction to know that I'm up to it. I'd like to get some results just as I did last year when I won the stage in the Pyrenees, but this year I want to do it without losing sight of the overall classification."
Scott Sunderland: Back for another crack at the Tour
Scott Sunderland last rode the Tour de France in 1996 - more than half of his professional cycling career ago. After his 1998 crash in the Amstel Gold Race, he thought he would never have the opportunity to ride it again. But things have turned around and he will take the start in Liège on July 3 with his Alessio-Bianchi teammates, all eager for success in the greatest race of all. A few days before the Tour, Cyclingnews' Chief Online Editor Jeff Jones caught up with Scott for a pre-race chat.
Scott Sunderland working out what to take
Photo ©: Sabine Sunderland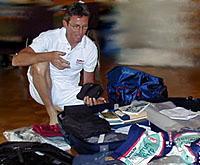 Cyclingnews: How does it feel to be coming back to the Tour after all these years?
Scott Sunderland: It's great. The feeling of excitement hasn't set in as yet, but I expect it to well up in my stomach once I get to the hotel in Liège. I'm actually really relaxed with the thought of riding another Tour. Only wondering how I'm going to get everything in that one suitcase!
Judging from the dozens of emails coming in, it is the greatest thing for my supporters. They're all so geed up for it! But, me riding the Tour de France was already discussed in January, so the selection wasn't a big surprise to be honest. One of the reasons why I signed up for Alessio-Bianchi at the end of last season was because I wanted to ride another Tour de France.
Also with this being an Olympic year. The Olympics are a very important goal for me this year and the Australian selectors consider the Tour de France to be the ideal preparation.
Alessio-Bianchi's Team manager Bruno Cenghialta knows very well what my exact abilities and qualities are. There wasn't much more I had to prove to him. The fact I finished 22nd in last year's Giro d'Italia didn't go unnoticed by the teams looking for Tour riders.
Click here for the full interview.
Vasseur ban upheld
A French court yesterday ruled that the ban on Cedric Vasseur's participation in this year's Tour de France would stand, according to a report from Reuters. As one of the riders under investigation by French police in the doping affair involving current and former Cofidis riders and staff, Vasseur was excluded from the Tour by Tour organizer ASO's recent decision not to allow the inclusion of any rider involved in a doping investigation.
Vasseur had not been named as a member of Cofidis' Tour team as a result, but says he will appeal the court's ruling.
Dean happy to have made it
Credit Agricole's Julian Dean says he is happy to have made the Tour after a speedy recovery from a disastrous crash in May that broke both his elbows. Dean told the Rotorua Daily Post that a Tour berth was the main motivator during the hours of turbo-trainer time necessary to maintain his fitness during his recovery. "I was getting to the stage of my career where I thought it would be a shame if I didn't do a Tour de France," he said.
Dean's role at the Tour will be as lead-out man for Credit Agricole's big Norwegian sprinter Thor Hushovd. He'd prefer a more center-stage role, he says. "For me it's not the ideal circumstances in which I'd dreamt about going to the tour but I'm happy to be going," he said.
Once he's started, he is determined to finish, even though that means battling the mountains that dominate the race's second half. "The idea is to take it one day at a time," he said. "Whether I can finish will be another story... if I can get through the first 10 days without any injuries or crashes then I'll take it as it comes. I'd really like to finish the whole race, I'm starting with that in mind but the team have other riders you have objectives for as well," he said.
Like many others, Dean is picking Lance Armstrong as the race favourite, calling the five-time Tour winner, "a crafty cat and a super athlete. He's got a lot more at stake here than anyone. He's probably more motivated than he's ever been".
LIVE! - Tour de France fantasy game 2004
Prizes Update
Giant's new TCR Advanced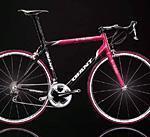 GIANT has confirmed the main prize this year - the latest Giant TCR Advanced frameset in T-Mobile colours. With a claimed weight of 1250g for the frame, fork and built-in seatpost, the frame uses new kinds of composite fibres and resin; a "scientifically selected and custom made combination of several different special aerospace grade high strength high modulus fibres" (according to Giant) has been combined with a "new nano resin" to make the frame both lighter and stiffer than the existing TCR Composite. Heavy influence from riders in teams such as T-Mobile has allowed them to "increase both the strength and rigidity of the frame whilst using less material."
Zero Gravity brake

ZERO GRAVITY will be providing its super-light Ciamillo brakes - worth US$355 each. The CNC-machined, 7075 aluminium stoppers weigh just 96g for a rear caliper and 98g for a front. A pair of Dura-Ace brake calipers, for comparison, weighs 314g. Zero Gravity brakes achieve their trivial gram count by use of a CNC-machined caliper and incorporate a cam system that provides better stopping power than conventional designs.

The full prize list includes a Giant TCR Advanced frameset, CycleOps - One Electronic Trainer worth US$799, Bontrager Wheels, Zero Gravity brakes, Salsa - Competidor™ six panel shorts and Rudy Project's new Tour de France edition glasses. More prizes will be announced shortly.
All you need to do to enter is pick a team of 15 riders to race and select 9 riders each day during the tour. It's a great way to follow the Tour. To register go to fantasy.cyclingnews.com . Good luck!
(All rights reserved/Copyright Knapp Communications Pty Limited 2004)